FRIDAY, JULY 12, 2013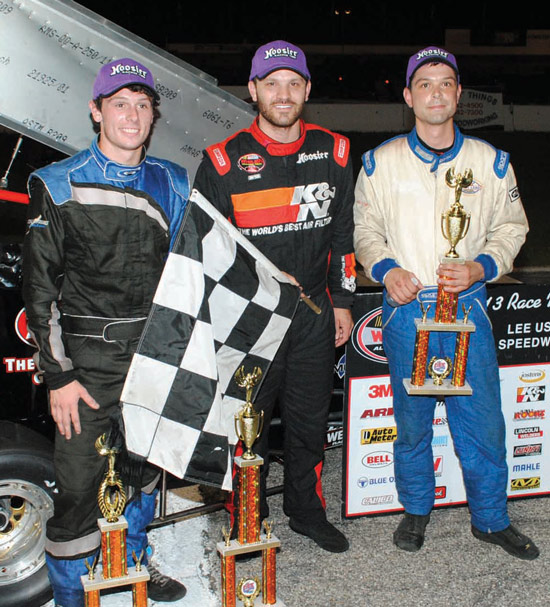 Cumens - Santos - Chambers
Photos by
Rich Hayes
rhayesfoto@aol.com
Santos Wins For Cantor at Lee
Lee, NH – In what amounted to a runaway, Bobby Santos III returned to Northeastern Midget Association action Friday night, driving the IGA-sponsored, Cantor-family 7ny to a dominating victory at Lee USA Speedway. Only a brief caution on lap eight interrupted Santos' ride that finished five and half seconds ahead of the field.

Santos, who arrived from New Hampshire International Speedway just as the heats began, started fifth. Taking the lead from pole sitter Jim Chambers with an outside move through one and two four laps in, he had a straightaway lead when the only yellow showed.

Chambers (Chambers 21), the only other leader, survived a last lap challenge from Ian Cumens (Seymour 29s) to claim second. Lou Cicconi (Bertrand 74) was fourth and Todd Bertrand (Bertrand 39 fifth). It was the best finish yet for Chambers and the second straight podium for Cumens.

The point leader going in, Randy Cabral brought out the caution, coming to a stop in turn four, the victim of a broken shock bolt.

"I had the easy job," insisted Santos, who spent the afternoon qualifying a Modified at NHIS. "The credit goes to Allan and Adam [Cantor]. After a struggle on "old tires" in his heat, Santos "knew right off the bat I had a really good car" although it "was a little loose" over the last five laps.

It was Santos' first winged Midget ride in almost two years. His best lap, a sizzling 13.018 (103.703 mph), was almost half a second better than a 13.516 effort by Chambers.

It ended a tough streak for the Cantor team – "we blew up three motors and we wrecked," said Allan Cantor.

The "deal" was been made during the winter. Adam Cantor, who wanted out of the seat, checked on the availability of a number of drivers for specific dates. No stranger to Lee's victory lane, Adam shook the car down. "It felt like it did last year and I figured it would be even better with a real driver in it," he said.

Cumens chasing down Chambers was the only action over the second half of the race. "I just flat footed it out of four and got lucky" he said of the final result. Cumens was a wheel back in third.




Lou Cicconi will drive for the Cantors Wednesday at Seekonk's midweek open wheel event while modified star Doug Coby returns to the Bertrand No. 47. Coby was a winner at Seekonk's Boston Louie earlier this season.


On Thursday at Waterford Speedbowl weekly practice session, Joey Payne's son Anthony, 14, begins a training regimen that will see him make his NEMA Lites debut on July 27. Anthony will drive the Scravani #21.


The Bertrand 47 was using a motor on loan from Paul Scally at Monadnock. Bertrand's regular Esslinger is being repaired.
NEMA MIDGETS - LEE - 7/12/13

Pos.
#
Driver
Hometown
Owner
1
7ny
Bobby Santos III
Franklin, MA
Allan Cantor
2
21
Jim Chambers
Atkinson, NH
Mike Chambers
3
29s
Ian Cumens

Lydell, PA

Bobby Seymour
4
74
Lou Cicconi
Aston, PA
Bertrand Motorsports
5
39
Todd Bertrand

Suffield

, CT
Bertrand Motorsports
6
9
John Zych Jr.
Mendon, MA
John Zych Sr.
7
26b
Greg Stoehr
Bridgewater, MA
Greg Stoehr
8
44
Joey Payne
Fairlawn, NJ
Ed Breault
9
99
Jim Santa Maria
Burlington, CT
Susan Santa Maria
10
5b
Bethany Stoehr
Bridgewater, MA
MCI Racing/
Greg Stoehr
11
45
Russ Stoehr
Bridgewater, MA
Dumo's Desire Racing
12
30
Paul Scally
Raynham, MA
Paul Scally
13
77
Doug Cleveland
Sudbury, MA
Mike Luggelle
14
DNF
47
Randy Cabral
Plymouth, MA
Tim Bertrand
15
DNS
71
Seth Carlson
Brimfield, CT
Gene Feigel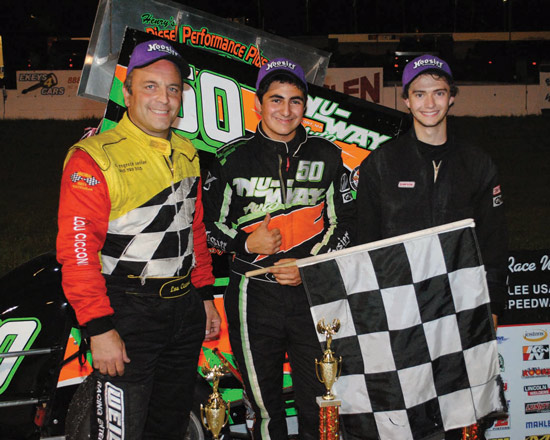 Cicconi - Medeiros - Hutchens
Photos by
Rich Hayes
rhayesfoto@aol.com
Medeiros Back on Top in NEMA LITES
Lee, NH – Checking out after a lengthy clean up delay, Carl Medeiros Jr. won the Northeastern Midget Association's 20-lap Lites feature Friday night at Lee USA Speedway. The victory, the second of the season, put Medeiros back in the point lead.

Medeiros needed only two turns to take the lead from Kevin Hutchens on a mid-race restart. Lou Cicconi, in the Seymour 9, also got by Hutchens on the restart. Medeiros, who waited for a Cicconi challenge that never came, finished two and half seconds ahead. Rookie Hutchens was third followed by Kenny Johnson and Richie Morocco, still another rookie.

A winner at Lee in the past, Medeiros started seventh and by lap five was on Hutchens' bumper. He was still there when a multi-car crash that featured some airborne gyrations by Andy Barrows and eliminated a number of cars brought out the only yellow.

In addition to Barrows, the point leader going in, Jake Stergios, Avery Stoehr, Steve Powers and Logan Rayvals went off on the hook. It took 45minutes to clean up the oil which caused the crash.

Medeiros who was playing a "waiting game" before the yellow, "had no doubt I'd get him on the restart." He moved in front down the back and had a clear advantage heading into three.

"I was concerned with who was in the No. 9," he added. "I knew what he was going to do. I grew up idolizing the guy. He was going to just drive it in on the outside and drive underneath me." Cicconi never got close enough to do that.

Medeiros leaves no doubt about his desire to win the Lites championship.
NEMA LITES - LEE - 7/12/13

Pos.
#
Driver
Hometown
Owner
1
50
Carl Medeiros Jr.
Westport, MA
Carl Medeiros Sr.
2
9
Lou Cicconi
Aston, PA
Bobby Seymour
3
27
Kevin Hutchens

*

E. Waterboro, ME
Dan Hutchens
4
46
Kenney Johnson
Bethany, CT
Jeff Johnson
5
25
Richie Morocco

*

Plainville, MA
Richard Morocco
6
32
Scott Bigelow
E. Hampton, CT
Randy Bigelow
7
41
Megan Cugini

*

Marshfield, MA
D. Cugini
8
DNF
51
Danny Cugini
Marshfield, MA
D. Cugini
9
DNF
94
Logan Rayvals
Brockville, ONT
Craig Rayvals
10
DNF
15a
Avery Stoehr
Lakeville, MA
MCI Racing/
Russ Stoehr
11
DNF
81
Andy Barrows
New Ipswitch, NH
Dustin Anderson
12
DNF
11
Jake Stergios
Candia, NH
Bill Stergios
13
DNF
22l
Steve Powers
-
Mike Luggelle
14
DNF
18
DJ Moniz
Fairhaven, MA
David Moniz
15
DNS
31
Paul Bigelow

Kensington

, CT
Randy Bigelow
* Rookie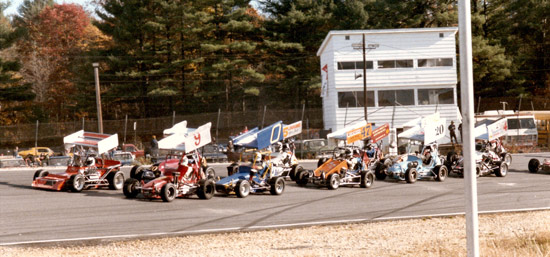 NEMA on the old Tri-Oval at Lee USA Speedway. Drew Fornoro was NEMA's first winner on the present Lee set-up in 1985. Bob Miour Photo.
Points Tight as NEMA Heads For Lee
Brockton, MA – Two-time defending Northeastern Midget Association champion Randy Cabral insists he doesn't look at the point standings, not this early in the season anyway. He might not be looking but others are and that includes two-time winner John Zych Jr.

Only 13 points separate leader Cabral and Zych as NEMA visits Lee USA Speedway Friday night. Fact is, Todd Bertrand (-26), Russ Stoehr (-38) and Ian Cumens (-45) are locked into a tight battle atop the standings. .

Andy Barrows takes a 51-point bulge into the accompanying NEMA Lites event. Carl Medeiros Jr., who won twice at Lee last year, is determined to cut into that gap. Dan Cugini, Avery Stoehr and P.J. Stergois hold down spots three through five.

There are hardly any secrets left at Lee, a NEMA mainstay for many years. Adam Cantor had the best lap (13.307) a year ago but speeds have been up everywhere this season. Expect that to happen at Lee as well.

Zych, who admits to wanting to know just where he stands, comes to Lee off an impressive victory two weeks ago at Stafford Speedway in the family No. 9. He'll be after his third 2013 win.

Meanwhile Cabral (Bertrand 47), who maintained the point lead with a third at Stafford, will be seeking two in a row at Lee. He won last year at Ocktoberfest. Stoehr has won twice at Lee, but not since 1991. Greg Stoehr (2011) and Joey Payne (2003) also have Lee checkereds.

Cumens, third at Ocktoberfest last fall, was second at Stafford and rates among the prime contenders along with Bertrand, Anthony Marvuglio, Seth Carlson, Paul Scally and Bethany Stoehr.

Lee has been on the NEMA Lites agenda since the division's inception. In addition to Medeiros, Jake Stergois, Paul Bigelow, Cugini and Avery Stoehr have all scored Lites wins at Lee, Stergois grabbing his third triumph earlier this year. Stoehr, Bigelow and Cugini were one-two-three at Stafford. Cabral, Logan Ravels, David Moniz and Ken Johnson are other contenders.
Cicconi Joins NEMA Field at Lee
Brockton, MA – "Liquid Lou" Cicconi, one of the Northeast's premier open-cockpit racers, will drive the Bertrand Motorsports #74 in Northeastern Midget Association action Friday night at Lee USA Speedway.

It will be the third start for the car that Modified ace Doug Coby drove to an impressive victory at Seekonk Speedway's Boston Louie race.

A standout in Midgets and Supermodifieds for many years, Cicconi will not be a stranger on the Bertrand team that also includes defending champion and current point leader Randy Cabral and Todd Bertrand. Three of Cicconi's seven NEMA victories have come in Bertrand equipment, all of them in 2007.

Cicconi, whose last NEMA win came in 2010 driving for the Seymour operation, joins a group taking aim at John Zych, the latter winning two of the last three NEMA races in impressive style. Among the others, in addition to Cicconi's teammates, are Russ, Greg and Bethany Stoehr, Anthony Marvuglio, Seth Carlson, Joey Payne and Ian Cumens.