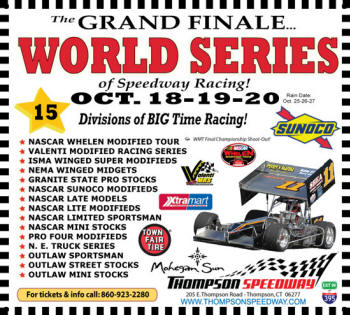 October 20, 2013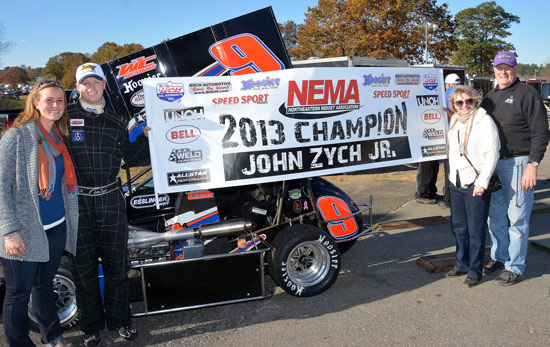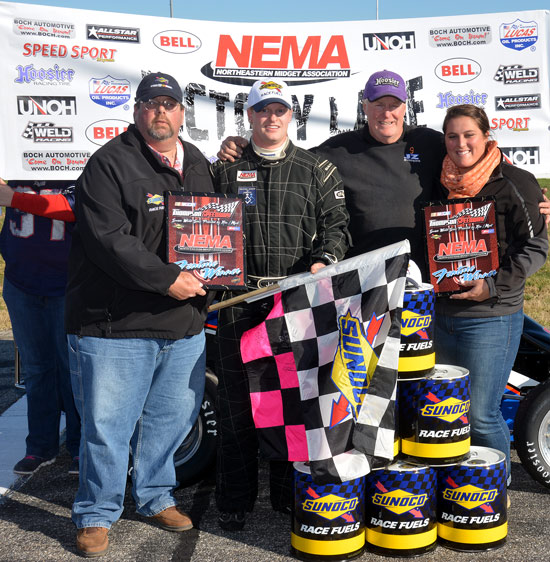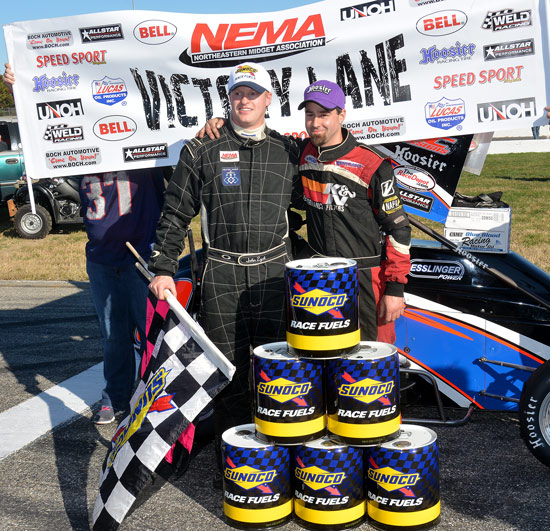 < Photos by
John Dadalt
Photos by Norm Marx
Zych Wins Race, Claims Championship
Thompson, CT- John Zych Jr. won the 25-lap Northeastern Midget Association 25-lap feature Sunday at Thompson Speedway's World Series. He captured the 2013 driving championship as well in a series of acts worthy of a classic script.

En route to his fifth win of the season, Zych (Zych 9) inherited the lead when a leaking Todd Bertrand fell victim to a black flag. He then beat back two restart challenges from Randy Cabral (Bertrand 47) who had a five-point edge atop the standings going in.

"I absolutely didn't want that," said Zych, "knowing the way Randy runs here. But I always felt it was in my hands." He was, in fact, "thankful" that winning the championship came down to such a challenge.

Cabral, who won the last two championships, was actually nipped for second at the line by Bobby Santos III (Cantor 7ny) giving Zych a 17- point bulge in the final standings. Brothers Russ (Dumo's Desire 45) and Greg Stoehr (Stoehr 26b) completed the top five.

Zych's dad has the same edge over Tim Bertrand atop the owner standings.

Pointing out his car "wasn't perfect," Zych kept the hammer down and was 1.4 seconds ahead of the Santos/Cabral duel. He was always aware of the five point difference.

The first restart challenge came with 16 to go. Zych and Cabral ran side-by-side into one, Zych coming out of two with the edge. Cabral actually led into three ("I knew he would be there," said Zych) before the eventual winner exited four with a lead he quickly enlarged.

Five laps later yellow showed again. On the single file restart, Cabral again made a bid in three but Zych ran away with what was the quickest lap of the day, a sizzling 17.734.

"I didn't hand it to John and I feel good about that," summed up Cabral, pointing out "I think everything went the way it was supposed to."

Cabral came back from a pit stop on lap nine when initial leader Avery Stoehr (Breault 44a) spun. "I was way too tight," he said. "I was afraid of doing too much and I wound up not doing enough." Zych took advantage of Cabral's early handling woes with a pass three laps in and was sitting fourth when Avery spun.

He had climbed to third when yellow showed and, on the caution Bertrand, was black flagged. The hose had come out of the overflow bottle. He went back out only to have the bottle fall out on his return. Prior to that, Bertrand had turned a 17.827 lap, prompting the question; did Zych have enough to run him down?

Zych responded with a smile and a nod.




Members of NEMA since 2007, the Zychs, both former high school and college basketball players, are the first "new" champions since 2008 when Cabral and Bertrand won the first of their four crowns.


Both Cabral and Bertrand ("They were better than us today") expressed happiness for a team that they helped a lot over the years.


Santos, who posted an 18.128, also on the 21st lap, also praised the Zychs.


Santos and Avery Stoehr were heat winners Saturday.


The Cantor team is expect to call it quits (there's a for sale sign on the car) while the 45 crew had nothing definite to say about their rumored end after 33 seasons.


Derek Pernesiglio, who finished 11th in the family 80, had a busy weekend starting with his Fox Sports assignment at Road Atlanta on Friday evening. He flew to Boston and rented a car, arriving at Thompson early Saturday morning. He "got back into his reporters' clothes" and did the Whelen Modified Race which will be on Fox Sports One on Sunday, Nov. 3.
NEMA MIDGETS - THOMPSON - 10/20/13

Pos.
#
Driver
Hometown
Owner
1
9
John Zych Jr.
Mendon, MA
John Zych Sr.
2
7ny
Bobby Santos III
Franklin, MA
Allan Cantor
3
47
Randy Cabral
Plymouth, MA
Tim Bertrand
4
45
Russ Stoehr
Bridgewater, MA
Dumo's Desire Racing
5
26b
Greg Stoehr
Bridgewater, MA
Greg Stoehr
6
21
Jim Chambers
Atkinson, NH
Mike Chambers
7
30
Paul Scally
Raynham, MA
Paul Scally
8
5b
Bethany Stoehr
Bridgewater, MA
MCI Racing/
Greg Stoehr
9
99
Paul Bigelow

Kensington

, CT
Susan Santa Maria
10
46
Kenney Johnson
Bethany, CT
Jeff Johnson
11
80
Derek Pernisiglio
Charlotte, NC
Pete Pernisiglio Sr.
12
77
Doug Cleveland
Sudbury, MA
Mike Luggelle
13
DNF
71
Seth Carlson
Brimfield, CT
Gene Feigel
14
DNF
29
Ian Cumens

Lydell, PA

Bobby Seymour
15
DNF
39
Todd Bertrand

Suffield

, CT
Bertrand Motorsports
16
DNF
44a
Avery Stoehr
Lakeville, MA
Ed Breault
17
DNF
44
Joey Payne
Fairlawn, NJ
Ed Breault
18
DNS
50
Kevin Park
Foxboro, MA
Peter Pernisiglio Sr.
19
DNS
4
Anthony Nocella
Woburn, MA
Bobby Seymour
SATURDAY, OCTOBER 19TH
Heat #1 - Winner: Avery Stoehr in the #44a
Heat #2 - Winner: Bobby Santos in the #7ny
Photos by Norm Marx
NEMA Battle Down to Wire
at Thompson World Series
Brockton, MA – The more things change, the more they stay the same goes the old adage. Once again, the Northeastern Midget Association driver and owner champions will be determined at Thompson Speedway's World Series.

Randy Cabral and car owner Tim Bertrand, winners Sunday at Lee USA Speedway's Oktoberfest, take an ever-so-slim five-point lead over John Zych Jr and his dad into Sunday's 25-lap feature. It is hardly new territory for Cabral, a four-time champ, who has faced the challenge before.

NEMA's all-time Thompson winner, five of Cabral's 10 wins have come in World Series events including four of the last six. Zych, however, comes well prepared, checkereds at Stafford and Airborne Speedways evidence he can handle the "big" tracks. Zych has four wins this year.

The last two World Series NEMA features highlighted battles between Cabral and Russ Stoehr, the latter a five-time Thompson winner including the 2011 World Series. They were both turning laps in the very 18s, meaning speeds well in excess of 130 mph. Russ Stoehr can never be counted out at Thompson.
Other World Series winners expected include Joey Payne and Greg Stoehr, both scoring historic victories.

A Thompson Midget win puts you on one of the sport's most impressive win list and there is no shortage of contenders this time. It includes youngsters Seth Carlson, the winner at Oswego Speedway, and Bethany Stoehr, second at Oswego and a winner at Waterford. They put on a dazzling show at the ultra-quick Oswego layout.

Two-time winner Todd Bertrand, fast all year, and rookie Ian Cumens will compete for the third spot in the final standings. Cumens, second at both Stafford and Airborne this year, was among the leaders at last year's World Series. Jim Chambers, also a rookie, deserves attention.

NEMA's history includes many World Series stories. Among them: Greg Stoehr (in the Zahar 38b VW) passed brother Russ (in the Beane 26b Guerte) to win at the 1993 World Series; Joey Payne gave Gene Angelillo his 100th victory with a late pass of teammate Russ Stoehr at the 2000 World Series and Nokie Fornoro's final Midget victory came at the 2009 World Series in the Jarret 4.