Sat. & Sun. Oct. 12th & 13th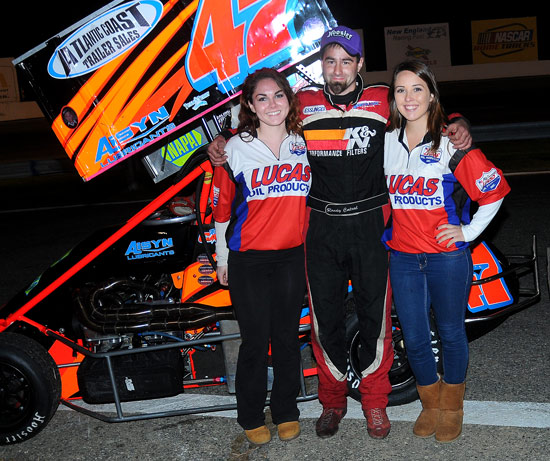 NEMA Midgets Winner - Randy Cabral #47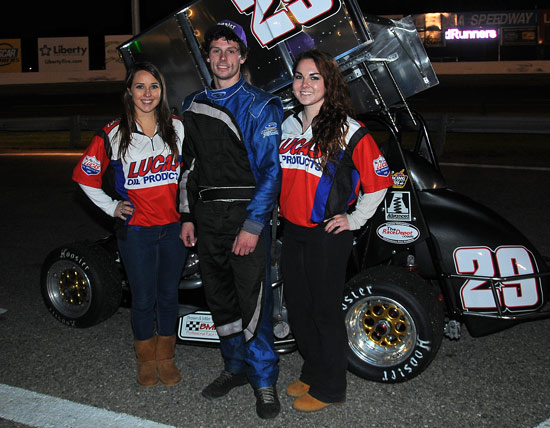 NEMA Midgets 2nd - Ian Cumens #29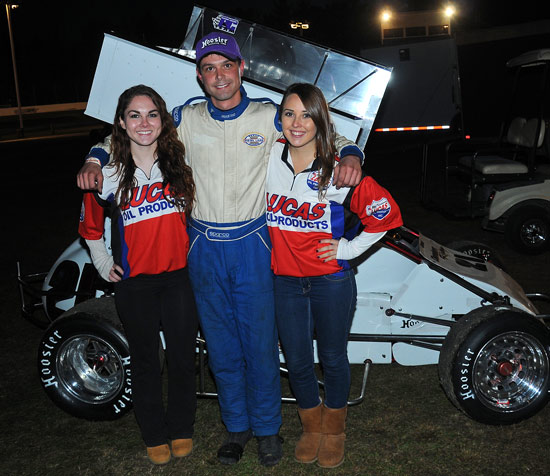 NEMA Midgets 3rd - Jim Chambers #21
Photos by
Norm Marx &
John DaDalt
Oktoberfest NEMA Prize to Cabral
Lee, NH – Randy Cabral wasted little time in getting to the front. Taking the lead four laps in, Cabral won the Northeastern Midget Association 25-lap feature Sunday at Lee USA Speedway's Oktoberfest. It was the second straight Oktoberfest win for Cabral and car owner Tim Bertrand.

Coming from the eighth starting spot, Cabral went around Joey Payne (Pernesiglio 80), the only other leader out of two. He beat back a challenge from Ian Cumens (Seymour29s) and had to do some nifty maneuvering through lapped traffic at the finish to claim his 37th career NEMA win.

Cumens was second with Jim Chambers (Chambers 21) third. John Zych Jr.(Zych 9) claimed fourth with Todd Bertrand (Bertrand 39) fifth. Cabral takes a slim lead over Zych atop the points into this weekend's World Series at Thompson, the season finale.

Cabral first looked inside Payne. "Almost hit him," he said. "It kind of got me sideways. I had to do a little back peddling and try the outside." He had gone from fourth to second two laps before, passing both Chambers down the back and Cumens out of four. He went on to win the caution-free affair in just under six minutes, finishing a couple car lengths ahead of Cumens.

Zych passed Bertrand, after a four-lap battle, on lap 15.

Cabral gave much credit to car owner Tim Bertrand, pointing out "he was all over the car all day." He called Lee "one of his favorite tracks."




Cumens had the fastest lap, a 13.802 on the 11th circuit.


The NEMA feature went off at 6:23 pm, ending a long and frustrating day.


Bethany Stoehr, looking for a second straight victory after capturing the Finale at Waterford, did not start, the car refusing to fire.


For the first time in anybody's memory, the Dumo Desire 45 was not on the scene. "I'm here," responded regular driver Russ Stoehr, who drove the family 26b.


Cabral, pointing out the track "is tough to get a hold of," said he learned to drive Lee in the Mini Cup cars a few years ago.
NEMA MIDGETS - LEE - 10/13/13
Pos.
#
Driver
Hometown
Owner
1
47
Randy Cabral
Plymouth, MA
Tim Bertrand
2
29
Ian Cumens
Lydell, PA
Bobby Seymour
3
21
Jim Chambers
Atkinson, NH
Mike Chambers
4
9
John Zych Jr.
Mendon, MA
John Zych Sr.
5
39
Todd Bertrand
Suffield
, CT
Bertrand Motorsports
6
4
Anthony Nocella
Woburn, MA
Bobby Seymour
7
71
Seth Carlson
Brimfield, CT
Gene Feigel
8
30
Paul Scally
Raynham, MA
Paul Scally
9
80
Joey Payne
Fairlawn, NJ
Peter Pernisiglio Sr.
10
26b
Russ Stoehr
Bridgewater, MA
Greg Stoehr
11
77
Doug Cleveland
Sudbury, MA
Mike Luggelle
12
99
Paul
Bigelow
Kensington
, CT
Susan Santa Maria
13
DNF
50
Carl Medeiros Jr.
Westport, MA
Peter Pernisiglio Sr.
14
DNS
44a
Avery Stoehr
Lakeville, MA
Ed Breault
15
DNS
5b
Bethany Stoehr
Bridgewater, MA
MCI Racing/
Greg Stoehr
---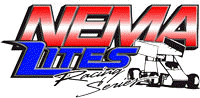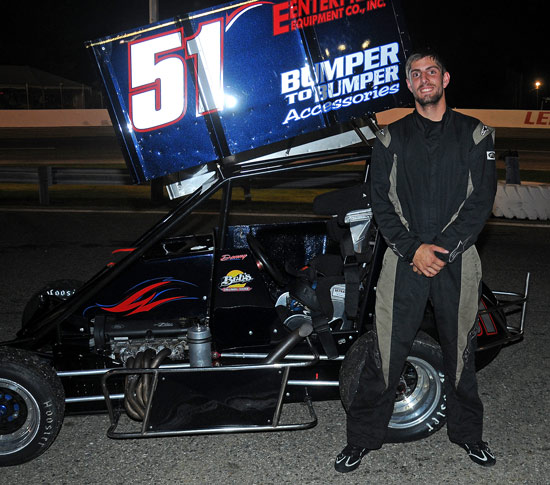 NEMA LITES Winner - Danny Cugini #51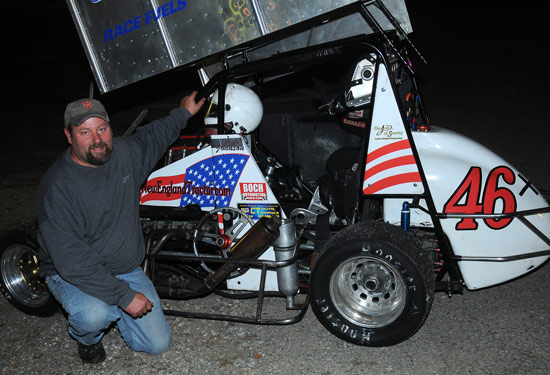 NEMA LITES 2nd - Andy Barrows #46x (#81)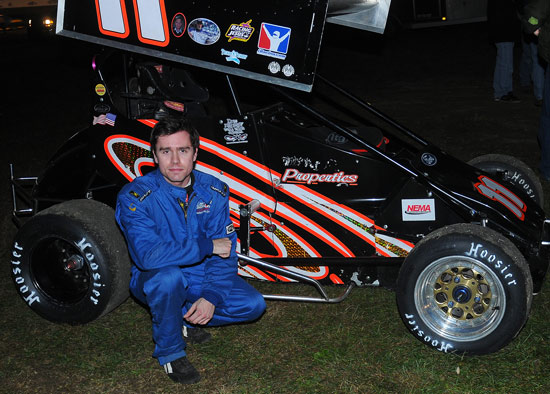 NEMA LITES 3rd - Jake Stergios #11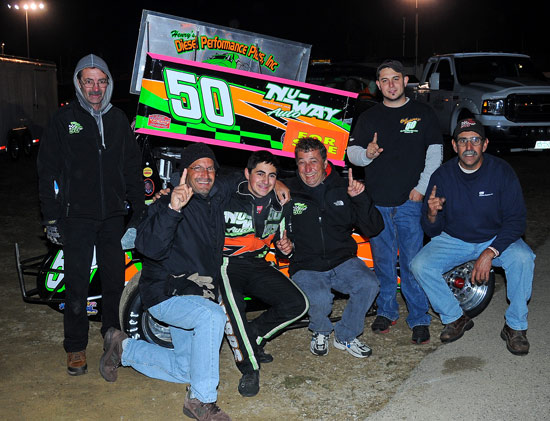 NEMA LITES 2013 Driver Points Champion - Carl Medeiros Jr. #50
Cugini Gets LITES First;
Medeiros Clinches Crown
Lee, NH – Danny Cugini won the 25-lap feature and Carl Medeiros Jr. captured the first "count all the races" championship as the 2013 Northeastern Midget Association Lites Division season came to an end at Lee USA Speedway's Oktoberfest.

It was the first win for the ever-consistent Cugini who started sixth and passed Andy Barrows, the only other leader, at the halfway point. Barrows held on for second with Jake Stergios, Medeiros and Brandon Igo filling out the top five.

Medeiros, the point leader much of the season, and Cugini had no time to celebrate the crown. Due to the lateness of the feature, there was no Victory Lane ceremony.

Only two cautions, the first before a lap was complete, slowed the race. Taking off from the pole, Barrows ran in front of a tight bunch before he and Cugini began a battle with six gone. Cugini's winning move came down the front stretch.

It was a long ride for Stergios, a Lee regular, who came back from a second lap spin. A Stergios/Medeiros battle was a late-race highlight.
NEMA LITES - LEE - 10/13/13

Pos.
#
Driver
Hometown
Owner
1
51
Danny Cugini
Marshfield, MA
D. Cugini
2
46x
Andy Barrows
New Ipswitch, NH
Dustin Anderson
3
11
Jake Stergios
Candia, NH
Bill Stergios
4
50
Carl Medeiros Jr.
Westport, MA
Carl Medeiros Sr.
5
45
Brandon Igo
Wilbraham, MA
David Igo
6
46
Kenney Johnson
Bethany, CT
Jeff Johnson
7
18
DJ Moniz
Fairhaven, MA
David Moniz
8
7
Randy Cabral
Plymouth, MA
Gregory Olson
9
31
Ryan Bigelow

Kensington

, CT
Randy Bigelow
10
41
Megan Cugini

*

Marshfield, MA
D. Cugini
11
21
Anthony Payne

Fairlawn, NJ

Jennifer Scrivani
12
44
Christian Briggs
Mattapoisett, MA
Christian Briggs
13
52
Barry Cannon
Bridgewater, MA
Kevin Park
14
DNF
94
Logan Rayvals
Brockville, ONT
Craig Rayvals
15
DNF
15a
Avery Stoehr
Lakeville, MA
MCI Racing LLC
16
DNF
25
Richie Morocco

*

Plainville, MA
Richard Morocco
* Rookie



With track drying efforts underway but the misting also continuing, NEMA officials decided to call off the Saturday afternoon Midgets and Lites heats at Oktoberfest with the cars lined up in pit lane.
Photos by
Norm Marx
OCTOBER 13th NEMA/LEE
CANCER WALK A SUCCESS
Approximately forty early raisers braved chilly temperatures and sunny skies to walk the Lee Speedway on Oct. 13, to benefit the N.H. chapter of the American Cancer Society. Race fans, crew members, drivers, officials and even boy scouts participated.

The event organizers, a team of Lee and NEMA members, had less then two weeks to "get the word out", and solicit donations. NEMA team leader, Tina Mederios, worked tirelessly to procure team tee shirts and stickers to sell.

Selected walkers were later given the opportunity to join in on victory lane celebrations and receive pink and black checkered flags, autographed by the race winners.
CANCER WALK and MEET & GREET
Lee USA Speedway and the Northeastern Midget Association will join in a unique benefit for the American Cancer Society at this weekend's Oktoberfest

It begins with a traditional walk around the speedway on Sunday at 8 am (registration at 7 am). Walkers are encouraged to form "teams", each team becoming eligible to win a Pink and Black checkered flag signed by all the drivers in one of many features on the busy Octoberfest schedule.

There are no limits on team numbers. An individual can be a team. Each team will be asked for a $10 donation. The winners will be picked "out of the hat" and the presentation of the flag will be part of each victory lane ceremony.

There will be a NEMA "Sign your PINK" Meet and Greet autograph session on Sunday 10/13. Fans are encouraged to bring their PINK apparel and any other items to the session and the NEMA and NEMA Lites drivers will be happy to sign them and say hello. Time and location to be announced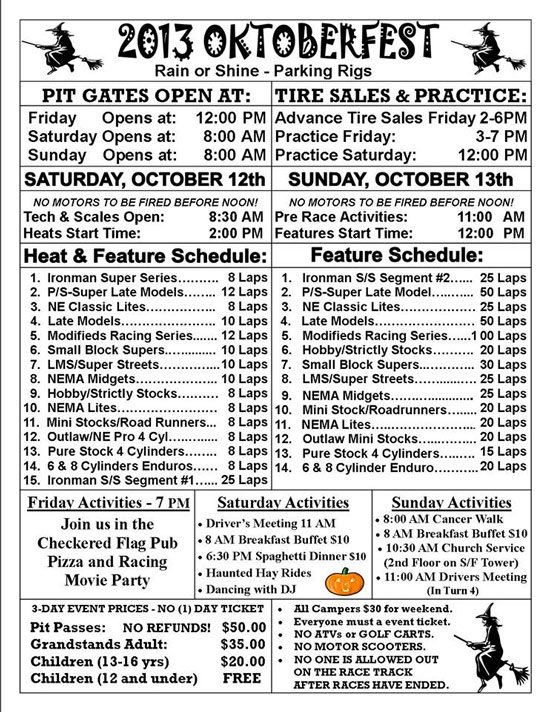 NEMA Heads to Oktoberfest;
Points Battles in Spotlight
Brockton, MA – The Northeastern Midget Association's Lites Division will crown a champion this weekend at Lee USA Speedway's Oktoberfest. Leader Carl Medeiros Jr. will carry a 22-point lead on Danny Cugini into Sunday's 25-lap feature. It is the final race of the season for the Lites.

Points grab the spotlight for the full Midgets as well, John Zych Jr. a scant 25 up on four-time and defending champion Randy Cabral heading into that feature which is also on Sunday. It is the next-to-the last event for the full midgets.

Although hardly an unknown quality, Lee remains a test for the Midgets. Bobby Santos III's 13.018 lap (103.703 mph) en route to victory earlier this year is evidence it is a "take no prisoners" type of place. Cabral and Russ Stoehr have won twice at Lee while Joey Payne and Greg Stoehr have one win apiece.

Bethany Stoehr will be looking for a second straight win, collecting the hardware at Waterford's Finale last weekend but only after a race-long tussle with her uncle Russ, the latter seeking his first win of the year. It could be another Stoehr vs. Stoehr event, Bethany's dad Greg in the mix as well.

With nine winners, it has been a very competitive year. In addition to Zych and Bethany Stoehr, Cabral, Todd Bertrand, Payne, Anthony Marvuglio and Seth Carlson will be seeking another trip to victory lane. Looking to join the win list are top rookie Ian Cumens, Greg Stoehr and Paul Scally.

A repeat performance will be Medeiros' goal, the 17-year old winning the Lites' last visit to Lee back in July. He had two wins there in 2012, doing it on the same night. He hopes to become the first "count-all-the-races" Lites champion.

Cugini, who has nine straight top-10 finishes including a fourth and eighth at Lee, aims to stop him.

Kenny Johnson, who became the ninth Lites winner this year at Waterford, is another contender, along with Avery Stoehr, Andy Barrows, Ricie Morocco, Cumens, Cabral and Jack Stergois, all 2013 Lites winners as well. Also hoping to cash in at the division's finale are Ryan Bigelow, Christian Briggs, Brandon Igo, Logan Rayvals and DJ Moniz.