SEPTEMBER 14, 2013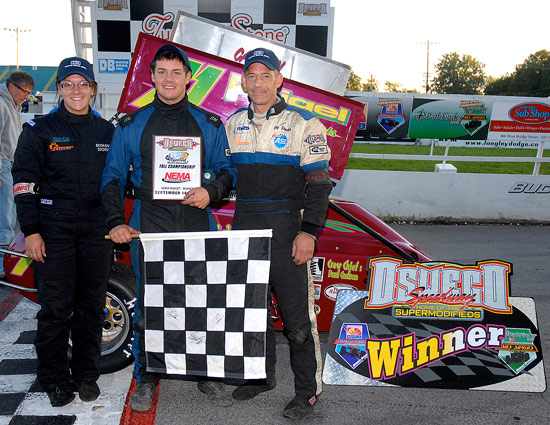 NEMA MIDGETS - L to R: Bethany Stoehr, Seth Carlson, & Greg Stoehr
NEMA Oswego Honors For Carlson
Oswego, NY – Taking advantage of lapped traffic, Seth Carlson joined Midget racing's elite Saturday night, winning the 25-lap Northeastern Midget Association feature at Oswego Speedway.

Starting third, Carlson (Feigel 71) followed pole sitter Bethany Stoehr (Stoehr 5b), the only other leader, for 18 laps before making the winning pass through turns three and four. Carlson then ran out to a commanding lead, showing a 2.098 seconds advantage at the finish.

Bethany Stoehr held on for a career best second. Her father Greg Stoehr (Stoehr 26b) edged Randy Cabral (Bertrand 47) for third, the latter coming back from a first-lap spin. Jim Chambers (Chambers 21) was fifth with point leader John Zych Jr. (Zych 9) sixth.

"I was waiting for the lapped car to come up. I figured that was my best shot. I took a chance. I made it work and now I'm here," Carlson said from Victory Lane. "We really had a good car here last year and I kind of gave it away so this is what I really wanted."

Only one-caution marred Carlson's drive, Cabral's spin on the first lap. Dropping back to 14th on the restart, Cabral was back in the top five by lap 10 and soon was in a battle with Greg Stoehr. Multiple times Cabral drew even with Stoehr.

Despite the single caution, Carlson needed just under seven minutes and 19 seconds to pick up his second career victory. Greg Stoehr had the fastest lap – a 17.116 (131.346 mph) but the entire top five were in the low 17s.

Bethany Stoehr and Carlson were both heat winners, Bethany pulling it off despite losing power steering.

The point race now very tight, NEMA begins its "stretch drive" at Waterford Speedbowl's Finale Oct. 5-6, Lee USA Speedway's Oktoberfest (Oct. 12-13) and Thompson Speedway's World Series (Oct. 19-20) follow.




Carlson is NEMA's eighth winner of the season.


While speeds were impressive, Jim Miller's sizzling 16.94 record Oswego lap set last year remains intact.


It was the fourth straight top five for Cabral.
NEMA MIDGETS - OSWEGO - 9/14/13

Pos.
#
Driver
Hometown
Owner
1
71
Seth Carlson
Brimfield, CT
Gene Feigel
2
5b
Bethany Stoehr
Bridgewater, MA
MCI Racing/
Greg Stoehr
3
26b
Greg Stoehr
Bridgewater, MA
Greg Stoehr
4
47
Randy Cabral
Plymouth, MA
Tim Bertrand
5
21
Jim Chambers
Atkinson, NH
Mike Chambers
6
9
John Zych Jr.
Mendon, MA
John Zych Sr.
7
29s
Ian Cumens

Lydell, PA

Bobby Seymour
8
39
Todd Bertrand

Suffield

, CT
Bertrand Motorsports
9
30
Paul Scally
Raynham, MA
Paul Scally
10
45
Russ Stoehr
Bridgewater, MA
Dumo's Desire Racing
11
77
Doug Cleveland
Sudbury, MA
Mike Luggelle
12
DNF
29
Jeff Abold
Baldwinsville, NY
Jeff Abold
13
DNF
1g
Anthony Nocella
Woburn, MA
Fred Gormly
14
DNF
85
Michael Barnes
-
Michael Barnes
15
DNS
7ny
Phil Dimario
Glen Cove, NY
Allan Cantor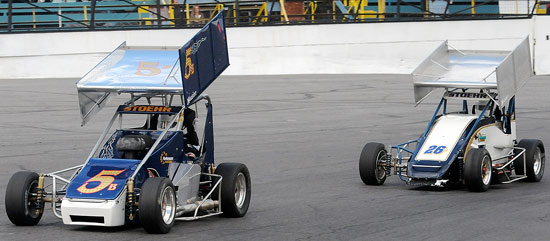 A First For Stoehr Family
Bethany Stoehr's second and Greg Stoehr's third Saturday at Oswego Speedway night marks the first time in the Northeastern Midget Association's 61-year history that a father and daughter have been on the podium. It is still another chapter in one of the country's most family-centric racing body.

Erica and Bobby Santos III remain the only sister-brother combo to share a podium. That happened at Stafford Speedway on July 3, 2008 when Bobby and Erica were second and third behind Randy Cabral.

Some other family firsts:

Fathers and sons on the same podium start with Joey Coy chasing his dad Johnny home at Thompson on April 2, 1978. The Manns – Johnny and Billy – did it too but probably the most famous incident in this category is Russ Stoehr's late pass on his dad Paul at Star Speedway on Sept. 1, 1990.

Brothers have occupied the podium countless times. Nokie and Drew Fornoro appear to be the first, finishing first and third at Stafford on Aug. 15, 1981.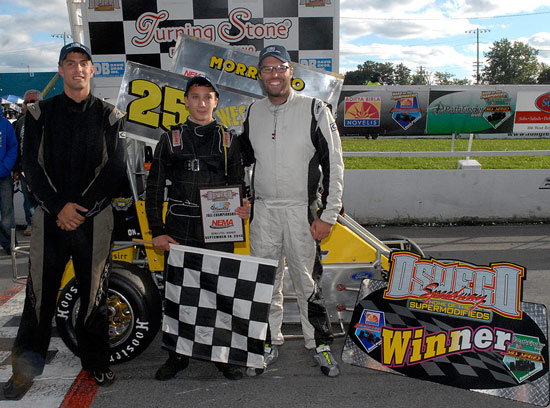 NEMA LITES - L to R: Danny Cugini, Richie Morrocco, & Christian Briggs
Morocco Rules Lites at Oswego
Oswego, NY – Making his 13th start, Northeastern Midget Association rookie Richie Morocco became the Lites Division's ninth winner of the season Saturday night, capturing the 20-lap feature at Oswego Speedway.

Starting fifth, Morocco passed Christian Briggs, the only other leader, with an inside move going into turn one on lap 16. He then went on to a convincing triumph in the caution-free event. It was the first Lites podium finish for the Plainville, MA youngster.

Briggs who started third and took the lead immediately, held on for a season-best second. In a battle that saw several passes, Danny Cugini bested point leader Carl Mederios Jr. for third with Kenny Johnson fifth. It was the fifth straight top-five for Cugini.

"I thought I had a chance about five or 10 laps in when I started catching Christian," said Morocco, who had the fastest lap – an 18.605 (120.935 mph. "After I got by him I knew I was good." Needing 19.02 minutes to cover the 20 laps, he had a 1.54 second advantage at the checker.

The Lites next start will be Saturday night, Oct. 5 at Waterford Speedbowl's Finale.
NEMA LITES - OSWEGO - 9/14/13

Pos.
#
Driver
Hometown
Owner
1
25
Richie Morocco

*

Plainville, MA
Richard Morocco
2
44
Christian Briggs
Mattapoisett, MA
Christian Briggs
3
51
Danny Cugini
Marshfield, MA
D. Cugini
4
50
Carl Medeiros Jr.
Westport, MA
Carl Medeiros Sr.
5
46
Kenney Johnson
Bethany, CT
Jeff Johnson
6
15a
Avery Stoehr
Lakeville, MA
MCI Racing LLC
7
11
PJ Stergios
Candia, NH
Bill Stergios
8
45
Brandon Igo
Wilbraham, MA
David Igo
9
9
Ian Cumens

Lydell, PA

Bobby Seymour
10
31
Paul Bigelow

Kensington

, CT
Randy Bigelow
11
29
Ryan Krachun
Neschanic Station, NJ
Mike Krachun
12
81
Andy Barrows
New Ipswitch, NH
Dustin Anderson
13
93
Jake Smith
Stroudsburg, PA
Ted Smith
14
31
Ryan Bigelow
E. Hampton, CT
Randy Bigelow
15
94
Logan Rayvals
Brockville, ONT
Craig Rayvals
16
4
Paul Scally
Raynham, MA
Paul Scally
17
DNF
41
Megan Cugini

*

Marshfield, MA
D. Cugini
* Rookie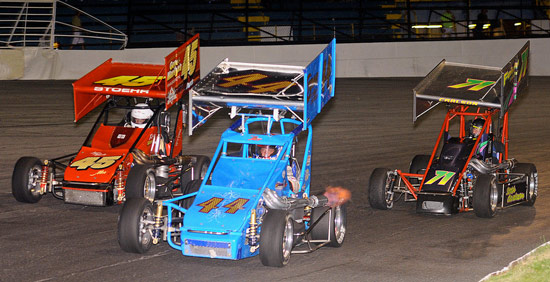 Cumens Among NEMA
Favorites at Oswego
Brockton, MA – With three top fives on the half-miles this season, Ian Cumens rates among the contenders Saturday night when the Northeastern Midget Association visits Oswego Speedway. NEMA and the NEMA Lites will both be making the trip to the ultra-quick five-eighths oval.

Oswego remains one of the ultimate challenges for all Midget racing.

Coming off a win last weekend at Star Speedway, his second of the season, Cumens will be looking to repeat last year's Lites victory at Oswego. Driving for the Seymour family, Cumens has shown a strong record on the bigger tracks including a Lites win earlier this year at Airborne Speedway. In the full Midgets, he has a second at Stafford and a fourth at Airborne.

John Zych Jr., the NEMA point leader, takes on the challenge of Oswego with four victories including Stafford and Airborne.

Last year, Oswego was one of the tracks that counted in the special Hoosier Challenge title that Cumens won. This year, for the first time in seven years, NEMA will crown an "all the races count" champion. Carl Medeiros Jr., a three-time winner this year, is the point leader with Danny Cugini still very much in contention. Cugini has a couple of "big track" top fives this year as does Kenny Johnson.

Avery Stoehr, a winner at Stafford this year and third a year ago at Oswego, is another Lites threat as is P.J. Stergios, a three time winner as well.

The Zych-Randy Cabral battle atop the NEMA championship race has been red hot, just 33 points separating them heading into Saturday night. Neither has ever won at Oswego, it being one of the few places Cabral and his car owner Tim Bertrand have not carried away a checker.

Running third through fifth, Todd Bertrand, Cumens and Russ Stoehr, the latter an eight-time Oswego winner, are carrying on their own battle.
Super Fast Oswego
for NEMA on 9/14
Brockton, MA – Through the month of August, the Northeastern Midget Association has featured speed – record lap times at Airborne Speedway in Plattsburgh, NY, Waterford Speedbowl and Riverside Speedway in Groveton, MA.

Saturday, Sept. 14, NEMA returns to the citadel of speed – Oswego Speedway. Jim Miller's 16.94 lap, set en route to victory last year, will be the objective. The NEMA Lites will also be returning to the five-eighths oval.

Coming off a victory at Riverside Speedway in Groveton, MA, John Zych and son John Jr. take the leads in the owner and driver standings respectively to Oswego. John Jr. leads two-time defending champion Randy Cabral by 33 points while John Sr. has the same edge on Tim Bertrand.

The Zychs are not strangers at Oswego, Syracuse native John Sr. fondly recalling his boyhood days cheering for track hero Nolan Swift. "I'm really excited about going to Oswego," said John Jr. "I've been going there forever to watch The Classic."
The Zychs have four victories this year including on the half-miles Stafford and Airborne Speedways.

Russ Stoehr chased Miller home a year agao when NEMA returned to Oswego in 2012 after an absence of six years. Stoehr, who has eight Oswego victories, believes his preferred line – the outside lane – puts the track in the "easy to drive" category especially when it comes to passing.

Expect Bertrand Motorsports teammates Cabral and Todd Bertrand, the latter sitting third in points (116 off the pace) to be contenders. Oswego is one of the few NEMA haunts where Cabral or owner Tim Bertrand has not claimed victory. Randy was second to Drew Fornoro back in 2002 and has had a trio of top-fives since then including a fifth last year.

Seymour Family driver Ian Cumens, the Lites winner last year, is another threat. Cumens sits fourth in points.

Second at Airborne, NEMA newcomer Jim Chambers joins the group of other hopefuls including Paul Scally, coming off three straight strong efforts, Bethany Stoehr, two-time Oswego winner Joey Payne, Jim Santa Maria and Seth Carlson who was fourth a year ago.

A winner the last time out at Star Speedway, Carl Medeiros Jr. has a, 43-point bulge on Danny Cugini in the Lites point standings. Avery Stoehr, a two-time winner, sits third 134 behind. Stoehr, a winner at Stafford this summer, was third behind Paul Bigelow in last year's Lites Race at Oswego.

Cumens is likely to be seeking his second Lites win of the year at Oswego. He was second at Star with D.J. Moniz third. Other contenders are P.J. Stergios, Ken Johnson, Richie Morocco, Brandon Igo and rookie Ken Hutchens.