Saturday August 3
70 Broderick Road -Plattsburgh, NY 12901
Culligan Water, Della Auto Group, Jeffords Steel,
and Plattsburgh Ford present
NEMA Midgets, NEMA LITES,

plus Airborne Sportsman Modifieds, Limited Late Models,
Renegades and Mini Mods (
Modifieds - week off)
NEMA AUTOGRAPH SESSION
Photos by John DaDalt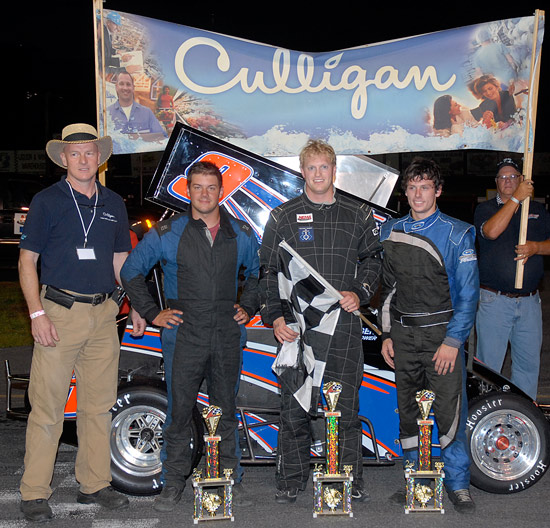 Heats>
Feature>
Photos by John DaDalt
NEMA's Zych Flies At Airborne
Plattsburgh, NY – John Zych Jr. "came, saw and conquered" Saturday night, prevailing in the Northeastern Midget Association's first visit to Airborne Speedway in 42 years. Grabbing the lead early, Zych ( Zych 9) survived a mid-race battle with Ian Cumens (Seymour29) to win the 25-lapper, his third checkered flag of the season.

A side-by-side battle with eventual runner-up Cumens, set in motion by a lap 14 restart, was the only real challenge for Zych who took the lead shortly after a lap four restart. Seth Carlson beat Russ Stoehr (Dumo's Desire 45) in the battle for the final podium spot while Randy Cabral (Bertrand 47) edged Anthony Marvuglio (Bertrand 74) for fifth.

Moving into second on lap eight after a battle with Stoehr, Cumens was 10 car lengths behind Zych when the final yellow showed. Cumens, on the outside, made a serious challenge and hung out there for four laps before Zych finally got away coming out of four completing lap 18.

"The fact that [Cumens] stayed out there worried me," admitted Zych, the point leader. "I couldn't get to the outside and it disrupted my momentum. I knew I had to clear him on the bottom."

"For a second there I did have the lead," said Cumens, pointing out, in the end, the difference was "he was good from the center out. My car liked it on the outside and was good going in." He was, taking every advantage, knowing Zych "would give me plenty of room."

The final restart did set up two terrific late race battles. Carlson got by Stoehr on the green, but couldn't get away while quarter lap behind them Cabral, driving without power steering, had his hands full with teammate Marvuglio. Spinning on the first lap, Cabral actually started last.

Four laps in yellow flew again, Todd Bertrand going off in two and Doug Cleveland losing a wheel in four. Zych, now sitting sixth, took to the outside on the green and within a lap passed Stoehr for the lead down the back chute. "That wasn't in the plan," said Zych. "I wanted to show some patience but the opening was there and I made the decision to go."

Stoehr and Bertrand were the heat winners.

NEMA heads back to Waterford Speedbowl Saturday as part of the Wings & Wheels program. It will be the club's third visit to the 'Bowl this season.
NEMA Adapts to AIRBORNE
PLATTSBURGH, NY – The Northeastern Midget Association adapted well to Airborne Speedway despite an absence of 42 years. Russ Stoehr went on a turned a 14.810 on the half-mile en route to winning the first heat and then eventual feature John Zych Jr. posted a 14.581 in the second heat which was won by Todd Bertrand.

"A real driver's track," said Ian Cumens after winning the 25-lap Lites feature. It was a credit to NEMA's ability to size up a new location.

The "Meet-And-Great," a innovation perfected this year by Bill Van Slyke, was especially impressive. At the urging of NEMA president Mike Scravani Jr. almost the entire group of drivers showed up to sign autographs, more, in fact, then there were seats. The addition of the Scrivani 21 and Mederios 50 was well received by the fans, especially the young ones. "People, especially kids, want to see the cars, touch them, sit in them," said Scrivani.




It was the second time Cumens, a NEMA rookie, chased Zych home this season. He did it previously at Stafford. "I'm really getting comfortable with the car (Seymour 29)" says the Pennsylvania resident who finds himself in the point race.


Zych on points: "I'd be lying if I said I don't look but I don't think about it." Zych insists he and his car-owner dad do not make major changes on the car. The car, he said "was not great but better than anybody else."


Defending champion Randy Cabral stayed in the point race with a hard earned fifth. The cap came off the power steering tank six laps in. "All the fluid came out and I know that because it is all over me," he said.


In the "some kids never grow up" category, NEMA legend "the always exciting" Mike Luggelle took over the Cleveland 77 In the second warm up. He then returned to his push truck responsibilities.


An impressive run for young Seth Carlson in the Feigel 71, grabbing a podium spot after a great battle with Russ Stoehr, the latter showing much improvement from previous results.
NEMA MIDGETS - AIRBORNE - 8/3/13

Pos.
#
Driver
Hometown
Owner
1
9
John Zych Jr.
Mendon, MA
John Zych Sr.
2
29s
Ian Cumens

Lydell, PA

Bobby Seymour
3
71
Seth Carlson
Brimfield, CT
Gene Feigel
4
45
Russ Stoehr
Bridgewater, MA
Dumo's Desire Racing
5
47
Randy Cabral
Plymouth, MA
Tim Bertrand
6
74
Anthony Marvuglio
E. Bridgewater, MA
Bertrand Motorsports
7
5b
Bethany Stoehr
Bridgewater, MA
MCI Racing/
Greg Stoehr
8
44
Joey Payne
Fairlawn, NJ
Ed Breault
9
7ny
Phil DiMario
Glen Cove, NY
Allan Cantor
10
30
Paul Scally
Raynham, MA
Paul Scally
11
DNF
26b
Keith Botelho
Attleboro, MA
Greg Stoehr
12
DNF
99
Jim Santa Maria
Burlington, CT
Susan Santa Maria
13
DNF
39
Todd Bertrand

Suffield

, CT
Bertrand Motorsports
14
DNF
77
Doug Cleveland
Sudbury, MA
Mike Luggelle
HEAT 1:

45-74-47-71-77-(5b-99 DNF)

HEAT 2:

39-9-29-44-7ny-30-26b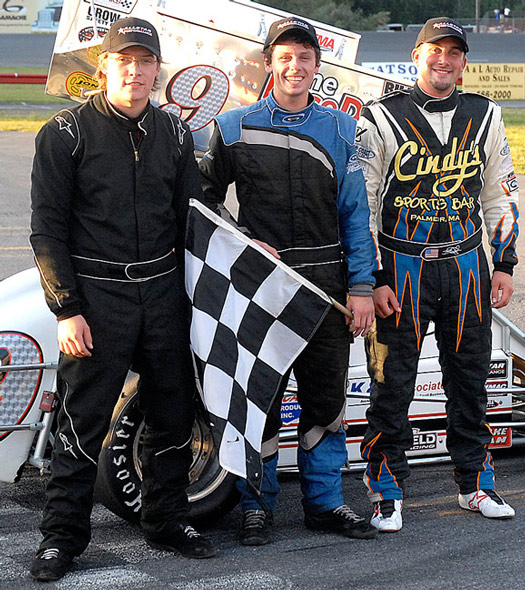 Heats>
Feature>
Photos by John DaDalt
Cumens Romps to LITES Win
Plattsburgh, NY - No problems, a good night," understated Ian Cumens after a dominating win in the 25-lap Northeastern Midget Association Lites 25-lap feature Saturday night at Airborne Speedway. Coming from fourth, Cumens (Seymour 9) had the lead by lap two and went on to a 14.242 advantage over runner-up Brandon Igo (Igo 45)at the finish.

Only a lap 19 restart hindered the romp, Cumens enjoying a straightaway lead when yellow showed. While the stoppage had little effect on Cumens' run, it did result in a lot of passing over the final laps. Logan Rayvals (Rayvals 94) was third followed by Danny Cugini (Cugini 51) and point leader Carl Medeiros Jr.

The Lites return to action Aug. 9 at Lee USA Speedway's Ollie Silva Memorial Summer Classic.




Airborne regular Jessey Mueller jumped in the Seymour 9 and did a more than credible job running In a sandwich between Medeiros and Stoehr in an exhibition race.


Cumens, who finished second in the NEMA race, called Airborne a "real drivers' track." He had the fastest lap, a 15.879.


Rayvals and Igo were the heat winners.
NEMA LITES - AIRBORNE - 8/3/13

Pos.
#
Driver
Hometown
Owner
1
9
Ian Cumens

Lydell, PA

Bobby Seymour
2
45
Brandon Igo
Wilbraham, MA
David Igo
3
94
Logan Rayvals
Brockville, ONT
Craig Rayvals
4
51
Danny Cugini
Marshfield, MA
D. Cugini
5
50
Carl Medeiros Jr.
Westport, MA
Carl Medeiros Sr.
6
15a
Avery Stoehr
Lakeville, MA
MCI Racing/
Russ Stoehr
7
41
Megan Cugini

*

Marshfield, MA
D. Cugini
8
21
Anthony Payne

Fairlawn, NJ

Jennifer Scrivani
9
46
Kenney Johnson
Bethany, CT
Jeff Johnson
10
DNF
25
Richie Morocco

*

Plainville, MA
Richard Morocco
* Rookie
HEAT 1:

94-50-15a-51-41

HEAT 2:

45-9-25-46-21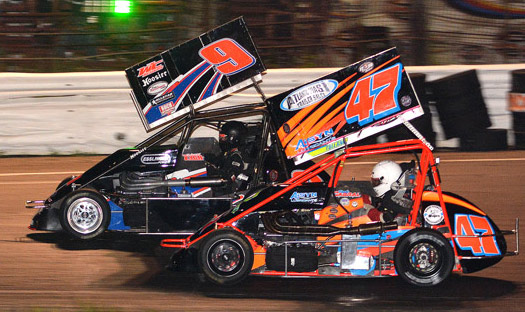 NEMA Points Tight
Heading To Airborne
Brockton, MA – A mere five points separates point leader John Zych Jr. and defending champion Randy as the Northeastern Midget Association visits Airborne Speedway Saturday night. The championship battle is sizing up as one of the most intense in years.

Carl Medeiros Jr. has a comfortable but hardly insurmountable 131-point lead atop the Lites standings. There are only six points, however, between second and fourth place – Danny Cugini, Avery Stoehr and Andy Barrows.

Both NEMA and the Lites will challenge the Airborne Speedway half-mile for the first time since 1971 when Jerry Wall and the legendary "yellowjacket" prevailed.

Todd Bertrand (-34), rookie Ian Cumens (-73), Russ Stoehr (-112) hold spots three through five in NEMA points. The top five all have impressive big track resumes including Stafford winner Zych. Although NEMA has not run Airborne in 40-plus years, most competitors are comparing it to Stafford where Cabral and Stoehr have both won in the past.

With a win at Waterford last Saturday, Anthony Marvuglio has climbed to seventh in the driver standings. Marvuglio will again drive the Bertrand 74 which now sits fifth in owner points.

Two time winner Medeiros, who makes no pretense about his championship hopes, look to continue his run of consistent finishes. Avery Stoehr is also a two-time winner, the first coming at Stafford and the second last Saturday at Waterford. Some folks view Airborne as a cross between Stafford and Waterford.
NEMA Challenge At Airborne
Brockton, MA – Although the Northeastern Midget Association has been there before (42 years ago), Saturday night's host Airborne Speedway is brand new territory. Both NEMA and the NEMA Lites will challenge the Plattsburg, NY half mile.

NEMA's last visit to Airborne was 1971 when Jerry Wall drove the iconic yellow jacket to victory. It will be the third visit over all, Dave Humphrey winning in 1978.

Even Greg Stoehr, who ran Late Models at Airborne two decades ago, sees it as a new challenge.

Last week's winner Anthony Marvuglio, back in the Bertrand 74, leads the assault on Airborne. His teammates Randy Cabral and Todd Bertrand, point leader John Zych Jr., Seth Carlson, Paul Scally and rookies Jim Chambers and Ian Cumens are all contenders.

Point leader Carl Medeiros Jr. and last week's winner Avery Stoehr are among the Lites threats.

"Those who figure it out first have a decided advantage," says Mike Seymour, pointing out the family has fielded many questions this week regarding the track. The challenge is, however, hardly unique for the Stoehr or Seymour families or for Dumo's Desire crew chief Joe Fiori. "All of the tracks were new at some point," says Stoehr, who, like the Seymours and Fiori has been setting up race cars for decades.

Cumens is part of a long list of Seymour drivers that includes both brothers.

"Back with the sprint cars we used to do it all the time," say Seymour, who followed his dad, the legendary Boston Louie, and brother Bobby around the country with the USAC sprinters. "Everybody's guessing," he continues and the game is making the guessing as educated as possible.

Fiori, another who has logged many miles running sprints and midgets, will "google the layout of the track, print it on real thin paper and lay it over a photo of a similar track and gage it from there." The key is to discover how a new track, in this case Airborne, compares to a familiar track." The Russ Stohr-driven 45 will attack Airborne "with a baseline set up (probably Stafford) and go from there."

Stoehr, the son and the father of a racer as is brother Russ, has "called everybody I know trying to get some information," to help himself, daughter Bethany and nephew Avery, the latter a Lites competitor. He's been on the computer and pictures show a layout "similar to his Late Model days."

Stoehr suggests "those guys with longer experience with a particular chassis may figure it out sooner."

Airborne, Stoehr reasons, "is somewhere between Stafford and Lee or Waterford."

Seymour also believes "talking to people who run there" is the best approach and the ideal situation is talking to somebody who has also raced recently at a familiar track. "You want to compare it with someplace you know about," he explains.