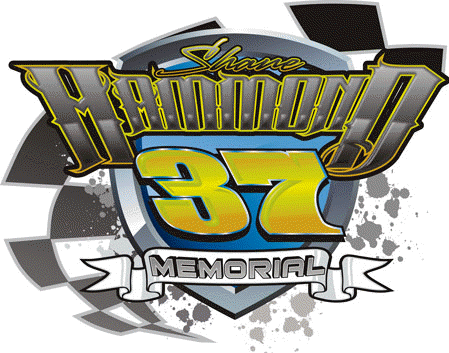 SATURDAY, JULY 27TH
The 4th Annual
Shane Hammond Memorial Race
Waterford Speedbowl

-
Awards & Lap Boards HERE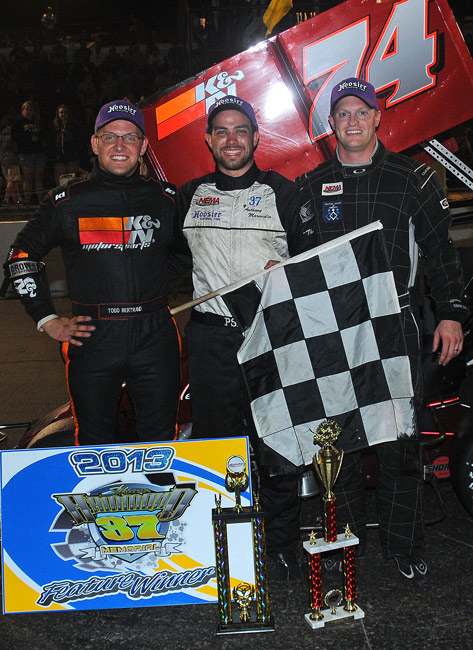 MIDGETS: Todd Bertrand - Anthony Marvuglio - John Zych Jr.
Photos by Norm Marx
Fairy Tale NEMA Finish For Marvuglio
Waterford. CT – Anthony Marvuglio went from without a ride to "living a dream" in a little over 24 hours. Driving the Bertrand 74, Marvuglio won the Northeastern Midget Association' 27-lap Shane Hammond Memorial Saturday night at Waterford Speedbowl. It was the second straight year Marvuglio won the race that memorializes his brother.

Taking the lead on a restart with 10 laps remaining, Marvuglio had an almost three second lead over Todd Bertrand (Bertrand 39) at the finish. The final laps featured John Zych Jr.'s run from sixth to third. Phil DiMario (Cantor 7ny) the only other leader, was fourth with Seth Carlson (Feigel 71) fifth.

"I just drove it into the middle of the turn until I knew I cleared him," said Marvuglio of the winning pass, pointing out "the car allowed me to do it that." It was the second win of the season for the Tim Bertrand –owned car, the Boston Louie winner with Doug Coby aboard. Calling the car "phenomenal," Marvuglio said "it tells you what it wants to do."

Todd Bertrand, who started fifth, took second on the restart, was also "living a dream." Finishing behind "my best friend" is like a win to me," he said.

It was, Marvuglio explained, best friend Todd Bertrand who called between four and five on Friday afternoon with the news: "we want you to drive the 74 tomorrow." Marvuglio, idle since losing a motor in the Bourbeau 38 at Stafford, planned to "enjoy my brother's race, maybe sell some T-shirts for the [Hammond] foundation."

Starting fourth, Marvuglio, the first heat winner, grabbed second immediately and followed pole-sitter DiMario. Although he did lead briefly coming off two with 13 left, Marvuglio was part of a freight train that had Carlson, Todd Bertrand, Randy Cabral and Zych behind him.

Marvuglio, however, was watching DiMario "get really loose, especially off two. He had to pinch the car to stay on the bottom "In the end I think we would have had something for him." It was a matter of being patient."

With six winners in seven races, NEMA heads to Airborne Speedway in Plattsburgh, NY Saturday night. It will be NEMA's first visit to Airborne since 1971.




Deb Marvuglio, Hammond's mother, did an incredible job in hosting the race.


Mavruglio received fastest lap honors turning a 12.933 (104.383 mph). Zych was just a tick behind at 12.993. Those were the the only two sub 13 laps.


The Cantor family continues to get strong runs, Phil Dimario winning his heat before the fourth place feature finish.


A dozen cars finished the 27 laps, testimony to Waterford's stature as a Midget track.


Marvuglio said the 74 demands finesse with both hands and feet. "You can't just jerk it around. In this race, I turned into a driver," he said.
NEMA MIDGETS - WATERFORD - 7/27/13
Pos.
#
Driver
Hometown
Owner
1
74
Anthony Marvuglio
E. Bridgewater, MA
Bertrand Motorsports
2
39
Todd Bertrand
Suffield
, CT
Bertrand Motorsports
3
9
John Zych Jr.
Mendon, MA
John Zych Sr.
4
7ny
Phil DiMario
Glen Cove, NY
Allan Cantor
5
71
Seth Carlson
Brimfield, CT
Gene Feigel
6
47
Randy Cabral
Plymouth, MA
Tim Bertrand
7
29s
Ian Cumens
Lydell, PA
Bobby Seymour
8
5b
Bethany Stoehr
Bridgewater, MA
MCI Racing/
Greg Stoehr
9
45
Russ Stoehr
Bridgewater, MA
Dumo's Desire Racing
10
30
Paul Scally
Raynham, MA
Paul Scally
11
99
Jim Santa Maria
Burlington, CT
Susan Santa Maria
12
16
Matt O'Brien
Wilmington, MA
Jim O'Brien & Sons Engineering
13
77
Doug Cleveland
Sudbury, MA
Mike Luggelle
14
DNF
21
Jim Chambers
Atkinson, NH
Mike Chambers
15
DNF
44
Joey Payne
Fairlawn, NJ
Ed Breault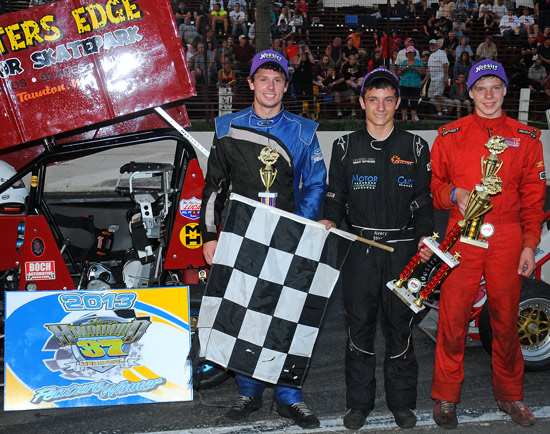 LITES: Ian Cumers - Avery Stoehr - Kenney Johnson
Photos by Norm Marx
Stoehr Tops NEMA LITES at Waterford
Waterford - Avery Stoehr made it two straight Northeastern Midget Association Hammond Memorial Lites wins Saturday night at Waterford Speedbowl. It was the second win of the season for the third generation racer who came from the ninth starting spot.

Taking the lead with an inside move on Scott Bigelow with 14 left, Stoehr survived a restart challenge from Kenny Johnson five laps later and went on to a .730 margin of victory. Johnson (Johnson 46) and Ian Cumens (Seymour 9), both fighting tight race cars, completed the podium. Point leader Carl Mederios (Mederios 50) and Brandon Igo (Igo 45) completed the top five.

Stoehr and Johnson, the latter starting eighth, battled most of the night. A lap after Stoehr assumed command, Johnson passed Bigelow in the back for second and was well within striking distance when the final yellow showed. Unfortunately Bigelow, who ran well all night was involved.

While Stoehr "didn't want to see the caution," he was confident. The car, he said, "got really good" especially on the bottom. Johnson's car "got tighter as the race went on." Cumens, who started 10th, was also in the restart battle briefly.

Bigelow, who started second, grabbed the immediate lead with Richie Morocco on his tail right away. They dueled for 10 laps, each leading, while Stoehr and Johnson moved forward. When the first yellow showed with 22 remaining, Stoehr was fourth and Johnson fifth. Three laps later they were third and fourth.

The Lites will join NEMA Saturday night at Airborne Speedway in Plattsburgh, NY.




Johnson took fast lap honors with a 14.151 (95.400 mph).


A former NEMA car-owner champion, Carl Kibbe wrenches the 15a for the Stoehr family. He says Avery has the same smoothness that his father Russ has shown in NEMA for decades.


Logan Rayvals and Scott Bigelow were the heat winners.


Joey Payne's son Anthony made his full midget debut with a 10th in the Scrivani 21.


Thirteen cars finished all 27 laps.


Rookie Richie Morocco, who also fell victim to ill fortune, continued to impress.
NEMA LITES - WATERFORD - 7/27/13

Pos.
#
Driver
Hometown
Owner
1
15a
Avery Stoehr
Lakeville, MA
MCI Racing/
Russ Stoehr
2
46
Kenney Johnson
Bethany, CT
Jeff Johnson
3
9
Ian Cumens

Lydell, PA

Bobby Seymour
4
50
Carl Medeiros Jr.
Westport, MA
Carl Medeiros Sr.
5
45
Brandon Igo
Wilbraham, MA
David Igo
6
51
Danny Cugini
Marshfield, MA
D. Cugini
7
94
Logan Rayvals
Brockville, ONT
Craig Rayvals
8
13
Ryan Bigelow
E. Hampton, CT
Randy Bigelow
9
31
Paul Bigelow

Kensington

, CT
Randy Bigelow
10
21
Anthony Payne

Fairlawn, NJ

Jennifer Scrivani
11
7
Dana Shaw
Danielson, CT
Gregory Olson
12
18
DJ Moniz
Fairhaven, MA
David Moniz
13
41
Megan Cugini

*

Marshfield, MA
D. Cugini
14
DNF
25
Richie Morocco

*

Plainville, MA
Richard Morocco
15
DNF
2k
Kelly Ferrell

*

Chaplin, CT
John Ferrell
16
DNF
93
Jake Smith
Stroudsburg, PA
Ted Smith
17
DNF
32
Scott Bigelow
E. Hampton, CT
Randy Bigelow
18
DNF
35
Randy Cabral
Plymouth, MA
Glen Cabral
19
DNF
52
Kevin Park
Foxboro, MA
Kevin Park
20
DNS
22l
Steve Powers
-
Mike Luggelle
* Rookie
NEMA AUTOGRAPH SESSION
Photos by
Alicia Rossi
---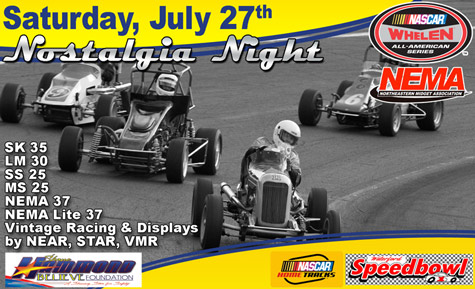 NEMA Points Battles Tight
Heading to Waterford
Brockton, MA – Point leaders Randy Cabral and Carl Medeiros Jr. lead the Northeastern Midget Association to Waterford Speedbowl Saturday night for the Shane Hammond Memorial. Cabral and Medeiros lead NEMA and the NEMA Lites respectively and neither has a lot of room to spare.

Only 23 points separate Cabral and John Zych Jr. with rookie Ian Cumens (-61) and Todd Bertrand (-80) trailing. Bertrand was the winner in the season-open at Waterford .

There are a mere 17 points between Medeiros, the winner last time at Lee USA Speedway, and Andy Barrows in the Lites standings. Medeiros was second to Cabral earlier this year at Waterford.

There are few if any secrets left at Waterford. "Very often," offers Russ Stoehr, "the place you run the best all year is Waterford." Led by Anthony Marvuglio's 12.619 Stoehr, Bertrand, Cabral, Zych all ran in the 12 seconds bracket earlier this year at The 'Bowl.

Cabral ended a long winless streak July 17 at Seekonk. "Not winning wasn't the problem," he said. "I was starting to think I couldn't win and that was a problem." He's won eight times at Waterford, a record he shares with Russ Stoehr, but not since 2008.

Zych, who credits his 2013 success (two victories) to years of trial and error, won the 2012 opener at Waterford. Cumens drives for Bobby Seymour, a Waterford maestro back in his driving days and could well be No. 19 on the list of drivers who scored their first NEMA win on the Connecticut shoreline oval.

Greg Stoehr and Joey Payne also know the way to Waterford's victory lane. Other contenders include Seth Carlson, Bethany Stoehr, Jim Chambers, Paul Scally and James Santa Maria.

The first Lites race was at Waterford (2008) so there's plenty of familiarity there as well. Third through fifth in the standings, Dan Cugini, Avery Stoehr and P.J. Stergois have been successful at Waterford. Kenny Johnson, D.J.Moniz, Logan Rayvels and rookies Kevin Hutchens and Richie Morocco are other threats.