The Seekonk 200 has been


CANCELLED

due to weather.
Seekonk, Ma. – Friday 9/28/12- Inclement weather has forced the rescheduling of the Seekonk 200 at Seekonk Speedway.

The track walk to benefit the Ronald McDonald House of Providence is canceled; we ask any donations be forwarded directly to the Ronald McDonald House.

The race is tentatively rescheduled for Saturday April 27, 2013 at Seekonk Speedway with a rain date of Sunday April 28, 2013.

"All the weather forecast indicate rain throughout the weekend; we thought it would be best to cancel early to save the many race teams the expense of travel; we thank all the individuals involved, especially Bobby Seymour, & Seekonk Speedway in the planning of this event, and look forward to their participation in April", said Race Promoter Gary Sagar of Kraze Korlacki Speed Equipment, Inc.

Updates on this event will be provided in the near future.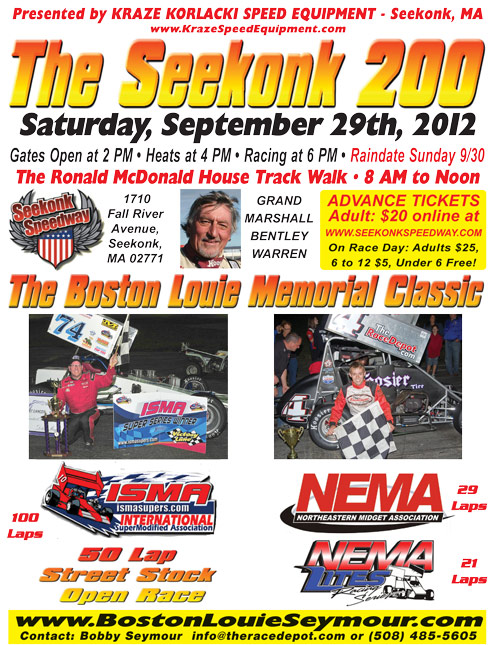 .
Seekonk 200 Sponsors
S.M. Lorusso & Sons Inc.
Walpole, MA

Shea Concrete Products Inc.

Wilmington, MA
.
NEMA LITES Feature Race Sponsors
Woodshole Marine
Woodshole, MA
Nocella Paving
Woburn, MA
Power & Antenna Service
Beacon, CT
Blackwatch Farm
Weathersfield, VT
.
NEMA Midgets Feature Race Sponsors
Shea Concrete Products Inc.

Wilmington, MA


Motorcars International

Bridgewater, MA


Nocella Paving

Woburn, MA


UNOH - University of Northwestern Ohio

Lima, OH
.
ISMA Feature Race Sponsors
Shea Concrete Products Inc.

Wilmington, MA



---
"The Louie," A Showcase of Talent
Brockton, MA - En route to becoming the biggest pavement Midget race in the Northeast, the Boston Louie Memorial has added immeasurably to the recent history of the 60-year old Northeastern Midget Association.

The 16th edition of the two-tier "Louie" is part of the Saturday night, Sept. 29 Seekonk 200 Presented by S.M. Lorusso & Sons at Seekonk Speedway. A 29-lap feature for the full Midgets and a 21-lapper for the Lites share the agenda with a 100-lap International Supermodified Association event and a 50-lap Street Stock Open.

The "Louie," which memorializes Hall of Famer car owner Louie Seymour, has been a showcase for the best Midget talent in the region. An expected banner field is expected in all three divisions.

A brief overview of Boston Louie history follows.

1997 – The championship-bound Russ Stoehr and Bruce Beane won the first Boston Louie, besting legend Nokie Fornoro, the latter driving for the Scally family.

1998 – Another championship bound team, Drew Fornoro and Gene Angelillo prevailed besting Bobby Seymour. It was the first of three Louie victories for Angelillo.

1999 – A perfect night for Louie Seymour's boys, Bobby, in the Scrivani #9, besting Mike in the Tapply #8.

2000 – Driving a car older than he was – the family #35 – Randy Cabral collected his first-ever NEMA checkered (he now has 33) with a convincing win over Nokie Fornoro.

2001 – Driving Babe Shaw's 1s, Jeff Horn started eighth, had the lead by lap two and beat Russ Stoehr by a comfortable margin.

2002 – Moving to Waterford Speedbowl, 16-year old Bobby Santos III, driving a Seymour/Scrivani maintained car, scored his first "big" win. The winning pass – going under Tim Bertrand in turns three and four – came with 13 laps remaining.

2003 – Win number one for Payne and two for Angelillo came after Randy Cabral's car was judged "too wide."

2004 – Ben Seitz (Valeri 17) chased down Payne, took the lead with nine left and then survived a late restart challenge. Seitz and Valeri went on to the championships.

2005 – Back at Seekonk, Joey Payne took advantage of a lap 23 caution to pass Jeff Horn and become the first two-time winner. It was the third Louie for Angelillo.

2006 – It was Nokie's turn and he wired it in the Jarret #4, finishing far ahead of Payne.

2007 – Seitz joined the two win club. Although he led every lap, Seitz had to beat back challenges from both Nokie Fornoro and Payne in the closing laps.

2008 – The Cabral/Bertrand team, with a motor borrowed from the Santos team, started eighth, had the lead by lap three and won by less than a car length over a very young Jeff Abold in a Seymour car. Bobby Santos III was third. Shaun Gosselin was the first "Louie" Lites winner.

2009 – The first of three straight wins for the Abold/Seymour team. After posting a blistering 10.859 in time trials, Abold came from the 16th starting spot and passed Cole Carter, driving for Bertrand, on lap 18. Anthony Marvuglio, in the Cabral 35, scored an emotional Lites win.

2010 – Starting 14th, Abold needed only 10 laps to grab the lead and then beat back a late challenge from Cabral. It was a sweep for the Seymours, Anthony Nocella winning the Lites event.

2011 – Setting fast time for the third straight year, Abold needed 19 laps to grab the lead and again beat back Cabral threats in the closing laps. David Moniz ruled the Lites feature.

Ayla Brown, the daughter of U.S. Senator Scott Brown and an aspiring country music singer, will sing the National Anthem. New England racing legend Bentley Warren will be the Grand Marshall.
---
Ayla Brown to Sing National Anthem
at the Seekonk 200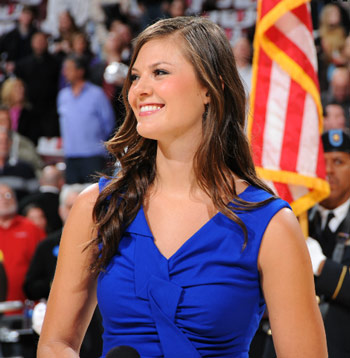 Ayla Brown has pursued a diverse range of endeavors over the span of the last six years. Her achievements include; being an American Idol Semifinalist, recording artist of four albums, national and local performances, involvement in numerous charitable causes, National Anthem singer for the Philadelphia 76ers, and national news correspondent for The Early Show on CBS. In January of 2012, Ayla released a self-titled country album.
---
NEMA's "Louie" Set To Go
The 16th annual Boston Louie Memorial, set for Saturday night at Seekonk Speedway, is the biggest paved track midget race in the northeast. It is the biggest plum in the Northeastern Midget Association's basket.

The two-tiered – a 29 lap feature for the full Midgets and a 21 lapper for the Lites – "Louie" joins a 100-lap International Supermodified Association event and a 50-lap Street Stock Open on the Seekonk 200 Presented by S.M. Lorusso & Sons agenda.

The race memorializes "Boston" Louie Seymour, a Marlboro, MA resident who, for better than two decades, competed around the nation in USAC Sprint and Super Crown action. The 29 laps recognizes the number Louie Seymour made famous.

The entire Seymour family including Louie's widow Ellie and son Mike and Bobby continue to present the event.

The Seymours are looking to extend a "Louie" win streak, Jeff Abold driving the family car to victory in '09, '10 and '11. With Abold driving his own car this year, the Seymours will put their hopes in young driver Anthony Nocella. Abold will be doing double duty and will be among the ISMA field trying to end Johnny Benson's Seekonk win streak at two.

Leading the NEMA field aiming to end the Seymour streak is defending champion and current point leader Randy Cabral, second the past two Louies driving for Bertrand Racing. Cabral has two Louie victories –his first-ever NEMA in 2000 and again driving for Bertrand in 2008.

NEMA rookie Seth Carlson comes to the Louie hoping to repeat his win earlier this year in Seekonk's Open Wheel Wednesday. He is one of 10 NEMA winners this year, the list including John Zych Jr., Greg Stoehr, Mike Horn, Adam Cantor, Anthony Marvuglio, Jim Miller and Todd Bertrand in addition to Nocella and Cabral. Joey Payne and Russ Stoehr, both Seekonk experts, are always contenders. Other hopefuls include Barry Kittredge, Jim SantaMaria, Paul Scally, Doug and Brian Cleveland, Lee Bundy and Matt O'Brien.

Four-time winner Carl Medeiros Jr. and Alan Chambers, each coming off victories two weeks ago at Beech Ridge Speedway, head up the Lites contenders.

Modified standout Keith Rocco, a surprise winner at Wateford Speedbowl a few week back, will be making his second career Midget start in the Lites feature. It will be first-ever Seekonk race for Rocco who'll be driving the Manafort #87 that came from the rear at Waterford.

Other Lites contenders include Ian Cumens in the Seymour entry, Avery Stoehr, Randy Cabral, Brandon Igo and Ryan Bigelow, all winners this season as well. Bethany Stoehr, Danny Cugini, Kenny Johnson, Andy Barrows and Christian Briggs have been knocking on the door.

Bentley Warren is a perfect choice for Grand Marshall duties. A many time ISMA champion, Warren's resume includes, in addition to a pair of Little 500 victories and a Copper World Classic checkered, multiple wins at the Oswego and Star Classics. The two-time Indianapolis 500 competitor has a history with the Seymour family as well, driving the "Spirit of Boston" Silver Crown car as well as an occasional midget ride.
---
Lorusso Signs on as
Seekonk 200 Sponsor
It is now the Seekonk 200 Presented by S.M. Lorusso & Sons Inc. Long associated with New England motor sports, the Walpole, MA- based company has signed on as the presenting sponsor for what promises to be an evening of exceptional speed Saturday night, Sept. 29 at the historic facility.

The Northeastern Midget Association's 16th annual Boston Louie Memorial, comprising of a 29-lap feature for the full Midgets and a 21-lapper for the NEMA Lites, and a 100-lap haul for the lightning-quick International Supermodified Association are on the agenda along with a 50 lap Street Stock Open. The evening celebrates the town of Seekonk's 200th birthday.

"We are pleased to be part of this great event," said company Vice President Sam Lorusso. "The people I've met through racing are hard-working and dedicated. It is a great joy to be involved with this race. I think we're going to write some history."

Lorusso and sister company Cape Cod Aggregates, have been part of the southeastern New England construction scene since 1938. They also have a long involvement in area auto racing especially in NEMA and ISMA. Presently Lorusso sponsors the ISMA efforts of Ben Seitz driver and owner Dick Bien.

Seitz, driving for Peter Valeri, carried Cape Cod Aggregates sponsorship to four straight NEMA championships. The Valeri/Lorusso relationship actually started with Legends Cars.

NEMA stalwart Mike Favulli drove a Cape Cod Aggregates sponsored Midget to many victories and remains one of the most popular figures in NEMA history.

According to Lorusso, the company's auto racing involvement began with the "T-5" Modified owned by Tom Dunn and driven by Fred Schulz and Leo Cleary. The sponsorship followed Dunn's venture into NEMA where Butch Walsh was among the drivers.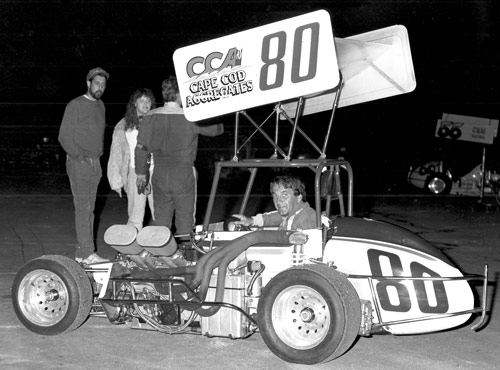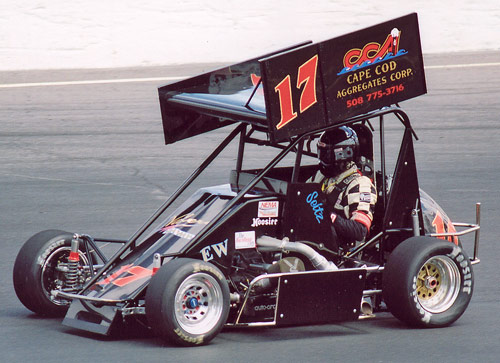 ---
Streaks Play Role in
NEMA's Boston Louie
Brockton, MA - Two of the Northeastern Midget Association' top teams head into the 16th annual Boston Louie Memorial concerned with streaks. The Seymour family would like to extend one while Bertrand Racing hopes to end one.

"The Louie," NEMA's premier event, is part of the Saturday night, Sept. 29 Seekonk 200 Presented by S.M Lorusso & Sons at Seekonk Speedway. NEMA's two-layered effort – a 29-lap feature for the full Midgets and a 21-lapper for the Lites, joins a 100-lap ISMA Supermodified haul and a 50-lap Street Stock Open on the agenda.

The Seymour family hopes to extend a "Louie" win streak to four. Bertrand Racing would like nothing better than stopping a skein of three straight runner-up finishes with a victory.

The race memorializes one of New England's most revered characters. For over two decades, Marlboro, MA-based Louie Seymour (the "Boston" tag came from Marlboro's proximity to the Bay State capitol) towed to USAC Sprint Car and Silver Crown events throughout the country. "The man who towed a million miles," he was tabbed.

Louie's sons Mike and Bobby and widow Miss Ellie, are emotionally invested in the race which has contributed much to the NEMA mystique. Tireless workers on the promotional level, they continue to be competitors as well. Bobby and Mike finished one-two in 1999.

The Seymour family is, in fact, looking for a fourth straight "Louie," Jeff Abold driving their car to victory over the past three years. Abold, also a supermodified threat, had the fastest time on each winning occasion, posting an incredible 11.071 seconds lap in 2010.

While Abold will be present again in his own Midget, the Seymours will be looking to young Anthony Nocella to continue their run. Nocella is no stranger to "Louie" excitement or Seekonk. He won the 2010 Louie Lites race in Seymour equipment. A year ago he was fourth in the Louie driving for another owner and then jumped back in the Seymour to win the DAV.

"I've had pretty good success at Seekonk," says Nocella, pointing out "keeping your momentum is the key there. It a short track but it is very fast." He is determined to maintain the streak. "I know how much the Seymour family wants a victory," says Nocella who comes to the Louie on a win and a third at Beech Ridge. "I know how excited they got after I won the Lites race."

Indeed, the Seymours are looking to Ian Cumens to duplicate the sweep they celebrated in 2010 in the Lites feature.

Tim Bertrand's cars have chased Abold home the past three years – Cole Carter the driver in 2009 and Randy Cabral in the past two Louies. The defending champ and present point leader, Cabral aims to join Abold as the only three-time winners of the race. Cabral'sfirst-ever NEMA win came in the 2000 Louie in the family 35. He won again in 2008, besting Abold.Todd Bertrand will also be in a Bertrand car.

Both Nocella and Cabral come to the Louie off victories at Beech Ridge Speedway.

Joey Payne Jr. will also be seeking a third Louie win.
---
Rocco To Wheel Midget
At Seekonk Sept 29
2010 Whelen All-American Series National Champion Keith Rocco of Meriden, CT., has filed an entry to drive the #76 Frank Manafort owned NEMA LITE midget, Saturday night, September 29, at Seekonk (MA)
Speedway.

The race program featuring the powerful winged ISMA supermodifieds,
NEMA midgets, and 'open' street stock race is being run in conjunction with the 200th anniversary celebration of the Town of Seekonk.

Rocco will compete at the famed 'Cement Palace' after qualifying at Stafford (CT) Motor Speedway. "Seekonk Speedway is the perfect track to race with NEMA. I have never raced there, only practiced once with 'Ole Blue'," said Rocco, referring to a Whelan Modified Tour car he drove before being sidelined with a wrist injury. "I look forward to competing for the first time at Seekonk."

The Seekonk appearance will be Rocco's second time in a midget race
car. His first attempt resulted in a back to the front victory at Waterford (CT) Speedbowl earlier this month.

The powerful winged supermodifieds will headline the card competing in a 100-lap feature race. Cornelius, NC., driver, Johnny Benson will be looking to win his third consecutive race at Seekonk.

The Northeastern Midget Association, (NEMA) will stage their 16th annual 'Boston Louie Seymour Memorial Classic,' a 29-lap feature race in honor of the late racing icon. The companion NEMA LITES will compete in a 21-lap feature.

A 50-lap'Street Stock Open' with entries from around New England are expected to compete for the $1,000 to-win payoff and added bonuses.