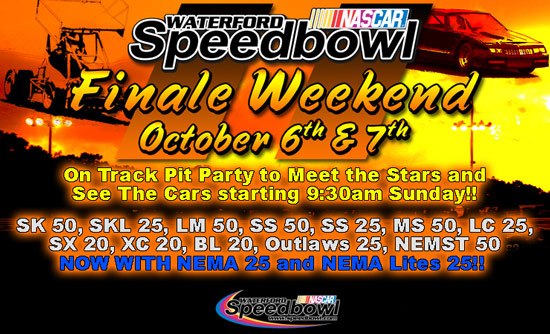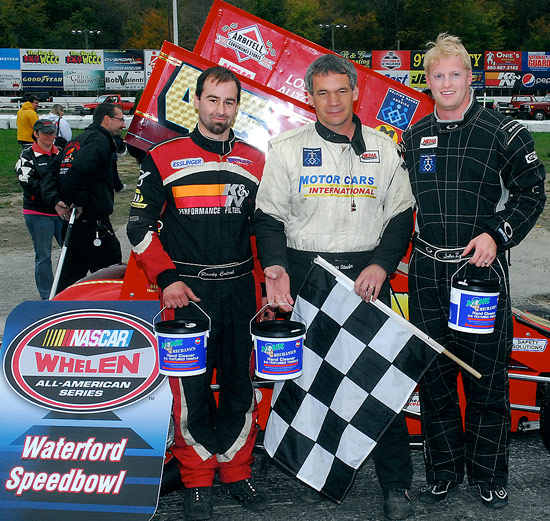 Randy Cabral - Russ Stoehr - John Zych Jr.
Russ Stoehr Joins NEMA Win List
Waterford, CT – Coming from the eighth starting spot, Russ Stoehr (Dumo's Desire 45) had the lead seven laps in and went on to win the 25-lap Northeastern Midget Association feature Sunday at Waterford Speedbowl's Weekend Finale. It was the first win of the season for Stoehr who became the 11th winner in 12 NEMA races this season.

Only a mid-race caution interrupted Stoehr's run, the resulting restart providing an opportunity for point leader Randy Cabral (Bertrand 47) who finished a half second behind in second. It was Cabral's fourth second place finish this year at Waterford.

John Zych (Zych 9) got by three cars in the final two laps to claim third. Mike Horn (Horn 93x) and Bethany Stoehr (Jarret 4x) were fourth and fifth.

Stoehr passed his niece Bethany coming out of turn two on lap five to take second. A lap later he moved past pole sitter James Santa Maria (Santa Maria 99), the only other leader, at the end of the backstretch.

His 49th NEMA career win ended a season of frustration for Stoehr and the Dumo's Desire team. "We've struggled," he said. "We've been a little bit off." He added "paying attention to the program"
+was the key Sunday.

"I wanted to pass Horn and Zych (the sixth and seventh starters) early and we did that," said Stoehr who is now tied with Cabral on NEMA's all time Speedbowl win list, each with eight. He was clearly in command when rocks on the front chute, thrown up by a car heading into the infield, brought out the yellow.

On the restart, Horn followed Stoehr past SantaMaria into second while Cabral, who started 12th, moved from sixth to third down the backstretch. With eight laps left, Cabral took second from Horn out of four and the chase was on.

"Looking at my [blistered] right rear and looking at his I couldn't have passed Russ with 100 more laps," Cabral said in victory lane. He did, however, make every effort, "moving the car around looking to make it faster." That, he suggested, amounted to "driver error."

Still, Cabral, who had the fastest lap (his 13.014 slightly better than Stoehr's 13.016) takes a 78-point bulge on Stoehr into this weekend's World Series at Thompson.
NEMA MIDGETS - WATERFORD - 10/7/12

Pos.
#
Driver
Hometown
Owner
1
45
Russ Stoehr
Bridgewater, MA
Dumo's Desire Racing
2
47
Randy Cabral
Plymouth, MA
Tim Bertrand
3
9
John Zych Jr.
Louisville, KY
John Zych Sr.
4
93x
Mike Horn
Ashland, MA
Jeff Horn
5
4x
Bethany Stoehr
Bridgewater, MA
MCI Racing/
Greg Stoehr
6
26b
Greg Stoehr
Bridgewater, MA
Greg Stoehr
7
33
Adam Cantor
Glen Cove, NY
Allan Cantor
8
39b
Todd Bertrand

Suffield

, CT
Bertrand Motorsports
9
4
Anthony Nocella

Woburn, MA

Bobby Seymour
10
3m
Jim Miller
Weymouth, MA
Jim Miller
11
99
Jim Santa Maria
Burlington, CT
Susan Santa Maria
12
2
Lee Bundy
Kennebunkport, ME
Lee Bundy
13
7ny
Phil Dimario
Glen Cove, NY
Allan Cantor
14
30
Paul Scally
Raynham, MA
Paul Scally
15
50
Pete Pernesiglio Jr.
Lake Grove, NY
Pete Pernesiglio Sr.
16
78
Brian Cleveland
Billerica, MA
Linda Cleveland
17
38
Anthony Marvuglio
E. Bridgewater, MA
Tammy Bourbeau
18
DNF
71
Seth Carlson
Brimfield, CT
Gene Feigel
19
DNF
44
Joey Payne
Fairlawn, NJ
Ed Breault
---

Dylan Duhaime
---
Duhaime Gets First At Speedbowl
Waterford, CT – Dylan Duhaime wound up the Northeastern Midget Association Lites winner Saturday night at Waterford Speedbowl's Finale when Keith Rocco, who was first under the checkered, was disqualified for excessive wing angle. It was the first-ever Midget win for Duhaime who gave up the lead following a restart with four laps remaining.

"It's not the way I would have preferred," said Duhaime, 14, "but I'm still pumped up with my first victory." He came from the fifth starting spot. Rocco (Manafort 76) was looking for a second-straight Speedbowl Lites victory.

Avery Stoehr (Stoehr 15b) wound up second followed by Christian Briggs (Briggs 44), Ian Cumens (Seymour 9) and Bethany Stoehr (Stoehr 26). It was a long run for Cumens who came from the back after being involved in a first-lap mishap.

Duhaime took the lead on lap 15, going around Ryan Bigelow (Bigelow 13), the only other leader, heading into turn three. Duhaime put an end to a side-by-side battle with pole sitter Bigelow by "going into the turn full throttle" while Bigelow "had to slow for the turn."

Rocco, who started 11th, was on the end of a six-way nose-to-tail battle by lap 11. Finding all the room he needed on the outside, he was sitting second, some seven lengths behind, when the yellow flew because of a stalled car on the grass in the front chute. It set up a single-file restart.

After beating back a first-turn inside bid by Avery Stoehr, Rocco needed one more lap to take the lead only to have Duhaime execute an impressive cross-over move that "completely surprised" Rocco. It fell short, however, and Rocco went on to take the checkered by just under a half second.




"I love the top," said Rocco, who had the fastest lap (13.799). "I told them to keep the fifth and sixth lanes open for me."


Duhaime had the only other sub 14 seconds lap, a 13.903.


There was plenty of mutual respect, Duhaime proclaiming his admiration ("I want to run like he does") for Rocco while Rocco had high praise for both Duhaime and Avery Stoehr.


Kenney Johnson and Avery Stoehr were the heat winners.


The fastest lap of the day was a 12.986 by Bethany Stoehr en route to a heat win in the Mike Jarret #4x qualifying for today's 25-lap NEMA feature. She beat her uncle Russ in the #45 by 1.2 seconds. Bethany will be in the car for Sunday's 25-lap NEMA feature.

NEMA LITES - WATERFORD - 10/6/12

Pos.
#
Driver
Hometown
Owner
1
57
Dylan Duhaime
Loudon, NH
Shawn Duhaime
2
15a
Avery Stoehr
Lakeville, MA
MCI Racing/
Russ Stoehr
3
44
Christian Briggs
Mattapoisett, MA
Christian Briggs
4
9
Ian Cumens
Lydell, PA
Bobby Seymour
5
26b
Bethany Stoehr
Bridgewater, MA
MCI Racing/
Greg Stoehr
6
46
Kenney Johnson
Bethany, CT
Jeff Johnson
7
51
Danny Cugini
Marshfield, MA
D. Cugini
8
12
Brandon Martinez
North Kingston, RI
Lou Martinez
9
50
Carl Medeiros, Jr.
Westport, MA
Carl Medeiros
10
93
Jake Smith
Stroudsburg, PA
Ted Smith
11
31
Paul Bigelow
Berlin, CT
Randy Bigelow
12
4
Logan Rayvals
Brockville, ONT
Paul Scally
13
45
Brandon Igo
Wilbraham, MA
David Igo
14
7
Dana Shaw
Danielson, CT
Gregory Olson
15
11b
Eric Leduc
Agawam, MA
Tom Leduc
16
33b
Scott Bigelow

E. Hampton, CT

Randy Bigelow

17
13
Ryan Bigelow
E. Hampton, CT
Randy Bigelow
18
18
David Moniz
Fairhaven, MA
David Moniz
19
39
R. J. Tufano
West Haven, CT
R. J. Tufano
20
81
Andy Barrows
New Ipswitch, NH
Dustin Anderson
21
DQ
76
Keith Rocco
Wallingford, CT
Frank Manafort
---
Waterford's Finale Next For NEMA
Brockton, MA – Picking the Northeastern Midget Association winners at this weekend 's Fall Finale at Waterford Speebowl's is a foolhardy task. Both NEMA and the NEMA Lites will be making their fifth visit of the year to the Connecticut shoreline three-eighths mile.

Four drivers will be looking for a second 2012 Waterford win in Sunday's 25-lap NEMA feature. The same is true of the 25-lap Lites feature, the latter on the busy Saturday night schedule. Both divisions will qualify on Saturday.

John Zych Jr., Greg Stoehr, Anthony Marvuglio and Todd Bertrand have scored at Waterford in NEMA competition this season. Ryan Bigelow, Brandon Igo, Avery Stoehr and stock car ace Keith Rocco have been Lites winners.

The one safe bet – NEMA will be quick. Stoehr, en route to a win last May, posted a season-best 12.937 seconds lap. In all four visits, the fast lap has never reached 13.1 meaning the full midgets are hitting seeds in excess of 105 mph on what many consider the best paved midget track in the northeast.

NEMA, enjoying one of the most competitive seasons in its history (10 winners in 11 starts) takes the show to one of the most competitive venues

Randy Cabral, heading toward a second straight and fourth overall championship for himself and owner Tim Bertrand, and Ian Cumens, the driver of the Seymour Lites car, comes to the Finale with tons of motivation as well. Both have finished second in three of the four Speedbowl races this year.

Although Cabral reigns as Waterford's top NEMA winner with eight, there have been 14 NEMA visits since his last 'Bowl checkered, the 2008 Finale. The Plymouth, MA school teacher has had six seconds and two thirds in that run in which Russ Stoehr won five times.

Cumens, a winner this summer at Oswego, was second to Rocco last month but did own the quickest lap, a 13.936. Three-time winner Carl Medeiros Jr., whose 13.871 is the fastest Lites feature time of the season, and R.J. Tufano, who chased Avery Stoehr, have also had near misses at Waterford this season.

In addition to Zych, Greg Stoehr, Marvuglio and Bertrand, Mike Horn, Adam Cantor, Jim Miller, rookie Seth Carlson and Anthony Nocella have won in 2012. Cantor and Miller have won at Waterford in the past. The 'Bowl's win list also includes likely Finale starters Jeff Horn, Joey Payne, Pete Pernesiglio and Barry Kittredge. Nocella has won three times in Lites competition.

"Double Duty" Cabral and Alan Chambers have also won Lites features this season. Other contenders include Bethany Stoehr, Danny Cugini, Brandon Martinez, Kenny Johnson, Christian Briggs and Logan Rayvals.