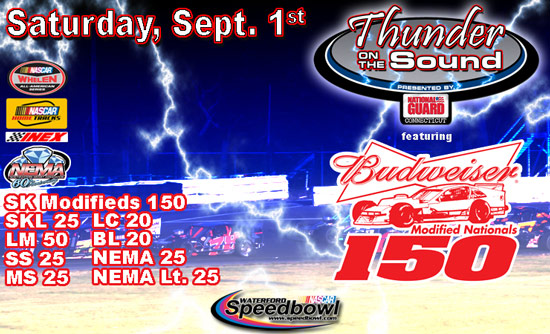 4th Annual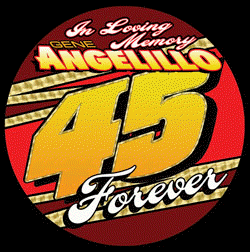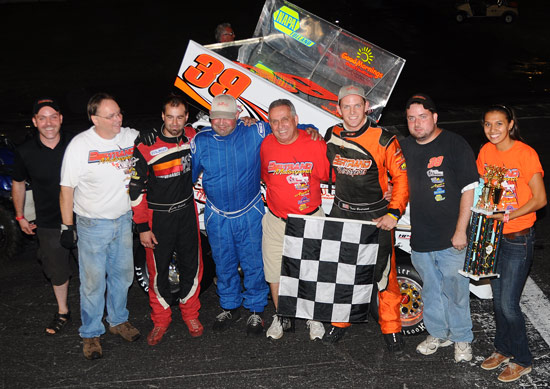 Speedbowl NEMA Honors To Bertrand
Waterford, CT – Todd Bertrand led from the start but had to beat teammate Randy Cabral in a classic restart tussle before claiming a second straight 30-lap Northeastern Midget Association Angelillo Memorial victory Saturday night at Waterford Speedbowl.

Driving the family 39, Bertrand is the ninth NEMA winner in as many races this season. Cabral (Bertrand 47) strengthened his point lead with a second followed by Mike Horn (Horn 93x), Russ Stoehr (Dumo's Desire 45) and Adam Cantor (Cantor 33).

The second caution with 19 remaining eliminated Bertrand's half-straightaway lead and put Cabral beside him. "I knew I had to drive it in harder and get on the gas before him," said Bertrand, pointing out Cabral's electronic fuel injection gave him restart advantage.

They battled side-by-side for a lap before Bertrand finally took command exiting turn two. He assumed a commanding edge and went on to a 1.209 second victory over Cabral. Horn battled with Stoehr before claiming the third podium spot.

"I thought I had something for him but I needed to do it right away," said Cabral. "When I didn't I just settled in and did the good teammate thing, try to pass him on the inside."

Cabral never got close enough despite Bertrand developing a push that forced him to "get down on the apron the last five laps." Electing to use a harder compound, Bertrand actually had a "used right rear."

Running on a "green" track (following a passing rain storm), Bertrand's fastest lap – a 13.014 – came at midpoint of the race.

"I can't believe I won this two years in a row," said Bertrand. It was his second NEMA career win. It was the fourth straight Speedbowl runner-up finish for Cabral who also chased his teammate home in last year's Angelillo race.

Starting fourth, Bertrand took the lead from pole sitter Paul Scally on the first restart with just four laps gone. Cabral, who started seventh, passed Horn for third with 25 left. When, two circuits later, Cabral moved by Scally for third Bertrand was a half-straightaway in front.

"I don't worry about Todd and Randy," said car owner Tim Bertrand, explaining Todd has earned a reputation as a "clean' driver. "They know if they crashed, they'd have to fix it and in this case, it wound have been a tough ride home."




"Waterford is where we are best set up," said Todd Bertrand. Horn's car also uses a Bertrand set up.


Greg Stoehr, his regular 26b ride still idled, drove the Breault 44 to an eight place finish.
NEMA MIDGETS - ANGELILLO MEM'L - 9/1/12

Pos.
#
Driver
Hometown
Owner
1
39
Todd Bertrand
Suffield, CT
Bertrand Motorsports
2
47
Randy Cabral
Plymouth, MA
Tim Bertrand
3
93x
Mike Horn
Ashland, MA
Jeff Horn
4
45
Russ Stoehr
Bridgewater, MA
Dumo's Desire Racing
5
33
Adam Cantor
Glen Cove, NY
Allan Cantor
6
30
Paul Scally
Raynham, MA
Paul Scally
7
A1
Jeff Horn
Ashland, MA
Jeff Horn
8
44
Greg Stoehr
Bridgewater, MA
Ed Breault
9
3m
Jim Miller
Weymouth, MA
Jim Miller
10
38
Anthony Marvuglio
E. Bridgewater, MA
Tammy Bourbeau
11
99
Jim Santa Maria
Burlington, CT
Susan Santa Maria
12
16
Matt O'Brien
Wilmington, MA
Jim O'Brien & Sons
Engineering
13
2
Lee Bundy
Kennebunkport, ME
Lee Bundy
14
DNF
50
Pete Pernisiglio Jr.
Lake Grove, NY
Peter Pernisiglio Sr.
15
DNF
78
Brian Cleveland
Billerica, MA
Linda Cleveland
16
DNF
71
Seth Carlson
Brimfield, CT
Gene Feigel

HEAT 1:

47- 38-3m 33-43-99-50-2

HEAT 2:

30-93x-71-39-45-A1-16(DNF)-78(DNF)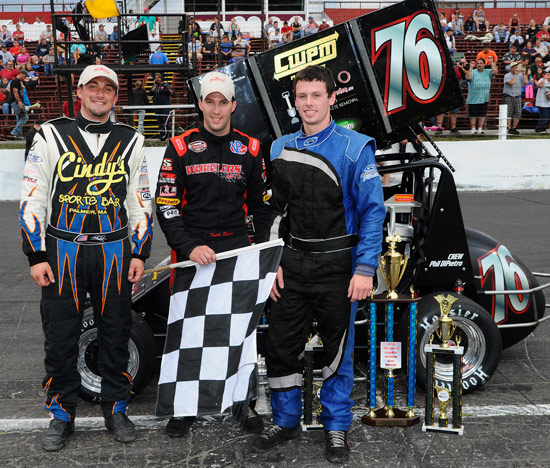 Rocco Surprise Lites Winner At Waterford
Waterford, CT – Owner Frank Manafort suggested Keith Rocco, making his Northeastern Midget Association Lites debut with a still mending broken left wrist, "take it easy."

Perhaps the top name in New England NASCAR Modified racing, Rocco "couldn't resist" the urge to compete. Coming from 15th starting spot, Rocco won the Angelillo Memorial 25-lap Lites feature Saturday night at Waterford Speedowl.

He took the lead with an inside move on Christian Briggs going in to turn three at the halfway point. It was, however, on the outside where Rocco sparkled. "The top was the place to be," he explained. "Every restart, I wanted to go to the top."

The winning pass came four laps after the second restart. Sitting sixth, Rocco was part of a scramble heading into one. He passed four cars on the outside and emerged running second to Briggs. After a couple outside efforts, Rocco finally took the lead with the third turn dive.

Surviving three more restarts, Rocco went on to .373 second victory over Ian Cumens (Seymour 9) with Brandon Igo (Igo 45), Briggs (Briggs 44) and Bethany Stoehr (Stoehr 26) following, the latter three in a bunch. Rocco, "driving one handed," welcomed the restarts. "I would get tired after seven or eight laps," he said.

Oswego winner Cumens, who came from 12th, grabbed second on a restart with seven left and had the last real shot at Rocco although the final restart, with five laps remaining, was a single file deal. Cumens did, however, wind up with the fastest lap of the race, a 13.936.

It was a long ride for Bethany Stoehr as well. She came from the rear after spinning on lap two.

"I have been watching these things for a while and the opportunity finally came to drive one," said Rocco. He pointed out a practice session Thursday at the Speedowl was limited to about six laps because of motor problems so Saturday's warm up and heat were used getting familiar with the car.

Rocco plans to be in the FMR Racing car again. He will defiantly drive it at Waterford's Finale in Ocober.

Rocco capped off the weekend marrying Cassie Ceravolo on Sunday.
NEMA LITES - ANGELILLO MEM'L - 9/1/12

Pos.
#
Driver
Hometown
Owner
1
76
Keith Rocco
Wallingford, CT
Frank Manafort
2
9
Ian Cumens
Lydell, PA
Bobby Seymour
3
45
Brandon Igo
Wilbraham, MA
David Igo
4
44
Christian Briggs
Mattapoisett, MA
Christian Briggs
5
26b
Bethany Stoehr
Bridgewater, MA
MCI Racing/
Greg Stoehr
6
15a
Avery Stoehr
Lakeville, MA
MC Racing LLC/
Russ Stoehr
7
35
Randy Cabral
Plymouth, MA
Glen Cabral
8
51
Danny Cugini
Marshfield, MA
D. Cugini
9
39
R. J. Tufano
West Haven, CT
R. J. Tufano
10
13
Ryan Bigelow
E. Hampton, CT
Randy Bigelow
11
33b
Scott Bigelow

E. Hampton, CT

Randy Bigelow

12
99
Howie Bumpus
-
Susan Santa Maria
13
11b
Eric Leduc
Agawam, MA
Tom Leduc
14
DNF
52
Kevin Park
Foxboro, MA
Kevin Park
15
DNF
57
Dylan Duhaime
Loudon, NH
Shawn Duhaime
16
DNF
50
Carl Medeiros, Jr.
Westport, MA
Carl Medeiros
17
DNF
31
Paul Bigelow
Berlin, CT
Randy Bigelow
18
DNF
46
Kenney Johnson
Bethany, CT
Jeff Johnson
19
DNS
93
Jake Smith
Stroudsburg, PA
Ted Smith

HEAT 1:

44-51-57-39-35-50-15a-76-52-13

HEAT 2:

33-9-45-26b-46-31-99-11b-93(DNS)





---
Angelillo Memorial Next For NEMA
Brockton, MA – The Northeastern Midget Association returns to Waterford Speedbowl Saturday night for the Angelillo Memorial still looking for its first two-time winner. The NEMA Lites are on the agenda as the club honors the memory of Marilyn and Gene Angelillo.

Only two points separate defending champ and current leader Randy Cabral and Russ Stoehr in the championship battle. They are one-two in career NEMA Waterford wins, Stoehr's seventh Speedbowl checkered coming in last year's 9/24
"Night of the NEMAs"
event.

It is a points race for the Lites as well, three-time winner Carl Mederios Jr. the current leader. The first race in Lites history was run at the Speedbowl in 2009.

It will be NEMA's fourth visit to the 'Bowl this season, John Zych Jr, Greg Stoehr and Anthony Marvuglio the previous winners. Marvuglio's 12.937 back in the May is the fastest feature lap but NEMA powers are convinced it can be lowered.

Jim Miller is riding high after a dominating victory at Oswego Speedway last week. Backing that with a second career win at the Speedbowl would be a career highlight for the veteran owner/driver. In addition to Zych, Greg Stoehr and Marvuglio, Miller joins Mike Horn, Adam Cantor, Cabral and rookie Seth Carlson on the 2012 win list. All hope to become the season's first two-time winner. Paul Scally, Jeff Horn, Todd Bertrand and James Santa Maria are among those hoping to deny them.

Despite eight career wins, Waterford's Victory Lane has been off limits for Cabral for several races, a run the popular three-time champion desperately wants to end. Bringing the former Angelillo crew to victory lane for the second time in three years would delight six-time champ Stoehr.

Ian Cumens, also a winner at Oswego, aims to join Ryan Bigelow, Brandon Igo and Avery Stoehr as 2012 NEMA Lite winners. Stoehr, 16, claimed the Hammond Memorial a few weeks back with a last lap pass. He was third at Oswego behind Cumens and Paul Bigelow.

Medeiros and RJ Tufano return believing the 'Bowl may owe them something. They posted the fastest laps in the previous two Waterford races only to fall victim to dame fortune.

Cabral will be looking for a second Lites win this year. Seeking their first checkered will be Dylan Duhaime, Bethany Stoehr, Paul Bigelow, Andy Barrows and Danny Cugini.

Marilyn and Gene Angelillo were the most successful owners in NEMA history. The #45 Dumo's Desire carries on the Angelillo tradition which captured 14 championships and over 100 feature wins. In addition, they served the club in a number of positions. Gene was president and Marilyn secretary for a number of years.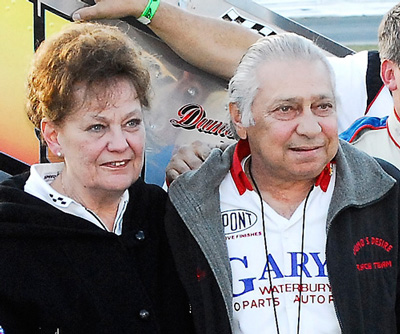 Honoring Gene and Marilyn
Marilyn and Gene Angelillo were the most successful owners in Northeastern Midget Association history. In addition to 14 championships, Gene and Marilyn claimed well over 100 features including 14 at Waterford Speedowl. They also served the club in many positions. Gene was president and Marilyn secretary for several seasons.

NEMA's fourth Angelillo Memorial is set for Saturday night at Waterford Speedbowl, both NEMA and the NEMA Lites on the agenda. The Speedbowl is a most fitting place to honor Marilyn, who passed away in September of 2007, and Gene, who died in March of 2010.

The Angelillo's first Waterford win came with Drew Fornoro aboard in 1982. Over the next 30-plus summers, Russ Stoehr and Joey Payne joined Payne winning at Waterford in Angelillo equipment. The versatile Ted Christopher's only Midget win came at Waterford on May 24, 1998 in an Angelillo car.

Gene's final win was Waterford's 2009 Wings and Wheels. Russ Stoehr was the driver.

Gene initiated the first Angelillo race, calling it the "Marilyn's Passion" at Monadnock in 2009. Greg Stoehr and P.J. Stergios (Lites) were the winners. Their daughter Laura Kibbe brought the race to Waterford following Gene's death. Russ Stoehr and Jesse State (Lites) were the winners in 2010. Todd Bertrand was the winner a year ago.