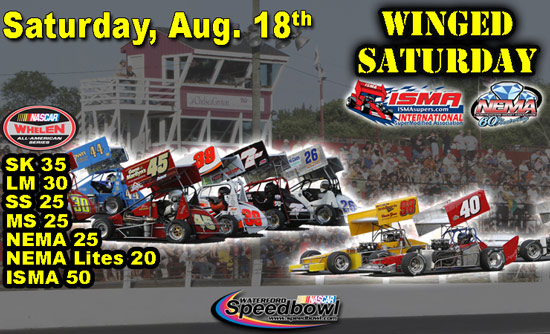 SATURDAY, AUGUST 18th
The 3rd Annual
Shane Hammond Memorial Race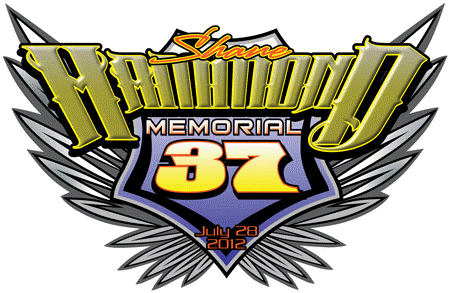 2012 Sponsors, Laps, and Awards HERE
.
---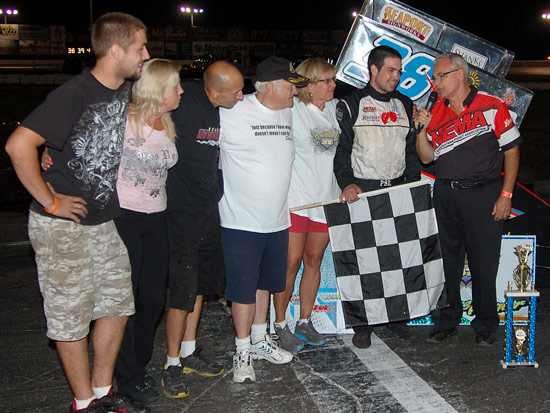 NEMA Midgets Winner: Bug Marvuglio #38
Photos by




Norm Marx
Racing with Jesus Ministries
Rev. Don's Column of 8-22-12

"Keep on Believing"
---
Tearful NEMA Victory for Marvuglio
Waterford, CT - He was so focused, he missed the crossed flags and the five-to-go sign and the white flag caught him by surprise.

"Once I saw the checkered flag, tears started running down my face'" said Anthony Marvuglio. "I couldn't believe it was actually real." Marvuglio went wire-to-wire Saturday night winning the caution-free 27-lap Shane Hammond Memorial at Waterford Speedbowl. The event memorializes Marvuglio's brother who died at Thompson Speedway in 2008.

Starting on the outside pole in Chris DeRosiers' 38, Marvuglio, 20, needed just shy of six minutes, twenty seconds (96.694 mph), finishing 2.3 seconds in front of Todd Bertrand (Bertrand 39). Russ Stoehr (Dumo's Desire 45), Randy Cabral (Bertrand 47) and Mike Horn (Horn 93x) completed the top five.

It was the first NEMA win for Marvuglio who had his brother's ashes in his pocket and was wearing the gloves Hammond wore at Thompson. "I really wanted this bad," he said. "When we got the outside pole, I decided I was just going to go."

Jumping into the lead, Marvuglio was a full straightaway ahead when Greg Stoehr passed Erica Santos (Breault 44) eight laps in. The only car that might have had something for Marvuglio, Greg Stoehr's motor went bad five laps latter.

Completely focused, Marvuglio was not aware of what was going on behind him. Spending much of the race in traffic, he had high praise for starter Steve Grant. "I kept telling them "don't get high on me,'" said Marvuglio who did move to the bottom over the final circuits to protect his tires.

Marvuglio has been "so close" at Waterford. Back on May 12th he was dominant with laps in the 12 seconds before a flat tire. En route to winning his heat, he knew "I had a good car, very similar to that night when the tire went flat."

The quickest lap Saturday, a 13.046, like everything else belonged to Marvuglio. He is the seventh winner in as many races this season and the streak is now 17 without a back-to-back winner.

NEMA and the NEMA Lites take on Oswego Speedway Saturday night and return to Waterford Sept. 1 for the Angelillo Memorial.



2012 Sponsors, Laps, and Awards HERE
NEMA MIDGETS - Shane Memorial - 8/18/12

Pos.
#
Driver
Hometown
Owner
1
38
Anthony Marvuglio
E. Bridgewater, MA
Tammy Bourbeau
2
39
Todd Bertrand
Suffield, CT
Bertrand Motorsports
3
45
Russ Stoehr
Bridgewater, MA
Dumo's Desire Racing
4
47
Randy Cabral
Plymouth, MA
Tim Bertrand
5
93x
Mike Horn
Ashland, MA
Jeff Horn
6
33
Adam Cantor
Glen Cove, NY
Allan Cantor
7
A1
Jeff Horn
Ashland, MA
Jeff Horn
8
71
Seth Carlson
Brimfield, CT
Gene Feigel
9
3m
Jim Miller
Weymouth, MA
Jim Miller
10
44
Erica Santos

Franklin, MA

Ed Breault
11
99
Jim Santa Maria
Burlington, CT
Susan Santa Maria
12
87
Doug Cleveland
Sudbury, MA
Doug Cleveland
13
28
Paul Luggelle
Holbrook, MA
Paul Luggelle
14
DNF
30
Paul Scally
Raynham, MA
Paul Scally
15
DNF
26b
Greg Stoehr
Bridgewater, MA
Greg Stoehr
16
DNS
7ny
Phl DiMario
-
Allan Cantor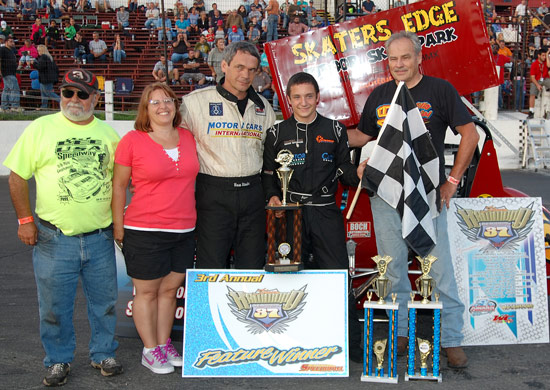 NEMA LITES Winner: Avery Stoehr #15b
Avery Stoehr Lites Winner at 'Bowl
Waterford, CT – Avery Stoehr showed a flair for the dramatic in winning the 27-lap Lites feature at the Northeastern Midget Association's Shane Hammond Memorial Saturday night at Waterford Speedowl. His first victory left everybody gasping.

Stoehr, 16, didn't secure the lead until after going under the white flag. He got under RJ Tufano, the only other leader, coming out of four. Heading into one, he drove the family 15b between a lapped car on the bottom and Tufano to take command.

"I saw the hole. We had just gone past the white flag and if I didn't do it, I wasn't going to pull it off," explained Stoehr who went on to be Tufano by a second and a half. Ian Cumens (Seymour 9), Dylan Duhaime (Duhaime 57) and Stoehr's cousin Bethany (Stoehr 26b) completed the top five.

Tufano had a commanding lead when caution flew with eight laps remaining. It was at that point Stoehr, the son of six-time NEMA champ Russ, noticed Tufano's badly blistered right rear. Still, on the restart, Stoehr dropped back and then closed in a rush over the final three laps.

"Use your head and pass cars," was the advice he got from his father.
A Lites rookie, Stoher was quick to admit the caution helped. "I don't think I was ever going to catch him," he said. "I saw [Tufano] get loose a couple times but catching him was not going to happen."

While Tufano jumped into a commanding lead, Stoehr, who started eighth, was doing battle with fellow third generation driver Lanson Fornoro (Scrivani 21). When Stoehr cleared Fornoro coming out of four with 17 laps remaining, Tufano was almost a half-lap in front and already in heavy traffic.

"Didn't want to see that caution," said Tufano. "I knew the car was going away."

While a broken panhard bar ended a great run for Fornoro, Randy Cabral, a Lites winner at Star, was now a factor. Driving the family car, Cabral had come from the 13th starting spot. Ian Cumens (Seymour 9) was there as well. Cumens started 15th.

Tufano, despite the tire problem, got a great restart. Cabral's car, however, "went away" and it was Cumens who wound up with the best view of Stoehr's memorable pass.

Testimony to Tufano's early dominance: he recorded the fastest feature lap, a 13.893. It was the only sub 14 seconds circuit.

It was the third points race for the Lites. Point leader Carl Medeiros Jr. was seventh behind Cabral at the checkered.

The car Stoehr drove, wrenched by Carl Kibbe, won at Waterford last year with Keith Botelho driving. Kibbe remains the crew chief.



2012 Sponsors, Laps, and Awards HERE
NEMA LITES - Shane Memorial - 8/18/12

Pos.
#
Driver
Hometown
Owner
1
15b
Avery Stoehr
Lakeville, MA
MC Racing LLC/
Russ Stoehr
2
39
R. J. Tufano
West Haven, CT
R. J. Tufano
3
9
Ian Cumens
Lydell, PA
Bobby Seymour
4
57
Dylan Duhaime
Loudon, NH
Shawn Duhaime
5
26b
Bethany Stoehr
Bridgewater, MA
MCI Racing/
Greg Stoehr
6
35
Randy Cabral
Plymouth, MA
Glen Cabral
7
50
Carl Medeiros, Jr.
Westport, MA
Carl Medeiros
8
93
Jake Smith
Stroudsburg, PA
Ted Smith
9
51
Danny Cugini
Marshfield, MA
D. Cugini
10
45
Brandon Igo
Wilbraham, MA
David Igo
11
31
Paul Bigelow
Berlin, CT
Randy Bigelow
12
33b
Scott Bigelow

E. Hampton, CT

Randy Bigelow

13
13
Ryan Bigelow
E. Hampton, CT
Randy Bigelow
14
46
Kenney Johnson
Bethany, CT
Jeff Johnson
15
4
Logan Rayvals
Brockville, ONT
Paul Scally
16
28
Paul Luggelle
Holbrook, MA
Paul Luggelle
17
DNF
21
Lanson Fornoro
Stroudsburg, PA
Jennifer Scrivani





---

Winged Saturday


Milestone For Lites

Brockton, MA - The Northeastern Midget Association's Lites Division reaches a milestone this weekend. The Lites are at Lee USA Speedway Friday Night. They are part of Saturday night's Shane Hammond Memorial, the latter on Waterford Speedbowl's Winged Saturday menu. It will be the 59th and 60th features for the five-year old Lites.

Testimony to the division's success will be evident at the Speedbowl, the Lites joining the "full midgets" on a menu that also includes the ISMA Supermodifeids and the 'Bowl's SKs. Both NEMA divisions will go 27-laps.

In addition to extra financial motivation including lap money, there are plenty of incentives for both divisions.

Seth Carlson comes to Waterford looking to become the first driver in 16 events to win back-to-back features. Carlson is a Lites graduate as is Todd Bertrand, also a NEMA feature winner. Anthony Marvuglio and James SantaMaria, the latter battling Carlson for top rookie honors this year, are members of the fraternity as well. All figure to be in the Waterford field.

Marvuglio, brother to the man the race memorializes, was very impressive the last time NEMA visited the Connecticut shoreline oval, turning a 12.91 lap before falling to mechanical problems.

They join a group that includes point leader Randy Cabral, Russ and Greg Stoehr, John Zych Jr., Jim Miller, fan favorite Erica Santos, Jeff and Mike Horn, Paul Scally and Barry Kittredge all ready to battle at 100-miles per hour plus. "It's a stand on the gas place," says Miller.

Heading into Lee, Medeiros Jr. has three Lites wins. The busy Cabral ended his streak at Star. Ryan Bigelow and Brandon also been winners, the latter two at Waterford.

The 16-year old Medeiros leads a very promising youth corps that includes Bethany Stoehr (two seconds), her cousin Avery Stoehr (a second and a fourth) and Dylan Duhaime (a third and two fourths). Ian Cumens and Dan Cugini are also on that list.




The "first official" Lites race was a 20-lapper at the Speedbowl on Wednesday, June 11, 2008. Jesse State was the winner.


Randy Cabral and owner Tim Bertrand have a 43-point lead over Russ Stoehr and Dumo's Desire Racing coming into Waterford.


The Hammond will also be the third of six points races for the Lites. Others still to come include the Angelillo Memorial at Waterford, the Boston Louie at Seekonk and the Octoberfest at Lee. The championship will be based on the best five finishes.


Lee has hosted 10 Lites races, Paul Bigelow joining Medeiros on the win list.


Todd Bertrand and Randy Cabral have been winners in both Lites and NEMA cars at Waterford. Anthony Nocella has won four of the 14 Lites races at Waterford.


There have been 25 Lites winners so far.
---
Plenty of Incentives
at Hammond Memorial
Brockton, MA – There are plenty of extra incentives when the Northeastern Midget Association returns to Waterford Speedbowl Saturday for the third annual Shane Hammond Memorial. Both NEMA and the NEMA Lites are on the busy agenda.

Defending champion Randy Cabral, NEMA's all-time Speedbowl winner with eight, hopes to duplicate last week' s impressive triumph at Star Speedway. Cabral has a couple of Speedbowl runner-up finishes this year but it's been 11 races since he's conquered the third mile. Cabral did win the first Hammond Lites race back in 2010.

Carl Medeiros Jr., now 16 years old, will be looking for a fourth straight victory, extending a Lites division record set a week ago at Star.

One of NEMA's charter members, the Speedbowl is truly a "racy place" as evidenced by Anthony Marvuglio's 12.91 second lap earlier this season. Many believe the Speedowl to be a near perfect midget facility.

Cabral, with 32 career wins, is currently one race away from tieing Bill Eldridge for fifth place on NEMA's all-time win list.

Russ Stoehr sits second on the Waterford win list with seven, five of them coming over the last 11 races including the inaugural Hammond Memorial in 2010. Over that span, Stoehr has been on the podium nine times including a third in this year's opener.

John Zych, Jr. and Greg Stoehr have collected Speedbowl wins this season. They are part of large group who have "checkered" at Waterford. The group includes, in addition to Cabral and the Stoehrs, current competitors Todd Bertrand, Adam Cantor, Jeff Horn, Chris Leonard, Jim Miller, Barry Kittredge and Joey Payne.

Looking to join that list will be Marvuglio, Anthony Nocella, Mike Horn, Matt O'Brien, Paul Scally and rookies Jim SantaMaria and Seth Carlson.

The Stoehr family will be well represented, Bethany, Kathryn (in the Scrivani 21) and Avery all among the group looking to stop Medeiros. Bethany Stoehr has been second in two of the last three races. Dylan Duhaime, very impressive at Star, is another threat as are Ryan Bigelow and Brandon Igo, both Waterford winners this year, and Ian Cumens, twice a runner up at the Bowl. Cabral is a factor as well.

The Bigelow boys will be three strong as well, Paul and Scott joining brother Ryan. Others looking to stop Medeiros will be 2010 Hammond winner Andy Barrows, Danny Cugini, Kevin Park, Alan Chambers, Kevin Park and Brandon Martinez.




Avery Stoehr will be in the car that won last year's Hammond Memorial with Keith Botelho aboard. The car was converted into a Lite for Avery. The Gaerte motor that powered Botelho now sits in the #77 that Bethany drives in NEMA competition.
2012 Sponsors, Laps, and Awards HERE