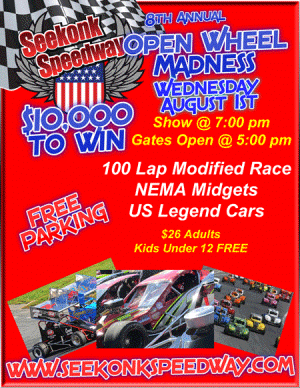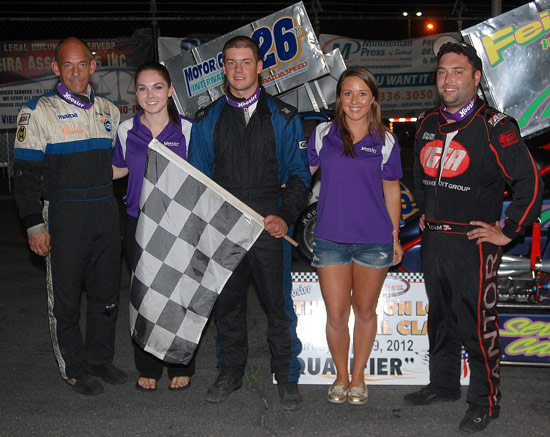 Carlson NEMA First Timer At Seekonk
Seekonk, MA – It was all Seth Carlson in the 25-lap Northeastern Midget Association feature at Seekonk Speedway's Open Wheel Wednesday. Starting on the outside pole, the rookie led every lap en route to his first-ever NEMA checkered in the Gene Feigel 71.

Carlson, who spent the 2011 season with the NEMA Lites, survived four restarts in the first five laps and then had a trouble-free ride despite the final eight laps in heavy traffic. The 19-year old posted a feature-best 11.152 seconds lap.

The move of the race belonged to Adam Cantor (Cantor 33) who came from eighth to third on the last restart. Two laps later he took second from Joey Payne (Breault 44) with an inside move out of four. Cantor, however, had nothing for Carlson. "Nobody did," he said.

Cantor claimed second only after holding off a late challenge from Greg Stoehr (Stoehr 26b) in what was clearly the battle of the race. Anthony Nocella (Seymour 4) grabbed fourth on lap 10 and stayed there the rest of way. Russ Stoehr (Dumo's Desire 45) moved into fifth with nine laps remaining.

Carlson, a former Whip City champion, is the sixth winner is as many NEMA features this season. "I really like Seekonk," said Carlson, who won twice there in Lites competition last year. He "felt good" after the first practice and then dominated his heat, turning laps in the low eleven ones.

He was "tested" on the third restart when Joey Payne took the lead. Officials, however, ruled Payne had jumped the start. "He tried to get the best of me," said Carlson who appeared to immediately back out of it. "I just kept my composure."

Carlson got away from fellow rookie James SantaMaria on the initial restart. He got away again on the first yellow with four gone but Payne grabbed second. He bested Payne on the final restart and was gone.

The car, said Carlson, in his 14th year of racing, has been plagued by "little motor problems" all season. "We just had to work out the bugs," he said.

NEMAs' busy August continues with Waterford Speedbowl's Wings and Wheels on Saturday, Aug. 11 and the return to Oswego Speedway on Aug. 25.




Carlson, who was impressive in traffic, praised starter Steve Grant for "staying in control." He said he was never close to a problem.


Carlson joins a group of Lites graduates on NEMA's win list which includes Nocella who was very impressive in his heat.


John Zych, the point leader heading into Seekonk, was unable to make Seekonk because of business commitments.





NEMA MIDGETS - Seekonk - 8/1/12

Pos.
#
Driver
Hometown
Owner
1
71
Seth Carlson
Brimfield, CT
Gene Feigel
2
33
Adam Cantor
Glen Cove, NY
Allan Cantor
3
26b
Greg Stoehr
Bridgewater, MA
Greg Stoehr
4
4
Anthony Nocella
Woburn, MA
Bobby Seymour
5
45
Russ Stoehr
Bridgewater, MA
Dumo's Desire Racing
6
A1
Jeff Horn
Ashland, MA
Jeff Horn
7
47
Randy Cabral
Plymouth, MA
Tim Bertrand
8
39
Todd Bertrand
Suffield, CT
Bertrand Motorsports
9
30
Paul Scally
Raynham, MA
Paul Scally
10
87
Doug Cleveland
Sudbury, MA
Doug Cleveland
11
77
Bethany Stoehr
Bridgewater, MA
Mike Luggelle
12
3m
Jim Miller
Weymouth, MA
Jim Miller
13
99
Jim Santa Maria
Burlington, CT
Susan Santa Maria
14
38
Anthony Marvuglio
E. Bridgewater, MA
Tammy Bourbeau
15
81
Andy Barrows
New Ipswitch, NH
Dustin Anderson
16
DNF
44
Joey Payne
Fairlawn, NJ
Ed Breault
17
DNF
50
Carl Medeiros, Jr.
Westport, MA
Carl Medeiros
18
DNF
93x
Mike Horn
Ashland, MA
Jeff Horn

HEAT 1:

71-26b-39-45-99-33-38-77-50

HEAT 2:

4-44-30-A1-47-93x-3m-87-81
---
Seekonk Next For NEMA
Brockton, MA – Randy Cabral can become the first Northeastern Midget Association driver to win two straight features in 15 races this week at Seekonk Speedway's rescheduled Open Wheel Wednesday. Should the three-time and defending champion accomplish it, he'll move into a tie for fifth place with Bill Eldridge on NEMA all-time win list.

Cabral comes to Seekonk off a dominating performance in the Bertrand 47 two weeks back at Star Speedway. The first of Cabral's 32 wins came at Seekonk driving the family #35 back in 2000. With seven checkered, he is one behind Nokie Fornoro on the all-time Seekonk NEMA win list.

It takes times in the low 11 seconds to win at Seekonk. Point leader John Zych Jr. (he's 13 points up on Cabral, 68 up on Russ Stoehr), leads NEMA into "The Cement Palace." Zych is one of five winners this year, the list also including Greg Stoehr, Adam Cantor and Mike Horn.

NEMA's first race was at Seekonk back in 1953 and over the years everybody has a favorite Seekonk memory. The Seymour family has a ton of them. It will be after a third straight Wednesday night. Anthony Nocella's checker in the DAV last fall was the sixth win in last 12 NEMA Seekonk visits for the Seymours.

Cabral's momentum is equally impressive, either winning (4) or finishing second (5)eight times over that same span. He had a win and two seconds at Seekonk last year.

Others who know the way to Seekonk's Victory Lane include ageless Jeff Horn, second at Star two weeks back. Russ (5) and Greg (3) have eight Seekonk wins, a number of them memorable. Other current competitors with Seekonk checkers include Adam Cantor and Joey Payne.

Mike Horn would love to join his dad on the Seekonk win list. Others looking to get on the list in addition to Zych, include veteran Jim Miller, currently running fifth in points, Anthony Marvuglio, who has been plagued with bad luck this season, Todd Bertrand, Paul Scally, Matt O'Brien and rookies Jim Santa Maria and Seth Carlson.