THURSDAY, JULY 7TH
Marvin
Rifchin
Trophy
Race

Heats >
Feature >

Photos by Norm Marx

NEMA Feature - Thompson - Thurs., July 7th
Pos.
#
Driver
Hometown
Owner
1
93x
Mike Horn
Ashland, MA
Jeff Horn
2
47
Randy Cabral
Plymouth, MA
Tim Bertrand
3

49

B.J. MacDonald
Dublin, PA
B.J. MacDonald
4
45
Russ Stoehr

Lakeville, MA

Dumo's Desire Racing
5
26b
Greg Stoehr
Bridgewater, MA
Greg Stoehr
6
25
Keith Botelho
Attleboro, MA
Russ Stoehr
7
2
Lee Bundy
Kennebunkport, ME
Lee Bundy
8
28
Paul Luggelle
Holbrook, MA
Paul Luggelle
9


DNF

9
John Zych, Jr.
Liverpool, NY
John Zych, Sr.
10
DNF
22
Chris Leonard
Pelham, NH
Dave Leonard
11


DNF

7ny
Jeremy Frankoski
Huntersville, NC
Cantor Racing
12


DNF

30
Paul Scally
Raynham, MA
Paul Scally
13


DNF

35
Todd Bertrand
Suffield, CT
Glen Cabral

Heat #1:

26b - 47 - 93x - 30 - 2 - 28 - 22dnf

Heat #2:

9 - 45 - 49 - 7ny - 25 - 35dnf

Mike Horn Ends NEMA
Victory Drought
Thompson, CT - Mike Horn's victory drought is over. "It's like a dream," he said after winning the Northeastern Midget Association Marvin Rifchin Trophy Race Thursday night at Thompson Speedway. It was his first-ever NEMA checkered.

After an aborted initial start when the yellow caution lights remained on too long, the race went green for all 25 laps. Horn (Horn #93x), a NEMA competitor since 1993, led all of them. He was challenged throughout by Randy Cabral (Bertrand #47), the latter coming from sixth to second by lap three. "I kept waiting for Randy to come by," said Horn. "I waited right to the checker."

Cabral's two best challenges came in between one and two and in three on lap eight. "He showed me the nose and I realized I had to step it up," added Horn. He had, after all, "spent a long time thinking about it [the first win]."

B.J. MacDonald (MacDonald #49), in his first NEMA start of the season, came from seventh to third with point leader Russ Stoehr (Dumo's Desire #45) fourth and Greg Stoehr (Stoehr #26b) fifth. Russ Stoehr's win streak ended at three. The top three cars all had similar Bertrand set ups.

The Horn-Cabral battle raged far in front of the field. "He was way better than me on the outside," said Cabral, NEMA's all-time winner at Thompson "I was loose on the bottom. I made him work for it though. He earned that one."

It was a popular win for the second generation driver who has led several times over the past couple seasons including early this season at Thunder Road. He took special delight in winning the event that memorializes Rifchin, one of NEMA's greatest benefactors over the years. Looking for the "skip in the motor" that has plagued him all season, he admitted to "being so tired I felt like giving up a couple times." He said he found extra motivation "thinking about Marvin."

"It doesn't get any better than to have my son win one of the best races there is to win," said Horn's dad Jeff, a 20-time NEMA winner himself. "Mike and Marvin were really good friends."

Greg Stoehr and John Zych Jr. were the heat winners.

The NEMA Midgets and the NEMA LITES return to action Friday night, July 15th at Lee USA Speedway.
NEMA Midgets start at Thompson cira 1965.
NEMA Visits Thompson:
Stopping Stoehr Goal
Brockton, MA – Stopping the win streak of Russ Stoehr is the objective when the Northeastern Midget Association visits Thompson Speedway for the Marvin Rifchin Trophy race on Thursday night, July 7. Stoehr and the Dumo's Desire 45 team have run off three straight.

Several drivers, starting with Randy Cabral (Bertrand #47), hope to reverse their relationship with dame fortune on the super-quick five-eights. Cabral carries a streak of bad luck into Thompson where he has won an incredible nine races since 2001 including a couple last year.

After setting fast time in the heats, Cabral found a broken sparkplug just before the feature at Stafford's Extreme Tuesday. Lady luck deserted Greg Stoehr (Stoehr #26b), Jeff Abold (Abold #29) and Jeremy Frankoski (Cantor #7ny) as well at Stafford. All hope to rekindle the relationship at Thompson.

Greg Stoehr, who beat Russ at Thompson back in 1993 in one of NEMA's most memorable races, makes no secret about wanting to stop Russ' streak. "He's tough to catch though," understates the younger of the racing brothers. "Still, that's the objective."

Mike Horn (Horn #93x), a leader at Thunder Road before confronting motor problems, is another trying to rid himself of demons. Other contenders include Jim Miller (Miller #3M), John Zych Jr. (Zych #9), Chris Leonard (Leonard #22) and Keith Botelho (Stoehr #25).

Russ Stoehr, aiming to become the first since Nokie Fornoro in 1981 to win four in a row, refuses to be concerned with numbers. He lost to Cabral by a few feet in last year's Rifchin battle. He has three Thompson wins, none, however, since 2002.

Clearly the fastest place NEMA visits, a Thompson victory looks good on any resume. The Rifchin Trophy, honoring one of NEMA's greatest benefactors, is added incentive.

Success at Thompson means joining one of the most impressive win lists in Midget history. It has been part of NEMA since 1960, the immortal Dutch Schaefer winning the first event.
Bill Balser captured Lou Fray in McCarthy #47 battling
Sonny Saunders #12 in 1969.
A Steve Kennedy shot of Thompson's first turn filled
with NEMA Midgets in 1977.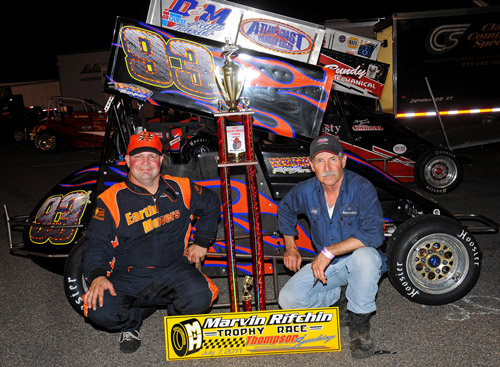 Horn Family Joins Special Group
The Horn family – father Jeff and son Mike – joined a tight group with Mike's Northeastern Midget Association victory at Thompson. They are only the fifth father-son combination on the club's all-time win list.

The Horns join Johnny Coy and his sons Johnny Jr. and Joey, Johnny and Billy Mann, Ronnie and Johnny Evans and Bob and Ricky Hart.

Mike, who started driving for owner Jack Currie back in the early 1990s, aims to join his father on the all-time Lee USA Speedway win list as well. NEMA makes its first of the season and its 29th all-time Lee visit Friday night.

Four of Jeff Horn's 20 wins have come at Lee. Drew Fornoro is the leader with six.

There are a number of sibling combinations with NEMA wins including the current Stoehr brother's rivalry. Point leader Russ Stoehr, third and second in the last two Lee races, has a couple wins on the three eights layout. Brother Greg, presently running second in points, is seeking his first.