8th ANNUAL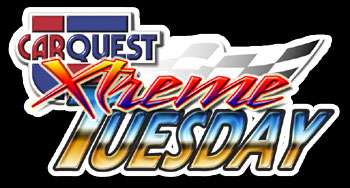 TUESDAY, JUNE 28TH
NEMA Midgets, ISMA Supers, PRO-4 Modifieds &
"CARQUEST CHAMPIONS FOR CHARITY"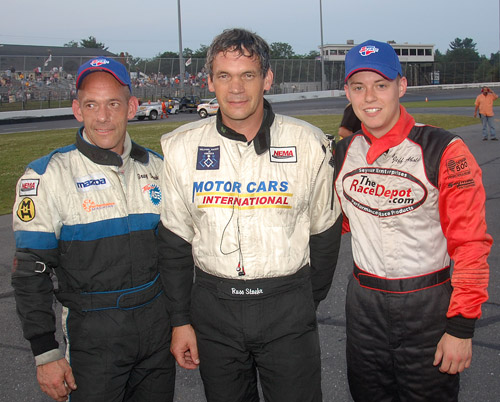 Xtreme Tuesday Top 3: L to R - Greg Stoehr #26b, 3rd;
Winner Russ Stoehr #45, and Jeff Abold #29, 2nd.
Photos by Norm Marx
Russ Stoehr Continues NEMA Streak
Stafford, Springs, CT – Inheriting the lead, Russ Stoehr (Dumo Desire 45) made it three straight victories capturing the Northeastern Midget Association 30 lapper at Stafford Motor Speedway's CARQUEST Extreme Tuesday. His 46th career triumph, it was Stoehr's first at Stafford.

Stoehr had climbed from seventh to second when brother Greg, who had led since lap three, spun in lapped traffic on the 21st circuit. He out-dragged Jeremy Frankoski (Cantor 7ny) into one on the restart and quickly established a comfortable edge.

Jeff Abold (Seymour 29) and Greg Stoehr (Stoehr 26b) both came back from trouble to complete the podium. Chris Leonard (Leonard 22) and Mike Horn (Horn 93x) were fourth and fifth.

The win put Stoehr into sole possession of third place on the all-time win list, passing Nokie Fornoro. "The third straight is something special," he said. "I had never done that in my career."

Greg Stoehr moved past early leader Keith Botehlo starting lap three. By lap six, Abold, Frankowski and Russ Stoehr were lined up behind the leader. On lap eight Abold, pushed wide by lapped traffic, hit the wall between three and four setting up the first caution.

Russ Stoehr followed his brother past Frankoski into second on the restart with Randy Cabral now fourth. A broken spark plug forced Cabral to just make the initial green, starting in the rear. A lap after the restart Cabral, who had the fastest lap in the heats, was out, one of several heartbreak victims.

Lapped traffic was a definite factor throughout.

"I overshot it a little bit," explained Greg Stoehr who spun in heavy traffic in turn two. "It was my own fault."

"Greg had it won, no queston," said Russ Stoehr. Considering the 30 lap distance, he told his crew he was looking to make "the easy passes early." He was "surprised" Frankoski stayed with him so far into one on the final start.

Staying outside, Abold, who had the fastest lap in the feature, (17.75) moved from sixth to third following the final restart. He and Frankoski were battling for second when the latter spun in heavy traffic on the final circuit.

"Maybe I got into somebody's oil. It just came around on me," said a dejected Frankoski.

"I really thought we had the car to beat," offered Abold. He said it was the "most moment filled" race of his career.

Russ Stoehr passed Nokie Fornoro on the all-time list. He said he wanted the third straight because son Avery had won three straight in kart competiton in Pembrook, NH. "I would never have lived down not winning three straight too," he said.

The Marvin Rifchin Trophy Race at Thompson Speedway Thursday July 7 is next for NEMA.

The NEMA LITES division competitors joined the NEMA Midgets at
the XTreme Tuesday race for an unscored run to gain experience on the half mile oval. The LITES ran their own heat and then started in an eleven car group behind the Midgets.
NEMA Feature - Stafford - Tues., June 28th
Pos.
#
Driver
Hometown
Owner
1
45
Russ Stoehr

Lakeville, MA

Dumo's Desire Racing
2
29
Jeff Abold
Pennellville, NY
Jeff Abold
3
26b
Greg Stoehr
Bridgewater, MA
Greg Stoehr
4
22
Chris Leonard
Pelham, NH
Dave Leonard
5
93x
Mike Horn
Ashland, MA
Jeff Horn
6
44

Erica Santos

Franklin, MA
Ed Breault
7
25
Keith Botelho
Attleboro, MA
Russ Stoehr
8
30
Paul Scally
Raynham, MA
Paul Scally
9
2
Lee Bundy
Kennebunkport, ME
Lee Bundy
10
DNF
7ny
Jeremy Frankoski
Huntersville, NC
Cantor Racing
11


DNF

47
Randy Cabral
Plymouth, MA
Tim Bertrand
12


DNF

35
Pete Pernisiglio Jr.
Ronkonkoma, NY
Glen Cabral
13


DNS

9
John Zych, Jr.
Liverpool, NY
John Zych, Sr.
---
Russ Stoehr Eyes Historic
NEMA Win at Stafford
Brockton, MA – Russ Stoehr heads to Stafford Motor Speedway's Carquest Extreme Tuesday aiming to take over third on the Northeastern Midget Association's all-time win list. Last Sunday's victory at Thunder Road was the 45th career win for Stoehr, putting him in a tie for third with Nokie Fornoro.

Two-for-two in 2011, defending champions Stoehr and the Dumo's Desire team take plenty of momentum to a facility he has yet to win at. Thunder Road was the 12th track Stoehr has conquered going back to his initial win with owner Bruce Bean at Star Speedway on June 20, 1987.

A third straight win will put Stoehr in some lofty company as well. Since 1981, three straight has been accomplished only five times, the last time by Randy Cabral in 2008.

Cabral, flirting with history himself, may be the only driver in the field with a victory on the famed half-mile. Cabral, a winner at last year's Extreme Tuesday, sits sixth on the all-time win list with 30, three behind Billy Eldridge. The next win for the driver of the Bertrand #47 will mark the 12th consecutive season he has at least one victory, a standard second only to Dave Humphrey's 16.

Stafford, part of NEMA since 1953, is one of the toughest tests for the midgets. Speeds are well in excess of 115. Cabral's 17.8 was the fastest lap a year ago.

Trouble with lapped traffic cost veteran Jim Miller last season at Stafford. He'll be back looking for some revenge. Mike Horn, coming off a strong effort at Thunder Road, is part of the contender list as well. Horn would love to join his dad Jeff on the long Stafford/NEMA win list.

Greg Stoehr, second at Thunder Road, John Zych Jr., Jeremy Frankoski, Keith Botelho, Jim Miller and Chris Leonard are threats as well.

Stafford is no stranger to NEMA history. Jerry Wall's win in the revolutionary "yellow jacket" on June 5, 1971 and Erica Santos becoming the club's first female winner on July 10, 2007 are NEMA milestones at Stafford.

Drew Fornoro (85) and Dave Humphrey (73) are one-two on the NEMA win list.

The tracks Russ Stoehr has won at are Beech Ridge, Flemington Fonda, Hudson, Lee, Star, Monadnock, Oswego, Oxford, Seekonk, Thompson and Waterford.