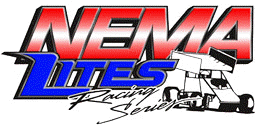 SATURDAY, MAY 7TH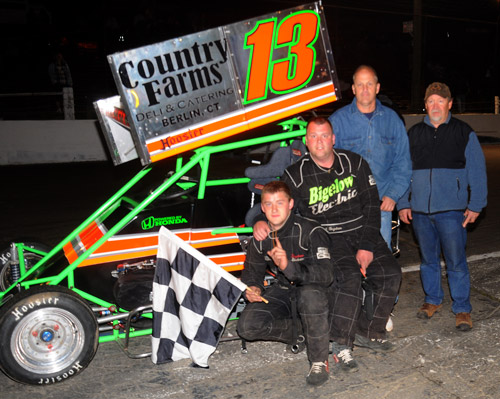 Lites Winner Ryan Bigelow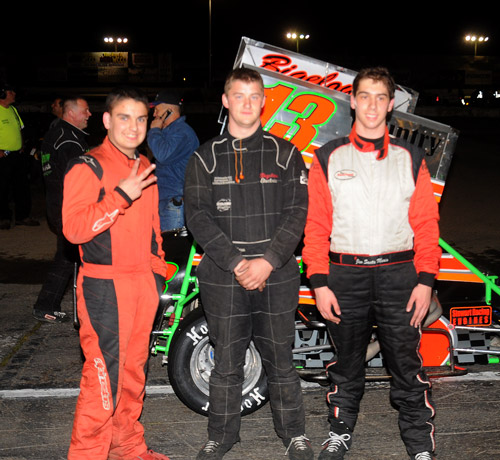 Joey Mooch, 3rd; Winner Ryan Bigelow, & Jim Santa Maria, 2nd.
Ryan Bigelow Is First Time Winner
After being shut out for the entire 2010 season the Hawk powered Bigelow Motorsports #13 finally caught a break Saturday night at the Speedbowl when it all came together for Flyin' Ryan Bigelow. Blasting into the lead from his fourth starting position, Bigelow first held off the challenges of pole starting Andy Barrows. Then came a restart against one of NEMA's best, Randy Cabral, in the potent Scally #4. Bigelow then out distanced the field to clinch his first ever NEMA Lite feature win.

The best passing performance of the night came as Jim Santa Maria rocketed from his fourteenth starting spot into second place to score his best Waterford finish. Fourteen year old Joey Mucciacciaro impressed all as he beat back the challenges of BLASTOFF Weekend winner, Anthony Nocella. Anthony Marvuglio piloted the Lugelle #00 to a solid fifth place finish. The night, however, did not go as well for his car owner, Paul, who barrel-rolled down the front stretch in the early laps.

The NEMA Lites take on Red MacDonald's Lee USA Speedway Friday night, May 20th.
Lites Feature - Waterford - Sat., May 7th
Pos.
#
Driver
Hometown
Owner
1
13
Ryan Bigelow
E. Hampton, CT
Randy Bigelow
2
99
Jim Santa Maria
Burlington, CT
Susan Santa Maria
3
45
Joey Mucciacciaro
Wolcott, CT
Frank Mucciacciaro
4
29
Anthony Nocella
Woburn, MA
Matt Seymour
5
00

Anthony Marvuglio

E. Bridgewater, MA

Paul Luggelle
6
4
Randy Cabral
Plymouth, MA
Paul Scally
7
50
Carl Medeiros, Jr.
Westport, MA
Carl Medeiros
8
31
Paul Bigelow
Berlin, CT
Randy Bigelow
9
9
Vince Jacobs
Covertry, RI
Bobby Seymour
10
48
Brandon Igo
Wilbraham, MA
David Igo
11
81
Andy Barrows
New Ipswich, NH
Andy Barrows

12

46
Kenny Johnson
Bethany, CT
Jeff Johnson
13
52
Kevin Park
Foxboro, MA
Kevin Park
14


DNF

18
David Moniz
Fairhaven, MA
David Moniz
15


DNF

47
Lanson Fornoro
Stroudsburg, PA
Julia Parker
16


DNF

71
Seth Carlson
Brimfield, MA
Gene Feigel
17


DNF

28
Paul Luggelle
Holbrook, MA
Paul Luggelle
HEAT 1

- 99 - 71 - 4 - 48 - 50 - 29 - 28 - 9

HEAT 2

- 13 - 18 - 81 - 47 - 31 - 00 - 52 - 46

LUCAS 10 AWARD WINNER: Ryan Bigelow