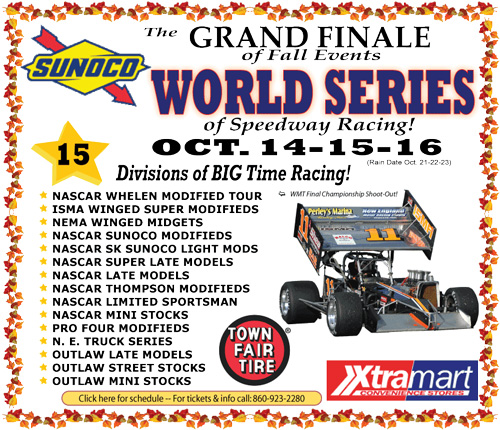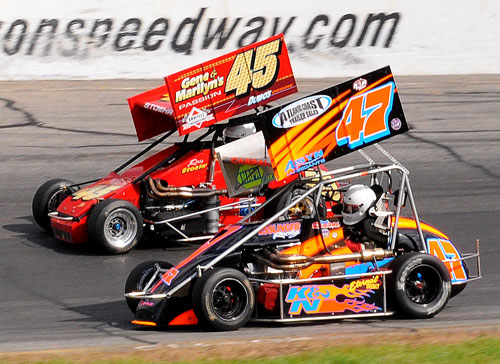 Russ Stoehr #45 vs Randy Cabral #47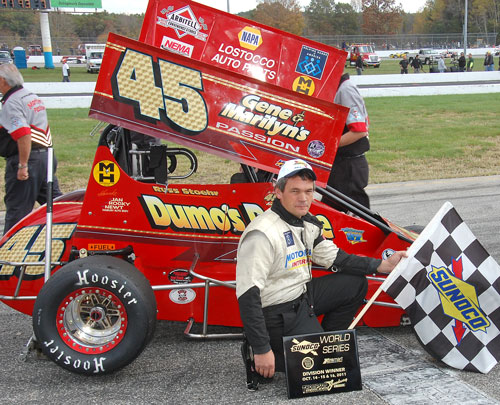 Race Winner Russ Stoehr #45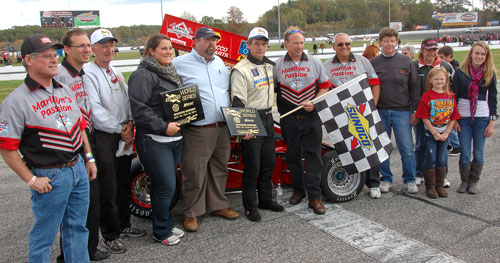 Dumo's Desire Racing #45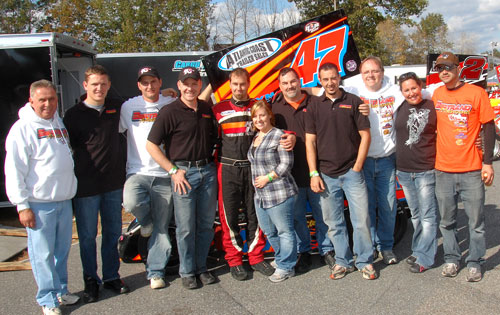 2011 Owner Champion - Tim Bertrand
2011 Driver Champion - Randy Cabral
Russ Stoehr & Randy Cabral
Score at Thompson WS
Thompson, CT – Russ Stoehr won the battle and Randy Cabral claimed the war in a classic Northeastern Midget Association race Sunday, oCTOBER 16 at Thompson Speedway's World Series. Taking the lead on a lap-19 restart, Stoehr went on to capture the 25-lapper. A second was more than enough to give Cabral and car-owner Tim Bertrand their third Driver and Owner Championships in the last four years.

It was the fifth win of the season for Stoehr (Dumo's Desire 45) who got exactly what he needed when the race was stopped for the second time. Lining up outside Cabral, the pace setter since lap two, Stoehr grabbed the lead heading into one. Over the next five laps, interrupted by a third caution, it was an epic tussle, Stoehr on the outside and Cabral down low.

Mike Horn (Horn 93X) watched it all from third spot while Ben Seitz (Cantor 7ny) held off Jeff Abold (Abold 29) for fourth. Jeff Horn (Horn A1), Ted Christopher (deRitis 75), B.J. MacDonald (MacDonald 49), Joey Payne (Breault 44) and Erica Santos (Santos 98s) completed the top 10.

Stoehr was second, several car lengths behind, when the second yellow showed. "Toward the middle of the race I thought I'd save the tires if something presented itself later," said Stoehr. "[The restart] was the opportunity I was waiting for. I thought we'd be better at the end and we were."

"Without the caution, it was [Randy's] race," added Stoehr, a winner at Thompson for the first time since 2002.

Trouble "taking off," was definitely a Cabral problem. "On one restart I tried to jump and he actually out-jumped me," Cabral said.

Still, on either side of a single file restart on lap 20, it was classic stuff. Cabral's consistency made inside challenges heading into one and three. "I had him once or twice but when I got by him I couldn't make it stick," offered Cabral, second for the sixth time this season. "Every time I caught him [Russ] was pinching me just enough. He knew exactly what to do."

The car spent in "putting on a show," Cabral said he was "thinking about the big picture" over the final two laps.

Cabral had the fastest feature lap (18.076) and it came early. Stoehr's fastest lap – 18.163 – came late. Coming from sixth, Cabral passed Horn for the lead on lap two. On the first restart (following a red flag), Stoehr jumped from fourth to second but Cabral, handling traffic with ease, again opened up a sizable lead.

In the end, the race came to Stoehr.

Christopher, subbing for an ill Chris deRitis, came from the rear as did Payne, involved in the first crash.




Cabral's 18.076 lap converts to 129.453 miles per hour.


"We've got all winter to think about it," is the way Stoehr, the 2010 champion, explained winning the last race of the season. He said, "all-in-all, the Dumo's Desire team had a "pretty successful" season. "I told my team to hold its head high. We have a lot to proud of."


The runner-up spot closed out a great second half for the Bertrand team. Cabral claiming "the first half of the year I was terrible." Three wins and six seconds is a great season.


The NEMA powers that be rounded up 24 cars for the World Series including the Santos 98s that Erica Santos drove to a 10th spot. The top 12 cars completed all 25 lap with the next two only a lap down.

NEMA Midgets Feature - Thompson - 10/16
Pos.
#
Driver
Hometown
Owner
1
45
Russ Stoehr
Lakeville, MA
Dumo's Desire Racing
2
47
Randy Cabral
Plymouth, MA
Tim Bertrand
3
93x
Mike Horn
Ashland, MA
Jeff Horn
4
7ny
Ben Seitz
Bourne, MA
Cantor Racing
5
29
Jeff Abold
Baldwinsville, NY
Jeff Abold
6
A1
Jeff Horn
Ashland, MA
Jeff Horn
7
75
Ted Christopher
Plainville, CT
Dan deRitis
8
49
B.J. MacDonald
Dublin, PA
B.J. MacDonald
9
44
Joey Payne
Fairlawn, NJ
Ed Breault
10
98s
Erica Santos
Franklin , MA
Robert Santos Jr.

11

25
Keith Botelho
Attleboro, MA
Russ Stoehr

12

77

Shawn Torrey
Marshield, MA
Mike Luggelle

13

2
Lee Bundy
Kennebunkport, ME
Lee Bundy

14

28
Paul Luggelle
Holbrook, MA
Paul Luggelle
15


DNF

3m

Greg Stoehr
Bridgewater, MA
Jim Miller
16


DNF

30
Paul Scally
Raynham, MA
Paul Scally
17


DNF

39
Todd Bertrand
Suffield, CT
Bertrand
Motorsports
18


DNF

28b
Derek Pernesiglio
Charlotte, NC
Paul Luggelle
19


DNF

48
Brandon Igo
Wilbraham, MA
David Igo
20


DNF

26b
Bethany Stoehr
Bridgewater, MA
MCI Racing/
Greg Stoehr
21


DNF

9
John Zych, Jr.
Liverpool, NY
John Zych, Sr.
22


DNF

99
Anthony Marvuglio
E. Bridgewater,MA
Tammy Bourbeau
23


DNF

88
Lanson Fornoro
Stroudsburg, PA
Andy Anderson
24


DNF

87
Doug Cleveland
Sudbury, MA
Doug Cleveland
Heat 1 -

9-45-3m-75-98s-29-25-77-28b-26b-39-87 dnf

Heat 2 -

93x-7NY-47-44-99-A1-49-30-88-2-48-28 dnf




-21 dns
NEMA's Season Ends
at World Series
Brockton, MA – Per usual, the Northeastern Midget Association point battle goes to the final race, Thompson's World Series. Thompson, the fastest venue on the NEMA docket, has been the ultimate test for the midgets for decades.

Thompson has been hosting Midgets since 1940. NEMA has been a mainstay since 1960.

Randy Cabral takes a 26 point bulge on Greg Stoehr into the 25 lap feature. Russ Stoehr sits 37 back in third place. With eight different winners, the most competitive NEMA campaign in several years comes to an end at Thompson.

Mike Horn (Horn 93x) will be looking to repeat his July 7 victory. Horn and Cabral, Thompson's all-time NEMA winner with nine, staged an epic battle. Cabral and the Bertrand team will be looking for a second straight and fifth overall World Series win.

The Stoehr brothers are familiar with the Thompson asphalt as well. Russ (Dumo's Desire), who clinched the title at last year's World Series, has three Thompson wins. Greg, who'll most likely be driving Jim Miller's 3m, has one.

"Thompson Midget winners is one of most impressive lists in all of racing," says NEMA President Mike Scrivani Jr. "All the greats are there." Scrivani has tasted victory at Thompson with several drivers including Dave Humphrey, Nokie Fornoro and Gene Bergin.

With lap times often in the high seventeen/low eighteens, experience is a powerful weapon at Thompson. In addition to Cabral and the Stoehr boys, Keith Botelho (Stoehr 25), Chris deRitis
(deRitis 75), Jeff Horn (Horn A1), Ben Seitz (Cantor 7ny),
BJ MacDonald (MacDonald 49) and Joey Payne (Breault 44) are all Thompson tested.

Other contenders are John Zych (Zych 9), Barry Kittredge (Kittredge 8), Chris Leonard (Leonard 22) and Todd Bertrand (Bertrand 39).

Thompson Speedway NEMA Winners


No. of Wins - Driver - First - Last


9 - Randy Cabral - 2001 - 2008
6 - Johnny Mann - 1972 - 1978
5 - Drew Fornoro - 1985 - 2003
5 - Nokie Fornoro - 1982 - 2009
4 - Johnny Coy Sr. - 1969 - 1981
4 - Armond Holley - 1976 - 1977
3 - Bob Cicconi - 1978 - 1987
3 - Ben Seitz - 2005 - 2007
3 - Russ Stoehr - 1994 - 2002
2 - Mark Buonomo - 2001 - 2004
2 - Dave Humphrey - 1970 -1971
2 - Russ Klar - 1969 - 1972
2 - Hank Rogers - 1980 - 1980
2 - Bobby White - 1979 - 1979

One-time Thompson winners: Gene Bergin (1969), Lennie Boyd (1979), Kyle Carpenter (2002), Joey Coy (1992), Johnny Coy Jr. (1981), Ryan Dolan (2002), Leigh Earnshaw (1979), Ronnie Evans (1970), Mike Favulli (1989), George Ferguson Jr. (1978), Walt Gale (1968), Mike Horn (2011),George Monsen (1978), Joey Payne Jr. (2000), Bobby Santos III (2003), Dutch Schaefer (1960), Greg Stoehr (1993), Butch Walsh (1986), Hank Williams (1960).