October 7, 8, & 9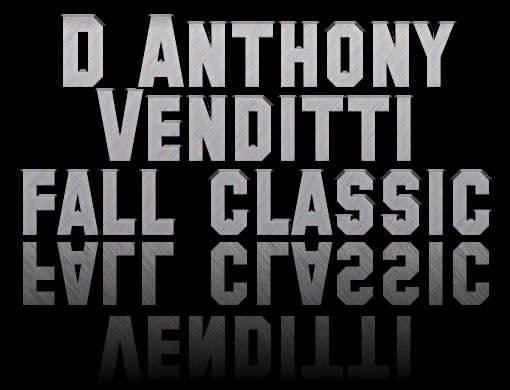 Nocella & Cumens NEMA
First Time Winners at DAV
Seekonk, MA – Anthony Nocella captured his first Northeastern Midget Association feature Sunday, winning the 25-lap feature at Seekonk Speedway's D.Anthony Venditti Memorial. It was a dominating performance for Nocella and the Seymour #4.

Nocella, the all-time winner in the NEMA Lites, started ninth. He took the lead from John Zych (Zych #9) on lap 13 and then beat back a lap 19 restart challenge from Randy Cabral. It was all according to plan.

"We wanted to be leading around the halfway point," said Nocella. "I kinda wanted to save something. I wanted to have enough tire to hold somebody off if there was a late caution. That's how it happened."

Cabral (Bertrand #47) was a straightaway (2.363 seconds) behind in second. Keith Botelho (Stoehr #25), Greg Stoehr (Miller #3m) and Russ Stoehr (Dumo's Desire #45) filled out the top five.

Nocella, who passed Cabral for third on lap 10, had a wide lead when the only caution fell. "I knew Randy wasn't going to give up," he said. "Randy was going to drive it in hard on the outside and try to hold me down."

"His tires looked like they belonged on a four wheeler," said Cabral who had taken second from Zych two laps before. "It was the only way I was going to get him." Cabral, however, did not get the bite he needed and Nocella "got away."

Nocella, who drove the Santa Maria #99 most of the year, passed the test. "You want to run it in as hard as he did," he said, "but you know you can't do that. You try to run it in a little easy because you don't want to slide into him and you want to get it turned so you can get on the gas in the straightaway."

Point leader Cabral, who widened his lead on Greg Stoehr to 26, did challenge for a lap before "saying to myself, 'OK, time to fall into second.'"

Botelho, Greg Stoehr and Russ Stoehr rallied in the closing laps. Greg Stoehr, who crashed his #26b two weeks ago at Waterford, was in the Jim Miller #3m. Russ Stoehr came from 12th in an almost rebuilt car after a host of problems on Saturday.

Paul Scally led the first lap before giving way to Zych on lap two.

"It was definitely a fast car," understated Nocella. "Everybody else did well in it and I wanted to win for them too." Bobby Santos III, Mark Buonomo, Jeff Abold and Lou Cicconi have scored Seekonk wins in the car over the past 10 years.

"This is the same car Santos drove here 10 years ago," said owner Bobby Seymour, pointing out "it's all about handling" at Seekonk. "Every time we come to this track we put the exact same set up on it. I don't think the front axle had been changed in 10 years. We're never really any quicker but we're always right there." Nocella's 11.371 was the fastest lap

It was another Seymour family Seekonk sweep, Ian Cumens winning Saturday's LITES feature in the Seymour #9 Hawk/Focus.

Seth Carlson chased Cumens home in the final LITES event of the year. Andy Barrows, Brandon Igo and Anthony Marvuglio completed the top five.

The NEMA Midgets complete their season this weekend at Thompson Speedway's World Series.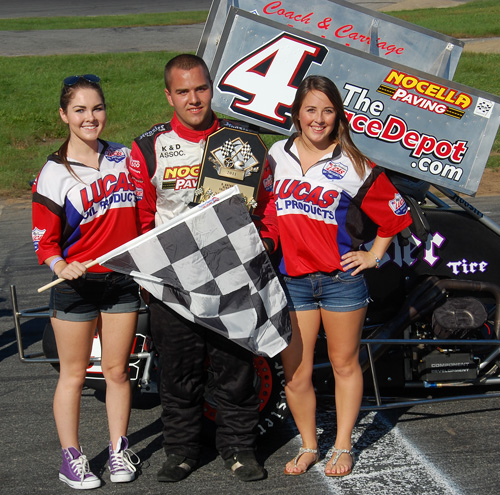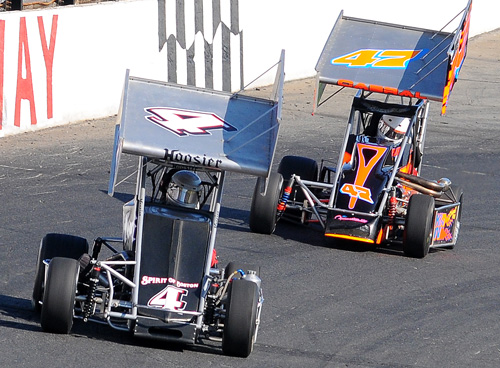 -

NEMA Midgets Feature - Seekonk DAV - 10/9
Pos.
#
Driver
Hometown
Owner
1
4
Anthony Nocella
Woburn, MA
Bobby Seymour
2
47
Randy Cabral
Plymouth, MA
Tim Bertrand
3
25
Keith Botelho
Attleboro, MA
Russ Stoehr
4
3m
Greg Stoehr
Bridgewater, MA
Jim Miller
5
45
Russ Stoehr
Lakeville, MA
Dumo's Desire Racing
6
75
Lou Cicconi
Philadelphia, PA
Dan deRitis
7
9
John Zych, Jr.
Liverpool, NY
John Zych, Sr.
8
8
Barry Kittredge
Marlboro, MA
Barry Kittredge
9
A1
Jeff Horn
Ashland, MA
Jeff Horn
10
49
B.J. MacDonald
Dublin, PA
B.J. MacDonald
11
13
Ryan Bigelow
E. Hampton, CT
Randy Bigelow
12
22
Chris Leonard
Pelham, NH
Dave Leonard
13
99
Anthony Marvuglio
E. Bridgewater, MA
Tammy Bourbeau
14
39
Todd Bertrand
Suffield, CT
Bertrand
Motorsports
15
93x
Mike Horn
Ashland, MA
Jeff Horn
16
DNF
7ny
Ben Seitz
Pocasset, MA
Cantor Racing
17
DNF
30
Paul Scally
Raynham, MA
Paul Scally
18
DNF
87
Doug Cleveland
Sudbury, MA
Doug Cleveland
19
DNF
44
Joey Payne
Fairlawn, NJ
Ed Breault
20
DNS
2
Lee Bundy
Kennebunkport, ME
Lee Bundy
21
DNS
77
Paul Luggelle
Holbrook, MA
Mike Luggelle

SATURDAY HEATS - SEEKONK DAV - 10/8
LITES Heat #1 - 4-71-81-18-26b-28-99-93dnf
LITES Heat #2 - 9-48-21-50-47-52-7-44-46dns
NEMA MIDGETS Heat #1 - 22-7-99-47-49-8-A1-13-39-2

NEMA MIDGETS Heat #2 - 4-30-9-45-25-3m-75-87-93x-44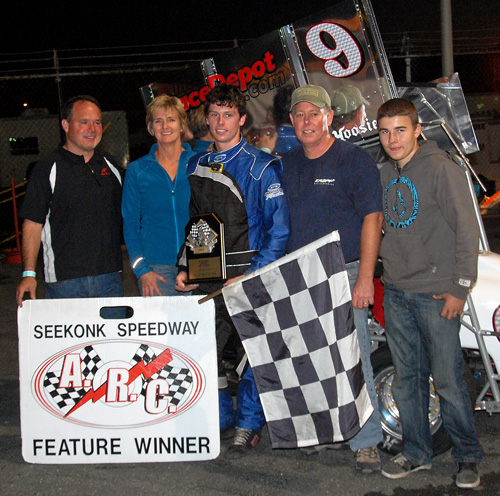 NEMA LITES Feature - Seekonk DAV - 10/8
Pos.
#
Driver
Hometown
Owner
1
9
Ian Cumens
Lydell, PA
Bobby Seymour
2
71
Seth Carlson
Brimfield, MA
Gene Feigel
3
81
Andy Barrows
New Ipswich, NH
Andy Barrows
4
48
Brandon Igo
Wilbraham, MA
David Igo
5
21
Anthony Marvuglio
E. Bridgewater, MA
Jennifer Scrivani
6
26b
Bethany Stoehr
Bridgewater, MA
MCI Racing/
Greg Stoehr
7
4
Joey Mucciacciaro
Wolcott, CT
Paul Scally
8
18
David Moniz
Fairhaven, MA
David Moniz
9
99
James Santa Maria
Burlington, CT
Susan Santa Maria
10
47
Lanson Fornoro
Stroudsburg, PA
Julia Parker

11

93
Jake Smith
Stroudsburg, PA
Ted Smith

12

46
Kenny Johnson
Bethany, CT
Jeff Johnson

13

52
Kevin Park
Foxboro, MA
Kevin Park
14
7
Dana Shaw
-
Dana Shaw
15


DNF

50
Carl Medeiros, Jr.
Westport, MA
Carl Medeiros

16




DNF

28
Paul Luggelle
Holbrook, MA
Paul Luggelle

17




DNF

44
Christian Briggs
Mattapoisett, MA
Christian Briggs

NEMA Points Battle
To Seekonk's DAV
Brockton, MA – A scant 11 points separate the top three drivers as the Northeastern Midget Association makes its annual visit to Seekonk Speedway's D. Anthony Venditti Memorial this weekend. The DAV is among the sweetest of plums for NEMA competitors.

Randy Cabral, with a win and a second earlier this year at "the cement palace," leads Greg Stoehr by just eight points and defending champion Russ Stoehr by 11. Russ Stoehr is coming off a victory at Waterford two weeks back.

Traditional foes Bertrand Racing and the Dumo's Desire team, separated by 11 points, are once again battling for the owners' crown.

The NEMA Lites are on the DAV agenda as well. Seekonk has become home base for the increasing popular division. NEMA will qualify on Saturday for Sunday's feature. All the Lites action will be on Saturday.

The consistency of Cabral's Bertrand team and Greg Stoehr's #26b operation has been noteworthy, each with seven podium finishes this year. Both hope to rebound from subpar efforts at Waterford. Russ Stoehr reversed a trend of bad luck with his Waterford win, a broken throttle spring and a suspension part among the maladies that plagued the Dumo's Desire team.

All seven 2011 winners – Jeff Abold, Todd Bertrand, Keith Botelho, Mike Horn in addition to Cabral and the Stoehr brothers – are expected. It is, in fact, difficult to look past Abold and the Seymour family, so impressive winning a third-straight "Louie" last month at Seekonk.

Still, it's difficult to find a Midget competitor without hard-earned knowledge of Seekonk, part of the NEMA family since 1953. Laps in the low and middle 11 seconds bracket (100 mph plus) are standard. There is no relaxing at the 'Konk.'

Anthony Nocella, another Seymour driver who was fourth at "The Louie," is another contender on a list that includes veteran Joey Payne Jr., now driving the Breault #44, Jeremy Frankoski, ageless Jeff Horn, Chris Leonard, Barry Kittredge, Matt O'Brien, B.J. MacDonald, Chris deRitis, John Zych and Paul Scally.

The busy Nocella, based on past efforts, probably rates the favorite in the Lites race as well. The Lites, however, have had eight different winners this season – Ryan and Paul Bigelow, Russ Wood Jr., Paul Luggelle, Seth Carlson, Andy Barrows and David Moniz joining Nocella. Among those looking to join the list – Carl Medeiros, Randy Cabral, Bethany Stoehr and Lanson Fornoro.