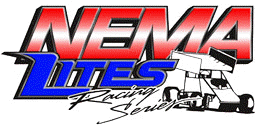 FRI
DAY, AUGUST 19th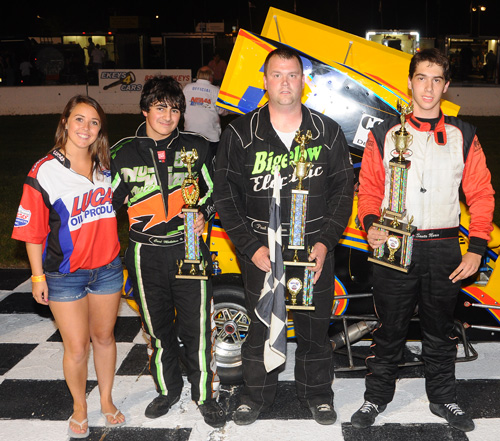 Top Three - L to R: Carl Medeiros Jr. #50, 3rd; Winner Paul Bigelow #31,
and Jim Santa Maria, #99, 2nd.
First LITES Win for Paul Bigelow
Starting from the pole Paul Bigelow put his Honda-powered #31 into the lead at the green and led all 25 laps to score his first NEMA LITES win. Brother Ryan in the #13 had scored his first at Waterford in May.

The quick, caution-free race saw all the starters running at the finish.

Jim Santa Maria ran the #99 from the seventh starting spot up to second at the checkers and received the LUCAS AWARD for his hard charging performance.

After a Heat 1 win, Carl Medeiros put the #50 into third for his second podium finish of the season.

The NEMA LITES next look to Seekonk Speedway on Saturday, August 27th for the 15th running of The Boston Louie Memorial Classic.
NEMA LITES Feature - Lee - Fri., August 19th
Pos.
#
Driver
Hometown
Owner
1
31
Paul Bigelow
Berlin, CT
Randy Bigelow
2
99
Jim Santa Maria
Burlington, CT
Susan Santa Maria
3
50
Carl Medeiros, Jr.
Westport, MA
Carl Medeiros
4
18
David Moniz
Fairhaven, MA
David Moniz
5
81
Andy Barrows
New Ipswich, NH
Andy Barrows
6
13
Ryan Bigelow
E. Hampton, CT
Randy Bigelow
7
71
Seth Carlson
Brimfield, MA
Gene Feigel
8
51
Russ Wood Jr.
Pelham, NH
Russ Wood Jr.
9
29
Anthony Nocella
Woburn, MA
Matt Seymour
10
4
Randy Cabral
Plymouth, MA
Paul Scally

11

26b
Kathryn Stoehr
Bridgewater, MA
MCI Racing/
Greg Stoehr

12

44
Christian Briggs
Mattapoisett, MA
Christian Briggs

13

28
Paul Luggelle
Holbrook, MA
Paul Luggelle
14


DNS

93
Jake Smith
Stroudsburg, PA
Ted Smith

HEAT 1

-

50 - 31 - 28 - 18 - 44 - 26B - 93

HEAT 2

-

13 - 4 - 81 - 51 - 29 - 71 - 99

LUCAS AWARD WINNER

-

#99 Jim Santa Maria