"Night of the NEMAs"
Saturday, September 24th
NEMA Midgets & NEMA LITES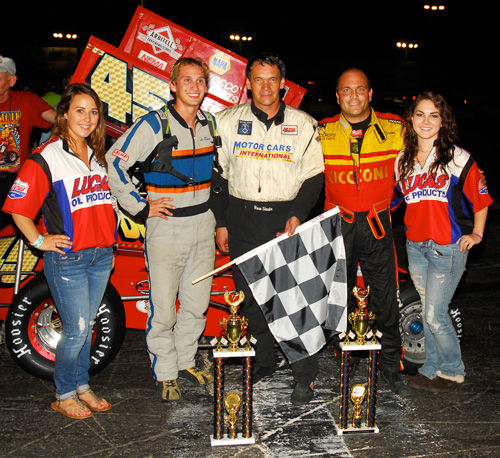 Chris deRitis - Russ Stoehr - Lou Cicconi
Heats>
Feature>
Photos by
John Dadalt
Photos by Steve Kennedy THANKS!
NEMA Feature - Waterford - 9-24-11
Pos.
#
Driver
Hometown
Owner
1
45
Russ Stoehr
Lakeville, MA
Dumo's Desire Racing
2
75

Chris deRitis

Philadelphia, PA

Dan

deRitis

3
4
Lou Cicconi

Philadelphia, PA

Bobby Seymour
4
29
Jeff Abold

Baldwinsville

,

NY

Jeff Abold
5
7ny
Ben Seitz

Pocasset, MA

Cantor Racing
6
25
Greg Stoehr
Bridgewater, MA
Russ Stoehr
7
39
Todd Bertrand
Suffield, CT
Bertrand
Motorsports
8
47
Randy Cabral
Plymouth, MA
Tim Bertrand
9
87
Doug Cleveland
Sudbury, MA

Doug Cleveland

10
44
Joey Payne
Fairlawn, NJ
Ed Breault

11

9
John Zych, Jr.
Liverpool, NY
John Zych, Sr.

12

30
Paul Scally
Raynham, MA
Paul Scally
13


DNF

13
Ryan Bigelow
E. Hampton, CT
Randy Bigelow
14


DNF

99
Jim Santa Maria
Burlington, CT

Susan

Santa Maria

15


DNS

26b
Greg Stoehr
Bridgewater, MA
Greg Stoehr

HEAT 1

-

75 - 4 - 47 - 87 - 7ny - 39 - 13 - 0 dnf

HEAT 1

-

45 - 30 - 29 - 44 - 99 - 26b dnf - 25 (Lanson Fornoro) dnf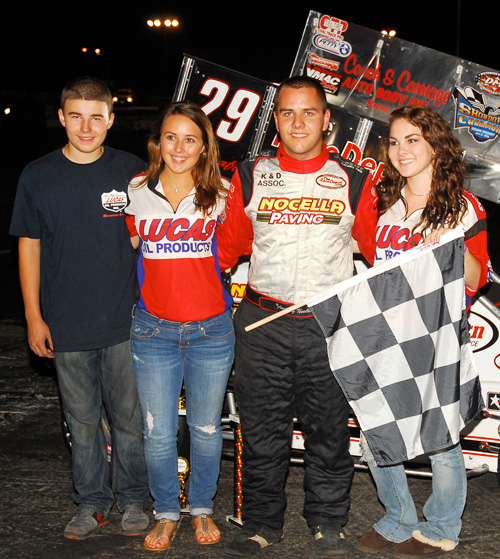 Heats>
Feature>
Photos by
John Dadalt
NEMA LITES Feature - Waterford - 9-24-11
Pos.
#
Driver
Hometown
Owner
1
29
Anthony Nocella
Woburn, MA
Matt Seymour
2
50
Carl Medeiros, Jr.
Westport, MA
Carl Medeiros
3
26b

Bethany Stoehr

Bridgewater, MA
MCI Racing/
Greg Stoehr
4
4
Joey Mucciacciaro
Wolcott, CT
Paul Scally
5
48

Brandon Igo

Wilbraham, MA

David Igo

6
9
Ian Cumens
Lydell, PA
Bobby Seymour
7
81
Andy Barrows
New Ipswich, NH
Andy Barrows
8
46
Kenny Johnson
Bethany, CT
Jeff Johnson
9
28
Paul Luggelle
Holbrook, MA
Paul Luggelle
10
71
Seth Carlson
Brimfield, MA
Gene Feigel

11

21

Anthony Marvuglio

E. Bridgewater, MA

Jennifer Scrivani

12

44
Christian Briggs
Mattapoisett, MA
Christian Briggs
13


DNF

99
Howie Bumpus

Lakeville

, MA

Susan Santa Maria
14


DNS

7x
Jack McKeon
Kensington, CT
Jack McKeon
15


DNS

39
Rich Tufano
-
-

HEAT 1

-

44 - 46 - 28 - 29 - 9 - 81 dns

HEAT 2

-

48 - 21 - 50 - 26b - 71 - 7x dnf - 4 dns - 39 dns
Russ Stoehr Returns To Victory Lane
In Speedbowl NEMA Action,
Nocella Records LITES Win
(Waterford, CT) Russ Stoehr won Saturday evening's 25-lap Northeastern Midget Association feature at the Waterford Speedbowl. It was the 4th feature victory of the season for the 6-time NEMA champion.

Commanding the outside lane, Stoehr passed pole-sitter Doug Cleveland and second-place Chris DeRitis in dramatic fashion to take the lead on the second-lap. The yellow flew only 2-circuits later when former champion Joey Pane wheeling the Ed Breault-owned #44 recently vacated by Erica Santos abruptly drove into the infield coming to a halt.

Moving into second on the restart, point leader Randy Cabral appeared to mount a serious challenge to Stoehr by lap-6 but suddenly slowed, his car momentarily loosing power.

Rounding-out the top-3 at halfway was Stoehr, DeRitis, and "Liquid Lou" Cicconi (making his first NEMA start of the year).

In the closing circuits, DeRitis seemed to be reeling-in the leader, but it was not to be as Stoehr prevailed by two car-lengths at the finish. Cicconi maintained the third-spot. Completing the top-5 were Jeff Abold and Ben Seitz. Point-leader Cabral rallied to an 8th-place finish.

"My guys told me that DeRitis was really-good on the bottom. Getting into the lead early and staying low was key to winning tonight," said Stoehr in victory lane. "As-usual the crew gave me a great car. This win is dedicated to Nancy Gainnini who is presently seriously ill. Nancy is the wife of our longtime crewmember and close friend Jackie who is one of the people that makes all of this possible for the team."

Runner-up DiRitis who pressured the winner for a period in the closing circuits admitted to "using-up his tires." We might have had something for Russ in the end, but he was really, really-fast. It took its toll on my tires trying to reel-him-in. I just used the fronts-up during the last laps."

Third-pace Cicconi was also quick to praise the efforts of his crew, and did-so in his typically-understated style. Stated the popular veteran racer; "This is the first-time I've raced with NEMA since last-year, and I had a great car. It drove just like a Cadillac. The crew did a super job."

Winning qualifying heats were DeRitis and Russ Stoehr.

In NEMA Lites action, it was Anthony Nocella notching his 4th feature of the season in convincing fashion. Otherwise a quick and trouble-free event, it was marred by a red-flag period on lap-15 when the top-5 cars of Christian Briggs and Kenney Johnson tangled in spectacular fashion, the Briggs machine landing on its side. He was uninjured.

Completing the top-5 was Carl Medeiros Jr., Bethany Stoehr, Joe Mucciacciaro, and Brandon Igo.

Briggs & Igo were the Lites heat winners.

NEMA next sees action at Seekonk Speedway's DAV Memorial Festival of Racing on the weekend of October 8-9.

NEMA RETURNS TO SPEEDBOWL
Brockton, MA – The Northeastern Midget Association takes a red hot point battle to Waterford Speedbowl Saturday night, Sept. 24. The twenty-five lap features for NEMA and the NEMA Lites are additions to the NEMA schedule.

Randy Cabral, who assumed the lead at Seekonk Speedway two weeks ago, sits atop the point parade with the Stoehr brothers – Greg and Russ – bunched up in second and third behind him.

Part of NEMA since the club's inception in 1953, Waterford remains one of the northeast's premier Midget venues. Lap times in the very low 13s are commonplace.

All seven 2011 winners – Jeff Abold, Todd Bertrand, Keith Botelho and Mike Horn in addition to Cabral and the Stoehr boys – are expected to be in the NEMA field. Boston Louie winner Abold, with two top-fives at Waterford this year, will be aiming at two straight triumphs

Russ Stoehr, Botelho and rookie Bertrand have wins this season at the Speedbowl. Angelillo Memorial winner Bertrand joins a long list of NEMA competitors who scored their first checkered on the three-eighths oval.

Driving the family car, Bertrand needed only five minutes 46 seconds to cover the 25 laps (averaging 97.330 mph) in the Angelillo Memorial . Cabral, Greg Stoehr, Scally and Abold waged a sizzling war behind him, testimony to NEMA's prowess at the Bowl.

Other contenders include Anthony Nocella, Jeremy Frankoski, Paul Scally, fourth at the Angelillo Memorial, B.J. MacDonald, Chris deRitis, Chris Leonard and Barry Kittredge. deRitis, Leonard and Kittredge have won at Waterford in the past.

Since 2009, Russ Stoehr has eight first or seconds at "The Bowl." Crowd favorite Cabral, the all-time NEMA winner at Waterford with eight, is determined to "get back to victory lane" for the first time since 2008. He has two seconds and a third at Waterford this season.

It will be Waterford's fifth Lites event of 2011, Nocella, Ryan Bigelow, Paul Luggelle and Andy Barrows all prevailing. Hoping to join the list are Seth Carlson, Russ Wood Jr., Paul Bigelow and David Moniz, all winners this season. Other contenders are Carl Medeiros Jr., Jim Santa Maria, Anthony Marvuglio and Cabral.




Todd Bertrand became the first rookie to win a NEMA feature since Jeremy Frankoski did it in 2007 (#99 -Beech Ridge - 7/29/07). With three races left, he can become the first Rookie with multiple wins in a very long time.


Russ Stoehr is the current leader in top five finishes with eight. Randy Cabral has five straight top five finishes coming into Waterford.


Starting with Bill Eldridge (May 31, 1953) and ending with Bertrand, there have been 46 winners in 85 NEMA events at Waterford Speedbowl. The track's Midget connection goes back to 1951, its first year, when Johnny Thomson won two ARDC shows and Art Cross prevailed in a Triple A 100 lapper. George Tichenor set fast time for the latter with a 17.920 run, meaning in sixty years, the Midgets have gotten five seconds faster at the Bowl.