APRIL 2ND & 3RD, 2011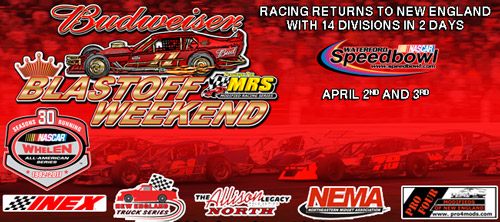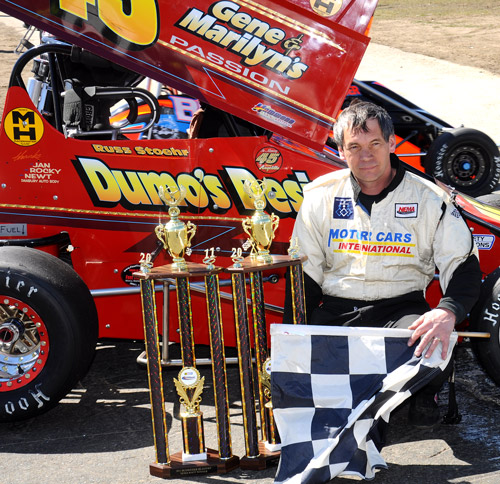 NEMA MIDGETS "Budweiser Blastoff" WINNER RUSS STOEHR #45
NEMA Feature - Waterford - Sun., April 3rd
Pos.
#
Driver
Hometown
Owner
1
45
Russ Stoehr

Lakeville, MA

Dumo's Desire Racing
2
47
Randy Cabral
Plymouth, MA
Tim Bertrand
3
7ny
Jeremy Frankoski
Huntersville, NC
Cantor Racing
4
29
Jeff Abold
Pennellville, NY
Jeff Abold
5
3m
Jim Miller
Weymouth, MA
Jim Miller
6
22
Chris Leonard
Pelham, NH
Dave Leonard
7
26b
Greg Stoehr
Bridgewater, MA
Greg Stoehr
8
25
Keith Botelho
Attleboro, MA
Russ Stoehr
9
9
John Zych, Jr.
Liverpool, NY
John Zych, Sr.
10


DNF

30
Paul Scally
Raynham, MA
Paul Scally
11


DNS

2
Lee Bundy
Kennebunkport, ME
Lee Bundy
12


DNS

16
Matt O'Brien
Wilmington, MA
Jim O'Brien

HEAT 1

- 26b - 45 - 22 - 29 - 30

HEAT 2

- 25 - 47 - 3m - 7ny - 2 - 9 DNF
Russ Stoehr NEMA Blastoff Winner
Waterford, CT – Wanting to "just get it over with," defending champion Russ Stoehr grabbed the lead with four laps gone and went on to an impressive win in the Northeastern Midget Association's 59th season opener Sunday at Waterford Speedbowl's Bud Blast Off. Despite two restarts, Stoehr (Dumo's Desire 45) was never seriously challenged.

Starting ninth, Stoehr had moved to second when the second yellow showed with 21 laps left. After a lap-long side-by-side battle with Chris Leonard, the only other leader, Stoehr took command out of two. "Chris beat me here last year so I just wanted to get it over with," said Stoehr following his 44th career victory.

Randy Cabral (Bertrand 47) put on a dazzling display over the final two circuits (a green-white-checkered finish) to claim second followed by Jeremy Frankoski (Cantor 7ny), Jeff Abold (Abold 29) and Jim Miller (Miller 3m). It was Frankoski's first ride in the Cantor car.

A brief early "jam up" was Stoehr's only problem. Excelling on the outside, his 13.135 was the fastest lap of the day.

Leonard started second and, after a duel with Paul Scally, had the lead just as lap one was completed. After losing the lead to Stoehr, Leonard ran comfortably in second before spinning heading for the white flag, setting up the finish.

Stoehr, who could not see the scoreboard, was not sure who was behind him at that point. It was Frankoski who lined up outside him with Abold and Cabral in the second row. The trio had battled for third for much of the race.

"Green-white-checkered, you just have to put it all out there," said Stoehr.

It was a perfect spot for Cabral who had a car "that after three laps would go away." Getting away from Abold, he passed Frankoski heading into two on the final circuit. "The car was not that good and it was time for the driver to do his thing," said Cabral, more than pleased with the effort.

Stoehr has been first or second in the last five NEMA races at the Bowl. "Gene was always able to set a car up to win here," he said of the late Gene Angelillo, the long-time Dumo's Desire owner. "That's carried over."

NEMA is now idle until a June 11th date at Twin State Speedway in New Hampshire.
Photos by Norm Marx

Thank you from the Bertrands

We would like to thank our NEMA friends and racing "Family" for your overwhelming generosity and kindness in support of the upcoming addition to our family!

We both look forward to bringing our new little one to the
next race at Twin State.

Sincerely,

Tim & Cara Bertrand
---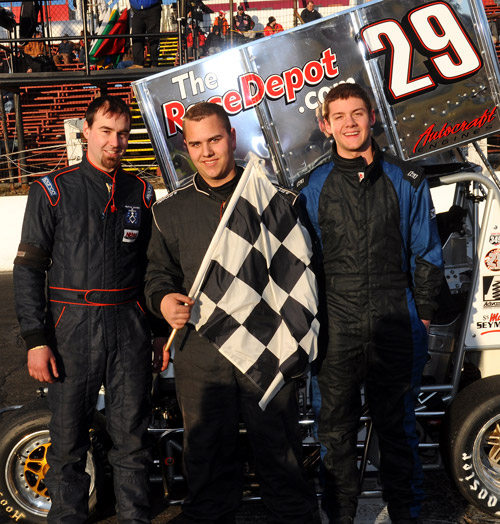 LITES Top Three - L to R: Randy Cabral #47, 3rd;
Winner Anthony Nocella #29; & Seth Carlson #71, 2nd.
Lites Feature - Waterford - Sat., April 2nd
Pos.
#
Driver
Hometown
Owner
1
29
Anthony Nocella
Woburn, MA
Matt Seymour
2
71
Seth Carlson
Brimfield, MA
Gene Feigel
3
4
Randy Cabral
Plymouth, MA
Paul Scally
4
99
Jim Santa Maria
Burlington, CT
Susan Santa Maria
5
50
Carl Medeiros, Jr.
Westport, MA
Carl Medeiros
6
28
Paul Luggelle
Holbrook, MA
Paul Luggelle
7
48
Brandon Igo
Wilbraham, MA
David Igo
8


DNF

26b
Bethany Stoehr
Bridgewater, MA
MCI Racing/
Greg Stoehr
9


DNF

31
Paul Bigelow
Berlin, CT
Randy Bigelow
10


DNF

13
Ryan Bigelow
E. Hampton, CT
Randy Bigelow
11


DNF

36
Todd Bertrand
Suffield, CT
Glen Cabral
12


DNF

81
Andy Barrows
New Ipswich, NH
Andy Barrows
13


DNF

45
Joey Mucciacciaro
Wolcott, CT
Frank Mucciacciaro
HEAT 1

- 13 - 4 - 50 - 45 - 81 - 26b -71 DNF

HEAT 2

- 31 - 29 - 99 - 28 - 48 - 36
Anthony Nocella Notches
Lites Opener At Speedbowl
(Waterford, CT.) Starting the season off on a high note, Anthony Nocella won the 25-lap NEMA Lites "Budweiser Blastoff" feature at the Waterford Speedbowl on Saturday evening.

Outside pole-sitter Ryan Bigelow jumped into the lead at the drop of the green closely followed by Carl Mederios. By midway the duo became engaged in a tight battle for the lead. Running side-by-side on the back stretch, contact ensued with Bigelow spinning to the infield, unable to continue.

On the restart, Mederios inherited the lead, followed by Nocella who had been gradually making his way through traffic.

With 10-laps remaining, 3rd-generation driver Bethany Stoehr violently slammed the front stretch wall signaling the final caution period of the event. She was uninjured.

Winner Nocella inched-by Mederios on the restart, building a comfortable lead in the closing circuits. Rounding-out the top-five was Seth Carlson, Randy Cabral, James Santamaria, and Mederios.

Nocella seemed somewhat surprised to land in victory lane, as the race had not started well for the multi-time Lites Series winner. The Speedbowl remains one of his favorite tracks.

"We got messed-up in the opening laps, I jumped the wheel of the car in-front of me," stated Nocella. "Luckily, it didn't hurt anything. It seemed like the car actually got better & better as the race went-on. I really like this place as I've had great luck here."

Second-place finisher Seth Carlson was satisfied with his performance in his first-ever Lites Series feature. A graduate of the dirt at the former Whip City Speedway in Massachusetts, he stated that his goals for the day were realized. "We wanted to bring the car home in one-piece, and that we accomplished. I'm happy with second place today."

NEMA veteran Randy Cabral felt-likewise about his third-place, indicating that the Series continues to get tougher. "These darn kids beat-up on me pretty-good today. They're getting faster & faster," he said.

Ryan & Paul Bigelow won qualifying heats.
Photos by




Norm Marx
SOME NEMA OPENING DAY HISTORY
Waterford Speedbowl will host the 2011 Northeastern Midget Association opener, the club scheduled to make its 59th season debut at the Budweiser Blast Off. NEMA is the region's oldest sanctioning body in terms of consistency.

Chris Leonard hopes to join an impressive list with a second straight season-opener win. It's happened only eight times, Randy Cabral the last to do it in 2008 and '09. Bill Eldridge (1954-55), Dutch Schaefer (1959-60), Walt Gale (1966-67), Johnny Coy (1970-71), Armond Holley (1976-77), Drew Fornoro (1982-83) and Ben Seitz (2004-05) are the others.

Russ Stoehr and Randy Cabral join a group seeking to become the 13th driver to win the opener and go on to win the championship. Despite six titles including last year, Stoehr has never done it. Cabral has done it twice (2008-09), short of Drew Fornoro's record three times ('83, '86 and '98). Eldridge ('54, '58) and Ben Seitz ('04-05) did it twice; Dick Brown ('61), Johnny Mann ('72), Holley ('76) and Joey Coy ('91) once.

With the Lites also scheduled, a pit full of Midgets is expected as the Speedbowl hosts the NEMA season opener for the seventh time since 1999.

Erica Santos returns in the Breault #44. Other contenders include Jeremy Frankoski, making his debut in the Cantor 7ny, veteran Greg Stoehr in the family 26b, Todd Bertrand in the family's Honda-powered #39, John Zych Jr. in a new Esslinger-powered Drinan, Keith Botelho in the Stoehr #25 and Chris deRitis in the Bertrand-prepared #75. Jim Miller and Mike Horn are also factors.

Newcomer Seth Carlson, the 2010 Whip City Speedway 270cc champ, leads a group of newcomers to a Lites field that includes standouts Anthony Nocella, Anthony Marvuglio, Jim Santa Maria and Paul and Ryan Bigelow.

Only eight times has the winner of the previous season finale come back to win a season-opener. Cabral ( 2007-08) and Russ Stoehr (1998-99) have done it in the past. Others on the list are Eldridge ('54-55 and '57-58), Bill Randall ('62-63), Johnny Coy ('69-70), Holley ('76-77) and Drew Fornoro ('88-89).

Fornoro is the all time opening day winner with eight.

Other Numbers of interest: Russ Stoehr is two wins away from tying Nokie Fornoro (45) in third place on the all-time win list. Randy Cabral, who has 30, needs three to move into the top-five...Cabral enters the season with at least one victory in 11 straight seasons. Only Dave Humphrey's 16 is better.

NEMA First Timers A Speedbowl Trait
The Budweiser Blast Off April 2-3 will mark the seventh time since 1999 that the Northeastern Midget Association has opened its season at Waterford Speedbowl. The NEMA Lites are also part of the festivities as the club kicks off its 59th campaign.

Last year, Chris Leonard was the third driver in that span to score his first NEMA win at a Speedbowl lid lifter. The others are Rudy Boetticher in 2000 and Ben Seitz in 2004. Seitz went on to win the first of four straight championships that season.

"The best you run all year often happens at Waterford," says Russ Stoehr, who'll begin the defense of his 2010 title at the Blast Off. He won twice there last year in the Dumo's Desire #45.

The all-time Waterford NEMA and Midget winner is Randy Cabral with eight. He has not won there since 2008 and will looking to end that streak at the Blast Off in Tim Bertrand's #47 Drinan/Esslinger. Bertrand also has a driving win.

Bobby Seymour is the leader in combined owner and driver wins. Owner of five Speedbowl wins as a driver, Seymour calls the Speedbowl "a near perfect" Midget track, the right combination of width, length and surface.

Also among the drivers scoring their first Midget win at The 'Bowl are veterans Jim Miller and Barry Kittredge, both probable entries for this year's Blast Off as are Leonard and deRitis.

Among the strong possibilities to join the group are John Zych Jr., who comes into the campaign with a Drinan/Esslinger and the determined Mike Horn.

The Waterford Midget win list – it actually starts with the immortal Johnny Thomson – is lengthy. Thomson, generally acclaimed as New England's premier open cockpit racer, won a couple OF ARDC events in 1951, the Speedbowl's first season.

A brand new NEMA visited Waterford on May 31, 1951, Billy Eldridge the winner. It was NEMA's second event. Since then there have 44 different winners in 63 events. Legends Johnny Coy, Lenny Boyd, Dutch Schaefer, Johnny Mann, King Carpenter, Billy Randall and Len Thrall are all on the Speedbowl Midget win list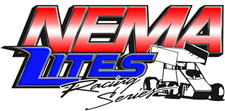 NEMA LITES Ready For 'Bowl Opener
Brockton, MA - Whip City Speedway 270cc champion Seth Carlson leads a group of youngsters making the jump to the Northeastern Midget Association's "LITES" division this season. Carlson will be joined by other Whip City "grads" R.J. Tufano, Brandon Igo and Josh Parker. Also coming aboard are a pair of Go Kart stalwarts, Bethany Stoehr and Julia Parker.

Bethany is the daughter of NEMA regular Greg Stoehr and Julie the cousin of Josh Parker. Bethany is a 3rd generation driver (Paul, Greg, Bethany) and a 4th generation in the midgets (Great Grampa Bill Stoehr was on pit crews with ARDC in the 40's).

The LITES Division, designed from the inception with economics the foremost factor, begins its fourth season, joining the NEMA Midgets April 2-3 at Waterford Speedbowl's Blast Off. All qualifying will be on Saturday. The Lites feature will be Saturday night. NEMA's feature is part of the Sunday festivities.

Defending champion Russ Stoehr, a two-time 'Bowl winner a year ago in the Dumo's Desire #45, and Randy Cabral (Bertrand Motorsports #47), the track's all-time winner with eight, lead the winged-warriors back to Waterford. It will be NEMA's 59th consecutive season opener.

Long-time NEMA competitor/official Bobby Seymour, the LITES' guiding force, reports the roster number has reached 30 and while all are not expected to be at every event, he predicts strong fields for the 12 events currently scheduled. Blast Off is the first of six dates the Lites will share with the full Midgets. Additional races are probable.

Among the familiar names on the roster are Anthony Nocella, Kevin Park, Paul Luggelle, David Moniz, Andy Barrows, Jim Santa Maria, David Rose, Joey Chick, Anthony Marvuglio, Russ Wood Jr. and Paul and Ryan Bigelow, all among the top competitors a year ago. Matt Bettencourt and Jake Stergios are back as well. Nocella and Jesse State were Waterford winners last season.

Although featuring smaller engines and less wing angle, the LITES nevertheless turn speeds within a second of the more powerful NEMA cars at most tracks. The three-eighths Speedbowl, one of the finest asphalt Midget ovals in the East, is the ultimate test for the division.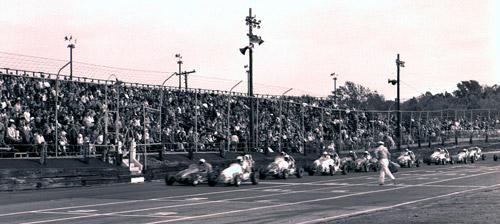 Wild start of the 1977 Speedbowl NEMA race won by Johnny Coy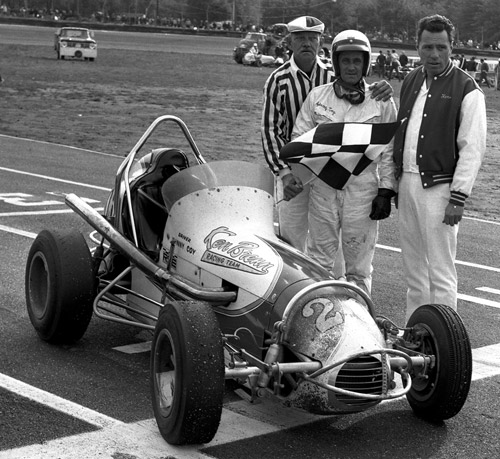 Johnny Coy in Victory Lane at the Speedbowl on 7-17-77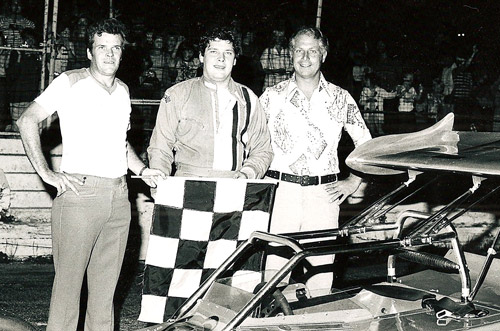 Winner Len Boyd, Billy Ryder, & Dick Williams at the Speedbowl in 1978