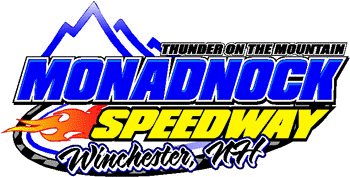 Saturday, July 31st
KAYEM HOT DOG OPEN WHEEL SPECIAL EVENT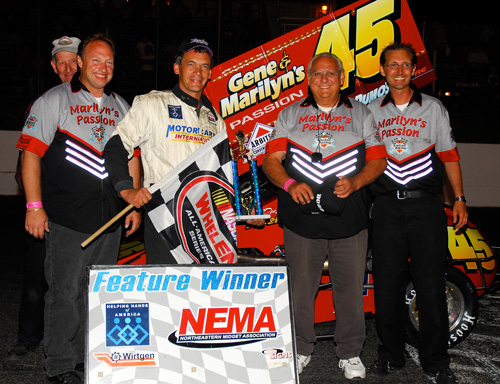 NEMA MIDGETS WINNER: RUSS STOEHR - DUMO'S DESIRE #45
NEMA Feature - Monadnock - Sat. July 31st
Pos.
#
Driver
Hometown
Owner
1
45
Russ Stoehr
Bridgewater, MA
Dumo's Desire Racing
2
47
Randy Cabral
Plymouth, MA
Tim Bertrand
3
26b
Greg Stoehr
Bridgewater, MA
Greg Stoehr
4
75
Chris deRitis
Philadelphia, PA

Ciconni/deRitis

5
3m
Jim Miller
Weymouth, MA
Jim Miller
6
55
Aaron Wall
Shrewsbury, MA
Wall Motorsports
7
7ny
Adam Cantor
Dix Hills, NY
Cantor Racing
8
93x
Mike Horn
Ashland, MA
Jeff Horn
9
16
Matt O'Brien
Wilmington, MA
Jim O'Brien

10

2
Lee Bundy
Kennebunkport, ME
Lee Bundy
11
DNF
30
Paul Scally
Raynham, MA
Paul Scally
12
DNF
9
John Zych, Jr.
Liverpool, NY
John Zych, Sr.
13
DNF
78
Brian Cleveland
Billerica, MA
Linda Cleveland
14
DNF
A1
Jeff Horn
Ashland, MA
Jeff Horn
Russ Stoehr Monadnock Winner
Winchester, NH – "It's the camera thing," explained Russ Stoehr. "If you don't see the flash in the corner, you know you're pretty safe."

Stoehr (Dumo's Desire #45) got away from an early battle with Randy Cabral (Bertrand #47) and then went on to a convincing win in the Northeastern Midget Association 30-lapper Saturday night at Monadnock Speedway. It was the second win of the season and the 42nd career win for Stoehr.

Greg Stoehr (Stoehr #26b) won a long battle with Chris deRitis (Cicconi/
deRitis #75) for the third podium spot. Early leader Jim Miller was fifth.

Anthony Nocella, taking advantage of restart with five laps remaining, won the 20-lap NEMA Lites race. Joey Mucciacciaro, the only other leader, was second and Russ Wood Jr. third.

Veteran Jeff Horn violently hit the tires along first turn wall on the initial restart. He was conscious and talking when transported to the hospital.

Running one-two in points, Cabral and Stoehr swapped the lead twice in the early going. Starting outside pole, Stoehr got the lead, lost it to Cabral and then got it back again with an inside move on lap five.

It was pretty loose," said Stoehr who beat back restart challenges on laps 8 and 13. "I tried to keep it on the bottom."

"I was making adjustments every lap but I had nothing for him," said Cabral. "I tried to be smart and save my car."

Stoehr, who posted a fast lap of 11.901, never faltered and won by seven car lengths.

Greg Stoehr and deRitis battled for several laps before Stoehr snuck past on the inside late in the race.

The feature was the continuation of the feature rained out on May 29. There were no heats.

After a hectic schedule – three races in eight days (four events in 11 days counting the first Seekonk OWW rainout) – NEMA gets a week off before returning to action at Waterford Speedbowl's Wings and Wheels on Aug. 14.
---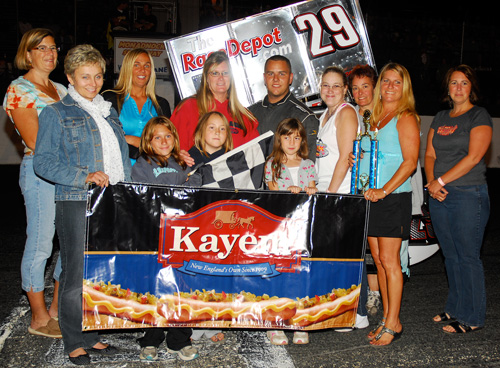 NEMA LITES WINNER: ANTHONY NOCELLA - MATT SEYMOUR #29
Lites Feature - Monandnock - Sat. July 31st
Pos.
#
Driver
Hometown
Owner
1
29
Anthony Nocella
Woburn, MA
Matt Seymour
2
45
Joey Mucciacciaro
Wolcott, CT
Frank Mucciacciaro
3
51

Russ Wood Jr.

Pelham, NH
Russ Wood
4
12
Eddie LeClerc Jr.
Taunton, MA
Eddie LeClerc Sr.
5
48
Todd Bertrand
Suffield, CT
Tim Bertrand
6
81
Andy Barrows
New Ipswich, NH
Bobby Seymour
7
1
Bethany Viets
Manchester, CT
Charles Gunther
8
31
Paul Bigelow
Berlin, CT
Randy Bigelow
9
5c
Joey Chick
Hubbardston, MA
Bob Chick
10
11w
David Rose Jr.
Keene, NH
David Rose Sr.
11
00
Lanson Fornoro
Stroudsburg, PA
Paul Luggelle

12

93

Jake Smith

Stroudsburg, PA
Ted Smith
13


DNF

99
Jim Santa Maria
Burlington, CT
Susan Santa Maria
14


DNF

4
Randy Cabral
Plymouth, MA
Bobby Seymour/
Paul Scally
15


DNF

28
Paul Luggelle
Holbrook, MA
Paul Luggelle
16


DNF

50
Mike Muldoon
Balwinsville, NY
Mike Muldoon
17


DNF

52

Kevin Park

Foxboro, MA
Kevin Park
Anthony Nocella Captures NEMA Lites Victory at Monadnock Speedway
(WINCHESTER, NH) Victorious in the 25-lap NEMA Lites feature at Monadnock Speedway on Saturday evening was Anthony Nocella.

Outside pole-sitter and early-leader Joey Mucciacciaro survived a number of early event cautions before yielding the top-spot to Nocella, who started 8th, late in the event.

"The car was getting-better as the race went-on, but we may have needed that final restart to get-by Joey," stated Nocella in victory lane." I was definitely quicker, but that's not to say that I could have got-by him. I really love this track; we've got running-here down pretty-well."

Second-place finisher Mucciacciaro agreed that the final caution period played a key-factor in the event's outcome. "We definitely didn't need that final restart, but that's racing. I'd like to congratulate Anthony on the win and thank my sponsors and family for getting me here."

Rounding-out the top-3 was Russ Wood Jr.

"This was the best car I ever-had here," commented Wood. We ran out of time, I may have been able to catch them had there been one more caution, but that's not to say that I could have passed them."

It was Nocella's second 2010 Lites victory, his sixth-overall in the division. Completing the top-5 was Eric Leclerc and Todd Bertrand.

Joey Chick and Mucciacciaro were qualifying heat winners.

The NEMA Lites next see action at the Waterford Speedbowl on Saturday evening, August 14.
---
Brother One-Two Finishes
Not Unique in NEMA
Brockton, MA - Russ Stoehr's win over Greg in last Saturday's Shane Hammond Memorial at Waterford Speedbowl marked the 20th time in Northeastern Midget Association history brothers have finished one-two.
The Stoehrs take the sibling rivalry to Monadnock Speedway Saturday night, July 31st. Greg, who has won three of the last six races there, rates among the favorites.
Point leader Randy Cabral, Jeff and Mike Horn, Adam Cantor, Jim Miller and Erica Santos are contenders in the extra-distance feature.
Cabral, Todd Bertrand, Bethany Viets and Eddie LeClerc head the entries for the NEMA Lites feature.
Waterford was the first one-two brother finish since the 1999 Boston Louie at Seekonk, Bobby Seymour the winner over Mike. The Seymours did it on nine occasions, Bobby prevailing five times.
NEMA's most successful brother combination Drew and Nokie Fornoro were one-two eight times, each winning four.
Russ' win at Waterford evened things up, Greg coming from deep in the field to win at the 1993 Thompson World Series.
Father and son have been one-two twice. Johnny Coy Jr. beat son Joey at Thompson in 1978 and Russ Stoehr bested father Paul at Star Speedway in 1990.