FRIDAY, JUNE 25th
NASCAR Weekly Series Plus NEMA Midgets and NEMA Lites presented by "The Mill 96.5"
---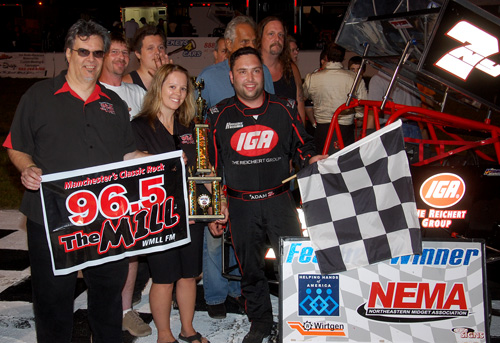 Midgets Winner Adam Cantor
NEMA Feature - Lee USA - Fri. June 25th
Pos.
#
Driver
Hometown
Owner
1
7ny
Adam Cantor
Dix Hills, NY
Cantor Racing
2
8
Barry Kittredge
Marlboro, MA
Barry Kittredge
3
45
Russ Stoehr
Bridgewater, MA
Dumo's Desire Racing
4
26b
Greg Stoehr
Bridgewater, MA
Greg Stoehr
5
44
Bobby Santos III
Franklin, MA
Ed Breault
6
75
Chris deRitis
Philadelphia, PA
Dan

deRitis

7
3m
Jim Miller
Weymouth, MA
Jim Miller
8
A1
Jeff Horn
Ashaland, MA
Jeff Horn
9
47
Randy Cabral
Plymouth, MA
Tim Bertrand

10

39
Mike Ordway Jr.
-
Tim Bertrand

11

22
Chris Leonard
Pelham, NH
Dave Leonard

12

85
Michael Barnes
Mexico, NY
Michael Barnes

13




DNF

30
Paul Scally
Raynham, MA
Paul Scally

14




DNF

9
John Zych, Jr.
Liverpool, NY
John Zych, Sr.

15




DNF

2
Lee Bundy
Kennebunkport, ME
Lee Bundy

16




DNF

29
Jeff Abold
Pennellville, NY
Bobby Seymour
Photos by




Norm Marx
Adam Cantor Conquers Lee
Lee, NH – Adam Cantor was the Northeastern Midget Association's third winner in as many starts Friday night at Lee USA Speedway. Starting eighth, Cantor took control on lap 19 and went on to a convincing 25-lap victory.

It was the fifth career victory for Cantor (Cantor #7ny) who passed Barry Kittredge, the only other leader, exiting lap two. Only a restart three laps later delayed his run.

Kittredge (Kittredge #8) finished second with Russ Stoehr (Dumo's Desire #45) , Greg Stoehr (Stoehr #26b) and Bobby Santos III, subbing for sister Erica in the Breault #44, fifth.

By the time Cantor cleared a battle for third with Jim Miller and Greg Stoehr, front- row starter Kittredge and Russ Stoehr were a straightaway ahead. " I knew once I got by Greg I could get away," said Cantor. "I got a look at the scoreboard and realized I still had half the race left." He began a calculated pursuit "trying to save my tires."

He passed Russ Stoehr out of four with 17 gone. Noticing Kittredge "appeared to be smoking" (overheating) and that he "couldn't get the car down," Cantor took the inside route into the lead out of two.

It was a great run for Kittredge, his best finish since winning at Waterford several years ago. After a brief early battle with Russ Stoehr, he opening up a several car length lead by lap seven.

"I just got loose at the end," understated Kittredge.

Santos, who started seventh, passed Miller just after the restart to earn a top five finish.

"Every win is special," Cantor explained, but admitted "coming from eighth to win was awesome." He knew from the second practice the car was "fantastic."

Miller and Kittredge were the heat winners.

NEMA moves to Thompson Speedway Thursday night.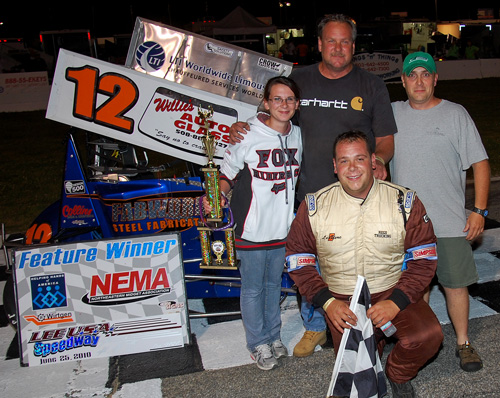 Lites Winner Eddie LeClerc Jr.
Lites Feature - Lee USA - Fri. June 25th
Pos.
#
Driver
Hometown
Owner
1
12
Eddie LeClerc Jr.
Taunton, MA
Eddie LeClerc St.
2
99
Jim Santa Maria
Burlington, CT
Susan Santa Maria
3
48
Todd Bertrand
Suffield, CT
Tim Bertrand
4
36
Eric Cabral
Manchester, NH
Glen Cabral
5
81
Andy Barrows
New Ipswich, NH
Bobby Seymour
6
51

Russ Wood Jr.

Pelham, NH
Russ Wood
7
20
Chris Haskell
S. Hampton, MA
Andy Shlatz
8
28
Paul Luggelle
Holbrook, MA
Paul Luggelle
9
18
David Moniz
Fairhaven, MA
David Moniz
10

52

Kevin Park

Foxboro, MA
Kevin Park
11
00
Lanson Fornoro
Stroudsburg, PA
Paul Luggelle

12

13
Ryan Bigelow
E. Hampton, CT
Randy Bigelow
13
5c
Joey Chick
Hubbardston, MA
Bob Chick
14
31
Paul Bigelow
Berlin, CT
Randy Bigelow
15


DNF

4
Randy Cabral
Plymouth, MA
Bobby Seymour
16


DNF

47
Jay Diamond
-
Glen Cabral
17


DNF

29
Anthony Nocella
Woburn, MA
Matt Seymour
18


DNF

11w
David Rose Jr.
Keene, NH
David Rose Sr.
19


DNF

7m
Dickie Cale
-
-
LeClerc Lites Winner at Lee
Lee, NH – A daring move exiting turn four on lap 19 gave Eddie LeClerc Jr. the lead. A lap later he claimed victory in the 20-lap NEMA Lites feature at Lee USA Speedway.

LeClerc appeared to be "dirt tracking" taking the lead from Jim Santamaria. The season's first two-time winner, he called his run from the 13th starting spot "sweet."

Santamaria wound up second followed by Todd Bertrand (who scored his fifth top five of the season), Eric Cabral and Andy Barrows.

"I was pushing hard coming through traffic and I burned up my right rear a little bit," explain LeClerc who was almost sideways on the winning pass. Time, he explained was "running out."

Santamaria took the lead on lap seven from pole sitter Kevin Park. After a brief battle with Eric Cabral, he took command, his 14.997 lap 10 the fastest of the race.

He lost the lead on the only restart (lap 13) when Cabral went around him through one and two. He got it back a lap latter, slipping under Cabral coming out of two.

LeClerc had climbed to sixth when the yellow flew. Following the restart, he won battles with Barrows, Cabral and Bertrand before the clinching move.

"The car got away from me and Eddie got around me," said Santamaria after his best run so far.

Chris Haskell and Russ Wood Jr. were the heat winners.

Looking Back: NEMA At Lee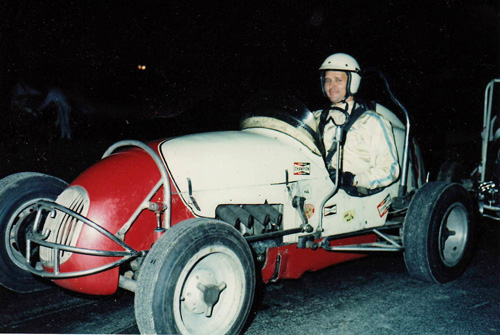 Walter Gale of Norwich, CT drove the Secondo Offy to victory in the Northeastern Midget Association's first visit to Lee USA Speedway on June 12, 1966.

It was still the third-mile tri-oval layout that was replaced by the current three-eights mile.

The Friday night, June 26th visit will be NEMA's 26th at Lee. Veteran Jeff Horn will be looking to make it two straight.

Among active competitors, Horn is the NEMA win leader at Lee with four, two behind all-time pace setter Drew Fornoro.

Russ Stoehr (2), Randy Cabral and Bobby Santos III are also on the active driver Lee win list.

Gale headed up a podium that included Dave Humphrey and Bill Stofer. It was one of 14 wins Gale, the 1964 champion, collected between 1964 and 1968. He is tied for 14th on the all-time NEMA win list.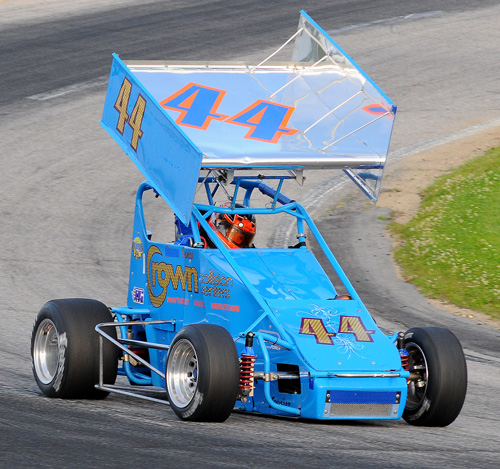 Lee USA NEMA Ride
For Bobby Santos III
Brockton, MA – Bobby Santos III will return to the Northeastern Midget Association Friday night (June 25) at Lee USA Speedway replacing his sister Erica in the Breault #44. Santos is one of the country's top open wheel racers.
"I'm looking forward to it," says owner Ed Breault, explaining Erica has a previous commitment. "The kid has so much talent. It is so exciting to watch him race."
It will be a busy weekend for Santos, the current NASCAR Whelen Modified Series point leader. He'll be after a fourth win in five tries (he also as a second) at New Hampshire International Speedway on Saturday.
"This will be Bobby's first time in our car but we think he can get the job done," understates Breault.
Santos, who has 13 NEMA career wins including one at Lee, will be rekindling some old rivalries in the 25-lap feature. Defending two-time champion Randy Cabral, Jeff Horn, Adam Cantor and Russ and Greg Stoehr are committed.
Jeff Abold, who had the fastest feature lap at Lee last season, will be making his season debut. The NEMA Lites are also on the docket.
Earlier this season Santos won at Iowa, adding to a USAC Midget resume that includes checkereds at the Turkey Night Grand Prix, the Copper World Classic and the Night Before the 500. He has also won in USAC Sprint and Silver Crown action.
In addition to the NASCAR Modifieds, Santos has also won in ISMA action.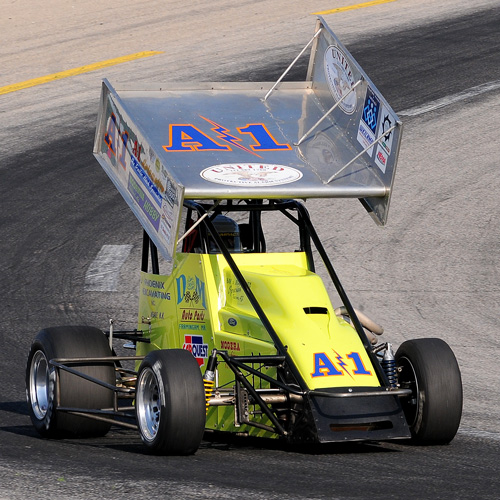 Jeff Horn Leads NEMA
Back To Lee USA
Brockton, MA – Jeff Horn, who will turn 65 on July 6, can't get away from the age question. While he admits "the state of readiness is a little harder to maintain," his desire remains strong.

Horn, a winner at Lee USA Speedway last September, returns to the Granite State third mile Friday night (June 25) "full of hope, prepared to do the best I can." The last race at Lee "means nothing."

The NEMA Lites are on schedule as well in NEMA's only visit to Lee this year. Bethany Viets will be looking to make it two straight Lites wins.

With the addition of Bobby Santos III (in the Breault 44), Jeff Abold (in an Abold/Seymour effort) and Mike Ordway Jr. (in a Bertrand car) , an especially strong field is expected. "Lee is not an especially hard or an especially easy track," says Horn, "but is a very fast one."

It follows that it is a very competitive one as well. Two times defending champ Randy Cabral, the winner of the last outing at Twin State, takes the point lead to Lee. Russ and Greg Stoehr along with Adam Cantor are determined not to let the Cabral/Bertrand team get too far out in front.

Abold's 13.521 was the fastest feature lap at Lee last year. A victim of mechanical problems, the second generation racer no doubt returns with some vengeance in mind.

A racer since the mid 1960s in Vermont, Horn was in the first race on the current Lee layout back in 1983. "There was no wall on the back chute," he recalls. "It was that new."

Among active drivers, Horn is the Lee NEMA win leader with four going back to 1987. "That doesn't mean much either," he insists Cabral, Russ Stoehr and Santos, who will spell sister Erica in the Breault 44, have also won at Lee.

The Lites have yet to have a double winner in five races. Viets joined Todd Bertrand, Eddie LeClerc Jr., Anthony Nocella and Paul Luggelle on the 2010 win list.




Cabral's victory at Twin State gives him at least one win in 11 straight seasons. Only Dave Humphrey, with 16, is better.


Russ Stoehr had a second and a third at Lee in 2009.


Stoehr leads a quartet that includes Cabral, Jeff Horn and Bobby Santos III that has 100 NEMA wins among them.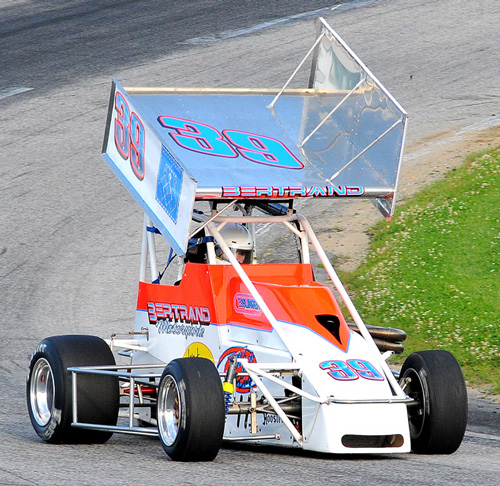 Ordway Jr. Joins
Lee USA NEMA Field
Brockton, MA – Mike Ordway Jr. will be in the Bertrand #39 for Friday night's Northeastern Midget Association event at Lee USA Speedway. Ordway brings a strong resume to the ride.

Pointing out the 2005 350-Super champion "studies Lee USA Speedway like a quintessential student," owner Tim Bertrand called the second generation driver "a great choice."

The NEMA Lites will be on hand as well in what will be the club's only visit to Lee this season.

Ordway will be a teammate of two-time defending champion Randy Cabral and Chris DeRitis in what has become NEMA's busiest pit. USAC standout Cole Carter and Sprint Cup regular Ryan Newman drove the car to runner up finishes last year.

Equipped with a new Esslinger engine out of Circle Performance in Brockton, MA, the 2006 ISMA Rookie of the Year joins a field bolstered by the season debut of Jeff Abold (in a joint effort by the Abold and Seymour families) and Bobby Santos III (who is subbing for sister Erica in the Breault 44).

Jeff Horn, a Lee winner last September, leads a NEMA rush to the third mile that includes, in addition to Cabral and DeRitis, Adam Cantor, Jim Miller, Lee Bundy, Barry Kittredge and Greg and Russ Stoehr.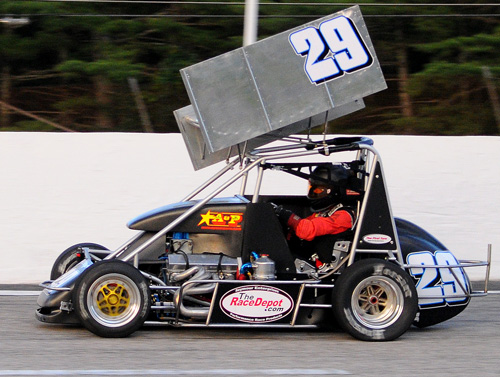 Jeff Abold Returns To NEMA at Lee
Brockton, MA – Jeff Abold, one of the area's most promising open-cockpit racers, will return to Northeastern Midget Association action Friday night, June 26 at Lee USA Speedway. The 21-year old will drive a Gaerte-powered Hawk, a joint effort between the Abold and Seymour families.
Abold has a case if he believes the tricky Lee layout owes him. Driving the Seymour 29, the son of Pat Abold was well on his way to victory last year when he lost a rocker arm. He did turn the fastest feature lap (13.521) at Lee last year.
Defending champion and current point leader Randy Cabral, coming off a win at Twin State leads NEMA into Lee. Jeff Horn, a winner at Lee last year, Adam Cantor, Russ and Greg Stoehr, Chris DeRitis and Jim Miller are other threats.
The NEMA Lites will be on hand as well. Paul Luggelle was the Lee Lites winner last year.
The new team figures on making most of the remaining NEMA events as well as some USAC shows in July and August.
Abold burst on the NEMA scene with the Seymours in 2008, scoring a win at Seekonk. He added to his resume with a Boston Louie success last summer.