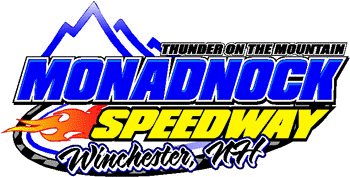 Saturday, May 29th
---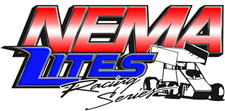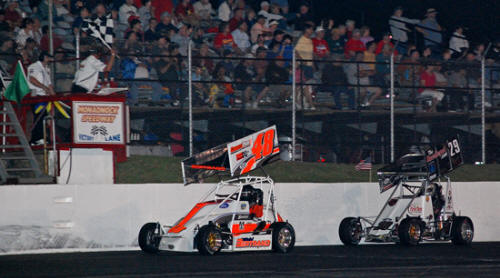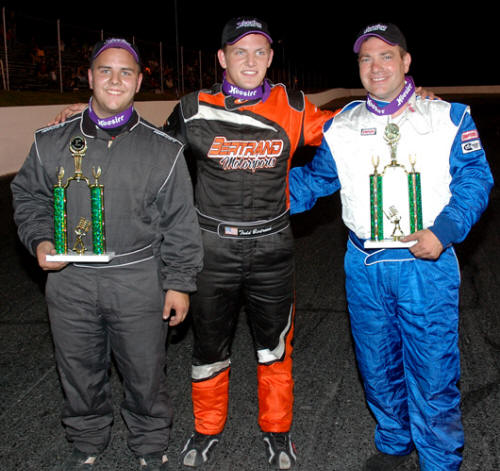 Anthony Nocella, Todd Bertrand, and Paul Luggelle
Lites Race
Action >>
Photos by
Norm Marx
Photos by


John DaDalt
Todd Betrand Scores Monadnock NEMA Lites Series Victory
(WINCHESTER, NH) Wheeling the Tim Bertrand #48, Todd Betrand defeated a large field of NEMA Lites entries at New Hampshire's Monadnock Speedway on Saturday evening to score his first feature victory of the season.
Pole-sitter Andy Barrows #81 set the pace for several circuits surviving a number of early-event restarts before spinning and being overtaken by Lanson Fornoro in the Paul Lugelle #00.
Within laps, 2009 NEMA Full Midget champion Randy Cabral moved into the picture, leading for several circuits before exiting with mechanical issues. Following a mid-race restart, Betrand chose the outside in overtaking the leaders, cruising to the 20-lap win.
Completing the top-3 was Anthony Nocella and Paul Lugelle.
"The cautions kept-coming tonight," stated Betrand in victory lane. "I took my time in this one. The car was great – we were really hooked-up. It also helped us that the track was in such good shape. The last lap was a little tough when I saw those two cars get-together. I saw the smoke, and was lucky to get through-it."
Second-place Nocella had a handful in the closing circuits. "We were getting really-loose as the race progressed," he said. The toe was out on the suspension, and it took a lot to keep the car straight."
Rounding-out the top-3, Paul Lugelle was pleased with his performance. "We really enjoy racing here at Monadnock, it's a great track for our team. We'll take a third as it's a great comeback from the last-time."
The NEMA Lites Series next appears at Massachusetts' Seekonk Speedway on Friday evening, June 4.
Lites Feature - Monadnock - Sat. May 29th
Pos.
#
Driver
Hometown
Owner
1
48
Todd Bertrand
Suffield, CT
Tim Bertrand
2
29
Anthony Nocella
Woburn, MA
Matt Seymour
3
28
Paul Luggelle
Holbrook, MA
Paul Luggelle
4
5c
Joey Chick
Hubbarston, MA
Bob Chick
5
00
Lanson Fornoro
Stroudsburg, PA
Paul Luggelle
6

93

Jake Smith

Stroudsburg, PA
Ted Smith
7
11
Eric LeDuc
Agawam, MA
Tom LeDuc
8
50
Mike Muldoon
Balwinsville, NY
Mike Muldoon
9

52

Kevin Park

Foxboro, MA
Kevin Park
10
11
David Rose Jr.
Keene, NH
David Rose Sr.
11
45
Joey Mucciacciaro
Wolcott, CT
Frank Mucciacciaro
12


DNF

51

Russ Wood Jr.

Pelham, NH
Russ Wood
13


DNF

36
Anthony Marvuglio
E. Bridgewater, MA
Glen Cabral
14


DNF

81
Andy Barrows
New Ipswich, NH
Bobby Seymour
15


DNF

12
Eddie LeClerc Jr.
Taunton, MA
Eddie LeClerc St.
16


DNF

4
Randy Cabral
Plymouth, MA
Bobby Seymour
17


DNF

1
Bethany Viets
Manchester, CT
Charles Gunther
18


DNF

20
Andy Shlatz
Enfield, CT
Andy Shlatz
19


DNF

18
David Moniz
Fairhaven, MA
David Moniz

Rain Stops Monadnock
NEMA Midgets Feature
With Jim Miller and Jeff Horn set to lead the feature to the green, rain ended the NEMA Midgets return to action Saturday night at Monadnock Speedway.
Officials agreed that twin 25 lap features will be on the agenda when NEMA returns to Monadnock on Saturday night, July 31.
Twin State Speedway in Claremont, NH is next on the agenda, Friday night, June 11.
Eighteen cars (there were also 19 NEMA Lites) filled the Monadnock pits. A number of teams expressed satisfaction with practice times. Jim Miller and Will Wall won the heats.
Also on hand were Adam Cantor, Russ and Greg Stoehr, Randy Cabral, Erica Santos, John Zych Jr., Peter Pernesiglio, Barry Kittredge, Lee Bundy, Matt O'Brien, Kelly Farrell, Chris Leonard, Jesse State, Paul Scally, Chris DeRitis and Aaron Wall.

Midgets
Heat 1 >

Midgets
Heat 2 >
Photos by
Norm Marx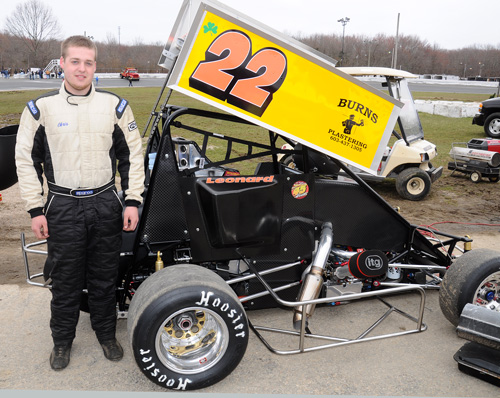 NEMA's Leonard Eyes
Success at Monadnock
Brockton, MA - Only eight times in the Northeastern Midget Association's 58-year old history has a driver won the first two races of a season. Chris Leonard hopes to make it nine when NEMA returns to action Saturday night (May 29) at Monadnock Speedway.
The "Lites" will be on hand as well as NEMA gets back into action after a long layoff. Leonard was the winner way back on March 28 at Waterford Speedbowl.
The Pelham, NH product hopes to join an impressive group that includes two-time defending champion Randy Cabral. The popular Cabral drove Tim Bertrand's #47 to victory in the first two races of 2008 and '09.
The Cabral/Bertrand team heads up a gang aiming to keep Leonard from a club that also includes legends Bill Eldridge (1954 and '58), Johnny Coy Sr. (1970), Drew Fornoro (1982 and '83) and Bobby Seymour (1990).
Cabral, a winner at Monadnock last year, hopes to post the first-ever NEMA victory for Honda power.
Greg Stoehr, who has won three Monadnock races over the past three years, rates special notice at a facility known to favor the veterans. It is one of the most challenging venues on the NEMA schedule.
Brother Russ Stoehr (Dumo's Desire #45) is the only other active driver with a Monadnock checkered.




It will the 30th NEMA race at Monadnock going back to Dave Humphrey's win in the McCarthy 47 back in 1972.


Cabral's first win in 2010 will give him at least one victory in 11 consecutive years. Only Humphrey has more – 16 between 1963 and 1980).


On the all-time NEMA win list, Russ Stoehr ranks fourth with 40, five behind Nokie Fornoro, and Cabral sits seventh with 26, three behind Johnny Mann.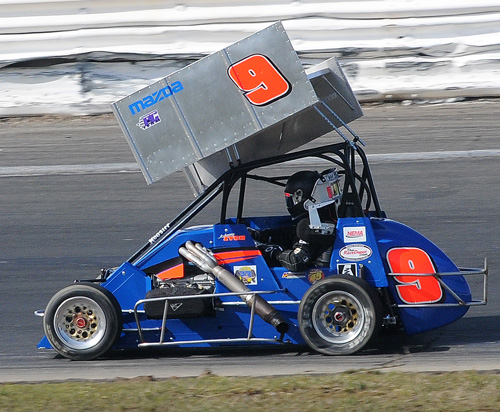 Ex-Hoopster John Zych Jr.
Seeks First NEMA Victory
Brockton, MA – Northeastern Midget Association driver John Zych Jr. is not the kind of guy to turn away from a challenge. Right now, it's getting that elusive first victory.
Although he "hopes to get some practice time" before NEMA returns to action at Monadnock Speedway on May 29, he is "very optimistic" about the coming season. "We have learned a lot and our equipment (a Mazda/Hawk) is as good as ever," he says.
He is part of NEMA's Mazda group, joining Russ Stoehr and rookie Jesse State.
Zych came to racing from basketball. After playing at Blackstone-Millville Regional High in Massachusetts, he made the team at Lemoyne College in Syracuse, NY as a walk on (non scholarship player).
Earning varsity status as a walk on is very difficult. "I was the only walk on my junior and senior years," he recalls, who earned a letter both seasons.
Zych followed his father John Sr. to Lemoyne, the latter, a Syracuse native, a standout in both baseball and basketball. Racing was something else. "All we knew is what we saw at the track," he says.
Still, 'driving was something I always wanted to do," and "after convincing my dad it was the right thing " Zych was driving at Whip City Speedway. Two years later they came to NEMA in a car purchased from Russ Stoehr.
"Basketball and racing are similar in that they are both competition," Zych, 26, explains. "You want to be better, you want to be successful and it demands a lot of focus, a lot of time and work."
He is "very happy" for Chris Leonard who scored his first win at the season-opening Waterford Speedbowl Blast Off. "I know how hard it is to get it," he says.
Zych has a career best fourth at Monadnock last year, actually leading a fair share of the feature before a series of cautions. He also had a sixth at Monadnock.
Confronted with late-season problems, he and his car owner Dad wound up 10th in 2009 points.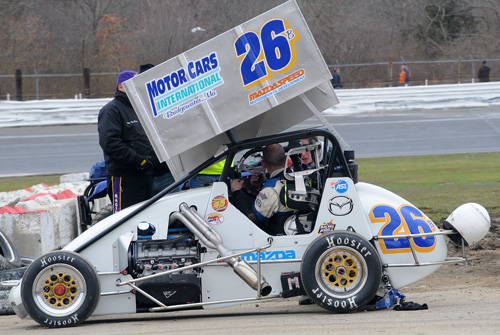 NEMA 's Greg Stoehr
Going To Get Technical
Brockton, MA – Hinting he's "getting smarter as well as older," Northeastern Midget Association veteran Greg Stoehr plans on paying more attention this season.

"I've always been an old school seat of the pants racer," says Stoehr, driver of his own Mazda-powered #26. "This year I'm going to get a little more technical; I'm going to keep better records, think more about set ups.

NEMA's next stop will be Saturday May 29 at Monadnock, a track that favors "the old school driver," a place "where you get no rest, where you're up on the wheel all the time."

Greg, 46, and older brother Russ, who drives for the late Gene Angelillo's Dumo's Desire team, are one of NEMA's all-time top brother acts with 49 victories. They are third generation racers following Grandfather Bill and father Paul.

"I remember at eight or nine hanging around outside the pits at Westboro watching my father," he says.

Admitting to being his brother's biggest cheerleader ("He's 100 percent more driver than I am"), Greg Stoehr is nonetheless a strong contender for 2010 NEMA honors. He's part of a group that includes, in addition to his brother, two-time defending champion Randy Cabral, Erica Santos, Adam Cantor and youngsters Chris Leonard, the opening day winner Chris DeRitis, and Jesse State.

"I'm looking for more consistency," he says. "I can run fast, set fast time at a lot of tracks then fall short in the 25-lap feature. I know we have a better package than I've shown."

While "there are no secrets or sibling rivalry" between the brothers (they're business partners), "whoever is fastest" is going to win the race.

This will be Stoehr's fifth season since coming back from nine years away. His racing divides on either side of daughters Kathryn and Bethany, 15 and 16 respectively. He actually quit following their birth and then returned when they began racing Go Karts. They continue to race Monday nights at Stafford Speedway.

He has won three times in the past three years at Monadnock including last year's Marilyn's Passion. There have been four wins since his return, all powered by the Circle Performance Mazda.

The daughters are, in fact, his crew. "I couldn't do it without them," he says. "Gear changes, springs, tires, set ups, they do it all."

He can't resist boasting about the Mazda, pointing out the "passenger car motor" now has three years on it without a rebuild. "All we do is change the oil and we have not had a mechanical breakdown."