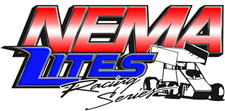 SEPT. 24TH - FAST FRIDAY RACE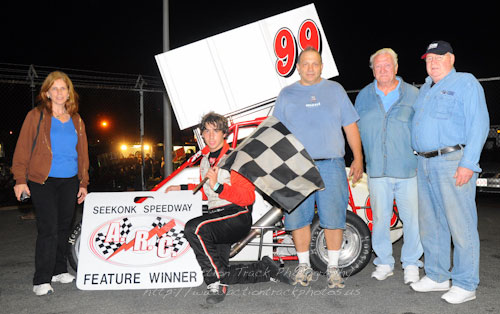 Photo by Roger Prata - www.actiontrackphotos.us
Jim Santa Maria a First Time
Lites Winner on 9/24
Fifteen year old Jim Santa Maria, from Burlington CT, driving the #99 Hawk/Ford Focus owned by Susan Santa Maria came from sixth starting spot to score his first NEMA Lites feature win at the Cement Palace on Friday September 24th.

After battling with NEMA champ Randy Cabral and chasing pole starter Lanson Fornoro (who was outstanding in the Luggelle #00, leading the first 19 laps), Santa Maria made a bold move to the inside of Fornoro as they approached heavy lap traffic in the final corner.

When the checkard flag fell Santa Maria came out on top with Fornoro an impressive, but disapointing 2nd. Young NY high school basketball standout Michael Muldoon squeezed by Cabral for third. Cabral and Russ Wood jr. rounded out the top 5.

The two heat race winners were Ryan Bigelow and Jim Santa Maria.




T.Q. midget stand-out Ian Cummens was impressive in his first Nema Lites race turning in 11.9 laps in practice.


Alison Cumens, last year's T.Q. Champion, rebounded from a practice crash to finish a respectable 9th for the Penn State student.
The Bertrand team rebuild the front end on her #48 to make the feature.


Josh Parker debuted his new ride, the former Cabral #47, with an 11th place finish.


Kudos to D.J. Moniz for finding the right combination after a devistating crash at Waterford in July. DJ ran in the top 5 for most of the race, finally scoring a seventh.
Lites Feature - Seekonk - Fri., Sept. 24th
Pos.
#
Driver
Hometown
Owner
1
99
Jim Santa Maria
Burlington, CT
Susan Santa Maria
2
00
Lanson Fornoro
Stroudsburg, PA
Paul Luggelle
3
50m
Mike Muldoon
Balwinsville, NY
Mike Muldoon
4
4
Randy Cabral
Plymouth, MA
Paul Scally
5
51

Russ Wood Jr.

Pelham, NH
Russ Wood
6
29
Ian Cumens
Lyndell, PA
Matt Seymour
7
18d
David Moniz
Fairhaven, MA
David Moniz
8
50c
Carl Medeiros, Jr.
Westport, MA
Carl Medeiros
9
48
Alison Cumens
Lyndell, PA
Bertrand Motorsports
10
31
Paul Bigelow
Berlin, CT
Randy Bigelow
11
47
Josh Parker
Cranston, RI
Julia Parker

12

7x
Jack McKeon
-
Jack McKeon
13
13
Ryan Bigelow
E. Hampton, CT
Randy Bigelow
14


DNF

23
Stephanie Doty
Millbury, MA
Bobby Seymour
15


DNF

28
Paul Luggelle
Holbrook, MA
Paul Luggelle
16


DNF

81
Andy Barrows
New Ipswich, NH
Bobby Seymour
HEAT 1 -

13 - 18d - 4 - 50m - 23 - 81 dnf - 28 dnf - 48 dns

HEAT 2 -

99 - 29 - 51 - 00 - 50c - 31 -7x - 47