SAT. & SUN., OCTOBER 9TH & 10TH
.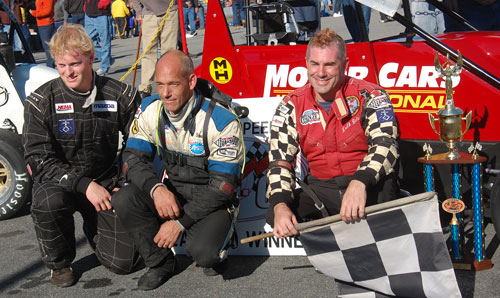 Top Three NEMA Midgets at the DAV Fall Classic: L to R -
John Zych #9, 3rd; Greg Stoehr #26b, 2nd; & Winner Keith Botelho #25
Photos by Norm Marx
NEMA Feature - Seekonk DAV - Sun., Oct. 10th
Pos.
#
Driver
Hometown
Owner

1
25
Keith Botelho
Attleboro, MA
Russ Stoehr

2
26b
Greg Stoehr
Bridgewater, MA
Greg Stoehr

3
9
John Zych, Jr.
Liverpool, NY
John Zych, Sr.

4
22
Chris Leonard
Pelham, NH
Dave Leonard

5
75
Chris deRitis
Philadelphia, PA

Ciconni/deRitis

6
4
Anthony Nocella
Woburn, MA
Bobby Seymour

7
29
Jeff Abold
Pennellville, NY
Bobby Seymour

8
39
Lou Cicconi Jr.
Aston, PA
Tim Bertrand

9
3m
Jim Miller
Weymouth, MA
Jim Miller

10

45
Russ Stoehr
Bridgewater, MA
Dumo's Desire Racing

11

7ny
Adam Cantor
Dix Hills, NY
Cantor Racing

12

30
Paul Scally
Raynham, MA
Paul Scally

13

93x
Mike Horn
Ashland, MA
Jeff Horn

14

78
Brian Cleveland
Billerica, MA
Linda Cleveland

15

50

Pete Pernisiglio,Jr

Ronkonkoma, NY
Pete Pernisiglio,Sr

16

2
Lee Bundy
Kennebunkport, ME
Lee Bundy

17

16
Matt O'Brien
Wilmington, MA
Jim O'Brien

18
DNF
8
Barry Kittredge
Marlboro, MA
Barry Kittredge

19
DNF
44
Erica Santos
Franklin, MA
Ed Breault

20
DNF
88
Britt Anderson
Mooresville, NC
Andy Anderson

21
DNF
47
Randy Cabral
Plymouth, MA
Tim Bertrand
Botelho Upsets NEMA DAV Field
BY PETE ZINARDI -SEEKONK, MA - Keith Botelho, took the lead on a lap 10 restart and went on to capture the Northeastern Midget Association's 25-lap feature Sunday at Seekonk Speedway's D.Anthony Venditti Memorial. Botelho's first win since 1998 came in the Russ Stoehr-owned #25 and qualifies as NEMA's upset of the season.

Starting third, Botelho followed John Zych Jr. (Zych #9), the only other leader, until caution fell for the second time. He beat Zych into the first turn and then battled Zych and Greg Stoehr (Stoehr #26b), who took second on lap 13, before claiming his third career win, the second at Seekonk. It the third race for the car.

Zych held on for third followed by Chris Leonard (Leonard #22) and Chris deRitis (deRitis #75).

"It was my only chance," said Botelho of the restart, pointing out he used a move identical to one he tried on Zych in heat action the day before. On the outside, he "stayed on it until I couldn't see him anymore." He added "the faith I had in Zych as a driver, of him not drifting up" made the move possible.

Botelho, in a car powered by a 20-plus year old Gaerte Motor, wasn't comfortable until two laps remained. "I expected somebody to bonsai by me on the inside" he said, crediting crew Carl and Kurt Kibbe with curing the previous day's push. "I was telling myself, 'I'm getting a top five out of this."

Greg Stoehr, who started ninth and posted the fastest lap (11.390), did get close to the leader three times over the final seven laps.

"I tried to get on the gas sooner," said Zych of the second restart. "I just couldn't get up to speed." Although "handling problems" caused problems coming off the turns, Zych was unchallenged for third over the final laps.

Zych, in fact, had no trouble getting away from Botelho on the first restart just three laps in. Yellow flew when Randy Cabral, after contact with Erica Santos, suffered front end problems. A definite contender for a third straight driver championship and clearly headed toward the front, Cabral admitted a lack of patience was a factor in his last-place finish.

The leader heading in the day, Russ Stoehr was tenth and, unofficially, takes a 50 point lead for himself and the Dumo's Desire team into this weekend's season-ending World Series at Thompson Speedway.

Greg Stoehr and Lou Cicconi Jr. won Saturday's heats.

Russ Wood Sr., subbing for the injured (foot) Russ Jr. won Saturday 25-lap NEMA Lites race, besting Cabral and Whip City Quad4 Midget champion Joe Krawiec, the latter in a Seymour car.




"There are not many races where you have the opportunity to win and I'm disappointed in that regard, but we did beat a lot of good cars today," said Zych after an outstanding run to third.


Botelho, his motor and his crew chief were all veterans. Botelho's last win was the last-ever Midget race at Riverside Park Speedway, and Carl Kibbe has not been in Victory Lane for over 20 years. "Dave Humphrey was my driver," he said.


Teenager Anthony Nocella, getting a shot in the Seymour #4, did an outstanding job, coming from 11th to finish sixth, just ahead of Jeff Abold and Lou Cicconi Jr., the latter two winning in their cars earlier this year.


Botelho is the ninth winner this season.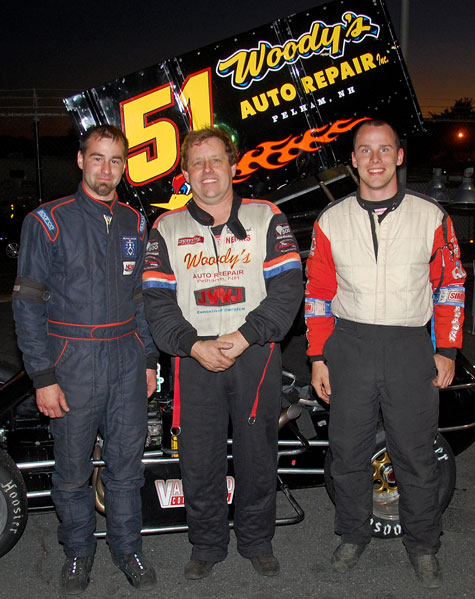 Top Three Lites at the DAV Fall Classic: L to R -
Randy Cabral #4, 2nd; Winner Russ Wood Sr. #51; Joe Krawiec #23, 3rd
Lites Feature - Seekonk DAV - Sat., Oct. 9th
Pos.
#
Driver
Hometown
Owner
1
51

Russ Wood Sr.

Pelham, NH
Russ Wood Sr.
2
4
Randy Cabral
Plymouth, MA
Paul Scally
3
23
Joe Krawiec
-
Bobby Seymour
4
29
Lou Cicconi Jr.
Aston, PA
Matt Seymour
5
81
Andy Barrows
New Ipswich, NH
Bobby Seymour
6
18d
David Moniz
Fairhaven, MA
David Moniz
7
99
Jim Santa Maria
Burlington, CT
Susan Santa Maria
8
00
Lanson Fornoro
Stroudsburg, PA
Paul Luggelle
9
31
Paul Bigelow
Berlin, CT
Randy Bigelow
10
13
Ryan Bigelow
E. Hampton, CT
Randy Bigelow
11
1
Bethany Viets
Manchester, CT
Charles Gunther

12

28
Paul Luggelle
Holbrook, MA
Paul Luggelle
13
47
Josh Parker
Cranston, RI
Julia Parker
14
27
Vince Jacobs
Covertry, RI
Vince Jacobs
15


DNF

11w
David Rose Jr.
Keene, NH
David Rose Sr.
HEAT 1 -

1 - 00 - 4 - 13 - 81 - 18d - 11w - 27

HEAT 2 -

29 - 23 - 99 - 31 - 51 - 28 - 47
NEMA Lites Season Concludes On High Note With Russ Wood Sr.
Taking Seekonk Checkers
BY DAVID DYKES -SEEKONK, MA - When Russ Wood Sr. pulled into victory lane following the NEMA Lites feature at Seekonk Speedway's DAV Memorial Festival of Racing, it marked somewhat of a milestone for the class which debuted in 2008.

Wood, subbing for his son Russ Jr. (forced to opt out of the event due to a foot-injury), bested a field that included both seasoned veterans and racers still relatively-new to the rigors of competing in one of the country's premier short track divisions.

Following an early-season "exhibition run", the first official NEMA Lites feature was ran on June 11, 2008 at Connecticut's Waterford Speedbowl and saw Jesse State taking the win. The starting field consisted of 13 entries. Since then, fields have grown substantially along with interest in the division amongst New England's open-wheel contingent.

According to NEMA stalwart Bobby Seymour who was a key figure behind the creation of the class, things are on the "right-track" with the Lites.

"We're very happy with the progress the Lites have made as a division since that initial event at Waterford back in 2008, "states Seymour. The fields have grown steadily, and there's been a real variety in number of different winners we've had."

The Lites Series cars are virtually-identical to the "full" Midgets with the main exception being that of the drive train. Powered by a "spec-type" engine with rules adopted to make things both affordable and durable, Seymour states that with proper maintenance. Lites engines can be virtually "bulletproof."

"We have a number of seasons on the engine in our car, and it's proven to be more than durable," says Seymour. In getting-ready for 2011, we plan to simply do routine maintenance, no tearing-down or rebuilding. That's part of the beauty of the class, the engines are above-all affordable, and they're durable. The cost of campaigning one of these cars is very favorable. That's obviously a reason behind the starting fields steadily-growing since 2008. It's a way for people to get involved with our type of racing at a reasonable cost."

Getting "seat time" at a variety of tracks is also a "plus" according to Seymour.

It's a win-win situation for newcomers. We run at a variety of tracks in New England, and to any driver, "seat-time" is extremely important. It provides experience for racers that will eventually advance to the "full" Midgets, but it's also a great alternative for cost-conscious teams that plan on staying with the division. Again, we're very-pleased with the progress of the Lites."

Following Wood across the line at the NEMA Lites series curtain-closer at Seekonk was Randy Cabral and Joe Krawiec.

Heat winners were Bethany Viets and Lou Cicconi Jr.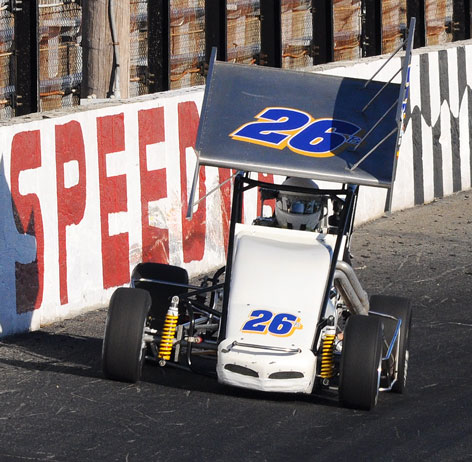 NEMA
HEAT 1

-
26b-9-45-22-4-25-47-16-88-50-78
---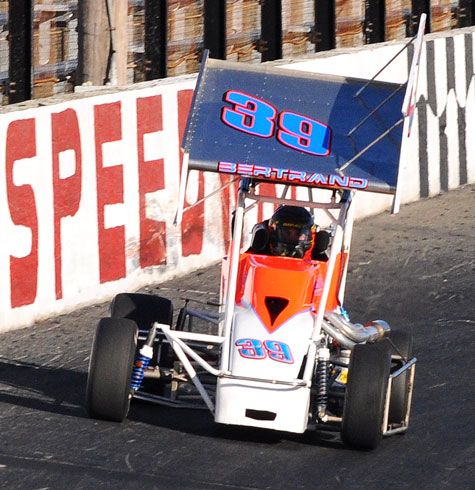 NEMA
HEAT 2

-
39-3m-29-75-30-44-93-8-2-7ny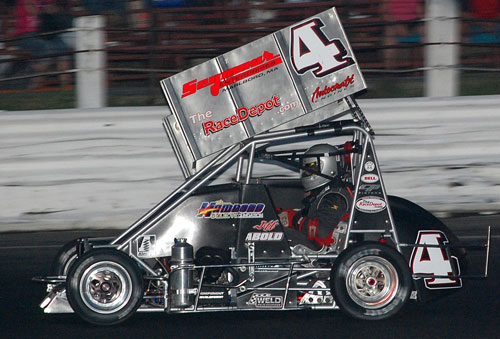 Seymours Seek Sweep with Nocella in the #4 at the DAV Fall Classic
Brockton, MA – The Seymour operation will be after a "Seekonk Speedway Sweep" this weekend when the Northeastern Midget Association makes its traditional stop at the D.Anthony Venditti Memorial. Anthony Nocella will be in the Seymour 4 that prevailed earlier this season with Lou Cicconi (Open Wheel Wednesday) and Jeff Abold ("The Louie").

"We owe him this opportunity," said Bobby Seymour of Nocella who has been very successful driving Seymour equipment in NEMA Lites action. "He has earned this ride." Nocella, in the Seymour 29, won the Lites portion of last year's DAV and this year's "The Louie."

While the #29 Lites seat is still unfilled, Seymour did confirm that Whip City Quad-4 champion Joe Krawiec will in the #23 Lites car.

The championship battle takes center stage. Two-time defending champions Randy Cabral and owner Tim Bertrand are 22-points behind leaders Russ Stoehr and the Dumo's Desire team. Cabral has a pair of seconds at Seekonk this year. Stoehr, the Angelillo Memorial winner at Waterford Speedbowl, has been third and fifth on the ancient third mile.

Cicconi and Abold will be on hand, Abold in the #29, a joint Abold-Seymour effort and Cicconi in the Bertrand #39. The latter is powered by a "spec" Esslinger engine that NEMA officials will be watching closely.

Greg Stoehr, Chris deRitis and defending DAV champ Adam Cantor, the latter two winners this year, will continue their battle for the third spot in the standings. Among the other contenders are Erica Santos, coming off a second at the Angelillo race, Chris Leonard, also a winner this year, Mike Horn, third at Seekonk's Open Wheel Wednesday, and Aaron Wall, always strong at Seekonk.

John Zych Jr., Barry Kittredge, Jimmy Miller and Matt O'Brien look for strong DAV finishes as well.

Krawiec joins a strong Lites field that includes a number of Whip City graduates including Bethany Viets, one of eight winners in Lites action his year. In addition to Nocella, Jim Santa Maria, Jesse State, Todd Bertrand, Paul Luggelle, Eddie LeClerc, Jr., and Randy Cabral have won.
---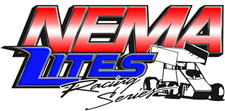 Competitive NEMA Lites
Finish Season at DAV
Brockton, MA - The third season for the Northeastern Midget Association's "Lites" division will come to an end Oct. 9-10 at Seekonk Speedway's D.Anthony Venditti Memorial. It brings to a finish a very competitive campaign that has produced eight different winners, most of them in the DAV field.

Anthony Nocella, who prevailed at last year's DAV and at this year's Boston Louie Memorial, is among a group of 2010 winners that also includes Jim Santa Maria, Jesse State, Todd Bertrand, Paul Luggelle, Eddie LeClerc, Jr., Bethany Viets and Randy Cabral. The 15-year old Santa Maria comes to the DAV off a Seekonk win on Sept. 12.

In pursuit of a third-straight NEMA championship, Cabral will again be doing double duty. A traditional stop for NEMA, the 25-lap feature, part of a busy DAV agenda, will have a direct result on the championship. Cabral currently trails leader Russ Stoehr by a scant 22 points.

Russ Wood Jr., Lanson Fornoro, Ryan and Paul Bigelow, Eric Cabral, Chris Haskel, Joey Mcciacciaro and Carl Medeiros Jr. are among the other contenders. The quarter-mile Seekonk, the ultimate "momentum track," has become "home base" for the Lites division, introduced three years ago. With Oldsmobile Quad 4, Ford Focus and Honda power, the Lites are a more economical entry point for Midget racing.

"The Lites are a big success," reports NEMA President Mike Scrivani Jr. "The competition has been outstanding, especially this year. It speaks to a bright future for NEMA. The division has proved to be well suited for tracks like Seekonk where the times are close to the full midgets. The races have been very competitive."
---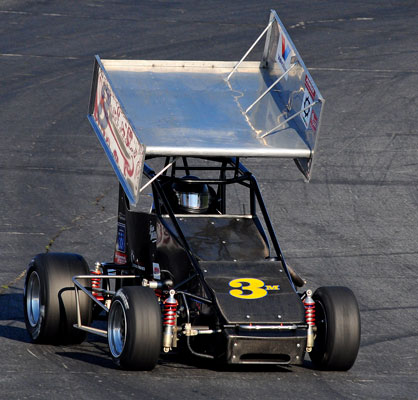 NEMA's Jim Miller
Eyes Strong Finish
Brockton, MA – Jim Miller has been around long enough to know making predictions is folly. The 25-year veteran heads into the Northeastern Midget Association traditional season enders – Seekonk Speedway DAV Memorial Oct. 9-10 and Thompson Speedway's World Series Oct. 15-17 – with his usual strategy.

"I race from week-to-week" he says. "I race as hard as I can with what I've got and in the end I take what I get." A checkered flag at either would be sensational for the three-time NEMA winner, the last coming at Oxford Plains, ME in 2001.

Miller is part of the often unsung corps that forms NEMA's strength. At the point where "there is nothing I have to prove to myself," the 54-year old carpenter nevertheless comes into the final two races hoping to cap off a "decent" season with a strong top-seven finish in the point standings. He finished eighth in 2009, his first season after a seven-year hiatus. That "stat" is clouded, however, because he gave up his car at the Marilyn's Passion race to Russ Stoehr.

He's hoping his strong fifth-place run at the Angelillo Memorial will "provide a shot in the can." Coming from mid-pack, it was one of three top-five finishes this year including a second at Stafford Speedway. He led much of the latter race.

Miller is one of three drivers with a season-best second this year, the others being Erica Santos and Barry Kittredge. Santos, in fact, was a strong second at NEMA's last outing at Waterford.

It is, of course, the near misses that stick in a driver's memory as much as the wins do. The memory of a second in the 2001 DAV when he was knocked out of the lead late in the race is still vivid and uncomfortable for Miller.

"If there's a track I've always felt owes me one it's Thompson," Miller says. He had an epic crash on the five-eighths while still a relative newcomer in 1989. He was leading at the 2000 World Series when a "barrel valve screwed up" and he came home third. "Thompson is a true test for the Midgets," says Miller who had a seventh there earlier this season.

The point battle – Russ Stoehr and the Dumo's Desire team lead Randy Cabral and a Bertrand Motorsports by a scant 22 points – takes the spotlight heading into the final two races.

Every one of this year's feature winners – Chris Leonard, Adam Cantor, Lou Cicconi, Chris deRitis and Jeff Abold in addition to Stoehr and Cabral – will be at Seekonk.
---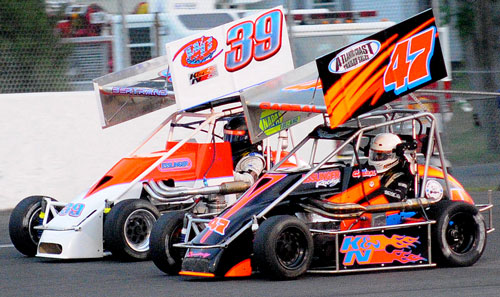 Bertrand Motorsports Adds Cicconi, Carter for DAV, World Series
Brockton, MA – A winner at Seekonk Speedway already this year, Lou Cicconi will be in the Bertrand #39 when the Northeastern Midget Association travels to the "cement palace" for the D.Anthony Venditti Memorial Oct. 9-10. Cole Carter, who has posted two "big track" thirds, will be back for Thompson Speedway's World Series Oct 15-17. The car is powered by a "spec" engine from Esslinger Engineering that NEMA hopes to promote along with other "low cost" alternatives in 2011.

Both will be teammates to Randy Cabral in the #47. The point battle between Cabral and Russ Stoehr in the Dumo's Desire #45, takes top billing as NEMA ends the season with the two traditional stops. The Bertrand pit also includes the Chris deRitis driven #75 car.

The dynamic Cicconi, who won on Open Wheel Wednesday for the Seymour team, is no stranger to Bertrand equipment. He won three times for Bertrand back in 2007, two of them coming at "The Konk."

Third generation racer Carter was third at both Thompson and Stafford earlier this season. Over the past two seasons the son of the legendary Poncho Carter has four podium finishes driving for Bertrand and no doubt is ready to grab a victory.

Cicconi joins a Seekonk field that includes not only Cabral, Stoehr and deRitis but defending DAV champion Adam Cantor, Erica Santos, Jim Miller, Mike Horn, Barry Kittredge, Greg Stoehr and John Zych Jr., all looking for strong year-ending performances.




Going back to 2001, Bertrand cars have won 26 NEMA features, three better than the Angelillo/Dumo's Desire operation.


The Seymour boys and the Valeri crew each have won 14, three of the Seymour victory coming in cooperation with Mike Scrivani Jr.


Russ Stoehr has finished in the top five in 10 of the last 11 races; the sixth at Waterford ended a run of seven podium's for Randy Cabral.


The NEMA Lites season will end at the DAV.
---

DAV Fall Classic & World Series:
NEMA Ready for Traditional Ending
The battle for the 2010 Northeastern Midget Association championships comes down to two traditional stops for the 59-year old club – the

D. Anthony Venditti Fall Classic at Seekonk Speedway

Oct. 9-10 and Oct. 15-17

World Series at Thompson Speedway

. It comes down to two different challenges - the "ultimate momentum" track followed by the fastest track on the slate.

Coming off a victory in the Angelillo Memorial at Waterford Speedbowl, Russ Stoehr and the Dumo's Desire team have 22-point edges on Randy Cabral and the Bertrand Motorsports operation. It is, however, hardly the time for celebrations heading into a pair of facilities where Cabral ranks second and first on the all-time win list. Still the Dumo's Desire outfit is determined to add to the 13 championships resume of the late Marilyn and Gene Angelillo.

Each has won three times this season. A five-time champ, Stoehr now has 43 career wins, two behind third-place Nokie Forbore on NEMA's all-time list. With 29, two-time defending champion Cabral, in his 11th season, is tied with Johnny Mann in sixth place. Six of Cabral's wins have come at Seekonk, eight at Thompson including one this year when he held off Stoehr by inches. Stoehr's figures are five at Seekonk, three at Thompson.

Cabral and Bertrand and Stoehr and the Angelillo crew have both won and lost championships at Thompson. A year ago, Cabral brought an ailing car home third to give owner Tim Bertrand the championship by a scant four points.

Looking for DAV favorites, it has to start with the Seymour cars – Jeff Abold and the #29 and the #4. Since 2004 Seymour cars have won six times at Seekonk including both races this year with Lou Cicconi Jr. and Jeff Abold. Cabral comes to the "Cement Palace" off two seconds.

Chris deRitis and last year's DAV champ Adam Cantor have been winners this year. They come to the finish determined to secure high spots in the final standings along with Greg Stoehr, Barry Kittredge, Jim Miller and Erica Santos, the latter quartet recording impressive season-best seconds over the summer. Santos comes to the DAV after a very strong effort at Waterford. Chris Leonard, the winner in the season opener, is another contender.

The DAV memorializes one of New England's premier promoters whose love for the Midgets is overwhelming evidence looking at Seekonk history. Starting with Oscar Ridlon's controversial win in 1946, there have been hundreds of Midget races at "The Konk." The list includes NEMA's first race won by Fred Meeker on Memorial Day 1953.

The DAV will be the fifth Memorial race of the season following the Rifchin Trophy event at Thompson (won by Cabral), the Shane Hammond Memorial at Waterford (won by Russ Stoehr), the Boston Louie at Seekonk (Abold) and the Angelillo at Waterford (Stoehr again).

The NEMA Lites campaign will come to an end at the DAV where Anthony Nocella, in the Seymour 29, looks like the favorite although Cabral, Jim Santa Maria, Jesse State and Bethany Viets are favorites as well.