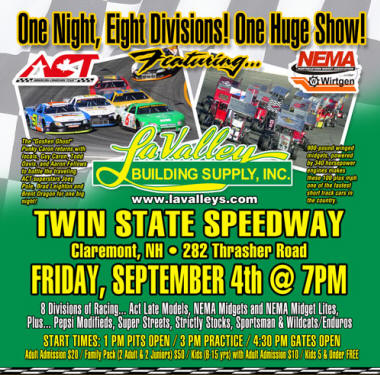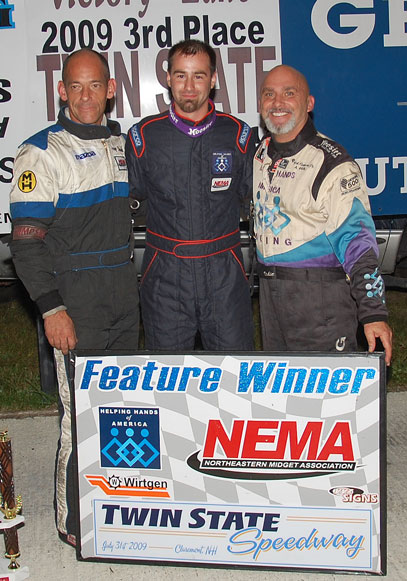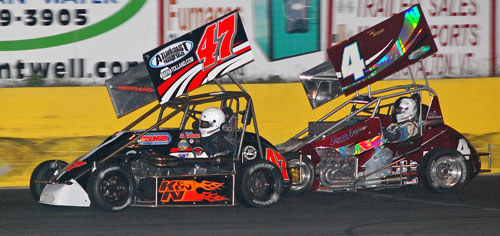 NEMA Feature - Twin State - Fri. Sept. 4th
Pos.
#
Driver
Hometown
Owner
1
47
Randy Cabral
Plymouth, MA
Tim Bertrand
2
4
Nokie Fornoro
Stroudsburg, PA
Mike Jarret
3
26b
Greg Stoehr
Bridgewater, MA
Greg Stoehr
4
7ny
Adam Cantor
Dix Hills, NY
Cantor Racing
5
44
Erica Santos
Franklin, MA
Ed Breault
6
8
Barry Kittredge
Marlboro, MA
Barry Kittredge
7
3m
Jim Miller
Weymouth, MA
Jim Miller
8
21
Abby Martino
Norfolk, MA
Joan Martino
9
28
Doug Cleveland
Sudbury, MA
Paul Luggelle
10
30
Paul Scally
Raynham, MA
Paul Scally
11
9
John Zych Jr.
Mendon, MA
John Zych
12
2
Lee Bundy
Kennebunkport, ME
Lee Bundy
13
DNF
45
Russ Stoehr
Bridgewater, MA
Gene Angelillo
14
DNF
99
Chris DeRitis
Philadelphia, PA
Power Point
Race Cars
15
DNF
29
Drew Fornoro
-
Bobby Seymour
16
DNF
74
Anthony Marvuglio
E. Bridgewater, MA
Tim Bertrand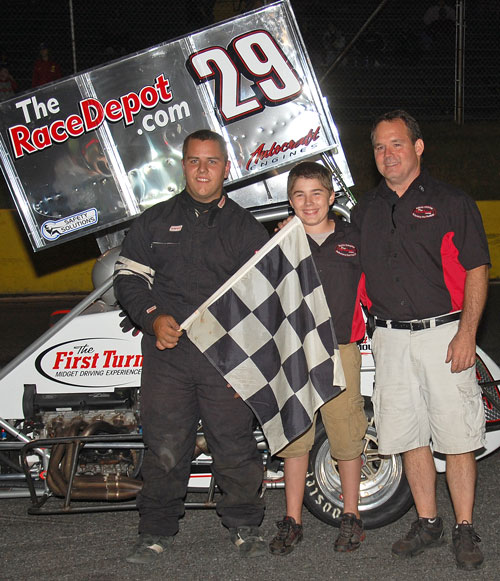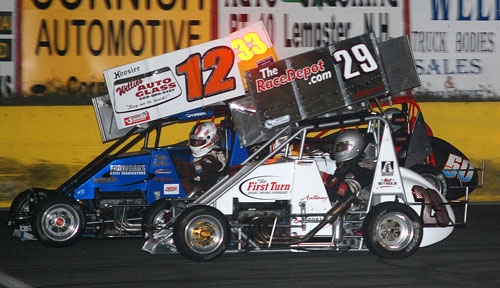 Lites Feature - Twin State - Fri. Sept. 4th
Pos.
#
Driver
Hometown
Owner
1
29
Anthony Nocella
Woburn, MA
Matt Seymour
2
12
Edward LeClerc Jr.
Taunton, MA
Edward LeClerc Sr.
3
28
Paul Luggelle
Holbrook, MA
Paul Luggelle
4
35
Anthony Marvuglio
E. Bridgewater, MA
Glen Cabral
5
50
Mike Muldoon
Baldwinsville NY
Mike Muldoon
6
33
Shawn Torrey
Marshfield, MA
Shawn Torrey
7
36
Eric Cabral
Manchester, NH
Glen Cabral
8
47
Dave Bedard
Swansea, MA
Glen Cabral
9
11w
David Rose Jr.
Keene, NH
David Rose Sr.
10
DNF
20
Chris Haskell
Southampton, MA
Andy Schlatz
11
DNF
5c
Joey Chick
Hubbardston, MA
Bob Chick
12
DNF
00
Josh Woollam
Buzzards Bay, MA
Paul Luggelle
Greg Stoehr & Randy Cabral
Grab NEMA Victories
P.J. Stergios & Anthony Nocella
the Lites Winners

Winchester, NH – Greg Stoehr needed only five minutes and 46 seconds to capture the Northeastern Midget Association's 25-lap Marilyn's Passion Memorial Midget Race Saturday night at Monadnock Speedway. Starting fifth, Stoehr passed brother Russ on lap 13 and went on to beat Randy Cabral by five car lengths in the caution-free battle.

It capped a busy weekend for NEMA, Cabral claiming Friday night's 25-lapper at Twin State Speedway after a torrid battle with Nokie Fornoro.

Anthony Nocella was the Lites winner at Twin State while P.J. Stergios ruled at Monadnock.

Backed by the Angelillo family, The Marilyn's Passion event memorialized long-time NEMA stalwart and official Marilyn Angelillo.

"He was very fast," Greg Stoehr said of his brother, who took over the Miller #3m after his regular ride, the Angelillo #45, had motor problems at Monadnock. "I was faster. I was better on the ends and I realized I had to get him between the rest of the field and myself."

Cabral took second away from Russ on lap 18. Drew Fornoro (Seymour #29) celebrated his return with a resounding fourth followed by Jeff Horn (Horn #A1), Nokie Fornoro (Jarret #4), and Ted Christopher (Bertrand #74). Ten cars finished on the same lap.

Coming from fourth, Russ Stoehr had the lead heading into three on the first lap. Greg chased him down and tried the outside twice before the winning pass. "It was a move I learned watching him," he said. "But he didn't fall for it," Greg continued, "and I had to force the issue."

"He showed me the nose and I gave it all I could to hold him off," says Russ. "We were loose and I knew I couldn't hold him forever. He went right under me."

Cabral, looking for a weekend sweep, took second from Russ Stoehr in turn two on lap 18. "The car was never better," said the defending champion who started 10th. "I wanted so badly to catch Greg, not so much to pass him but to just race with him."

Fast lap honors actually went to Cabral (a 12.022) on the eighth circuit. Greg Stoehr turned lap six in 12:036.

A lap 18 restart set up the classic Cabral-Fornoro duel at Twin State, the two running side-by side for four laps. They actually changed lanes at least once but Cabral, on the outside, finally got away exiting two just before the two-lap signal.

"I see Nokie outside of me," said Cabral, "and then I see him on the inside of me. It was pretty exciting." He said he watched the NEMA Lites RACE (the family had three car involved) and came away with a good idea of "where the best lane was."

Cabral, who had the fastest lap at Twin State (12.389), and Fornoro, were followed by Greg Stoehr, Adam Cantor (Cantor #7ny) and Erica Santos (Breault #44).



"It was a tribute to a great lady, Marilyn Angelillo," said grand marshal Dick Monahan, who served in many roles including president for NEMA over the years. He spoke of not only the race itself but also the entire day that included a picnic and very special T-shirts.

"If there was any rust I wore it off tonight," said Drew Fornoro who, after a long layoff, drove the Seymour #29 to a fourth place at Monadnock. It was his worst ever finish at Monadnock where he had 11 wins in Angelillo cars. Citing stagger problems early and no brakes over the last eight laps, he seemed open to other driving opportunities.

"The guys who win here are the guys who know how to drive Midgets," said Greg Stoehr after his third career win at Monadnock. He called brother Russ "the smartest driver I know and I watch him as much as I can." Russ did a masterful job in Jim Miller's #3m.
"It was the right thing to do," Miller said of giving up his car.

The Stoehr brothers took away all the Marilyn's Passion Memorial lap money. Russ earned $300 for leading laps four, five, 10 and 12 (donated by Joe Iorio and Dave Shore) while Greg got the $100 from Curt and Laura Kibbe) for leading 14 and 15. William Wall passed seven cars and took the $75 hard charger prize donated by Bertrand Motorsports.

Abby Martino and Erica Santos split the special match race money from Marilyn's grandchildren Tiana and Brooke Kibbe.

"That's how drivers are supposed to compete in Midgets," said owner Tim Bertrand after his driver Randy Cabral and Nokie Fornoro battled at Twin State. The battle had fans on their feet and found great favor with the promotion department at the Claremont, NH spot. Interestingly enough, Fornoro warmed the car up for the Bertrand team (and lost a wheel) when high school automotive teacher Cabral had to complete his school day.

After many races with few if any cautions, the Lites had five cautions at Monadnock, putting extra pressure on P.J. Stergios. The final one came with four laps left and he had to deny Anthony Nocella a weekend sweep.
---
Challenging Twin State
Next On NEMA Slate
Brockton, MA - Nokie Fornoro has won almost 200 races on 57 different racetracks. One of the few places the 30-plus year veteran has not visited victory Lane is Twin State Speedway in Claremont, NH.

Unlike most NEMA venues, odds are there will be no former winners in the field when the Northeastern Midget Association returns to Twin State on Friday night, Sept. 4. The visit, rescheduled from a July 31 (rain out), is part of a two-day NEMA weekend which also includes the Sept. 5 "Marilyn's Passion" at Monadnock Speedway.

The last time NEMA went to a track without somebody having won there previously was 2005 and the track was Twin State.

Other than numbers - his two checkereds this year have brought his career Midget win total to 109 – Fornoro hopes to keep car owner Mike Jarret atop the owners point standings. It has been an eventful campaign for Fornoro and the Jarret team. On three occasions they have come back from practice or heat crashes to post strong finishes including a win at Stafford. Fornoro sings praises to his crew especially unofficial crew chief Mike Scrivani Jr. Fornoro won the 1981 NEMA title driving for Mike's father.

Defending champion Randy Cabral takes the driver's point lead into the weekend. He also leads in the win category with three in the Bertrand 47. Cabral, who added Monadnock and Lee to his "vanquished list" this year refused to talk about points. "I'd rather talk about coming to the track and winning races," he declares.

Adam Cantor, Jeff Abold and Russ Stoehr, have also won. It is shaping up as one of the most competitive NEMA seasons in recent memory.

Cantor, the club's most consistent finisher before misfortunate at Waterford, sits third in both point races. He has the best Twin State record with a second to Bobby Santos III last year and third back in 2005.

Rookie Chris DeRitis, John Zych Jr., Abby Martino, William Wall, Jim Miller, Greg Stoehr and Erica Santos all hope to improve their positions heading into the weekend.

In addition to Cabral and Fornoro, and Greg and Russ Stoehr know the way to Monadnock's Victory Lane as well. It is, in fact, Greg Stoehr's favorite track.




Eleven different drivers have had at least one podium finish so far this year. There have been 15 drivers with at least one top five.


Randy Cabral has turned the fastest feature lap in four of the eight races. Nokie Fornoro has done it three times and Jeff Abold once,

Cabral has not been out of the lead in the driver's point race since winning the 2008 opener.
---

NEMA Lites Ready For
Busy Labor Day Weekend
Brockton, MA – Jake Stergios and Anthony Nocella have a pair of wins apiece as the Northeastern Midget Association's Lites division makes ready for a Labor Day weekend in New Hampshire.

The Lites will join the NEMA regulars at Claremont's Twin State Speedway on Friday night, Sept. 4 and at the "Marilyn's Passion" race at Monadnock Speedway on Saturday night. The latter will be the first "paying" race for the division, now in its second season.

Anthony Marvuglio hopes to make it two straight. His emotional win at the Boston Louie remains one of the highlights of the year. He won wearing the gloves of his late brother Shane Hammond in the caution-free event.

"You can count the cautions on your fingers over the past two or three races," says Steve Grant, the leader of the group. "They are putting on a great show and showing themselves to be very capable."

When the Lites join the regular cars as they will on Labor Day weekend, there are usually over 40 Midgets on hand. "It is a great time for Midget fans and for promoters," said NEMA president Mike Scrivani Jr.

Tim Bertrand and Bobby Seymour have been major forces in the division's success. Using less-expensive motors (Focus, Quad 4, Honda) motors, it was designed as a "developmental" division.

Stergios, part of a family effort that includes his owner/dad Bill and brother P.J. (also a winner), is one of the returnees. Marvuglio, Chris Haskell, Shawn Torrey, Todd Bertrand, Stephanie Doty, Paul Luggelle, Shawn Gooselin, Russ Wood Jr. and Kevin Park are all back from last year.

Gooselin has two straight runner-up finishes while Doty comes off a strong third-place run at "The Louie."

Nocella, who drives a car out of the Seymour shop, is in his first season. Eddie LeClerc Jr. is another impressive "rookie." Driving for his dad, LeClerc has had a pair of seconds. Rokkie Joe Chick pilots the #05 for owner/dad Bob Chick.