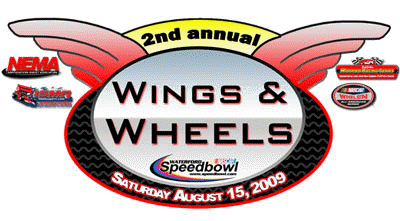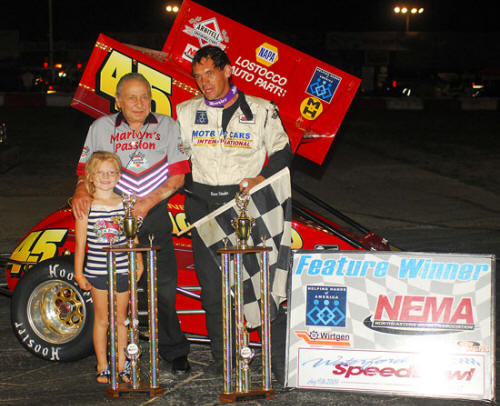 NEMA Feature - Speedbowl - Sat. August 15th
Pos.
#
Driver
Hometown
Owner
1
45
Russ Stoehr
Bridgewater, MA
Gene Angelillo
2
47
Randy Cabral
Plymouth, MA
Tim Bertrand
3
4
Nokie Fornoro
Stroudsburg, PA
Mike Jarret
4
5
William Wall
Shrewsbury, MA
Wall Motorsports LLC
5
99
Chris DeRitis
Philadelphia, PA
Power Point
Race Cars
6
30
Paul Scally
Raynham, MA
Paul Scally
7
21
Abby Martino
Norfolk, MA
Joan Martino
8
50
Neil Blatt
Holbrook, NY
Pete Pernisiglio
9
9
John Zych Jr.
Mendon, MA
John Zych
10
28
Paul Luggelle
Holbrook, MA
Paul Luggelle
11
DNF
2
Lee Bundy
Kennebunkport, ME
Lee Bundy
12
DNF
44
Erica Santos
Franklin, MA
Ed Breault
13
DNF
11
Howie Bumpus
Lakeville, MA
Charles Camosse
14
DNF
26b
Greg Stoehr
Bridgewater, MA
Greg Stoehr
15
DNF
7ny
Adam Cantor
Dix Hills, NY
Cantor Racing
16
DNF
29
Jeff Abold
Pennellville, NY
Bobby Seymour
17
DNF
22
Chris Leonard
Pelham, NH
Dave Leonard
18
DNS
3m
Jim Miller
Weymouth, MA
Jim Miller
19
DNS
11s
Frank Swan
Plymouth, ME
Frank Swan
Fast Lap - #47 Randy Carbral - Lap 11 - 13.075
Heat #1 - 26b-45-29-7ny-2-22-44-11
Heat #2 - 47-99-21-4-30-9-50-28-11s DNF: 3m-5
Heat 1 >
Heat 2 >
Practice >
Pits >

Photos by John DaDalt
---
Stoehr NEMA Winner At Speedbowl
Waterford, CT – Surviving two restart threats, Russ Stoehr collected his first Northeastern Midget Association victory since 2002 Saturday night at Waterford Speedbowl's Wings and Wheels. Driving the Angelillo 45, it was Stoehr's first win since returning to racing after a five-year hiatus.

Stoehr, who had the lead by lap two, beat back Randy Cabral (Bertrand #47) restart challenges on laps nine and 13. Stoehr, running laps consistently in the 13.1-13.2 range, and Cabral staged a torrid battle until Stoehr opened up a six-car lead over the final circuits.

Nokie Fornoro (Jarret #4) was third followed by William Wall (Wall #5) and Chris DeRitis (Power Point #99). It was another epic effort for the Jarret crew which all but rebuilt the car after a second heat crash.

"I thought I was picking him off where I was suppose to," said Stoehr in response to Cabral's claim that he was jumping on the restarts. "He (Cabral) has pretty potent car and giving him the edge would be tough."

"He started early both times," said the usually reserved Cabral who had the fastest lap – a 13.075 on the 11th circuit. It was the fifth top-five of the campaign for the defending champion and point leader.

Several times Cabral got inside Stoehr through turns one and two. "I could hear him," said Stoehr who regained control on the exit. "We were going fast enough so he could not get around us." He was aware he had extended his lead "when the camera flashes stopped."

Coming from fourth, Stoehr passed Paul Scally (Scally #30) for the lead out of four on lap two. Cabral had second almost immediately with Fornoro and Wall following. "We short of lucked into that," said Stoehr who moved up after a first-lap crash that eliminated his brother Greg, Adam Cantor and Jeff Abold, the latter the fastest car during practice.

It was a heartbreaking night for Cantor (Cantor #7ny). Like Fornoro, he suffered damage in the multi car second heat crash. A definite championship contender, he had finished no worst than sixth.

NEMA has a two-week layoff before a Labor Day Doubleheader – a rescheduled event a Twin State Speedway on Friday, Sept 4 and a return to Monadnock on Saturday, Sept. 5.


Russ Stoehr was the fifth winner of the season. NEMA had a total of five last year…It was the 80th NEMA show at the Speedbowl. Owner Gene Angelillo has now won 12th of them with four drivers – Drew Fornoro, Ted Christopher, Joey Payne and Stoehr.


Stoehr posted career his 39th career win, the first since July 4, 2002 at Thompson.


Randy Cabral's fastest feature lap (13.075) was quicker than the 13.144 Nokie Fornoro posted in this year's previous Speedbowl visit but nowhere near the 12-seconds efforts of last year.


Fornoro (13.246), William Wall (13.290) and Chris DeRitis (13.291) all had impressive "best laps" as well.


A definite rookie of the year candidate, DeRitis has been in the top five in three of the last four events in the Power Point Race Cars 99…

It was the fourth straight top 10 for Abby Martino in the family-owned 21.


Fornoro and the Jarret crew have had an exciting season. Rebuilding the car after a heat crash is becoming almost commonplace.


It was a heartbreaking night for both Boston Louie Jeff Abold in the Seymour 29, one of the fastest cars in practice, and Adam Cantor, both eliminated in a first lap crash. Cantor's crew also came back from second-heat damage.
---
NEMA Moves On To
Waterford Speedbowl
Brockton, MA - With four different winners in seven races, one of the
most competitive seasons in recent Northeastern Midget Association
memory returns to Waterford Speedbowl Saturday night. NEMA will be part of the 'Bowl's Wheels & Wings program.

Jeff Abold, so impressive in last Saturday's Boston Louie Memorial,
joins defending champion Randy Cabral (3), Nokie Fornoro (2) and Adam Cantor (1) on the win list. The latter three are battling for the point lead as well.

Cantor won the last visit to the Speedbowl but only after Fornoro, who was running laps in the 13.1s, ran out of gas on the last lap. Cabral, the all-time NEMA winner at the Speedbowl with eight, crashed. "The place can be perplexing," says Fornoro.

Tim Bertrand, Cabral's owner, agrees. Despite all the success, the 47
team will "start from scratch" this week from a setup perspective. The tracks, Bertrand says, are changing putting old setups out of vogue.

The fastest "short track" on the schedule, the Midgets hit speeds in
excess of 105 on the straight aways. Abold's owner Bobby Seymour, who has five Waterford wins as a driver, calls it a near perfect track
combining length, width and surface.

In addition to Cantor, the 42nd NEMA winner at the 'Bowl going back to 1953, and Cabral, Fornoro, Russ and Greg Stoehr, Jeff Horn and Jim Miller have won at Waterford. "You have to come to the Speedbowl prepared," says Russ Stoehr. "Everybody runs their best there."

Still, a number of drivers scored their first-ever NEMA win at the
Speedbowl including current USAC hot shoe Bobby Santos III. Second year drivers John Zych Jr. and William Wall and rookie Chris DeRitis are all possibilities to join that list. All three have had impressive runs this year, Wall coming to the 'Bowl off a fourth at Seekonk last week.

NEMA will join ISMA, the True Value Modified Series and the Speedbowl SK-Modifieds on the Wings & Wheels program.




Last year Randy Cabral came to Waterford after winning The Boston Louie and won. Only one other time has a driver followed up a "Louie" success with another win. Russ Stoehr did it way back in 1997.


NEMA continues to get quicker. Jeff Abold's fastest race lap at the
Boston Louie was an incredible 11.007 after a blistering 10.859 time trial run.


While Adam Cantor's streak of top-fives ran out at Seekonk, his fourth-place average finish is the best among the drivers who have made all seven starts. Cabral shows a 4.2 average finish.


Following his second at the Louie in the Bertrand #74, Cole Carter says he enjoyed driving with wings (USAC does not use them), crediting it with "allowing for a lot of side-by-side racing."
Tim Bertrand reports there is a chance Cole will return to race at
Thompson and Lee later in the season.


Steve Grant continues to sing the praises of the Lites. After only a single caution at Monadnock, "the kids" went 29 non stop laps at The Louie.


Some of the names in the Lites rattle the memory - just for starters: Mikitarian (Joe), Hart (Rick), Wood (Russ Jr.) and Muldoon
(Mike).