Nostalgia Weekend - Sat. July 25th
Vintage race cars on display from New England Antique Racers (NEAR), Senior Tour Auto Racers (Star)
and Vintage Midgets.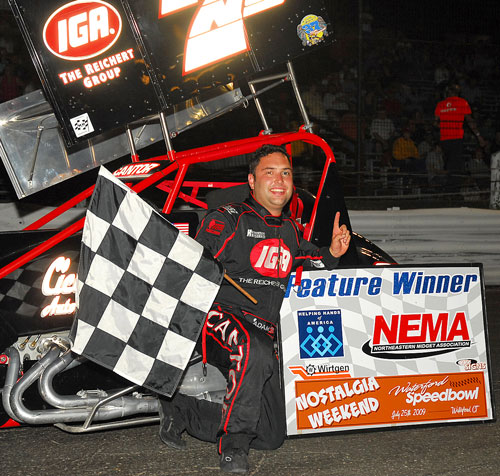 25 Lap Feature - Speedbowl - Sat. July 25th
Pos.
#
Driver
Hometown
Owner
1
7ny
Adam Cantor
Dix Hills, NY
Cantor Racing
2
45
Russ Stoehr
Bridgewater, MA
Gene Angelillo
3
4
Nokie Fornoro
Stroudsburg, PA
Mike Jarret
4
99
Chris DeRitis
Philadelphia, PA
Power Point
Race Cars
5
3m
Jim Miller
Weymouth, MA
Jim Miller
6
9
John Zych Jr.
Mendon, MA
John Zych
7
44
Erica Santos
Franklin, MA
Ed Breault
8
26b
Greg Stoehr
Bridgewater, MA
Greg Stoehr
9
21
Abby Martino
Norfolk, MA
Joan Martino
10
2
Lee Bundy
Kennebunkport, ME
Lee Bundy
11
DNF
30
Paul Scally
Raynham, MA
Paul Scally
12
DNF
85
Michael Barnes
Mexico, NY
Michael Barnes
13
DNF
47
Randy Cabral
Plymouth, MA
Tim Bertrand
14
DNF
55s
Tim Heath
-
Mike Luggelle
15
DNF
50
Neil Blatt
Holbrook, NY
Pete Pernisiglio
16
DNF
28
Doug Cleveland
Sudbury, MA
Paul Luggelle
17
DNF
74
Cole Carter
-
Tim Bertrand
Cantor Opportunist At Speedbowl
Waterford, CT - Adam Cantor took the lead when Nokie Fornoro ran out of gas on the last lap and went on to win the 25-lap Northeastern Midget feature Saturday night at Waterford Speedbowl. It was first win of the year and the fifth straight top-five for the Long Island driver.

Cantor (Cantor #7ny) thought "the race was over" when he saw Fornoro (Jarett #4), who had led since lap seven, slow in the backstretch. ""I said to myself 'I'm going to go another lap' because I've gotten myself in trouble before counting laps. You've got to just keep digging."

Russ Stoehr (Angelillo #45) also got by Fornoro who coasted home third. Chris DeRitis (Power Point #99) and Jim Miller (Miller #3m) completed the top five in the caution-filled race.

It was the third career NEMA checkered for Cantor and the first since Adirondack in 2005.

"Never," snapped the jaded Fornoro when asked if had ever run out of gas that late leading a race. Just a few minutes before he had gone under the white flag only to be "totally surprised when yellow showed again." Behind him Greg Stoehr and Cantor, running second and third, made contact resulting in Stoehr retiring to the pit.

Driving "the best car I've had since joining the Jarret crew," he got away from Cantor, now in second, on the restart. He was well in command when the engine sputtered halfway down the backstretch.

"Nobody had anything for Nokie tonight," admitted Cantor. Fornoro's 13.144 was the fastest lap of the race.

"Somebody had to win and it might as well be me," continued Cantor who had three gallons left in his tank. Starting third, he took the lead with a daring three wide move on the initial green sending him past front-row starters Erica Santos and DeRitis.

A rash of yellows followed. Cantor lost the lead to Greg Stoehr on a restart. He lost second to Fornoro, the latter then passing Stoehr with seven gone. He used a string of green laps to open a commanding edge.

Cole Carter (Bertrand #74) lost a motor on lap two resulting in a very long caution period. Shortly after the restart Randy Cabral (Bertrand #47) hit the front stretch wall triggering a multi-car crash that eliminated five cars including the Luggelle #28 which landed on its side with Doug Cleveland aboard.

"I just came out of four and the car kept going out to the fence," said a dejected Cabral who was after a ninth win at the Speedbowl. "I am not happy." The point leader, he had three wins and a second going into the race.

There were no heats, the Speedbowl needing time to pump the infield after heavy rain Friday night into Saturday morning.


Cole Carter in NEMA Speedbowl Field
Brockton, MA – Cole Carter, a USAC open-cockpit mainstay and a member of one of America's premier racing families, will be in the Northeastern Midget Association field at Waterford Speedbowl Saturday night, July 25th. NEMA will be part of "Nostalgia Weekend" at the historic Speedbowl.

The son of the legendary "Pancho" Carter, Cole will be a teammate of reigning champion and current point leader Randy Cabral in Bertrand Motorsports entries. He'll steer the #74 driven twice this season by Jeff Horn.

Carter will join a strong field led by Cabral, the all-time NEMA winner at the Speedbowl with eight including three last year for Bertrand.

Among current competitors, Horn, Nokie Fornoro (Jarret #4), Russ (Angelillo #45) and Greg Stoehr (Stoehr #26b) and Jim Miller (Miller #3m) have tasted at least one Speedbowl win, Greg Stoehr doing it last year. Adam Cantor (Cantor #7ny) and Erica Santos (Breault #44) were both consistent top-five finishers at Waterford in 2008. Cantor has four straight top-fives this year.

William Wall, last year's top rookie, and current newcomer Chris DeRitis, who had a strong effort at Seekonk, are other threats. Many NEMA drivers scored their first win at the Speedbowl.

Cole Carter's racing genes include both grandfathers – Duane Carter and Carl Forberg – and an uncle – the late Dana Carter – as well as his dad Pancho who, in addition to many Midget and Sprint successes, had 17 Indianapolis 500 starts.

Now 26, Cole has been driving family equipment since 2000, climbing to as high as fourth in the 2005 standings. He has also driven Sprints, Silver Crown and Infinity Pro Series cars.




The last time NEMA came to the Speedbowl – the 2008 Finale – owner Tim Bertrand claimed first (Cabral) and second (Jeremy Frankoski) as well as the checkered in the NEMA Lites (Todd Bertrand). Bertrand has eight Speedbowl wins – six by Cabral, one by Lou Cicconi Jr. and one with himself driving back in 2002. He beat Cabral.


The most successful car owner at the Speedbowl is Gene Angelillo with 10. His winning drivers include Drew Fornoro, Russ Stoehr, Joey Payne Jr. and the versatile Teddy Christopher.


Among the drivers who scored their first-ever NEMA win at the Speedbowl is current USAC hot shoe Bobby Santos. Others are Ben Seitz and Barry Kittredge.


There are 26 years between Nokie Fornoro's first (1981) and last (2007) NEMA/Speedbowl wins.


The Speedbowl hosted the second race in NEMA history on May 31, 1953. Billy Eldridge was the winner. It started a win list that is second to none among NEMA venues.

NEMA Winners at Waterford Speedbowl

No. Driver First Last
8 - Randy Cabral - 2002 2008
6 - Drew Fornoro - 1982 1999
5 - Bobby Seymour - 1988 2000
4 - Dick Brown - 1958 1962
4 - Mark Buonomo - 1999 2001
4 - Nokie Fornoro - 1981 2007
4 - Bobby Santos III - 2002 2004
4 - Ben Seitz - 2004 2005
3 - Joe Csiki - 1962 1963
3 - Joey Payne Jr. - 2003 2006
2 - Mike Favulli - 1991 1992
2 - Bill Randall - 1959 1960
2 - Russ Stoehr - 1999 2000
2 - Butch Walsh - 1980 1981

One-time Waterford Speedbowl Winners: Tim Bertrand (2002), Rudy Boetticher Jr. (2000), Len Boyd (1978), Howie Bumpus (1988), King Carpenter (1960), Ted Christopher (1998), Lou Cicconi Jr. (2007), Johnny Coy (1977), John Dudevoir (1962), Bill Eldridge (1953), Johnny Evans (1975), Armond Holley (1976), Jeff Horn (1993), Mike Keeler (2006), Barry Kittredge (2001), Paul Lawless (2001), Johnny Mann (1978), Jim Miller (1999), George Monson (1973), Peter Pernesiglio (2002), Al Pillion (1959), Dutch Schaefer (1966), Mike Seymour (1997), Lee Smith (1982), Greg Stoehr (2008), Len Thrall (1970), Bobby White (1979)
NEMA Headlines Nostalgia Weekend Action at the 'Bowl
Waterford, CT (July 22, 2009) – Speedbowl Press Release

The popular NEMA Midgets return to the Waterford Speedbowl for their first visit of the year on Saturday, headlining the shoreline oval's annual Nostalgia Weekend festivities. A full card of NASCAR Whelen All-American Series racing action joins the winged wonders on Saturday, while restored antique race cars that turned many laps around New England race facilities will be showcased on both Saturday and Sunday.

Widely regarded as the perfect Midget track, the Speedbowl's slightly banked, two groove asphalt racing surface plays host to fast and exciting action throughout NEMA events. Randy Cabral, driving the Bertrand #47, leads the charge for the Midgets' July 25th appearance, the first of two in 2009. They return as part of August 15th's 2nd annual Wings 'n Wheels event, joining the ISMA SuperModifieds, True Value Modifieds, and Speedbowl's own SK Modifieds. Cabral has tasted victory in three of the four NEMA race events completed to date this season, while it was veteran Nokie Fonoro winning the other event held to date. Cabral currently leads the point standings over Adam Cantor. Erica Santos looks for her first Speedbowl win and has run well in past NEMA events.

Saturday's Speedbowl NEMA event will also mark the first Speedbowl appearance for Cole Carter, part of racing royalty in his own regard. His father Pancho Carter made 15 career Indy 500 starts. The up-and-coming driver will compete in a team car to Cabral out of the Bertrand shop. Ryan Newman also competed for the team this year in a special appearance, finishing second to Cabral at Lee USA Speedway back in June. The Midgets will compete in a 25-lap event on Saturday.

The New England Antique Racers (NEAR), Senior Tour Auto Racers (STAR), and Vintage Midget Racing Club also join Nostalgia Weekend. Select cars from the clubs will be on display Saturday evening, enabling fans of all ages to see the cars up close and reminisce about the old days or to discover the roots of today's racing for the very first time. On Sunday, the same cars take to the asphalt for exhibition racing. Many of the machines were driven to numerous victories across New England, including the Speedbowl, throughout the 1950's, 60's and 70's.

The Speedbowl's NASCAR Whelen All-American Series (NWAAS) points battles rage on in each of the four weekly divisions. Keith Rocco, winner of four events in 2009 and the current national NWAAS points leader, leads the way for the ground pounding SK Modifieds. The Wallingford native brings in a comfortable 46 point advantage over 2007 division champion Rob Janovic Jr. Including Janovic, others looking to pounce on a slip by Rocco include Ron Yuhas Jr. who sits 50 points back of Rocco and seven-time champion Dennis Gada 70 points behind. Jeff Paul has two victories this year, while Tyler Chadwick, Jeff Pearl, and Corey Hutchings all seek their first win of the year. All are expected challengers in Saturday's35-lap event.

Groton's Bruce Thomas Jr., two-time defending Late Model champion, puts his 62 point cushion on the line against the Bob Valenti Auto Mall Late Model field in their 30 lap event. Ronnie Oldham, of Old Saybrook, holds the slimmest of margins at just 14 points over a competitive Street Stock field, while veteran Deep River competitor Danny Field has a 28 point lead in the Norwich Bulletin Mini Stock division.

Saturday's action gets underway at 5:00pm with qualifying races, and main events beginning at 7:00pm. Adult grandstands admission is $15 while all youth ages 6 through 14 receive $5 admission. Kids 5 and under are admitted free. On Sunday, the grandstands are closed and only pit admission is offered for the vintage car activities. Admission is just $10 per person, and $10 per car. The pit gates open at 11am, with action getting under way at noon.
For more information about these and all upcoming Speedbowl events, please visit www.speedbowl.com or contact the track office at 860.442.1585.