6th Annual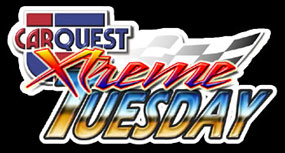 TUESDAY, JULY 7th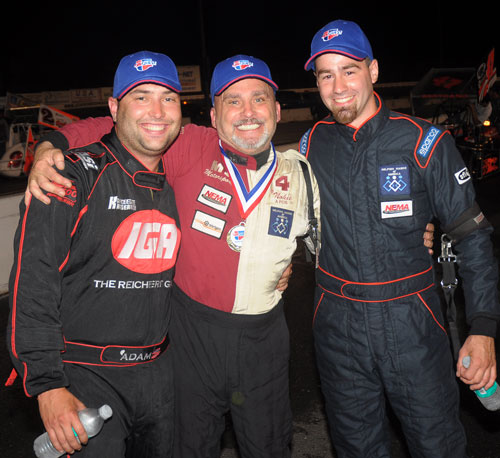 Adam Canor, 3rd, Winner Nokie Fornoro, & Randy Cabral, 2nd
30 Lap Feature - Stafford - Tues. July 7th
Pos.
#
Driver
Hometown
Owner
1
4
Nokie Fornoro
Stroudsburg, PA
Mike Jarret
2
47
Randy Cabral
Plymouth, MA
Tim Bertrand
3
7ny
Adam Cantor
Dix Hills, NY
Cantor Racing
4
26b
Greg Stoehr
Bridgewater, MA
Greg Stoehr
5
74
Jeff Horn
Ashland, MA
Tim Bertrand
6
45
Russ Stoehr
Bridgewater, MA
Gene Angelillo
7
85
Michael Barnes
Mexico, NY
Michael Barnes
8
30
Paul Scally
Raynham, MA
Paul Scally
9
22
Chris Leonard
Pelham, NH
Dave Leonard
10
98s
Erica Santos
Franklin, MA
Bobby Santos II
11
99
Chris DeRitis
Philadelphia, PA
Power Point
Race Cars
12
21
Abby Martino
Norfolk, MA
Joan Martino
13
55s
Andy Shlatz
Enfield, CT
Mike Luggelle
14
2
Lee Bundy
Kennebunkport, ME
Lee Bundy
15
28
Paul Luggelle
Holbrook, MA
Paul Luggelle
16
DNF
98
Mike Roselli, Jr.
Brodheadsville, PA
Mike Roselli, Sr.
17
DNS
44
Erica Santos
Franklin, MA
Ed Breault
18
DNS
63
Mike Keeler
Danbury, CT
TSR Motorsports Inc.
Rain Key in Fornoro's
Win at Stafford
Stafford Springs, CT – Nokie Fornoro might well have been whistling "Pennies From Heaven" Tuesday night. Taking advantage of a rain delay to fix an ailing racecar, Fornoro went on to win the Northeastern Midget Association 30-lap feature at Stafford Motor Speedway's Carquest Extreme Tuesday.

Fornoro (Jarret #4) passed Adam Cantor (Cantor #7ny), the only other leader, on lap 17 and went to his first win of the season. Point leader and defending champion Randy Cabal (Bertrand #47) was second, .23 second behind in the caution-free race. Fornoro dedicated the win to the late Marvin Rifchin.

Greg Stoehr (Stoehr #26b) and Jeff Horn (Bertrand #74) completed the top five. NEMA needed just under 9:06 to complete the 15 miles, Fornoro averaging 98.906 mph.

The Jarret crew needed the rain delay to repair a broken rear in the first heat. "Without the rain, I wouldn't be standing here," Fornoro, told the media.

It was the third career Stafford win for Fornoro who took advantage of a lapped car to take the lead. He had "dogged" Cantor from the beginning, the latter coming from fourth to pass Paul Scally for the lead in turn three. Fornoro was second a turn latter.

Heading into turn one on lap 17, Cantor encountered a lapped car. He went high and Fornoro went low. Fornoro then took advantage of a Cantor-Cabral battle to open up a wide advantage.

"The lapped car was definitely a factor," said Fornoro, pointing out he "dogged" Cantor until "traffic changed the way Adam was entering and exiting the turns."

Cabral battled Greg Stoehr for several laps before assuming third. He soon chased down the leaders and took second in turn four on lap 22.

"I figured Randy was coming," said Fornoro, who turned lap 17 in 17.625 sec., the fastest lap of the race. "But with five to go I was getting a little slide. I didn't hear anything behind so I backed off a tiny bit to save the right rear.

Cabral, who was after a third straight win, had the second-fastest lap, a 17.650 on lap 23.

NEMA's midweek agenda continues Wednesday (July 15) at Seekonk Speedway.




Fornoro had high praise for the efforts of Mike Jarret, Mike Scrivani Jr. and Shawn Torrey in repairing the Jarret 4. "There was only one stud holding the torque tube to the rear end after the heat," he said. "They had the car all apart. They worked their tails off."


Horn, who just passed his 64th birthday, gave the new Bertrand #74 a great ride.


After the Breault #44 developed problems in the heat, Erica Santos jumped into the family #98s for the feature. Stafford SK-Modified regular Woody Pitkat was more than capable driving the 98s in the first heat.


"I guess getting beat by Nokie Fornoro is not that bad," said Cabral who has developed a definite following across New England.

Santos Aim To Extend
Stafford NEMA Streak
Brockton, MA- The Santos family hopes to extend a win streak Tuesday night in the Northeastern Midget Association segment of Stafford Motor Speedway's Xtreme Tuesday. The family will be looking for a fifth straight Stafford win.

The Santos #98s that Bobby Santos III has driven to two USAC victories over the last two weeks, will "definitely be there," according to owner Bob Santos Jr. "If Bobby can't make it, we'll have [Stafford SK-Modified regular] Woody Pitkat in the seat," he said.

Erica Santos, who became NEMA's first female winner at Stafford in '07, will be in the Breault #44. The other three wins belong to Bobby.

"We took the #98s home and put the wing on," said Santos. "We'll see what happens. We're coming to win. Pitkat is no stranger to Stafford."

Bertrand Motorsports will "double team" the event as well. Veteran Jeff Horn, who has a Stafford win, will join defending champion Randy Cabral, the latter looking for a third straight win in as many starts in the Bertrand #47. Horn will be in the #74, a new car.

Cabral and Bertrand, second at Stafford last year, added Monadnock and Lee USA Speedways to the vanquished list so far in '09. They would love to include Stafford as well.

Other than the Santos and Jeff Horn, only Nokie Fornoro, among current competitors, has tasted wins at Stafford. NEMA returned to the storied half mile in 2004 after a 23-year absence.

In addition to being one of the fastest stops on the NEMA agenda, Stafford is one of the most challenging. "There are tracks with a definite mystique, with so much history, where winning is really special," offers Horn. "Stafford is one of them."

"It is a quick joint," says Fornoro. "You have to want to go fast."

Russ Stoehr (Angelillo #45), Mike Keeler (TSR Motorsports #63) and Adam Cantor (Cantor #7ny) all come to Stafford off strong efforts at Lee USA Speedway. Other contenders include William and Aaron Wall in the Wall Motorsports #5 and #55 cars and Greg Stoehr in the Stoehr #26b.


A charter member of NEMA (Johnny DeLeo was the first winner way back in 1953), Stafford has hosted some historic open-cockpit battles. Included on the list are Santos' $50,000 payday from winning both the Midget and Big Car features on Aug. 15, 2006 and Jerry Wall's win in the rear-engine "Yellow Jacket" back in 1971.


Nokie Fornoro's two Stafford wins were 23 years apart. After he won in 1981, NEMA did not return until 2004 when he won again.


Modified drivers Gene Bergin, Geoff Bodine, Bugsy Stevens and Reggie Ruggiero have all had impressive runs with NEMA, Bergin actually owning two wins.

NEMA Winners at Stafford Motor Speedway
No. - Driver - First Win - Last Win
6 - Dave Humphrey - 1968 - 1973
5 -Lou Fray - 1967 - 1971
3 - Johnny Coy Sr. - 1967 - 1969
3 - Johnny Mann - 1972 - 1975
3 - Bobby Santos III - 2006 - 2008
2 - Nokie Fornoro - 1981 - 2004
2 - Ben Seitz - 2005 - 2006
2 - Jerry Wall - 1971 - 1972
One-time Stafford winners: Johnny DeLeo (1953), Ronnie Evans (1955), Jeff Horn (2005), Ray Roberts (1970), Erica Santos (2007).