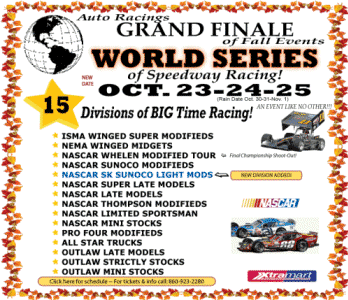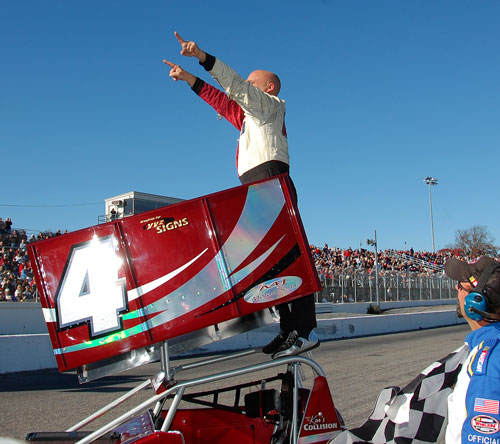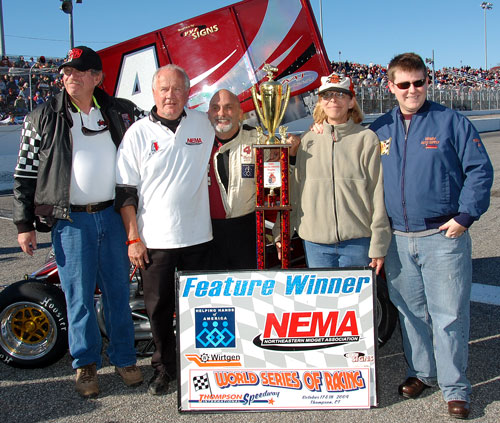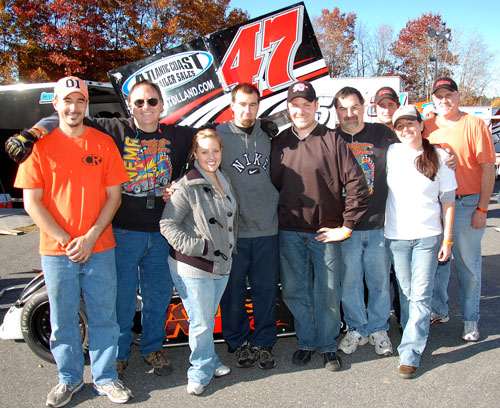 NEMA Feature - World Series - Sun. Oct. 25th
Pos.
#
Driver
Hometown
Owner
1
4
Nokie Fornoro
Stroudsburg, PA
Mike Jarret
2
A1
Jeff Horn
Ashland, MA
Jeff Horn
3
47
Randy Cabral
Plymouth, MA
Tim Bertrand
4
39
Cole Carter
Indianapolis, IN
Tim Bertrand
5
3m
Jim Miller
Weymouth, MA
Jim Miller
6
P30
Mike Horn
Ashland, MA
Mike Horn
7
99
Chris deRitis
Philadelphia, PA
Power Point
Race Cars
8
8w
Rich Gerbe
Franklin Sq., NY
Lee Gerbe
9
21
Abby Martino
Norfolk, MA
Joan Martino
10
9
John Zych Jr.
Mendon, MA
John Zych
11
2
Lee Bundy
Kennebunkport, ME
Lee Bundy
12
DNF
44
Erica Santos
Franklin, MA
Ed Breault
13
DNF
45
Russ Stoehr
Bridgewater, MA
Gene Angelillo
14
DNF
7ny
Adam Cantor
Dix Hills, NY
Cantor Racing
15
DNF
36
Corey Cleary
Plymouth, MA
Glen Cabral
16
DNF
47
Lanson Fornoro
Stroudsburg, PA
Glen Cabral
17
DNF
29
Bobby Santos III
Franklin, MA
Bobby Seymour
18
DNF
77
Doug Cleveland
Sudbury, MA
Mike Luggelle
Nokie Fornoro Takes Rifchin Trophy;
Cabral, Bertrand are Driver and
Owner Champions
Thompson, CT – Taking control on a lap 16 restart, Nokie Fornoro captured the 25-lap Northeastern Midget Association feature Sunday at Thompson Speedway's World Series. The Marvin Rifchin Trophy Race was the final outing for Fornoro's owner Mike Jarret.
Rifchin Trophy Story Below

The season finale, it was the 110th career Midget victory for Fornoro, 45 of them in NEMA including three this year.

A second straight driving championship all but secured going in, five-time winner Randy Cabral gave Tim Bertrand his second straight owners title with a third place finish. Bertrand finished with a four-point bulge on Jarret.

Fornoro beat leader Jeff Horn into the first turn on the restart. Cabral secured third on the restart as well, falling in behind Horn. The top three ran to the checkered followed by Cabral's teammate Cole Carter (Bertrand #39) and Jimmy Miller (Miller #3m).

"It is an emotional win," said Fornoro, pointing out his relationship with Jarrett "is a lot deeper than a owner/driver thing. I wanted this for him." He said he was "focused" on "getting the car to run the way I like it here. You have to go really hard in the corner to make it turn right."

"You live by the yellow and you die by the yellow," offered Horn who had a half-a-straightaway advantage when yellowed appeared. Running hot, he said the car "bogged down on the restart. I was a dead beat. It came back but it was too late."

Fornoro, who was also having motor problems ("there was smoke in the cockpit") said he was not happy with the yellow either. In the end, he added, it came down to just how fast the restart would be. It was pretty fast and I just took it in very hard. The car was set up for the middle and the top."

"It was the only time I went into one and the car actually stuck," said Cabral on the pass for third that wound up giving Bertrand the owner crown. "Once I realized how bad my car was and how good he was, I knew I had to keep Nokie in view."

Horn was the second leader. Russ Stoehr (Angelillo #45), who started sixth, had the lead before the race was a lap old. Stopped by a broken hose clamp, he gave up the lead to Horn on lap seven, the latter jumping out to a sizable lead.

Boxed in early, Fornoro actually dropped back from his seventh starting spot. "Once I got it up the race track I knew I could catch Russ and Jeff," he said. It didn't take him long to realize "I had the best car."

After a spirited three-lap battle with Miller, Fornoro moved into second on lap 12. He confident he'd catch Horn "maybe with two or three laps left."
Tribute To A Legend - Marvin Rifchin
at "We Did It for Love"
The Worlds Largest Drag Racing Photo & History Website
Tribute to Marvin at Thompson in July of 2006

Rifchin Trophy
Awaits NEMA Thompson Winner

Brockton, MA – The winner of the 25-lap Northeastern Midget Association feature at Thompson Speedway's World Series (Oct. 17-18) will come away with the inaugural Marvin Rifchin Memorial Trophy. The trophy race, originally scheduled for July 2 (a rain out), honors Rifchin, owner of M&H Tire and an integral part of NEMA from its inception in 1953. Rifchin died on June 3 at age 93.

"Everybody would like to have this one," says NEMA President Mike Scrivani Jr. "The number of people he touched directly, the influence he had on our club over the years is immense."

Defending champion and current point leader Randy Cabral leads NEMA into what is the club's first 2009 visit. Other contenders include Nokie Fornoro, Adam Cantor, Russ and Greg Stoehr and Jeff Horn. Cabral was the winner of the "Marvin Rifchin Appreciation event in 2006.

"We want to thank Thompson Speedway promoter Donald Hoenig for his participation in honoring Marvin," adds Scrivani.

Midgets and, soon after, stock cars, captured Rifchin's attention in the immediate post World War II era. Joining his father Harry in the tire recapping business, M&H (the H stands for Harry) became one of the first companies to make tires specifically for racecars.

More than willing to take on the tire-making giants (notably Goodyear and Firestone), Rifchin's influence throughout motorsports grew to epic proportions over some five decades. His association with legend Don Garlits is part of drag racing folklore. He played a major role in the Modified glory days of the 1960s and 70s.

Rifchin's contributions are evidenced by his membership in four Halls of Fame including NEMA's. He is in the National Hot Rod Association, the New England Auto Racing and the Specialty Equipment Manufactures Association (SEMA) halls as well.

"Still," says long-time NEMA car owner and official Bruce Beane, "Marvin stayed close to NEMA. He was part of the family. The M&H logo was part of NEMA's image for many years for many very good reasons."

Beane points out Rifchin was outgoing not only with his product but also with his time and his intelligence.

"Over the years a lot of guys raced because of Marvin's generosity," sums up 13-time owner champion Gene Angelillo. "He really had a special place in his heart for the competitor. Near the end of his life he was at a lot of our races and that was really good for NEMA. The guy loved the Midgets."

Thompson Always A Test For NEMA
Pointing out Thompson Speedway "separates the men from the boys" is both a "true" and a "tired" observation. It has been so for over half a century. It will continue when the Northeastern Midget Association's 25-lap Marvin Rifchin Trophy Race joins World Series festivities Oct. 24-25 with a 25-lap feature.

En route to victory in last fall's World Series, Randy Cabral had a fast lap of 17.620 in the Bertrand 47. How far have the speeds increased over the years at Thompson? In the fall of 1974 Dave Humphrey's 21.428 seconds qualifying run had everybody buzzing.

The race honors Rifchin, the tire manufacturer (M&H) who was a long-time contributor to NEMA. Rifchin Trophy Story Above

Cabral, defending driver champion and current point leader, will be looking for his eighth career win at Thompson (five in Bertrand equipment). He has won the past two World Series and three of the last six. The owners point race, however, holds the spotlight as Mike Jarret (and driver Nokie Fornoro) hopes to chase down Cabral's owner Tim Bertrand.

Although there have been exceptions, Thompson tends to favor the veteran competitors. Cabral, the all-time Thompson NEMA winner with seven, can also expect plenty of competition from Greg and Russ Stoehr, Adam Cantor and Jeff Horn, all winners this year.

USAC veteran Cole Carter, second at the Boston Louie, returns to the Bertrand stable. Carter will be in the car Ryan Newman drove to a second earlier this year at Lee USA Speedway.

"Thompson is a stand on it place," Tim Bertrand, "a test of both driver and car." Straightaway speeds are over 125 mph.

"You have to challenge the place but you have to show it the utmost respect too," says Fornoro, a four-time Thompson winner.

The Thompson NEMA win list, going back to a victory by Dutch Schaefer in 1960, is one of the most impressive in NEMA. "The good drivers have always looked forward to Thompson," says NEMA President Mike Scrivani Jr. "A Midget victory at Thompson looks very good on the resume."

Dave Humphrey, Hank Rogers Jr., Gene Bergin and Nokie Fornoro won at Thompson in cars owned and prepped by Mike Jr. and his legendary father.

Like the Scrivani family, the Stoehr brothers have a long Thompson history. Greg Stoehr's Thompson win, in the Zahar car back in 1993, came after a late-race pass of brother Russ. The brothers have not raced each other at Thompson since that day.

Gene Angelillo, Russ Stoehr's current owner, grabbed his 100th NEMA win at Thompson in 2000. Joey Payne Jr., in a backup car, passed Russ Stoehr with two to go.

NEMA Winners at Thompson
No. Driver - First Last
7 Randy Cabral - 2001 2008
6 Johnny Mann - 1972 1978
5 Drew Fornoro - 1985 2003
4 Johnny Coy Sr. - 1969 1981
4 Nokie Fornoro - 1982 2005
4 Armond Holley - 1976 1977
3 Bob Cicconi - 1978 1987
3 Ben Seitz - 2005 2007
3 Russ Stoehr - 1994 2002
2 Mark Buonomo - 2001 2004
2 Dave Humphrey - 1970 1971
2 Russ Klar - 1969 1972
2 Hank Rogers - 1980 1980
2 Bobby White - 1979 1979

One-time Thompson winners: Gene Bergin (1969), Lennie Boyd (1979), Kyle Carpenter (2002), Joey Coy (1992), Johnny Coy Jr. (1981),
Ryan Dolan (2002), Leigh Earnshaw (1979), Ronnie Evans (1970),
Mike Favulli (1989), George Ferguson Jr. (1978), Walt Gale (1968), George Monsen (1978), Joey Payne Jr. (2000), Bobby Santos III (2003)Dutch Schaefer (1960), Greg Stoehr (1993), Butch Walsh (1986),
Hank Williams (1960).
Cole Carter Back For Thompson
Cole Carter, a USAC Midget, Sprint Car & Silver Crown driver and part of one of American's greatest auto racing families, will return to the Northeastern \Midget Association at Thompson Speedway's World Series (Oct. 24-25).

Carter, the son of Midget legend Pancho Carter, will again be part of the Bertrand Motorsports stable. He had a second at Seekonk Speedway's Boston Louie in August. This time he will drive the No. 39 car that Ryan Newman drove to a second place at Lee earlier this year.

"He was really impressed with the winged Midgets and told us he would like to return," said owner Tim Bertrand. "We've been working on it ever sense." Carter led the first half of the Seekonk race.

The Carter and Bertrand families will "team up" for a trip to Phoenix International Speedway's Copper Classic in November. Carter, who finished third in Phoenix a year ago, will drive his own Beast chassis powered by one of Bertrand's engines.

The team, currently ahead in both the driver (Randy Cabral) and owner standings, has been busy throughout the season with "guest" drivers, the list also including Pete Skias and Teddy Christopher.