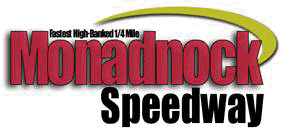 Winchester, NH - Saturday, May 23rd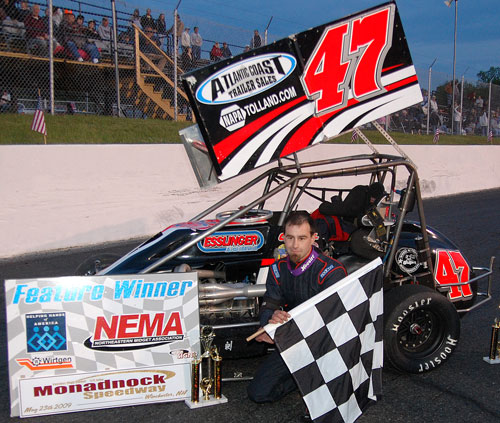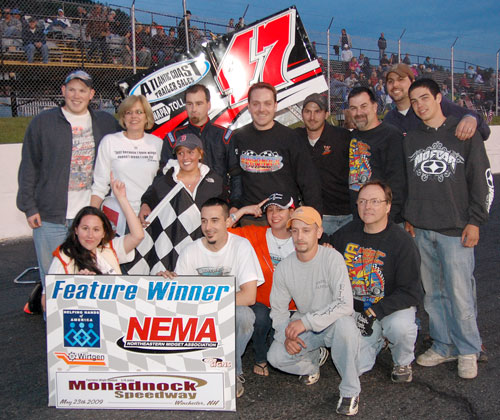 Feature - Monanock Speedway - Sat. May 23rd
Pos.
#
Driver
Hometown
Owner
1
47
Randy Cabral
Plymouth, MA
Tim Bertrand
2
63
Mike Keeler
Danbury, CT
TSR Motorsports Inc.
3
55w
Aaron Wall
Shrewsbury, MA
Wall Motorsports LLC
4
5
William Wall
Shrewsbury, MA
Wall Motorsports LLC
5
7ny
Adam Cantor
Dix Hills, NY
Cantor Racing
6
9
John Zych Jr.
Mendon, MA
John Zych
7
4
Nokie Fornoro
Stroudsburg, PA
Mike Jarret
8
39
Jeff Horn
Ashland, MA
Tim Bertrand
9
26b
Greg Stoehr
Bridgewater, MA
Greg Stoehr
10
87
Doug Cleveland
Sudbury, MA
Doug Cleveland
11
55s
Andy Shlatz
Enfield, CT
Mike Luggelle
12
2
Lee Bundy
Kennebunkport, ME
Lee Bundy
13
50
Neil Blatt
Holbrook, NY
Pete Pernisiglio
14
28
Paul Luggelle
Holbrook, MA
Paul Luggelle
15
DNF
99
Chris DeRitis
PA
Power Point
Race Cars
16
DNF
45
Russ Stoehr
Bridgewater, MA
Gene Angelillo
17
DNF
44
Erica Santos
Franklin, MA
Ed Breault
18
DNF
16
Matt O'Brien
Wilmington, MA
Jim O'Brien
19
DNF
30
Paul Scally
Raynham, MA
Paul Scally
20
DNF
22
Chris Leonard
Pelham, NH
Dave Leonard
21
DNS
77m
Jim Miller
Weymouth, MA
Mike Luggelle
Randy Cabral Grabs NEMA
Opener At Monadnock
Winchester, NH – Powering into the lead on a lap 17 restart, defending champion Randy Cabral won the 2009 Northeastern Midget Association season opener Saturday night May 23rd at Monadnock Speedway. Coming from the ninth starting spot, Cabral passed William Wall, the only other leader, and won going away.

Cabral, in the Bertrand #47, was sitting third when Wall (Wall #5) and Russ Stoehr (Angelillo 45), battling for the lead, tangled coming out of two, Stoehr winding up in the wall. The incident, which Cabral called "a racing accident" was "the turning point" of the race.

Sitting second when the green flew, Cabral, who scored his second straight season-opening win, pulled away heading down the backstretch. Two circuits later Cabral turned a 12.301, the fastest lap of the race.

Mike Keeler (Seaman #63) passed Aaron Wall (Wall 55w) for second on lap 19 and finished .713 of a second behind. William Wall wound up fourth followed by Adam Cantor (Cantor #7ny) and John Zych Jr. (Zynch #9).

It was the 22nd career win for Cabral but the first at Monadnock for him and for car owner Tim Bertrand. "It's a good feeling getting that monkey off our backs," said Cabral.

The Wall/Stoehr incident came on the second attempt to restart after the second caution. Stoehr had taken second from pole sitter Zych on a lap two restart. Cabral needed seven laps to move from ninth to third where he was "content," believing he "had nothing for the leaders."

But he also "had a feeling something was going to happen. I dropped back a little but I knew I had enough to catch back up if I had to. Still, catching up and passing are two different things."

"Randy just had a lot more steam," said William Wall who grabbed the immediate lead from pole sitter Zych. He beat a restart challenge from Zych on lap two and admitted to thinking "I might get a victory if there isn't another restart."

Cantor, forced to pit with a flat tire after a second lap incident with Jeff Horn, had an impressive run. Following Zych were Nokie Fornoro, Horn, Greg Stoehr, all in the lead lap. Doug Cleveland and Andy Shlatz came from deep in the starting field to claim tenth and 11th.

Russ Stoehr and Mike Keeler were the heat winners.
(During post race inspections, the #63 was disqualified due to a
violation of the newly adopted "maximum wing angle" rule for the 2009 season. After an appeal by TSR Motorsports to the NEMA Board, it was decided that the race finish and championship points would be reinstated, but a monetary fine & handicap point penalty were enforced.)

NEMA returns to action on Friday night June 26th at Lee USA Speedway with both the NEMA Midgets and the NEMA Lites.


More Shots from May 23rd at