William Wall Wins Lites Season Debut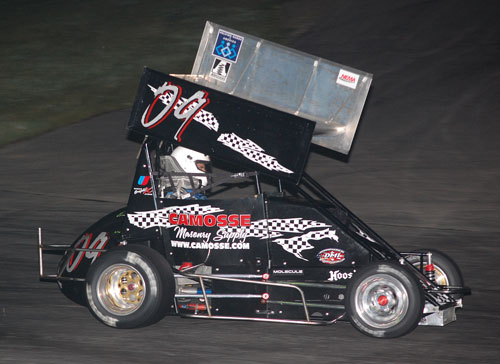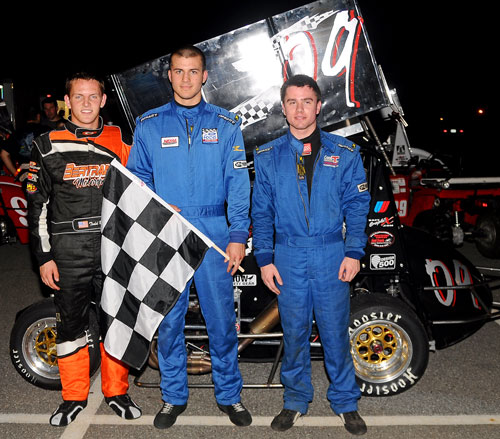 Todd Bertrand, 3rd; Winner William Wall; & Jake Stergois, 2nd.
Lites Feature - Seekonk Speedway - Fri. June 19th
Pos.
#
Driver
Hometown
Owner
1
09
William Wall
Shrewsbury, MA
Ron Doty
2
11
Jake Stergios
Candia, NH
Bill Stergios
3
48
Todd Bertrand
Suffield, CT
Tim Bertrand
4
51
Russ Wood Jr.
Pelham, NH
Russ Wood
5
22
Rick Hart
Nassau, NY
Rick Hart
6
47
Randy Cabral
Plymouth, MA
Glen Cabral
7
4
Anthony Marvuglio
E. Bridgewater, MA
Bobby Seymour
8
28
Paul Luggelle
Holbrook, MA
Paul Luggelle
9
29
Anthony Nocella
Woburn, MA
Matt Seymour
10
12
Edward LeClerc Jr.
Taunton, MA
Edward LeClerc Sr.
11
9
Joe Mikitarian
Northboro, MA
John Mikitarian
12
36
Eric Cabral
Manchester, NH
Glen Cabral
13
35
Glen Cabral
Plymouth, MA
Glen Cabral
14
93
Jake Smith
Stroudsburg, PA
Ted Smith
15
52
Kevin Park
Foxboro, MA
Kevin Park
16
DNS
00
Josh Woollam
Buzzards Bay, MA
Paul Luggelle
17
DNS
5c
Joey Chick
Hubbardston, MA
Bob Chick
18
DNS
33
Shawn Torrey
Marshfield, MA
Shawn Torrey
19
DNS
11w
David Rose Jr.
Keene, NH
David Rose Sr.
William Wall Wins
Lites Season Debut
The 2009 NEMA Lites season got underway at the June 19th "Fast Friday" night at Seekonk Speedway with William Wall taking the feature in Ron Doty's #09 Hawk/Focus.

The second campaign for the "Lites" opened with an impressive 19 cars on hand.

Coming from the fourth starting spot, Wall made an early pass around Randy Cabral, who was driving father Glen Cabral's #47 Stewart/Quad4. Contact with a lapped car with six laps remaining enabled rookie Eddie Leclerc to sneak into the lead. Wall then got the lead back when Leclerc spun into the infield with a lap remaining. Wall claimed his first-ever NEMA checkered.

Jake Stergios, who came from deep in the field, and Todd Bertrand, who recovered from an early spin, filled out the podium. Russ Wood Jr. and Rick Hart were fourth and fifth with Cabral holding on for sixth.
The Northeastern Midget Association's "Lites" division continues Friday night 6/26, joining their "older brothers" at Lee USA Speedway.
Historic Seekonk Hosts Lites Opener
Brockton, Ma - Seekonk, which hosted the first Northeastern Midget Association race in 1953, has a glorious history. In July of 1985, the USAC Midgets visited the "Cement Palace. Bobby Grim captured the pole with a 14.27 seconds run.

The NEMA Lites season opens Friday night at Seekonk and the times will be in the low 12 seconds. The "Lites" are part of the Fast Friday agenda.

Jake Stergios, Kevin Park, Todd Bertrand, Anthony Marvuglio, William Wall, Anthony Nocella, Chris Haskell and Russ Wood Jr. all figure to be on hand for the opener. Eddie LeClaire, a Whip City product, and Jake Smith from Reeders, PA are part of the newcomer class.

Designed as an economical avenue into NEMA, the Lites are powered by Ford Focus, Quad 4 or Honda motors. The Lites are tad over a second off the times of the full-powered NEMA cars at Seekonk.
Lites Return to Seekonk for Opener
Brockton, MA – It's the same time, the same place but two weeks later. Rained out June 5th, the Northeastern Midget Association "Lites" division now will kick off the 2009 campaign Friday night
June 19th at Seekonk Speedway.

Starting its second season, the "Lites" will be part of Seekonk's "Fast Friday" cast.

"There has been considerable interest in the Lites over the winter and we expect a pretty good car count," says NEMA President Mike Scrivani Jr. "We got a number of competitors returning and we've got some new teams joining. It's a good combination."

The "Lites" are designed to provide a more economical entry into NEMA. Ford Focus, Quad 4 or Honda motors power the cars.

Jake and P.J. Stergios, Kevin Park, Todd Bertrand, Anthony Marvuglio, Stephanie Doty and Russ Wood Jr. are among the returnees. Eddie LeClaire, a Whip City product, is part of the newcomer class.

Seekonk is the first race on a schedule that has already grown with the addition of Monadnock on Aug. 1.

Scrivani points to several factors responsible for the success of the division not the least of which is the participation of experienced hands including the Bertrand, Cabral and Seymour families. Shawn Torrey is another who has added his expertise to the division.

The Lites made three stops at Seekonk last season, Jesse State (2), and Shawn Gosselin getting away with victories.

NEMA "Lites" Set For Second Season
Brockton, MA - The second season for the Northeastern Midget
Association's "Lites" division will begin Friday night, June 5. The
Lites will be on the agenda of Seekonk's first "Fast Friday" race.

June 5th - Seekonk Speedway
NEMA LITES CANCELED DUE TO RAIN
- Lites Return to Seekonk on Fri. July 19th -
"A great place to open," says NEMA President Mike Scrivani Jr. who
continues Lites' praises. "Seekonk is one of the top Midget tracks in
the country and people go there with a lot of set-up knowledge." The
division, continues Scrivani, "was designed to provide a less-expensive
way for competitors to stay or get into open cockpit racing," he says.
"It has been very successful to date."

The Lites are less powerful and "a little heavier" than the full blown
NEMA midgets. The Honda joins the Ford Focus and Oldsmobile Quad 4 on the allowed engine list.

Seekonk is the first of 15 dates on the schedule that, according to
Scrivani, is likely to grow.

Jake Stergios, a winner in last year's finale at Twin State, will be
looking to start the way he finished. Others expected to return are
brother P.J. Stergios, Stephanie Doty, Russ Wood Jr, Kevin Park, Shawn Torrey, Anthony Marvuglio, Todd Bertrand in a Bertrand Motorsports car, and Paul Luggelle. Eddie LeClaire leads the rookie class.

Doty, a one-time Whip City Speedway competitor, is a classic "Lites"
competitor. After a season of "getting used to the asphalt," she's
"excited" about returning in the Camosse Masonry Supply #09 car. "Last year was such a big change," says Doty, who began in Go Karts at age 7. Still, she learned to "be comfortable" at the speedy Seekonk. It is, she insists, "a fun track."

Her best finish was a second at Waterford Speedbowl's Finale, a race
won by Todd Bertrand, youngest brother of 2008 NEMA championship car owner, Tim Bertrand.

"The goal is for some of the teams and drivers to become full time NEMA drivers," continues Scrivani. "That's going to happen down the road. Right now, in these difficult economic times, we are very pleased with what's happening."