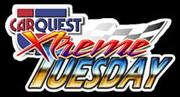 Stafford Motor Speedway - Stafford Springs, CT
Tuesday, July 8th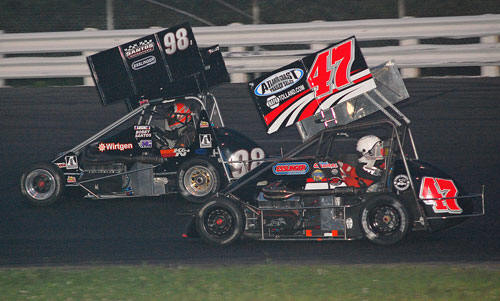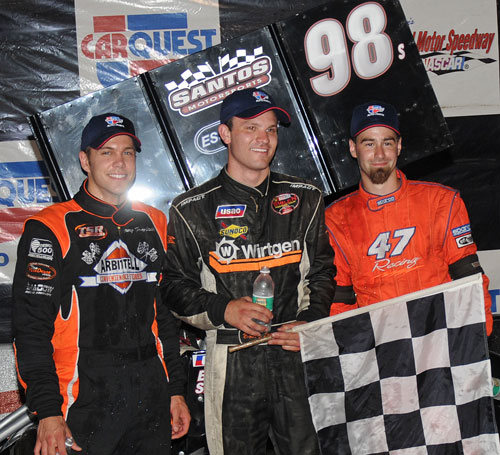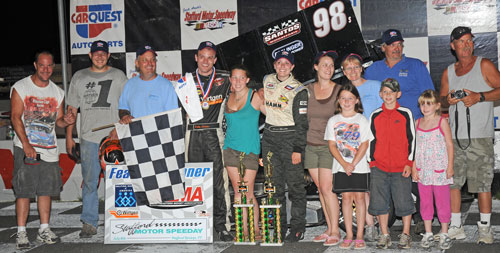 Bobby Santos III Continues Stafford Run
Coming from the 10th starting position, Bobby Santos III had the lead by lap 10 and went on to a convincing victory in the caution-free 30-lap Northeastern Midget Association feature at Stafford Motor Speedway's Carquest Xtreme Tuesday.

The second leader, Santos, in the family #98, took the inside route past Jeremy Frankoski (Seamon #63) heading into turn one and then held off Randy Cabral to post his second win of the season. He has won his last three Midget starts on the historic half mile. It was the fourth straight Stafford win for the Santos family, sister Erica winning last year.

"I had a real good car and there were no yellows which is unusual here," said Santos. "Randy has been the man to beat all year so this is good."

Frankoski held on for third with Jeff Horn (Horn #A1) and Erica Santos (Breault #44) completing the top five.

It was wild ride for Cabral. Starting 14th after dropping a valve in his heat and changing the head himself between the heat and feature, Randy followed Santos past Frankoski. Shortly after the midpoint, Santos and Cabral battled through lapped traffic a half-straightaway in front of third place Frankoski..

"I was taking my time in the beginning," said Santos. "I was watching the Jumbotron and I saw Randy was with me. I picked it up a little bit."

Santos and Cabral were nose to tail coming up on a lapped car in turn one on lap 23. Santos went low and Cabral was momentarily caught behind the lapped car. It resulted in a four-car length advantage Santos maintained to the checkered.

"This place is all about lapped traffic," explained Santos. While he claimed the move was not intentional, he did point out "it worked for me. You always try to use the lapped cars to your advantage as much as you can, try and pass them at the right times."

Cabral, who "actually gave up and didn't want to race," after the heat difficulty, was filled with accolades for the Bertrand crew. The Santos crew was equally busy after his heat "tightening up the car and making wing adjustments for more straightaway speed."

After a lap of side-by-side racing with John Zych Jr., Frankoski assumed the lead in the backstretch on lap two. By lap seven, Frankoski, Eric and Bobby Santos and Cabral were in a nose-to-tail situation. Santos and Cabral passed Eric through one and two on lap nine and a lap later moved past Frankoski.

Midweek action continues for NEMA, part of next week's "Open Wheel Wednesday" at Seekonk Speedway.
-
Stafford Motor Speedway - 7/8/08
Pos.
#
Driver
Hometown
Owner
1
98
Bobby Santos III
Franklin, MA
Robert Santos Jr.
2
47
Randy Cabral
Plymouth, MA
Tim Bertrand
3
63
Jeremy Frankoski
Huntingon Station, NY
TSR Motorsports Inc.
4
A1
Jeff Horn
Ashland, MA
Jeff Horn
5
44
Erica Santos
Franklin, MA
Ed Breault
6
26b
Greg Stoehr
Bridgewater, MA
Greg Stoehr
7
45
Joey Payne
Fairlawn, NJ
Gene Angelillo
8
29
Jeff Abold
Pennellville, NY
Bobby Seymour
9
4
Nokie Fornoro
Stroudsburg, PA
Mike Jarret
10
5
William Wall
Shrewsbury, MA
Wall Motorsports LLC
11
P30
Mike Horn
Ashland, MA
Mike Horn
12
9
John Zych Jr.
Mendon, MA
John Zych
13
77
Andy Shlatz
Enfield, CT
Mike Luggelle
14
77m
Mike Luggelle
Hull, MA
Mike Luggelle
15
87
Doug Cleveland
Sudbury, MA
Doug Cleveland
16
DNF
14
Kevin Park
Foxboro, MA
Paul Holmstrand
17
DNF
78
Brian Cleveland
Billerica, MA
Linda Cleveland
18
DNF
99
Aaron Wall
Shrewsbury, MA
Power Point
Race Cars
19
DNF
28
Paul Luggelle
Holbrook, MA
Paul Luggelle
20
DNS
2
Lee Bundy
Kennebunkport, ME
Lee Bundy
21
DNS
88
Abby Martino
Norfolk, MA
Joan Martino
22
DNS
50
Neil Blatt
Holbrook, NY
A&P Motorsports
23
DNS
7ny
Adam Cantor
Dix Hills, NY
Cantor Racing

Much NEMA History Written At Stafford

It's always a safe bet to assume some history will be made when the Midgets come to Stafford Motor Speedway. The Northeastern Midget Association visits the challenging half mile Tuesday night, part of Carquest 'Xtreme Tuesday. NEMA shares the menu with the International Supermodified Association and the Pro Four Modifieds.

"It is a premier facility to showcase the midgets," declares veteran Jeff Horn, one of four active drivers who have tasted a Stafford victory. The Santos family has held sway recently; Bobby III winning twice in 2006 while Erica became NEMA's first female winner a year ago.

Nokie Fornoro won way back in 1981, the last NEMA visit until the club returned in 2004 when he won again. All four return with full intentions of victory. "It's a racy place," continues Horn. "There is great visibility, wide corners and two full groves plus a little more if you want to use it."

Three-time winner Randy Cabral brings the NEMA point lead to Stafford. Joey Payne Jr., who has had three runner up finishes and an epic crash there, veteran Greg Stoehr, steady Adam Cantor, and '07 Rookie of the Year Jeremy Frankoski are other contenders.

Bobby Santos III won in both a Silver Crown and an un-winged Midget on the same night in '06. He won earlier that year in a NEMA Midget. Santos, who has also been successful in Modifieds and Supermodifieds, believes he has "an advantage" at Stafford.

"The trick with these cars is to get your tires on the apron," Santos says of Stafford. "That makes it turn." While Santos likes Stafford's "bigness," it's the "uniqueness" that excites him. "When you are comfortable at a place and you have a good car you feel like nobody can beat you," he says. He's had that feeling at Stafford before.

Fornoro, who agrees the inside ("on the flat") is the quick way around, says Stafford is "one of the toughest places we run. He will arrive full of questions. Back in 1981, driving the Scrivani #22, he picked the brains of Modified aces Bugs Stevens, Leo Cleary and Richie Evans and then went on to win. It was his first time on the track.

He talked to Ted Christopher when NEMA returned 23 years later and then drove the Don Berrio #2 to victory. That was a classic battle that also involved Christopher. "I'll talk to Teddy again," Nokie says. "I ask a lot of questions."

STAFFORD/NEMA NOTES – Stafford is a NEMA "charter member," hosting the club for the first time on Sept. 13, 1953. John Deleo was the winner…Jerry Wall's 1971 win in the "Yellow jacket" comes to mind when Stafford's NEMA history is discussed along with Johnny Coy Sr. passing modified star Geoff Bodine on the last lap in 1978…Dave Humphrey is the all-time NEMA winner at Stafford with six. Lou Fray has five.