Thursday - July 3rd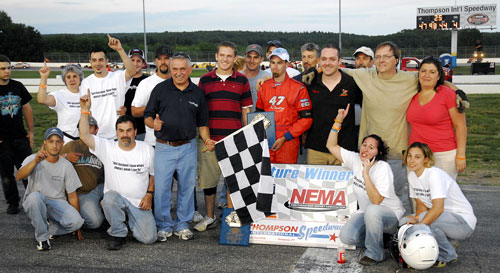 Thompson Winner Cabral
Acknowledges Fallen Friend
THOMPSON, CT-Randy Cabral made it to Victory Lane Thursday night at Thompson Speedway. The Bertrand #47 didn't. It was parked against the wall in turn three.

It was the third Northeastern Midget Association win of the campaign for Cabral. He took the lead shortly before the midway point and romped to victory. He then left the car near the spot where Shane Hammond suffered fatal injuries at the Icebreaker.

"I had to do that for Shane," said Cabral. "That was the last place I saw my buddy. It's a tough, tough night."

Pointing out the car was "bad all day," Cabral, who had a flat in his heat, told the crowd Hammond " helped me again. He was with me like he is every race."

Coming from the tenth starting spot, Cabral was sitting third when the only caution showed on lap 10. After a brief battle with Nokie Fornoro, he took the lead from Erica Santos, the only other leader, with an inside move heading into one with 12 gone.

He went on to finish with almost half-a-straightaway on Bobby Santos III (Santos #98). Erica Santos (Breault #45) held on for third followed by Fornoro (Jarret #4) and Joey Payne Jr (Angelillo #45). It was the 16th career victory for Cabral who passed Al Pillion, Mike Favulli and Joey Coy, all Hall of Famers, on the NEMA all-time win list. It was his sixth Thompson Speedway win, tying him with Johnny Mann atop that list.

Starting third, Erica Santos had the lead before the field hit turn one. Fornoro, who started fifth, and Jeremy Frankoski followed. A half straight behind the leader in fourth four laps in, Cabral took third away from Frankoski coming out of two on lap seven and was battling Fornoro for third when the yellow showed.

Bobby Santos III moved into fourth on the restart, took third from Fornoro on lap 13 and passed his sister in the backstretch with 10 laps remaining.

Cabral and Bertrand take a "comfortable" edge in the respective point standings into Tuesday's Open Wheel Extravaganza at Stafford Speedbowl.
Thompson Int'l Speedway - 7/3/08
Pos.
#
Driver
Hometown
Owner
1
47
Randy Cabral
Plymouth, MA
Tim Bertrand
2
98
Bobby Santos III
Franklin, MA
Robert Santos Jr.
3
44
Erica Santos
Franklin, MA
Ed Breault
4
4
Nokie Fornoro
Stroudsburg, PA
Mike Jarret
5
45
Joey Payne
Fairlawn, NJ
Gene Angelillo
6
63
Jeremy Frankoski
Huntingon Station, NY
TSR Motorsports Inc.
7
7ny
Adam Cantor
Dix Hills, NY
Cantor Racing
8
A1
Jeff Horn
Ashland, MA
Jeff Horn
9
P30
Mike Horn
Ashland, MA
Mike Horn
10
9
John Zych Jr.
Mendon, MA
John Zych
11
87
Doug Cleveland
Sudbury, MA
Doug Cleveland
12
2
Lee Bundy
Kennebunkport, ME
Lee Bundy
13
14
Kevin Park
Foxboro, MA
Paul Holmstrand
14
26b
Greg Stoehr
Bridgewater, MA
Greg Stoehr
15
28
Paul Luggelle
Holbrook, MA
Paul Luggelle
16
11
Mark Irving
Worcester, MA
Charles Camosse
17
50
Neil Blatt
Holbrook, NY
A&P Motorsports