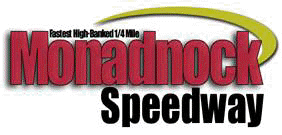 MAY 24th, 2008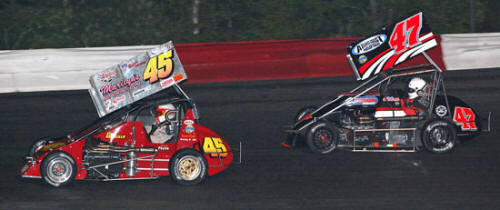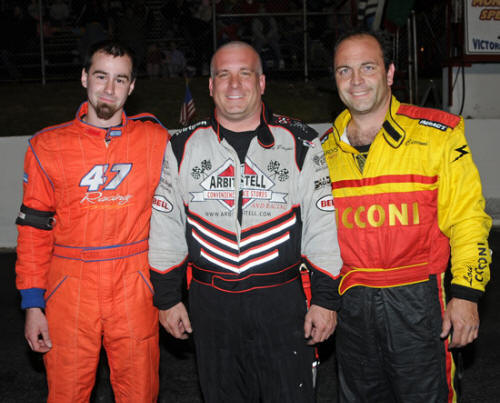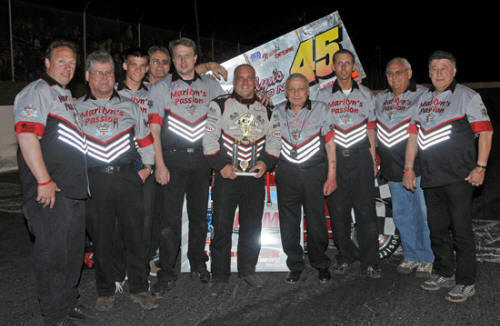 -
Monadnock Speedway - 5/24/08
Pos.
#
Driver
Hometown
Owner
1
45
Joey Payne
Fairlawn, NJ
Gene Angelillo
2
47
Randy Cabral
Plymouth, MA
Tim Bertrand
3
98
Lou Ciconni Jr.
Aston, PA
Robert Santos Jr.
4
29
Jeff Abold
Pennellville, NY
Bobby Seymour
5
21
Barry Kittredge
Marlboro, MA
Barry Kittredge
6
5
William Wall
Shrewsbury, MA
Wall Motorsports LLC
7
63
Jeremy Frankoski
Huntingon Station, NY
TSR Motorsports Inc.
8
28
Paul Luggelle
Holbrook, MA
Paul Luggelle
9
DNF
11
Mark Irving
Worcester, MA
Charles Camosse
10
DNF
44
Erica Santos
Franklin, MA
Ed Breault
11
DNF
99
Aaron Wall
Shrewsbury, MA
Power Point
Race Cars
12
DNF
26b
Greg Stoehr
Bridgewater, MA
Greg Stoehr
13
DNF
87
Doug Cleveland
Sudbury, MA
Doug Cleveland
14
DNF
88
Abby Martino
Norfolk, MA
Joan Martino
15
DNF
7ny
Adam Cantor
Dix Hills, NY
Cantor Racing
16
DNF
22
Chris Leonard
Pelham, NH
Dave Leonard
17
DNF
9
John Zych Jr.
Mendon, MA
John Zych
18
DNF
35
Kevin Park
Foxboro, MA
Glen Cabral
19
DNF
30
Paul Scally
Raynham, MA
Paul Scally
20
DNF
78
Brian Cleveland
Billerica, MA
Linda Cleveland
21
DNF
2
Lee Bundy
Kennebunkport, ME
Lee Bundy
22
DNF
50
Neil Blatt
Holbrook, NY
A&P Motorsports
23
DNS
4
Nokie Fornoro
Stroudsburg, PA
Mike Jarret
"Jersey Jet", Attrition Take Down Monadnock Wins
Monadnock, NH (May 24, 2008): Joey "the Jersey Jet" Payne of Fair Lawn, NJ, and Gene Angelillo's Dumo's Desire/Marilyn's Passion team survived both the competition and attrition this past Saturday night at Monadnock Speedway. It was the team's first 2008 win after strong finishes thus far, 2nd and 3rd respectively, in the Helping Hands of America sponsored series.
In the feature event, Doug Cleveland and Paul Scally brought the field down for the green flag. After a couple of failed attempts, the action became heated quickly as Greg Stoehr blasted from the sixth starting spot into the lead by lap two. Behind him, Adam Cantor in the IGA-The Reichert Group 7NY quickly took pursuit, along with Payne, who started seventh, Jeremy Frankoski in the TSR Motorsports 63, and Randy Cabral in the Bertrand 47, who started in the tenth position.
The ninth circuit, which took over 35 minutes and eight caution laps to complete, was the limiting factor for many of the teams in action. The action first started when second place runner Adam Cantor got into the back of leader Greg Stoehr, sending Cantor spinning in turn three. The next attempt highlight saw second year runner John Zych catch the wheel of the Seymour #29 with Jeff Abold aboard, sending Zych hard into the turn one fence. The next six attempts claimed victim to the Chris Leonard #22, Paul Scally's #30 and others.
On the final lap 9 restart, Joey Payne jumped into the lead.
When the field finally resumed the race, three laps into a long green flag run, fuel mileage based attrition became the issue. Greg Stoehr began sputtering on lap fourteen and retired on lap fifteen out of fuel. Within the next three circuits, fuel would claim victim to the popular Erica Santos in the Breault 44 and others.
Payne began to stretch out his lead to nearly a straightaway by lap seventeen, when Randy Cabral in the Bertrand 47 broke free from the pack and began to mount a challenge for his third consecutive 2008 win. By lap twenty one, Cabral had caught Payne and tried the inside groove in turn three. The wily veteran would have nothing of the sort, shutting the door on Cabral, who then tried the high line around Payne in turn one.
With Payne in command and Cabral in hot pursuit, the two entered heavy lap traffic with three circuits remaining, including several running slowly with low fuel. Payne worked the traffic masterfully and to his advantage, lapping up to the fourth place car, and would go on to take down the win, with Cabral finishing a car length behind. Only six cars behind Payne and Cabral finished, with Lou Cicconi Jr. in the Santos 98 finishing third followed by Jeff Abold in the Seymour 29, Barry Kitteredge, William Wall, Frankoski, Paul Luggelle, Mark Irving and Erica Santos.
"I could hear the engine starting to skip and sputter with two or three laps to go," said a relieved, but elated Payne. "I knew that in another lap, we were going to be out of fuel. We must have timed this one just perfectly, as we ran out of fuel shortly after the start/finish line," concluded Payne.
Payne sits a mere 22 points behind Cabral in the Driver's standings (578 to 556) as NEMA resumes its schedule on June 27th at the Lee USA Speedway.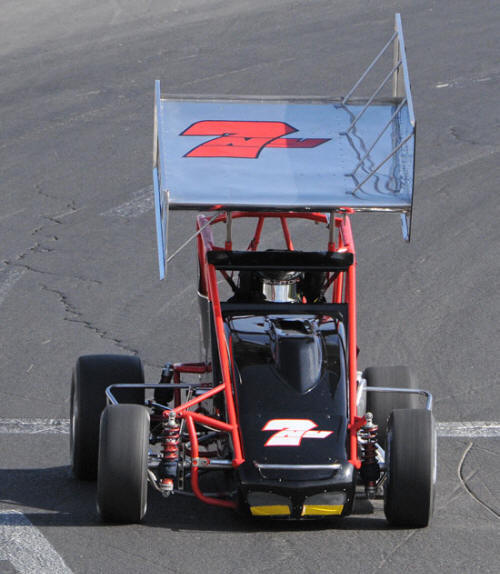 Adam Cantor Heads to Monadnock
in the #7ny
Sometimes Adam Cantor, 23, just can't figure where he belongs in the Northeastern Midget Association hierarchy. Still young, he is currently in his eighth NEMA campaign.

"I consider myself a veteran," he says, quickly admitting he "doesn't have the race wins to be in the Randy Cabral, Joey Payne Jr. or Nokie Fornoro category." He has two victories and, he declares, the "main goal is to get more."

NEMA heads to Monadnock Saturday (May 24) and Cantor is optimistic. "Monadnock is definitely a driver's track and I feel like I do well on driver's tracks," he says.

"Turns one and two are unique because you can go wide open all the way through," he continues. "You've got a couple of race grooves and then the backstretch gets real bumpy. You're kind of all over the place. Then three and four is like a hairpin almost. Everybody kind of stacks up and you've got to position yourself very carefully." It demands, he says, "a lot of finesse with the throttle."

Fourth and sixth so far this season, Cantor is almost starting anew in '08 after a devastating, season ending crash at Seekonk last year. It was, he says, "a wake up call" and the team returned committed to "keep digging it out." He feels having noted Midget mechanic Jim Reider involved along with a strong IGA sponsorship makes the family team a contender – one of several cars capable of winning.

"Reider was with us when we crashed at Seekonk," Cantor says. "He took it back to Indiana and put together the car we have now. He's taken us under his wing." The car is MOPAR powered.

Cantor is the last member of the heralded "young guns" class of '01 still with NEMA. The group also included Kyle Carpenter and Ryan Dolan. It was hardly easy going racing against veterans like Bobby Seymour, Drew Fornoro, Russ Stoehr, Jeff Horn and a young hotshot named Randy Cabral.

"I'm still young but I feel I can still help people out," says Cantor, who last won at Adirondack in 2005. We've been through a lot, especially those first few years when he struggled. The rookies come in, I see their heads down, I go over and say 'hey, I've been there.'"

NEMA, he says, "is, on average, 10 to 15 miles an hour faster everywhere we go over the last eight years," Cantor points to the last run at Waterford Speedbowl where the top six all turned high 12 to low 13 seconds laps. He attributes that to chassis and motor technology. "Right now," he says, "it's all about carrying the speed through the corners. If you can do that, you are going to do OK."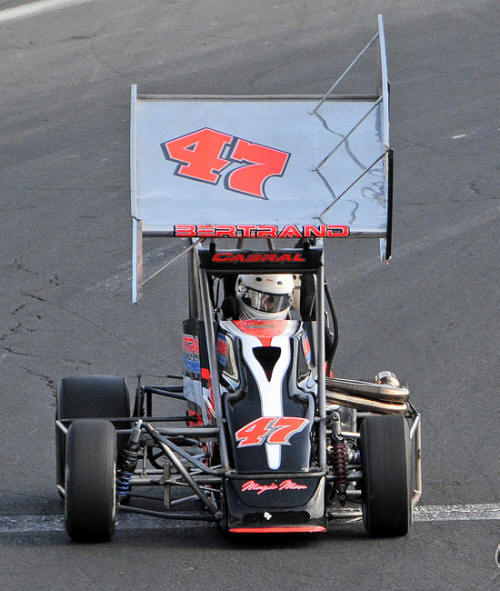 More History Awaits Cabral
at Monadnock

Two-for-two so far with a couple of victories at Waterford Speedbowl, Randy Cabral is still not ready to declare himself a contender for the Northeastern Midget Association championship. He is, however, the driver to watch when NEMA pulls into Monadnock Speedway on Saturday, May 24.

Monadnock is one of the "trickiest" venues on the NEMA schedule. The club returned there last year after a 10-year hiatus and it was a trio of veterans – Greg Stoehr, Jeff Horn and Nokie Fornoro – that filled the podium. Nokie, a winner back in 1981, is the only other current NEMA driver with a Monadnock win.

While he still believes his new job – a custodian for the Plymouth, MA school system – may cause some conflicts with race dates, he is not unmoved by making history. Three straight wins have not happened a lot in NEMA's long history. The last to do it was Horn back in 1993.

Since then six drivers, including Cabral, have won two straight. Russ Stoehr did it five times.

Gene Angelillo's "Marilyn's Passion" team has had incredible success at Monadnock. Prior to '05, the track hosted NEMA 22 times and Drew Fornoro won 12 of them. Pointing out "it is without doubt a driver's track," Angelillo is quick to credit Fornoro.

Joey Payne Jr., second and third so far this season, hopes to add to Angelillo's Monadnock success.

Payne, Stoehr and Fornoro take what they hope will be championship campaigns to Monadnock. Unlike most of the stops, a large share of the NEMA competitors do not have extensive experience at Monadnock.

Bobby Santos III, no stranger to answering new challenges, will be a competitor to watch, as will sister Erica and Adam Cantor.

NEMA has raced only at Waterford to this point but it is apparent many teams are at the top of their game. Cabral's 12.742 seconds lap captured the spotlight. He had seven sub-13 seconds laps in the feature. Three others – Bobby Santos III, Erica Santos and Greg Stoehr – had at least one.