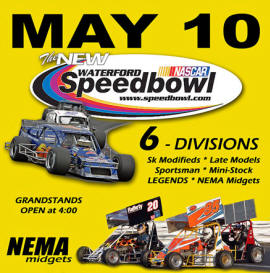 Keith Cyr Graphic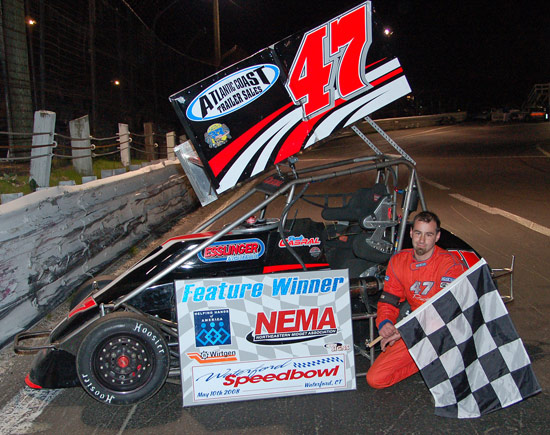 Motivated Cabral Romps At The 'Bowl

Randy Cabral may have missed his calling. Now two-for-two after a dominating performance in the Northeastern Midget Association 25-lap feature Saturday night at Waterford Speedbowl, he should consider motivational speaking. He's good at finding reasons to win.

Grabbing the lead from Joey Payne Jr. on a lap two restart, Cabral absolutely ran away in the Bertrand #47. Only a yellow with 12 to go delayed Cabral's rush to victory. He again powered away from Payne. His time for lap 16 was a sizzling 12.742 seconds.

"Pretty good," understated Cabral who had a half straightaway on Bobby Santos III at the checkered. Santos cleared sister Erica on the last restart and took second from Payne in the backstretch with three left. Erica Santos and Greg Stoehr completed the top five.

"I hope I didn't stink up the show," said Cabral, insisting he did not know just how far back Payne and Santos were. "You don't give those guys anything," he said. "You run every lap like it was the last one."

Aware it was Mothers Day eve, Cabral "really wanted to win for [owner} Tim. His mother Marilyn passed away over the winter. He was so strong through that ordeal and I wanted this for Tim, for Gil and for Marilyn."

He "wanted it" as well for Deb Marvuglio, the late Shane Hammond's mother, and for his own mom Marie "who has put up with a lot from me."

It was the 15th career win for Cabral, tying him with Joey Coy, one of his "all-time heroes. I grew up watching Joey Coy. I idolized Joey Coy and to tie him is unbelievable." It was also his sixth Speedbowl, tying him in that category with Drew Fornoro.

Starting 10th, Bertrand told Cabral he would be "ecstatic" with a top five. Payne, who started sixth, and Cabral moved through a second lap scramble to first and third respectively with Erica Santos second.

The car, Cabral said, "went away in the heat" and Bertrand made two "very small changes (he put some air pressure in the right rear and took a tiny bit of rebound out of the left rear) for the feature." Late in the race, he "thought my right rear was going away because the car was skating around on me. I think it was actually my not driving it in hard enough. The harder I drove it in, the better it handled."

Monadnock Speedway is the next stop for NEMA on Saturday night, May 24.
Waterford Speedbowl - 5/10/08
Pos.
#
Driver
Hometown
Owner
1
47
Randy Cabral
Plymouth, MA
Tim Bertrand
2
98
Bobby Santos III
Franklin, MA
Robert Santos Jr.
3
45
Joey Payne
Fairlawn, NJ
Gene Angelillo
4
44
Erica Santos
Franklin, MA
Ed Breault
5
26b
Greg Stoehr
Bridgewater, MA
Greg Stoehr
6
7ny
Adam Cantor
Dix Hills, NY
Cantor Racing
7
5
William Wall
Shrewsbury, MA
Wall Motorsports LLC
8
9
John Zych Jr.
Mendon, MA
John Zych
9
11
Mark Irving
Worcester, MA
Charles Camosse
10
22
Chris Leonard
Pelham, NH
Dave Leonard
11
63
Jeremy Frankoski
Huntingon Station, NY
TSR Motorsports Inc.
12
30
Paul Scally
Raynham, MA
Paul Scally
13
DNF
28
Paul Luggelle
Holbrook, MA
Paul Luggelle
14
DNF
87
Doug Cleveland
Sudbury, MA
Doug Cleveland
15
DNF
77
Shawn Torrey
Marshfield, MA
Mike Luggelle
16
DNF
4
Nokie Fornoro
Stroudsburg, PA
Mike Jarret
17
DNF
35
Kevin Park
Foxboro, MA
Glen Cabral
18
DNF
2k
Kelly Ferrell
Chaplin, CT
John Ferrell
19
DNF
2
Lee Bundy
Kennebunkport, ME
Lee Bundy
20
DNF
P30
Mike Horn
Ashland, MA
Mike Horn
21
DNS
88
Abby Martino
Norfolk, MA
Joan Martino
22
DNS
78
Brian Cleveland
Billerica, MA
Linda Cleveland
NEMA Returns to Speedbowl

Idle the past three weeks, the Northeastern Midget Association returns to Waterford Speedbowl Saturday night. Rain washed out Seekonk Speedway's opener last weekend but it failed to cool the ambitions of the NEMA drivers.

A trio of announced championship contenders – veterans Joey Payne Jr., Nokie Fornoro and Greg Stoehr – are anxious to continue their bids on what many consider the premier Midget track in the east. Payne and Stoehr were second and third at the Speedbowl back at the Modified Nationals on April 12th in the only feature NEMA has run so far this season.

All three agree, there is great equity in NEMA and "catch up" is a most difficult game to play in point chasing. "You don't want to fall too far behind on the track or in the standings," says Payne. "You have to go to the front as quickly as possible especially at the Speedbowl."

Although he is not a championship contender, the winner at the Nationals – Randy Cabral – is right where he wants to be. He insists his goal every year is at least one victory and everything else is icing on the cake. Based on laps in the 12.8 range a month ago, Cabral and the Bertrand #47 is the combo to beat.

Cabral set a new standard with a 12.848 circuit. Speeds at the Speedbowl have soared this year in all divisions and the Midgets return with great anticipation. Is more speed possible?

Erica Santos, who became NEMA's first female winner last season at Stafford, brings her quest for that all-important second triumph. She appeared to be headed for it in the Breault #44 before rain interrupted the show at the Nationals. Admitting to a mistake on the resumption of the feature, she is all the more determined.

Adam Cantor and William Wall return after impressive runs – fourth and sixth – at the Nationals.

Erica and Bobby Santos III are very popular at the Speedbowl as is Fornoro, the latter seeking his first championship in over 20 years. Fornoro's Mike Jarret #4 had troubles at the Nationals. He was, however, impressive in his heat and he returns with great anticipation.

Jeremy Frankowski, now is the Seamon #63, is another who hopes to erase breakdown memories at the Modified Nationals.