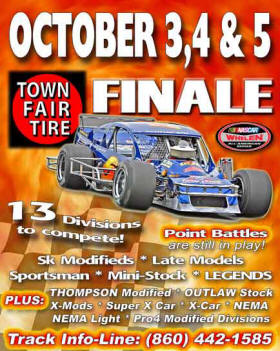 Keith Cyr Graphic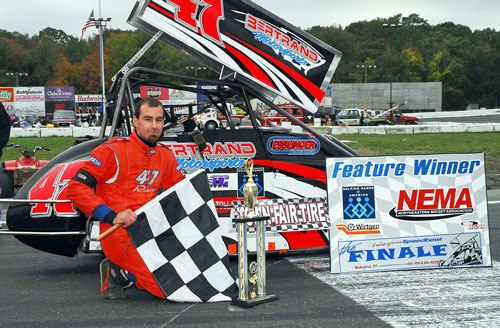 Cabral Leads Bertrand Sweep
at Speedbowl Finale
Taking the lead on lap 11, Randy Cabral breezed to a dominating victory in the 25-lap Northeastern Midget Association feature at Waterford Speedbowl's Finale. It was the sixth win of the season for Cabral, four of them at the Speedbowl.

It capped a complete sweep for owner Tim Bertrand who moved back into the owners point lead. Jeremy Frankoski (Bertrand 47b) was second on Sunday while Todd Bertrand (Bertrand 48) captured Saturday night's 25-lap NEMA Lites feature.

Starting fifth, Cabral moved past Erica Santos, the only other leader, in traffic through turns one and two. Only a caution with nine remaining slowed Cabral who posted a fast lap of 12.600 seconds.

Frankoski took full advantage of the yellow. Following the restart, he battled Santos for six laps before passing her out of four with three left. Adam Cantor was fourth with Jeff Abold fifth. Cabral's winning margin was a "comfortable" 1.547seconds.

"We set up for the bottom," said Cabral. "I got into lapped traffic, went to the outside and it stuck like glue." Starting fifth, he was third by lap three and passed Jeff Horn for second with 17 remaining.

Frankoski, who started 10th, just missed being involved in the only caution that involved Nokie Fornoro and Horn (they wound up against the third-turn ARMCO). "I just missed Nokie by inches," he said. "I went by him and when I didn't hear anything I knew I was OK. I was really lucky."

"The Bertrand cars have been great all season so this is like a win for me," says Erica Santos. The top three cars ran sub-13 seconds laps – Frankoski at 12.855 and Erica at 12.938.

The win ended a bad run for Cabral and Bertrand who had an eighth and a "dead last" in the two previous races. That enabled Bob Santos Jr. to move in the point lead.

Experiencing troubles in Saturday's heat, Bobby Santos III started 24th and drove his father's #98 to eighth place.

NEMA and the Lites get right back into action Saturday and Sunday at the D.Anthony Venditti Memorial at Seekonk Speedway.
Waterford Speedbowl Finale - 10/5/08
Pos.
#
Driver
Hometown
Owner
1
47
Randy Cabral
Plymouth, MA
Tim Bertrand
2
47b
Jeremy Frankoski
Huntington, NY
Tim Bertrand
3
44
Erica Santos
Franklin, MA
Ed Breault
4
7ny
Adam Cantor
Dix Hills, NY
Cantor Racing
5
29
Jeff Abold
Pennellville, NY
Bobby Seymour
6
26b
Greg Stoehr
Bridgewater, MA
Greg Stoehr
7
45
Joey Payne
Fairlawn, NJ
Gene Angelillo
8
98
Bobby Santos III
Franklin, MA
Robert Santos Jr.
9
63
Mike Keeler
Danbury, CT
TSR Motorsports Inc.
10
5
William Wall
Shrewsbury, MA
Wall Motorsports LLC
11
9
John Zych Jr.
Mendon, MA
John Zych
12
A1
Jeff Horn
Ashland, MA
Jeff Horn
13
88
Abby Martino
Norfolk, MA
Joan Martino
14
87
Doug Cleveland
Sudbury, MA
Doug Cleveland
15
77m
Jim Miller
Weymouth, MA
Mike Luggelle
16
78
Brian Cleveland
Billerica, MA
Linda Cleveland
17
77
Andy Shlatz
Enfield, CT
Mike Luggelle
18
2
Lee Bundy
Kennebunkport, ME
Lee Bundy
19
16
Matt O'Brien
Wilmington, MA
Jim O'Brien
20
21
Barry Kittredge
Marlboro, MA
Barry Kittredge
21
28
Paul Luggelle
Holbrook, MA
Paul Luggelle
22
4
Nokie Fornoro
Stroudsburg, PA
Mike Jarret
23
30
Paul Scally
Raynham, MA
Paul Scally
24
11
Ronnie Yuhas Jr.
Waterford, CT
Charles Camosse
25
99
Aaron Wall
Shrewsbury, MA
Power Point
Race Cars
26
DNS
P30
Mike Horn
Ashland, MA
Mike Horn
27
DNS
57
P.J. Stergrios
Candia, NH
Bill Stergios
NEMA Heat 1
44 - E. Santos
63 - Keeler
7ny - Cantor
4 - Fornoro
29 - Abold

NEMA Heat 2
47 - Cabral
26 - Stoehr
47b - Frankoski
45 - Payne
A1 - Horn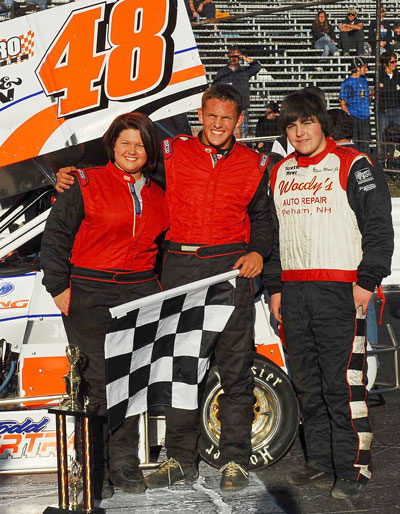 NEMA Lites Top Three: Stephanie Doty, 2nd;
Winner Todd Bertrand, & Russ Wood Jr., 3rd.
Todd Bertrand grabbed the lead from Anthony Marvuglio with 16 laps left and went on to dominate the 25-lap NEMA Lites caution-free feature. Stephanie Doty got Marvuglio with 13 remaining and held on for second. Russ Wood Jr., Marvuglio and Jesse State completed the top five in the caution-free race.

Pointing out SAT exams kept him from working on the car during the week, Bertrand thanks his father Gil and brother Tim. "Even after having changed a few things," he said, "the car was just awesome. I'm really glad to be here – it feels great."
Lites - Waterford Speedbowl Finale - 10/4/08

Pos.
Car #
Driver
Owner
1
48
Todd Bertrand
Tim Bertrand
2
09
Stephanie Doty
Ronald Doty
3
51
Russ Wood Jr.
Russ Wood
4
35
Anthony Marvuglio
Glen Cabral
5
18
Jesse State
Jim State
6
11
Jake Stergios
Bill Stergios
7
33
Shawn Torrey
Shawn Torrey
8
5c
Joey Chick
Bob Chick
9
34
R.J. Turfano
Rich Durso
10
52
Kevin Park
Kevin Park
11
20
Chris Haskell
Andy Shlatz
12
28
Paul Luggelle
Paul Luggelle
13
-
Steve Powers
-
14
-
Randy Cabral
Glen Cabral
Heat 1 Winner: Paul Luggelle
Heat 2 Winner: Shawn Torrey
---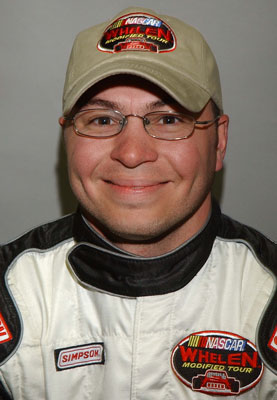 Yuhas Makes Midget Debut
at Speedbowl's Finale
Ron Yuhas Jr., one of the Waterford Speedbowl's most accomplished drivers, will be driving Chuck Camosse's Esslinger-powered #11 in Northeastern Midget Association action at this week's Finale.

NEMA will qualify on Saturday. The 25-lap features will be part of Sunday's busy program. Yuhas, who has won in both SK-Modified and Late Model competition this summer, is a definite contender in the 100-lap SK feature.

Yuhas' knowledge of the track (19 career wins), ability to handle speed and experience in Quarter Midget racing were all factors in securing the ride. Mark Irving and veteran Howie Bumpus drove the car earlier this year.

The Speedbowl is generally regarded as the top midget track in the east and Yuhas has been watching them for many years. He has been actively seeking a Midget ride for the past couple of years.

"NEMA is really excited for Ron," said Vice President Tim Bertrand, a one-time Quarter Midget competitor and fellow Bryant College Alum.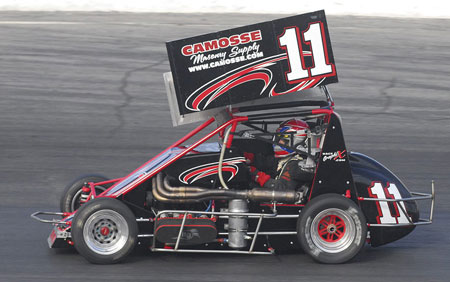 ---
NEMA Owners Points Battle
Headed To Speedbowl
The squeaky tight NEMA owners points battle moves to Waterford Speedbowl's Town Fair Tire Finale this weekend, Oct. 4th & 5th. It's like going home for NEMA and it's a good bet Randy Cabral is feeling pretty good about it. "Every time I see the Speedbowl on the schedule I just smile," he says.

Cabral's owner Tim Bertrand trails Bob Santos Jr. by 13 in the owner standings. Bobby Santos III drives for his father. Cabral and Santos have nine wins between them this season, five for Cabral whose "dream season" includes three Speedbowl wins.

Both Santos and Cabral are "comfortable" at the Speedbowl. Santos has won four times there including his first-ever NEMA success. Cabral has a record seven wins and owns the unofficial single-lap record – a 12.74 set earlier this year.

Gene Angelillo will go into Sunday's 25-lap feature 56 points off the lead. Angelillo's driver Joey Payne, who has three career Speedbowl wins, has had three podium finishes this year.

"You couldn't ask for a better place for the showdown to begin," says NEMA President Mike Scrivani Jr. "I guess it's been overused, the saying 'there are no secrets left at the Speedbowl' but it's right on. Everybody seems to be the best they can be at the Speedbowl. Randy and Bobby have both run sub 13 seconds laps there this year. Greg Stoehr and Erica Santos have too."
"Not looking past two or three cars in this club is a mistake," cautions Cabral pointing to Stoehr's victory earlier this year. Erica Santos (Breault 44), Nokie Fornoro (Jarret 4) and Mike Keeler (TSR 63) have all had excellent Speedbowl runs this year. Keeler has won in the past at the 'Bowl.

The Finale will be the 79th NEMA feature at the Speedbowl going back to the club's initial season – 1953. The third-mile is generally considered one of the premier Midget facilities in the east.

The NEMA Lites will be at the "Finale" as well. All qualifying will be on Saturday. The Lites feature will be Saturday night while NEMA joins the Speedbowl's SK-Modifieds, Late Models, Sportsman and Mini Stock divisions on Sunday. A Pit Party at 10:30 am precedes Sunday's action.

The 'down home' feeling will continue for NEMA with stops at Seekonk Speedway's DAV Oct. 11-12 and Thompson Speedway's World Series Oct. 17-18-19. Rained out last weekend, the NEMA season will now end at Twin State Speedway's New England Outdoor Furnace Open Wheel Sunday Sept. 28.