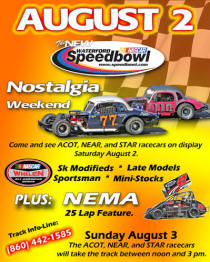 Keith Cyr Graphic
Nostalgia Weekend - Sat. Aug. 2nd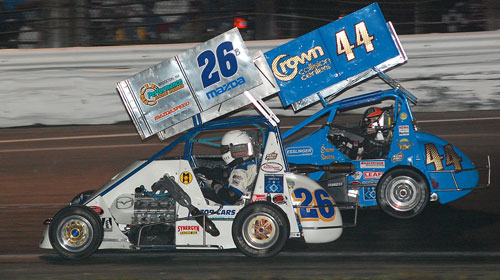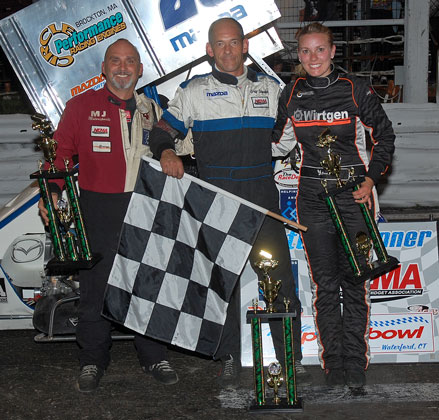 Stoehr Breezes to Speedbowl Victory
Waterford, CT - Coming from the fourth starting position, Greg Stoehr had the lead halfway down the front straightaway and went to score a 25-lap Northeastern Midget Association victory Saturday night at Waterford Speedbowl. He is NEMA's fifth winner this season.

Only two cautions slowed down Stoehr's run to his seventh career victory. Driving the Mazda-powered family-owned #26b, he finished eight-tenths of a second ahead of Erica Santos (Breault #44) who ran second for all but one lap. Nokie Fornoro (Jarret #4) was a second-and-a-half back in third.

"I knew if I could get in front quickly everything would be OK," said Stoehr. "On this track where everybody runs so well you've got to get to the front as soon you can and be real consistent." Getting a great run out of two, he blasted past pole-sitter Doug Cleveland before the race was a lap old.

Santos, who started sixth, grabbed second on the first restart just a lap in. "It took [my car] a couple laps to get going," she said. "Greg got away from me." It actually happened twice.

The second yellow with 15 laps left wiped out Stoehr's large lead. Fornoro stormed from sixth to third with a daring outside run but Stoehr was quickly back in command with Santos in second.

"Watching the scoreboard" Stoehr knew he was in command. He "couldn't hear the #44 behind him" and "didn't see Randy (Cabral), Bobby (Santos) or Joey (Payne.)"

Adam Cantor (Cantor 7ny) claimed fourth with Payne (Angelillo 45) fifth. William Wall, Mike Keeler, Cabral, John Zych Jr. and Aaron Wall completed the top 10.

Pointing out "we've been chasing the chassis all year," Stoehr said he and brother Russ "finally figured out what the car wanted." He turned the only sub-13 seconds lap (12.983) a fact influenced by the lack of practice time.

The Stoehr family hopes to take the momentum in Saturday's Boston Louie Seymour Memorial Classic at Seekonk Speedway. "Everybody wants that one," Stoehr said of the biggest race on the NEMA schedule.

NEMA NOTES: Stoehr made special mention of Bruce Beane, the force behind his Mazda power, in Victory Lane… It was Stoehr's first Speedbowl checkered, joining an ever-expanding win list that includes his brother…It was the second straight third place finish for Fornoro who said the Jarret team continues to gain on motor troubles…Cabral's Speedbowl win streak ended at three. He was never a factor…NEMA returns to the Speedbowl on Aug. 16 as part of the Racing Against Cancer Wings and Wheels event.
-
Waterford Speedbowl - 8/2/08
Pos.
#
Driver
Hometown
Owner
1
26b
Greg Stoehr
Bridgewater, MA
Greg Stoehr
2
44
Erica Santos
Franklin, MA
Ed Breault
3
4
Nokie Fornoro
Stroudsburg, PA
Mike Jarret
4
7ny
Adam Cantor
Dix Hills, NY
Cantor Racing
5
45
Joey Payne
Fairlawn, NJ
Gene Angelillo
6
5
William Wall
Shrewsbury, MA
Wall Motorsports LLC
7
63
Mike Keeler
Danbury, CT
TSR Motorsports Inc.
8
47
Randy Cabral
Plymouth, MA
Tim Bertrand
9
9
John Zych Jr.
Mendon, MA
John Zych
10
99
Aaron Wall
Shrewsbury, MA
Power Point
Race Cars
11
11
Howie Bumpus
Lakeville, MA
Charles Camosse
12
77
Andy Shlatz
Enfield, CT
Mike Luggelle
13
21
Barry Kittredge
Marlboro, MA
Barry Kittredge
14
87
Doug Cleveland
Sudbury, MA
Doug Cleveland
15
35
Lee Bundy
Kennebunkport, ME
Glen Cabral
16
14
Kevin Park
Foxboro, MA
Paul Holmstrand
17
98
Bobby Santos III
Franklin, MA
Robert Santos Jr.
18
28
Paul Luggelle
Holbrook, MA
Paul Luggelle
19
78
Brian Cleveland
Billerica, MA
Linda Cleveland
20
DNF
75
Lou Cicconi Jr.
Aston, PA
Lou Cicconi Jr.
21
DNF
94
Jim Peruto
Doylestown, PA
Jim Peruto
22
DNF
29
Jeremy Frankoski
Huntington, NY
Bobby Seymour
23
DNF
77m
Mike Luggelle
Hull, MA
Mike Luggelle
24
DNS
88
Abby Martino
Norfolk, MA
Joan Martino
---
NEMA Ideal Compliment To Bowl's Nostalgia Event
Nothing can more appropriate than the Northeastern Midget Association on Waterford Speedbowl's "Nostalgia Weekend" agenda. The NEMA-Speedbowl relationship dates back to 1953, the club's initial campaign.

The Speedbowl's Midget connection goes back to its first year, 1951. The win list at the 'Bowl starts with the legendary Johnny Thomson.

A 25-lap NEMA feature will share Saturday's bill with the Speedbowl's SK-Modifieds, Late Models, Sportsman and Mini Stocks.

The weekend also features the Atlantic Coast Old Timers (ACOT), NEAR (New England Antique Racers) and Senior Tour Antique Racers (STARS) who get together for a "still show" on Saturday night.

History takes over on Sunday when the antique racecars, including several vintage midgets, take to the track for three hours (noon-to-3 pm).

Present NEMA point leader Randy Cabral can make some history. He'll be looking for his fourth straight and seventh overall Speedbowl victory. He is currently tied atop the win list with Drew Fornoro. Only two other NEMA drivers have won three straight at Waterford – Dick Brown in 1961-62 and Joe Csiki in 1962-63.

Cabral dominated both NEMA Speedbowl races this year but he is the first to agree making predictions is foolhardy. There are few secrets left (it will be NEMA's 78th Speedowl feature) and as Russ Stoehr pointed out several years ago "everybody seems to run their best at Waterford."

Being a winner at Waterford now demands 12 seconds laps. A number of NEMA competitors see it as the best Midget oval on the schedule.

Current competitors who have won at the Speedowl include Nokie Fornoro (4), Bobby Santos III (4), Joey Payne Jr. (3), Lou Cicconi Jr., Jeff Horn, Mike Keeler and Barry Kittridge. Fornoro's first wins came in 1981 and there was 22 years between three and four. Santos' first-ever NEMA win came at the Speedbowl. Keeler, now in the Seaman #63, will be returning to the spot of his only NEMA checkered.

Cabral's current owner Tim Bertrand is also on the win list. Cabral has also won in his dad;s (Glen) #35 and in the Seymour #29. Bobby and Mike Seymour claim eight including five with Bobby at the wheel.

Gene Angelillo is the most successful owner with 10 wins. The wins have come with Drew Fornoro, Russ Stoehr and Payne. The Angelillo-Drew Fornoro combination actually started at the Speedbowl.