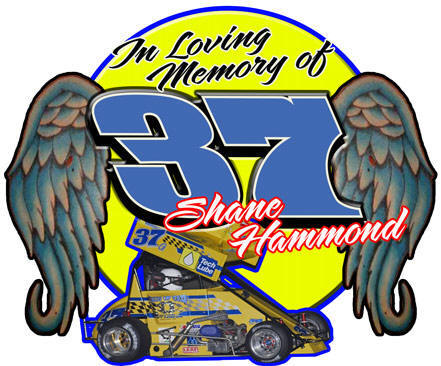 NEMA MOURNS
written by Pete Falconi, NEMA Announcer
This sport that we love so much, this thing that is so entrenched in our hearts and souls, has now hurt our hearts and taken a piece of our souls. Some of the attraction of this sport that occupies many of our days and nights are the personalities of the people involved, the interests that we share, the camaraderie of the competitors, the spirited competition and the overall thrill that is auto racing. A good part of that thrill is the danger associated with the event itself. There isn't a driver whose adrenaline isn't fueled by the risk they take every time they strap themselves into the car. That risk and the element of danger is part of what brings us back week in and week out, puts spectators in the stands and provides the excitement that consumes so much of our lives. Love it as much as we do, we hate it when it takes one of our own.

Shane Hammond was a colorful kid, warm and friendly with a great smile and pleasant attitude. He was a racer's racer. He never complained, he listened a lot, a true professional, a gentleman and a friend to everyone he raced with. He could turn the wrenches and was admired for his mechanical abilities. He was good on the track, too. One of those drivers that week in and week out was in contention, and more often than not we said "he's due for a trip to victory lane." Often times we were surprised that he didn't post a podium finish and be back at the start/finish line after the race to celebrate with some of the more experienced drivers like Joey, Nokie, Randy, Greg and Ben. He certainly was on par with those guys. Many of the times he didn't post a top three finish it was no fault of his. It was mechanical problems or he just didn't get the break he needed to get to the front. Even though he wasn't there in front of the crowd getting his picture taken at the end of the race, he never showed an ounce of discouragement. Right back at it next week, listening, asking questions, trying harder. Shane was a racer's racer, a role model to the incoming rookies and sophomores of NEMA. He was part of that new breed of midget drivers that have been putting NEMA on the map lately; destined for greatness in open wheel racing.

Now we try to make sense of a devastating tragedy like this. Why? Why Shane? Why NEMA? Why now? If there is even the slightest consolation, we have to remember that death is at the doorstep for all of us. We can't predict when we will be called, only the Good Lord can make that decision. We can only hope and pray that we will be one of the fortunate ones that are called to Eternal Life while doing something that we truly enjoy, something that is our love and passion. If there is a final gift on this earth, it is that.

The Northeastern Midget Association will go on in our 56th season. We'll gather at the track and continue the spirited competitiveness, maintain that special camaraderie and live the thrill of the sport that is so close to our hearts. But our hearts will be heavy and it won't be the same for awhile. There'll be a hole in the line-up, an absent smile, a great competitor, a friend, a racer's racer will be missing. Have the faith that he will be with us in spirit at the track every week. He'll be in the pits and at the drivers' meetings. In spirit he will ride with you, the drivers, for each and every lap and he will be in victory lane to celebrate right alongside you.

God rest Shane's soul and God ease the pain of Shane's family and friends and of the wonderful people that are The Northeastern Midget Association.
In lieu of flowers, Shane's family has asked that contributions be
made in Shane's name c/o NEMA. All contributions can be sent to
NEMA at 266 Kelly Rd, Middlebury CT 06762.


1ST EVENT - THOMPSON ICEBREAKER
APRIL 5-6, 2008
NEMA's Shane Hammond Succumbs at Thompson

Shane Hammond, one of the Northeastern Midget Association young stalwarts, died Sunday from "traumatic injuries" sustained in a crash at Thompson International Speedway's season-opening Icebreaker. The crash occurred on the fourth lap of the scheduled 25-lapper.

Hammond, 27, of Halifax, MA, made contact with another car at the end of the backstretch on the fourth lap. Getting airborne, Hammond's car cleared the concrete wall and struck a billboard in turn three.

After being extricated from the racer (a process that took some 12 minutes), Hammond was taken by ambulance to Day Kimball Hospital in nearby Putnam where he died.

NEMA immediately suspended the race. It was the first of nineteen scheduled events for the 58-year old club.

Hammond, who was diving Mike Jarret's #4x second car, joined the Midget ranks in 2003 after a very successful stint in Go Karts. Regarded as a "steady hand," he had "shook down" the car on several occasions and last raced it at Beech Ridge in 2007.

The last fatality for NEMA was Ed Clothier at Westboro Speedway on June 19, 1965.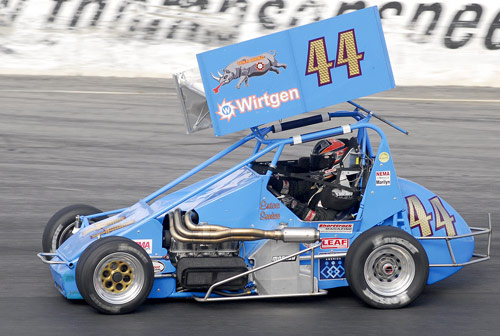 Heat 1 Winner - Erica Santos
Thompson Icebreaker - Sat 4/5 - Heat 1

Pos.
#
Driver
Hometown
Owner
1
44
Erica Santos
Franklin, MA
Ed Breault
2
45
Joey Payne
Fairlawn, NJ
Gene Angellilo
3
63
Jeremy Frankoski
Huntingon Station, NY
TSR Motorsports Inc.
4
9
John Zych Jr.
Mendon, MA
John Zych
5
11
Mark Irving
Worcester, MA
Charles Camosse
6
DNF
33
Shawn Torrey
Marshfield, MA
Shawn Torrey
7
DNF
2
Lee Bundy
Kennebunkport, ME
Lee Bundy
8
DNF
27
Troy Boissoneau
Bedford, NH
Ray Boissoneau
9
DNF
4x
Nokie Fornoro
Stroudsburg, PA
Mike Jarret
10
DNF
37g
Shane Hammond
Halifax, MA
Shane Hammond
11
DNS
14
Kevin Park
Foxboro, MA
Paul Holmstrand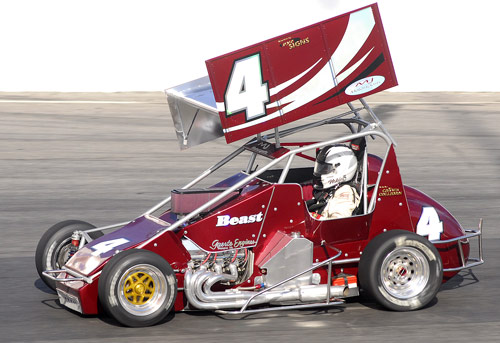 Heat 2 Winner - Nokie Fornoro
Thompson Icebreaker - Sat 4/5 - Heat 2

Pos.
#
Driver
Hometown
Owner
1
4
Nokie Fornoro
Stroudsburg, PA
Mike Jarret
2
26b
Greg Stoehr
Bridgewater, MA
Greg Stoehr
3
7ny
Adam Cantor
Dix Hills, NY
Cantor Racing
4
77L
Mike Luggelle
Hull, MA
Mike Luggelle
5
22
Chris Leonard
Pelham, NH
Dave Leonard
6
5
William Wall
Shrewsbury, MA
Wall Motorsports LLC
7
78
Brian Cleveland
Billerica, MA
Linda Cleveland
8
28
Paul Luggelle
Holbrook, MA
Paul Luggelle
9
DNF
35
Glen Cabral
Plymouth, MA
Glen Cabral
10
DNS
30
Paul Scally
Raynham, MA
Paul Scally
11
DNS
98
Bobby Santos III
Franklin, MA
Robert Santos Jr.
12
DNS
47
Randy Cabral
Plymouth, MA
Tim Bertrand

Strong NEMA Field Ready For Icebreaker

The Northeastern Midget Association begins its 56th season at Thompson International Speedway's Icebreaker April 4-5-6. Club President Mike Scrivani Jr. expects upward to 30 cars for the 25-lapper on what is the fastest track NEMA visits.

It is the first of 19 races for NEMA, the most in 20 years. It is the first of three '08 visits to Thompson. The Budweiser Modified Nationals at
Waterford Speedbowl follows a week later (April 12-13) providing the club with a demanding start.

Testing at Thompson has increased excitement, several cars turning competitive speeds.

"NEMA is in tremendous shape," says Scrivani. "Car count, improved equipment, competitive cars, youngsters and veterans, number of races – it's all excellent. We have had a great off-season. This is one
of the most anticipated openers in a long time."

Last fall's World Series winner Randy Cabral, in the Bertrand # 47, leads NEMA into the 2008 season. He'll be seeking his sixth career Thompson NEMA triumph that would equal the record currently held by Johnny Mann.

Two very experienced drivers, Nokie Fornoro in Mike Jarret's #4 and Joey Payne Jr. in Gene Angelillo's # 45, will kick off what each hopes will be a championship season at the Icebreaker. Bobby Santos
III will be in the family # 98. His sister Erica returns in Ed Breault's now Esslinger-powered #44. The Stoehr brothers, Greg and five-time champ Russ, are also on the roster.

The 2007 Rookie of the Year Jeremy Frankoski will be making his debut in the Seaman #63. The club's celebrated youth corps includes Aaron Wall, who moves into the Power Point Race Cars # 99, and Chris Leonard in the family # 22.

Veterans Adam Cantor and Pete Pernesiglio and youngster John Zych Jr., all in the family equipment, are other contenders.

Cabral, who says Thompson demands the utmost respect, also believes a win will set the season off on the high note.

"The cooler the weather, the faster we're going to go," says Fornoro, pointing out he and Bobby Santos III were in the "lower 17s" at last fall's Icebreaker. Still, as Payne is quick to point out, "Thompson has
always been filled with surprises, especially early and late in the season. The place can send you soaring and it can break your heart."
NEMA/THOMPSON NOTES

Although the Northeastern Midget Association was actually formed in the Thompson Speedway clubhouse in the spring of 1953, the club didn't get around to racing on the historic oval until May 24, 1960. National Midget Hall of Famer Dutch Schaefer was the winner. It was the season opener…This year's Icebreaker will be the 12th time Thompson has hosted NEMA's opener… Sixteen year old Ryan Dolan's win at the 2002 Icebreaker made the youngest winner in club history…The late Johnny Coy won the 1971 NEMA opener at Thompson. Johnny Coy Jr. did it in 1978.

The Icebreaker will be NEMA's 68th event at Thompson… Johnny Mann is the all-time NEMA win leader with six.....Rnd Cabral, the winner at last fall's World Series, is one away from equaling that. Cabral won the 2001 Icebreaker…In addition to Cabral and Dolan, active NEMA drivers with at least one NEMA Thompson win are Russ and Greg Stoehr, Nokie Fornoro, Joey Payne Jr., Bobby Santos III and Ben Seitz…Among active owners Gene Angelillo has six checkereds including his 100th win (with Payne driving a backup car) on Oct. 13, 2000…Hank Rogers Jr. won the 1980 opener in a Scrivani car. The Scrivani family, Mike and present NEMA president Mike Jr., have at least a half dozen Thompson wins including memorable rides by Modified ace Gene Bergin in 1968 and Dave Humphrey in 1970, the latter clinching half the championship.