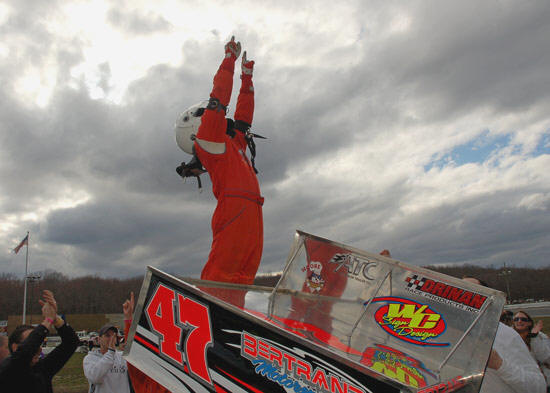 Randy Cabral's Win at Waterford - for Shane
Emotional Speedbowl Win For Cabral

Randy Cabral went into Sunday's Northeastern Midget Association feature at Waterford Speedbowl's Budweiser Modified Nationals "racing" for Shane Hammond. It was a week to the day that Hammond died as a result of injuries suffered at Thompson Speedway's Icebreaker.

After a long rain delay, Randy took the lead at the resumption of the race with 21 laps remaining and went on to post his fifth career and second-straight win at the Speedbowl. "I told [Shane] I was going to race for him," said Cabral, who held off a determined challenge from Joey Payne Jr. "I had to make it count. To win was unbelievable."

He said up until Friday night he was not going to race. At Shane's wake, "I saw him there and realized 'man, he ain't going to be happy if I don't go racing.'"

When the rain came three laps in, Cabral, riding second, "was kind of mad at Shane. I said why did you do this to me?" He had charged from fourth to second on the first lap.

When the race resumed an hour and half later (officials decided to run another feature extending the interruption), Cabral's attitude changed. "My car wasn't handling that great before the rain," he explained. "I think Shane helped me out because we came back and the [Bertrand 47] was unbelievable."

When Erica Santos, the leader when the rains came, bobbled in turn one on the restart, Cabral blasted into the lead. Payne, Greg Stoehr and Adam Cantor followed. Clearly in control, Cabral turned an electrifying 12.848 seconds lap.

A green white checker finish gave Payne a final shot. "I thought he was going to go when I did but he went a couple feet before me," Cabral said. "It made it exciting for the fans."

Following runner-up Payne was Stoehr, Cantor and Erica Santos. "It was a hard race," said Payne. "If anybody deserved this race it was Randy. I'm glad to see him win it in Shane's' memory. They were such close friends."

He talked to Hammond's mother Deb on a cell phone in Victory Lane. "She called [club president] Mike Scrivani during the race," Cabral explained. "Mike said 'I can't talk right now' and put the phone down without hanging up." Cabral then asked the crowd to yell out "Shane."

The final yellow came when a car spun in turn one, forcing Cabral to go through the wet infield. "I hit something slippery on the track and just started sliding," he said. "I told myself 'I'm not stalling this car out. I just kept it going until I got back on the track."

Overheating knocked Nokie Fornoro out shortly after the race resumed. A last lap bid for third sent Bobby Santos III through the wet off turn four. He held on to finish seventh, a spot behind William Wall.

NEMA is now idle until May 3-4 when it helps Seekonk Speedway open its season.

2008 POINTS HERE

Waterford Speedbowl Nationals - 4/13/08
Pos.
#
Driver
Hometown
Owner
1
47
Randy Cabral
Plymouth, MA
Tim Bertrand
2
45
Joey Payne
Fairlawn, NJ
Gene Angellilo
3
26b
Greg Stoehr
Bridgewater, MA
Greg Stoehr
4
7ny
Adam Cantor
Dix Hills, NY
Cantor Racing
5
44
Erica Santos
Franklin, MA
Ed Breault
6
5
William Wall
Shrewsbury, MA
Wall Motorsports LLC
7
98
Bobby Santos III
Franklin, MA
Robert Santos Jr.
8
30
Paul Scally
Raynham, MA
Paul Scally
9
87
Doug Cleveland
Sudbury, MA
Doug Cleveland
10
22
Chris Leonard
Pelham, NH
Dave Leonard
11
77
Andy Shlatz
Enfield, CT
Mike Luggelle
12
28
Paul Luggelle
Holbrook, MA
Paul Luggelle
13
DNF
2
Lee Bundy
Kennebunkport, ME
Lee Bundy
14
DNF
9
John Zych Jr.
Mendon, MA
John Zych
15
DNF
4
Nokie Fornoro
Stroudsburg, PA
Mike Jarret
16
DNF
33
Shawn Torrey
Marshfield, MA
Shawn Torrey
17
DNF
63
Jeremy Frankoski
Huntingon Station, NY
TSR Motorsports Inc.
18
DNF
99
Aaron Wall
Shrewsbury, MA
Power Point
Race Cars
19
DNF
78
Brian Cleveland
Billerica, MA
Linda Cleveland
20
DNS
11
Mark Irving
Worcester, MA
Charles Camosse
STARTING GRID - 4/13/08
9
John Zych Jr.
44
Erica Santos
22
Chris Leonard
26b
Greg Stoehr
45
Joey Payne
47
Randy Cabral
98
Bobby Santos III
7ny
Adam Cantor
4
Nokie Fornoro
63
Jeremy Frankoski
2
Lee Bundy
30
Paul Scally
5
William Wall
11
Mark Irving
78
Brian Cleveland
77
Andy Shlatz
33
Shawn Torrey
99
Aaron Wall
28
Paul Luggelle
87
Doug Cleveland

Waterford Nationals - Sat 4/12 - Heat 1

Pos.
#
Driver
Hometown
Owner
1
26b
Greg Stoehr
Bridgewater, MA
Greg Stoehr
2
47
Randy Cabral
Plymouth, MA
Tim Bertrand
3
7ny
Adam Cantor
Dix Hills, NY
Cantor Racing
4
9
John Zych Jr.
Mendon, MA
John Zych
5
63
Jeremy Frankoski
Huntingon Station, NY
Jon Seaman Sr.
6
5
William Wall
Shrewsbury, MA
Steve Wall
7
30
Paul Scally
Raynham, MA
Paul Scally
8
11
Mark Irving
Worcester, MA
Charles Camosse
9
77
Andy Shlatz
Enfield, CT
Mike Luggelle
10
33
Shawn Torrey
Marshfield, MA
Shawn Torrey

Waterford Nationals - Sat 4/12 - Heat 2

1
44
Erica Santos
Franklin, MA
Ed Breault
2
45
Joey Payne
Fairlawn, NJ
Gene Angellilo
3
98
Bobby Santos III
Franklin, MA
Robert Santos Jr.
4
4
Nokie Fornoro
Stroudsburg, PA
Mike Jarret
5
22
Chris Leonard
Pelham, NH
Dave Leonard
6
2
Lee Bundy
Kennebunkport, ME
Lee Bundy
7
78
Brian Cleveland
Billerica, MA
Linda Cleveland
8
28
Paul Luggelle
Holbrook, MA
Paul Luggelle
9
DNF
99
Aaron Wall
Shrewsbury, MA
Power Point
Race Cars
10
DNF
87
Doug Cleveland
Sudbury, MA
Doug Cleveland

Waterford - Sat 4/12 - NEMA Lites

NEMA Lites in Exhibition Runs
#09 - Stephanie Doty
#18 - Jesse Slate
#20 - Andy Shlatz
#33 - Shawn Torey
#35 - Randy Cabral
#52 - Kevin Park
#66 - Mike Lugelle/Steve Powers
NEMA RETURNS TO BOWL'S MOD NATS
The Northeastern Midget Association moves to Waterford Speedbowl this weekend for the 12th annual Budweiser Modified Nationals. A 25-lap NEMA feature will kick off the Sunday schedule at 1 PM.

NEMA's new "Lites" division will be making its debut with exhibition runs on Saturday afternoon. All qualifying will be Saturday afternoon.

NEMA shares the busy bill with 10 divisions highlighted by the SK-150. In addition to the Speedbowl Late Model, Sportsman, Mini Stock and Legends divisions, the Pro4 Modifieds, AllStar Race Trucks and Allison Legacy Cars are also due.

The Speedbowl is generally regarded as one of the outstanding Midget tracks in the northeast. NEMA has been part of the Modified Nationals since 1998 when Ted Christopher won the 25-lap feature in a Gene Angelillo car. It remains Christopher's only NEMA win.

There has yet to be a driver to repeat as a NEMA Mod Nats winner. Angelillo, however, has had three wins, doing it with Russ Stoehr in 1999 and Joey Payne in 2006. Other winners were Rudy Boetticher Jr. (2000), Paul Lawless ('01), Pete Pernesiglio ('02), Bobby Santos III ('03) and Lou Ciccone Jr. (07).

SPEEDBOWL/NEMA NOTES:
There have been 84 Midget races at the Speedbowl, 75 of them under the Northeastern Midget Association banner. The win list starts with the legendary Johnny Thomson, generally considered to be New England's premier open-wheel driver. Thomson won the first Midget events, both Triple-A races in 1951, the Speedbowl's initial season. … Bill Eldridge won the first NEMA race at The Speedbowl on May 31, 1953, the second race in the club's history. It came a day after the first race at Seekonk Speedway … Randy Cabral won the 75th NEMA race, a 25-lapper at last year's Finale. … Drew Fornoro is NEMA's top winner at the Speedbowl with six. Bobby Seymour has five while a quartet of currently active drivers – Nokie Fornoro, Cabral, Bobby Santos III and Ben Seitz – have four apiece. … Art Cross won a 100 lap AAA Midget event in October of '51. George Tichenor won the pole with a 17.920 seconds run which was considered very quick. NEMA's best 0 now run in the low 13s. Three times in the past five years NEMA has covered 25 laps in under 6:40.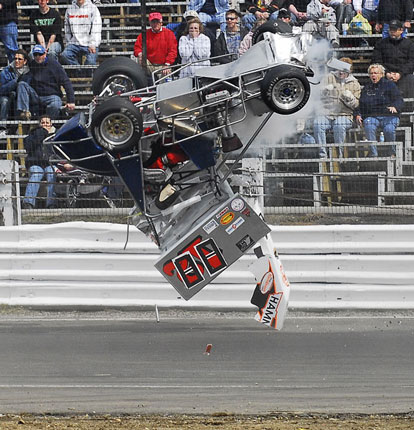 Abby Martino at the 2007 Waterford Budweiser Modified Nationals
NEMA, Speedbowl: A Torrid Love Affair

(WATERFORD, CT - Speedbowl PR ) It's doubtful if anybody loves Waterford Speedbowl more than the Northeastern Midget Association. A large contingent ranging from 34-year veteran Nokie Fornoro to 17-year old Chris Leonard agree with Joey Payne Jr. – "it's probably the best Midget Track on the east coast."

"If I had to pick any midget track that I would like to race on once a week, 52 weeks a year, it would be the Speedbowl," says Fornoro.

NEMA is one of the visiting divisions for the 12th annual, April 12-13, season-opening Budweiser Modified Nationals. The $5,000-to-win SK-150 headlines the 10-division show that also includes, in addition to the Bowl's Late Model, Sportsman, Mini Stock and Legend divisions, the Pro4 Modifieds, AllStar Trucks, Allison Legacy Cars and NEMA Lites.

It is, all agree, a "momentum track" with the best turning mid 17-seconds laps in competition. "You can get those things really wound up at the Speedbowl," continues Fornoro. "The cars really want to go there."

Fornoro, Payne (three wins), Randy Cabral (4), Bobby Santos III (4) and, Ben Seitz (4) will come to the Nationals with strong Speedbowl resumes. The Speedbowl-NEMA marriage dates back to 1953, NEMA's initial season.

Fornoro's first (1981) and fourth (last year) Speedbowl wins are separated by a quarter century. He remembers the last repaving in 1988 taking "a couple seasons to get the bite that's there now. It is excellent. It's a racy joint."

And a challenging place as well. "That race track changes in a 25-lap midget feature like you can't believe," he says. "It changes day to night, day to the next day."

The key challenge is probably tires. "You can light up a tire there, blister it if you don't let it cool," Fornoro continues. "That's how fast that track is."

"It's at Waterford where people run their best," the now-retired Russ Stoehr pointed out several seasons ago. "We go to the Speedbowl, all of us, expecting to do well."

"I just love the place," says Bobby Santos III who points to both the surface and layout. "You can pretty much put the car where you want it, three, maybe four, lanes of racing." Santos' first full Midget win came at the Speedbowl.

"I've made four-wide passes on both the bottom and the top at the Speedbowl," says Randy Cabral who was near flawless in winning last year's Finale. "There is not another track we go to where you can do that." Cabral has four career Speedbowl wins.

"I've passed three wide there," says Payne. "I've passed on the bottom, in the middle, on the top. There are three racing grooves and I've used them all."

"The Speedbowl is definitely our favorite track," says Leonard. "The minute I saw the place, I knew it was a perfect midget track. It's just so much fun to race there."

It is "smooth but with some transitions," says Fornoro who offers a primer on where to expect the action. "Going into one it looks like you can really sail it in there but you have to be careful because the fence can pull you in," says. "Off two, there's a little dip and if you hit that the wrong way it will loosen you up pretty good. It narrows up real hard out of four and you can eat the fence through there."