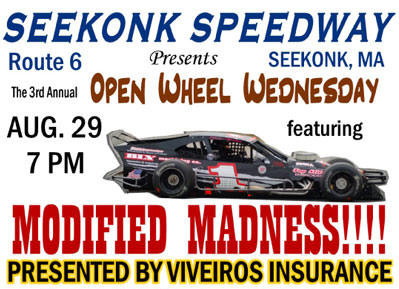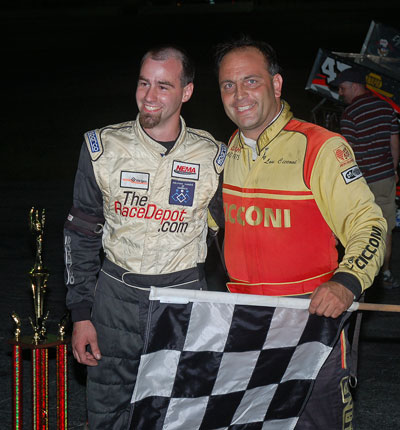 Randy Cabral, 2nd place finisher and winner Lou Cicconi
Cicconi Back on Top at Seekonk in Team Bertrand NEMA Sweep
by Dale Wolbrink
Seekonk, MA (August 29, 2007): Open-wheel ace "Liquid" Lou Cicconi of Aston, PA, scored his second Northeastern Midget Association (NEMA) victory of the season in dominating fashion on Wednesday night at Seekonk Speedway in Seekonk, MA. This was the second race for the Midgets at Seekonk in the last five days. The event, which was postponed due to inclement weather back on July 18, 2007, was worth the wait for Cicconi and his Bertrand Racing teammate Randy Cabral, who chased Cicconi to the checkers. Cicconi took advantage of his front row starting position and went on to wire the field for the victory.

The one-two finish was a much-needed boost for the race team and the Bertrand family. Since an opening day win at the Waterford Speedbowl in April, Cicconi has seen his fair share of adversity. Mechanical woes have sidelined Cicconi twice in the last four races.

"I really wanted to beat Lou tonight," said Cabral in a post race interview, "but a 1-2 finish is good for Bertrand Motorsports. It's great for Gil (Bertrand). His wife has some health issues."

In the face of adversity the team has stuck together to perform valiantly, as evidenced at Seekonk. This is the second time this season that Cicconi and Cabral have completed the sweep. The other came on April 1 at the Waterford Speedbowl in Waterford, CT.

This was also the second time this season that the talented Northeastern Midget Association competitors treated the fans to an exciting green-to-checker event.

Cicconi immediately rocketed out to the lead while Cabral, Bobby Santos and Paul Scally went three-wide for the second position to start the 25-lap main event. With Cicconi as the leader, Cabral got the better of the battle to post the second position to complete lap one. Santos took chase from the third position.

While Cicconi continued to build his lead on Cabral; B. Santos and Greg Stoehr, a fair distance behind second, ran in close quarters for third. Shane Hammond and Jeff Horn locked horns just outside the top-five. Hammond would later advance to as high as the fourth position before mechanical troubles forced him to retire from the event.

By lap 10, the lead pack was entering considerable lapped traffic. At halfway, Cicconi showed the way over Cabral and Santos. Santos made a bid on Cabral for the runner-up spot but it was cut short by a lapped car. The battle for the second spot allowed Cicconi to further build his lead, leaving the duo a half-straightaway behind. Saturday night's winner, also at Seekonk, Ben Seitz was making up ground from his 12th-place starting spot and headed for the top five.

Once free of Santos, Cabral started to chip away on Cicconi's lead as they maneuvered through the slower cars.

"I like that kind of heavy traffic," said Cabral. "My car got tight but it came to me."

With two laps to go Cabral was making progress; however, he ran out of time, leaving his teammate to head to the checkers unchallenged. Santos joined the teammates on the podium with his third-place finish.

"Lapped traffic is tough here," said Cicconi, happy with his win but happier to be sharing the spotlight with Cabral.

"Randy is tough competition and a true professional," added the winner with open admiration for his teammate.

Stoehr held on for fourth while Seitz quietly came home in the fifth position. Nokie Fornoro, Joey Payne, Adam Cantor, Jeff Horn, and Erica Santos rounded out the top ten.

The competitors do not have much time to catch their breath. The whirlwind schedule, courtesy of Mother Nature, rolls right along this Saturday night, September 1st. This holiday weekend, the Northeastern Midget Association will head to Winchester, NH to make-up the Monadnock Speedway event originally rained out on June 9, 2007.
Seekonk Speedway - August 29th
OPEN WHEEL WEDNESDAY
Pos.
#
Driver
Hometown
Owner
1
47b
Lou Ciconni Jr.
Aston, PA
Tim Bertrand
2
47
Randy Cabral
Plymouth, MA
Tim Bertrand
3
29
Bobby Santos III
Franklin, MA
Bobby Seymour
4
26b
Greg Stoehr
Bridgewater, MA
Greg Stoehr
5
17
Ben Seitz
Pocasset, MA
Pete Valeri
6
4
Nokie Fornoro
Stroudsburg, PA
Mike Jarret
7
45
Joey Payne
Fairlawn, NJ
Gene Angellilo
8
7ny
Adam Cantor
Dix Hills, NY
Cantor Racing
9
A1
Jeff Horn
Ashland, MA
Jeff Horn
10
44
Erica Santos
Franklin, MA
Ed Breault
11
99
Jeremy Frankoski
Newark Valley, NY
Power Point
Racing
12
80
Doug Cleveland
Sudbury, MA
Peter Pernesiglio
13
P30
Mike Horn
Ashland, MA
Mike Horn
14
30
Paul Scally
Raynham, MA
Paul Scally
15
9
John Zych Jr.
Mendon, MA
John Zych
16
35
Cory Cleary
Plymouth, MA
Glen Cabral
17
48
Ryan Preece
-
Tim Bertrand
18
77
Mike Lugelle
Hull, MA
Mike Lugelle
19
33
Shawn Torrey
Marshfield, MA
Shawn Torrey
20
78
Steve Powers
N. Andover, MA
Linda Cleveland
21
28l
Paul Luggelle
Holbrook, MA
Paul Luggelle
22
DNF
37g
Shane Hammond
E. Bridgewater, MA
Jack Glockner
23
DNF
11
Mark Irving
Bellingham, MA
Charles Camosse
24
DNS
52
Kevin Park
Foxboro, MA
Kevin Park


Driver Spotlight Page
by Todd Baptista
now featuring
NEMA ACE RANDY CABRAL
"Hard-charging Plymouth, MA native Randy Cabral is unquestionably one of the most exciting and popular drivers in New England's open wheel ranks today, having emerged as a threat to win each time he takes to the track in the Bertrand Motorsports #47 Northeastern Midget Association ride. At 28, the second-generation star can boast five years of top three finishes in the NEMA championship standings. Those who know and respect Randy, however, know that boasting isn't a part of his makeup. A sense of pride in his accomplishments, a dedication to his craft and team, and a sincere appreciation for his backers, family, crew members, and supporters are key elements to Cabral's composition, and have a lot to do with the degree of success and respect he's earned.

Randy's uncle, Alan Cabral was the first member of the clan to compete, running a VW at Norwood Arena. His dad, Glen, served as a crew member on Bob Cadarette's Mini-Modified Volkswagen in the early 1970s and eventually decided to try his luck in Norwood's Hobby class in 1972. After Norwood closed its doors, Glen built a 1965 Mustang Late Model which he rode to a second place points finish at Lakeville Speedway."



WEDS August 29th @ 7pm


Seekonk's Open Wheel Wednesday Rescheduled For August 29
by Todd Baptista

Seekonk Speedway assistant manager David Alburn announced today that the 1/3-mile Bay State oval's Open Wheel Wednesday program which fell victim to rain on July 18, has been rescheduled in its entirety for Wednesday evening, August 29, at 7 PM. "We've heard from people from all over the Northeast, fans and competitors alike, in the week since the event was rained out," Alburn explains. "The overwhelming consensus was that they wanted the show to go on exactly the way it had been planned on a future Wednesday night." After meeting with officials from the True Value Modified Racing Series, Northeastern Midget Association, and Pro Four Modified Series, a deal was finalized late Wednesday.

The fastest and fiercest competitors in northeastern Modified racing circles are expected to converge upon the Route 6 facility for the third annual Open Wheel Wednesday program, featuring the Viveiros Insurance-sponsored 100 green flag lap Modified Madness event, an open competition race paying $10,000 to the winner. Last July, forty-two competitors from nine states attempted to qualify for the 26-car race, which carries a purse in excess of $31,000.

Among the drivers who have pre-registered for this year's Modified Madness show are former NASCAR weekly series national champion Ted Christopher, veteran front-runner Jerry Marquis, third generation ace Bobby Santos III, Mike Stefanik, Matt Hirschman, Tommy Cravenho, Vinnie Annarummo, and Dick Houlihan. Others who have pre-registered include Eric Beers, Richard Savary, former Seekonk winners Louie Mechalides and Andy Seuss, Chris and Carl Pasteryak, Jimmy Kuhn, Jr., and defending race winner Kirk Alexander of West Swanzey, NH. Qualifying heats and a B-main will set the lineup for the 100 lap affair.

The Northeastern Midget Association and Pro Four Modified Racing Series will also compete in qualifying heats and 25-lap features. The pit area will open at 1 PM on race day with Modified inspections beginning at 1:30 and practice for all divisions running from 2 to 6 PM. Qualifying begins at 7 PM. Grandstand admission is $18 for adults, $5 for juniors ages 13 through 15, and free for children 12 and under. Pit admission is $30. The speedway campgrounds will be open for overnight campers beginning on Tuesday evening, August 28. For more information, contact the speedway office at (508)-336-9959 or visit online at www.seekonkspeedway.com