Saturday - August 4th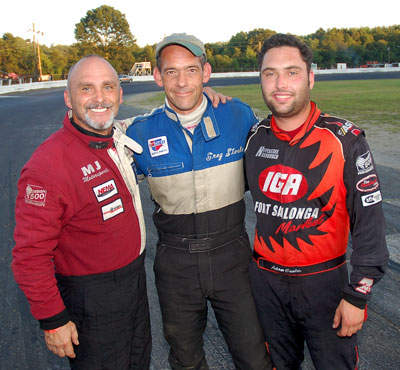 Winner Nokie Fornoro: Greg Stoehr, 2nd; & Adam Cantor, 3rd.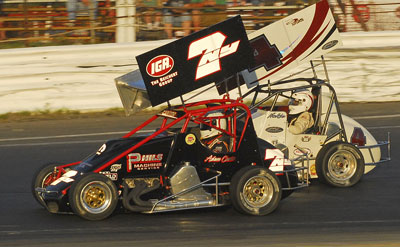 Waterford Speedbowl - August 4th
Pos.
#
Driver
Hometown
Owner
1
4
Nokie Fornoro
Stroudsburg, PA
Mike Jarret
2
26b
Greg Stoehr
Bridgewater, MA
Greg Stoehr
3
7ny
Adam Cantor
Dix Hills, NY
Cantor Racing
4
47b
Lou Ciconni Jr.
Aston, PA
Tim Bertrand
5
44
Erica Santos
Franklin, MA
Ed Breault
6
37g
Shane Hammond
E. Bridgewater, MA
Jack Glockner
7
45
Joey Payne
Fairlawn, NJ
Gene Angellilo
8
29
Jeff Abold
Pennellville, NY
Bobby Seymour
9
17
Ben Seitz
Pocasset, MA
Pete Valeri
10
99
Jeremy Frankoski
Newark Valley, NY
Power Point
Racing
11
22
Chris Leonard
Pelham, NH
Dave Leonard
12
47
Randy Cabral
Plymouth, MA
Tim Bertrand
13
20
Andy Shlatz
Enfield, CT
Aex Shlatz
14
81
Tim Heath
Lebanon, CT
Tim Heath
15
30
Paul Scally
Raynham, MA
Paul Scally
16
11
Mark Irving
Bellingham, MA
Charles Camosse
17
21
Barry Kittredge
Marlboro, MA
Barry Kittredge
18
77
Mike Lugelle
Hull, MA
Mike Lugelle
19
35
Cory Cleary
Plymouth, MA
Glen Cabral
20
9
John Zych Jr.
Mendon, MA
John Zych
21
78
Steve Powers
N. Andover, MA
Linda Cleveland
22
33
Shawn Torrey
Marshfield, MA
Shawn Torrey
23
28
Paul Luggelle
Holbrook, MA
Paul Luggelle
24
87k
Bobby Kuiken
Prompton
Lakes, NJ
Robert Kuiken
DNS
80
Pete Pernesiglio
Lake Grove, NY
Peter Pernesiglio
DNS
52
Kevin Park
Foxboro, MA
Kevin Park
NEMA Veteran Fornoro Visits Victory Lane at Waterford
Waterford, CT (August 4, 2007): Nokie Fornoro of Stroudsburg, PA, scored his first feature win of the season in Northeastern Midget Association (NEMA) competition in the 25-lapper at the Waterford Speedbowl in Waterford, CT, on Saturday night. Fornoro became the seventh different winner in seven races in the highly competitive series. This was Fornoro's fourth win at the shoreline oval, ending a winless streak at the facility that dates back to 1985.

The 25-lap event took only 6 minutes, 8 seconds from green to checker; setting a new record for the Waterford Speedbowl. It may have been quick, but every second of the caution-free feature event was action-packed.

Like the event, it did not take long for Fornoro to show his strength. From his sixth starting spot, it took Fornoro only two laps to move into the second position. He used a wily move in turn one to take over the lead from Adam Cantor of Dix Hills, NY with only ten laps remaining. The rest was clear sailing for Fornoro as he went on to win his first of the season.

A classy Fornoro first thanked the fans for supporting their local short track during his victory lane speech. He went on to recognize the efforts of his crew and car owner Mike Jarret.

Adam Cantor led the opening lap, immediately taking over the top spot from pole sitter Chris Leonard. Fornoro, using first the inside then the outside lane, moved past Leonard and into the second on lap two. Lou Cicconi took chase in third while Greg Stoehr looked strong in fourth. Up from this tenth-place starting spot, Ben Seitz was sixth by lap five.

As the laps were flying by, Cantor continued to lead Fornoro, Cicconi, Stoehr, and Randy Cabral, who had come to life during the extended green flag run. Seitz and Joey Payne ran outside of the top-five.

A little deeper in the pack, Leonard, Erica Santos, and Shane Hammond were locked in a great battle for the eighth position. Leonard tried in vane to hold off the charges of both Santos and Hammond.

With the leader Cantor in heavy lapped traffic, Fornoro was able to close right in on the tail of the 7NY. Cicconi had caught the lead duo as well. After a couple of failed attempts at Cantor in traffic, Fornoro finally made the winning move with ten laps remaining. Fornoro, swiftly veering between grooves, made an exciting power-move in turn one on Cantor to secure the top spot.

Cantor stayed within striking distance of the new leader while Stoehr dogged Cicconi for third. Payne, Santos, and Hammond were starting to run down the lead pack despite being mired in heavy lapped traffic. Santos used the traffic to her advantage to slide by Payne and into the top five. While Stoehr and Santos were getting stronger, Cabral, Seitz and Payne began to falter.

Stoehr poured it on over the final laps of the event. He bested Cicconi on lap 20 and immediately caught Cantor. With only three to go, Stoehr made his way passed Cantor and set sail for the leader Fornoro. Time was not on Stoehr's side.

Fornoro sped to the checkers ahead of a charging Stoehr. Cantor had his best race of the season to finish third. Cicconi posted the best finish of the Bertrand cars in fourth. Erica Santos continues to thrill race fans with her fifth-place finish. Hammond, Payne, Jeff Abold in the Seymour #29, Seitz and last week's winner Jeremy Frankoski rounded out the top ten.

Nokie Fornoro just might be the racer to end the streak of different winners when NEMA makes their next stop at the Seekonk Speedway in Seekonk, MA. The winning-most driver at Seekonk Speedway in NEMA competition is none other than Fornoro.

Fans have a few weeks to catch their breath before the NEMA action heats up again. On August 25, 2007, the Midgets head to another great track for Midget racing action, the Seekonk Speedway. In fact, the mighty Midgets will run back-to-back races at the Cement Palace.

The Northeastern Midget Association will run the prestigious Boston Louie Seymour Memorial on Saturday, August 25 as part of the speedway's regular weekly racing series action. They return only four days later on Wednesday, August 29, for the rescheduled event from July 18th as part of the exciting Open-Wheel Wednesday program that will also feature an open competition Modified event. For complete details on both upcoming events, log on to www.seekonkspeedway.com.