Saturday - June 9th - 6 PM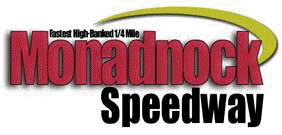 monadnockspeedway.com
840 Keene Rd - Winchester, NH 03470
Tel: 603-239-4067

Rained Out

Replacement date is September 1st
Rain Wins Again in NEMA Competition

Groton, CT (June 10, 2007): The 2007 season of the Northeastern Midget Association continues to be plagued by inclement weather. On Saturday, persistent rains caused the postponement of the long-awaited return of the Northeastern Midget Association to Monadnock Speedway in Winchester, NH speedway. The event will be rescheduled. The exact date has yet to be determined. An announcement will be posted on the Club's official site, www.nemaracing.com, when a make-up date has been finalized.

It was also the second time that the weather has hindered the presentation of the "National Midget Driver of the Year" night for NEMA. The fate of the event has not been determined.

NEMA is two-for-two thus far this season with two completed events and two rain-postponed events. Lou Cicconi, Jr. and Joey Payne, Jr. are the only two to have visited victory lane.

The Northeastern Midget Association resumes competition on June 23, 2007 at the Waterford Speedbowl. The shoreline oval is known for its action-packed Midget races. Earlier this season, Cicconi topped his teammate Randy Cabral and Joey Payne in the season opener.
After 10 Years NEMA Returns to Monadnock Payne Looks to Make it Two Straight

Groton, CT (June 2, 2007): After a ten year hiatus, the Northeastern Midget Association (NEMA) returns to Monadnock Speedway in Winchester, NH this Saturday night, June 9th. Saturday night's race at Monadnock will also be the rescheduled National Midget "Driver of the Year" promotional night for NEMA, which was originally scheduled for the rained-out event at Seekonk Speedway on May 19th. This is one of five events to be held at various tracks around the country. The awards group will be adding a minimum of $300 cash along with product certificates to the purse.
SEE STORY BELOW for more on NMDOTY

The National Midget Driver of the Year Award was started in 1999. The award determines the top midget driver using a unique point system based on several factors, car count, purse, and event prestige. The award was founded and is directed by well-known midget racing publicist and announcer, Bryan Gapinski. Recent winners of the prestigious award include Aaron Fike, Bobby East and Brad Kuhn. NEMA's own Sean Caisse, now a NASCAR Busch East standout, was award the NMDoY Rookie honors in 2003. To learn more about the program visit www.nmdoty.com. SEE STORY BELOW

Joey Payne of Fairlawn, NJ, is hoping to make his mark at Monadnock to gain valuable points toward National Midget Driver honors. He is also hoping to make it two-in-a-row in NEMA competition. Payne took down the win in an usually rough-and-tumble Midget event at All-Star Speedway on May 26, 2007.

"I started sixth and almost took the lead on lap two," said Payne, of the race that had an abundance of caution laps. "Anytime I'm close to the lead there are a million yellows."

Once out front, Payne had smooth sailing.

"My car started out a little free so I put some turns into my Shadow Weight-Jackers and the car was right on from that point. It was a fun race with Erica (Santos). She ran me hard but clean."

Payne turned consistently fast laps in the 12.0 second bracket en route to his victory.

"After six years of racing the Supermodified up there (under the old Star Speedway banner) I think I can say I own that track," said Payne confidently. "I had one goal and that was to win the feature for Marilyn. She is doing ok (after surgery) but still not strong enough come racing. She is sorely missed. I dedicated my win to her."

If history repeats itself, Payne has a good shot at winning at Monadnock as well. During the late 80s when NEMA frequented the ¼-mile oval, Drew Fornoro, in the Gene Angelillo machine, dominated with wins at the speedplant during the 1982-1986 seasons. He also won during the final two seasons that the Club visited the Speedway with triumphs in 1996 and 1997. Other winners at Monadnock in the modern era include Mike Seymour and Russ Stoehr. The only active NEMA driver to win at Monadnock is Nokie Fornoro.

Although Fornoro may have experience on his side, the adaptive young talent of NEMA will undoubtedly help provide all the edge-of-your-seat excitement that the fans have come to expect when the mighty Midgets visit quarter-mile facilities. This is the type of track where Randy Cabral of Plymouth, MA, in the Bertrand Motorsports #47 excels. Defending champ Ben Seitz of Pocasset, MA, has been relatively quiet thus far this season. Expect him to make some noise sooner than later, maybe even this weekend at Monadnock.

The dark horses in the race have to be Pete Pernesigilio of Lake Grove, NY, Erica Santos of Franklin, MA, and Shane Hammond of E. Bridgewater, MA. These drivers have been running extremely well during the start of the 2007 season. Each is knocking on the door of victory lane. For Santos and Hammond, a triumph at Monadnock would be a career first.

No one is more excited about the trip to Monadnock Speedway than Andy Shlatz of Enfield, CT, who will make his much-awaited return to NEMA competition at Monadnock. After a year of hard luck in 2006 and financial concerns over the off-season, Shlatz is getting a late start on the season. But with some help from his friends and some encouragement from his 3-year old son, Shlatz is back and better than ever.

"The Rafferty Motorsports Team is looking forward to getting its season started this week," said Shlatz. "It's been a long winter and I am excited about the opportunities this season will bring. With a lot of help from Cantor Racing, I was able to put an awesome motor program together," said Shlatz. "This is the best motor we have ever had and I owe a lot to the Cantors."

Monadnock is a fitting place for Shlatz to make his 2007 season start. For many years, he competed with much with success at the old High Groove Speedway just down the road. The team is hoping the results will be the same at this Winchester, NH facility.

The action gets underway, Saturday at 6pm as the Northeastern Midget Association joins a full line-up of NASCAR Whelen All-American Series action including Super Stocks, Outlaw Pros, Late Models, Mini Stocks, and 4-cylinder Enduros. The pit entry is $35. Adult general admission is $20, senior and students pay $10 while children 12 and under are admitted for only $2. To learn more about this upcoming event log on to www.monadnockspeedway.com or call 603-239-4067.