Sat.-Sun., October 13th-14th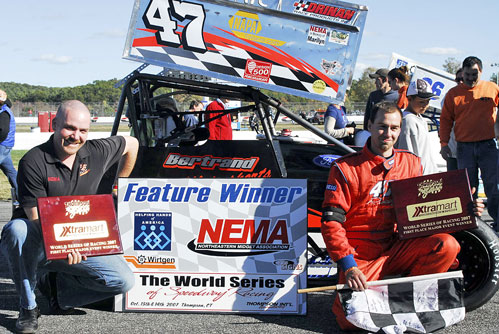 World Series Winner Randy Cabral with owner Tim Bertrand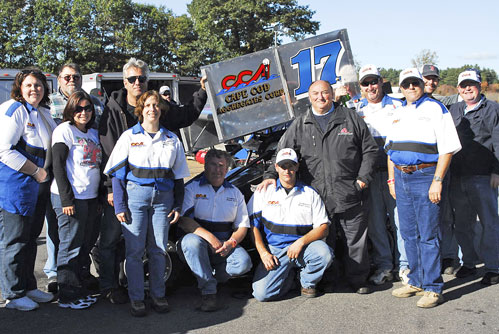 2007 NEMA Champions - Ben Seitz (Driver) & Peter Valeri (Owner)
Cabral Wins; Seitz Champ
In NEMA Season Finale
Randy Cabral and Ben Seitz were both opportunists Sunday. Cabral won the caution-free 25-lap Northeastern Midget Association feature at Thompson Speedway's World Series. Seitz' sixth place finish turned out more than enough to capture a record fourth
straight driver's championship.

It was the 15th and final event in NEMA's 55th season.

Starting sixth, Cabral snuck the Bertrand #47 under teammate Shane Hammond heading into one ten laps in and went on to post his third victory of the season. It was the second World Series checkered for Cabral who gained two spots on the initial green and ran second for seven laps.

Greg Stoehr came from 23rd to grab second. Nokie Fornoro, Hammond and B.J. MacDonald completed the top five. The top six finished in the same lap.

The turning point for both Cabral and Seitz came 17 laps in when Joey Payne Jr., running second and closing on Cabral, went out with an over-heating problem. The point leader going in (six up on Seitz)
started 12th and moved into second by lap 12 with Bobby Santos III following.

"A yellow and I was done for. Those guys were fast yesterday," said Cabral who "almost didn't want to make the pass" on Hammond, the outside pole sitter and only other leader. "He bobbled down the front straightaway and as soon as I saw it I just dove underneath him. I even pushed up a little bit because
I thought he would come back around me."

It was, continued Cabral, "survival of the fittest. I guess when it's your day, it's your day."

Seitz, who shares the championships laurels with car owner Peter Valeri, saw it as "being in the right place at the right time, being in position to capitalize."

Seitz and Payne started side-by-side in 11th and 12th. Inside of two laps Payne was moving away. "I knew right from the start he was faster," said Seitz. "Our car was not right. It was actually bad so I just kind of took it easy because the only real chance we had was for him to break. Our only shot was to finish."

Payne, who had the fastest lap (18.25), was fourth by lap sixth. He was third by lap nine and second three laps later. A brief Payne-Bobby Santos III battle ended when the latter dropped out 14 in. Then Payne slowed in the backstretch and rolled to a stop on pit
road.

"I passed [Payne] down the backstretch," continued Seitz. "I knew I had to finish. He broke and I could have broke just as easily. If we both broke, he would have won the championship. I wasn't celebrating until I crossed the finish line."

"Quite a commute," said Stoehr of his heroic run. "I got up this morning knowing what I had to do to get to the front – drive every lap like it was the last and the leader is two cars ahead of you. I had to pass as many cars as I could."

He took second from Nokie Fornoro (who started fifth) two laps from the checkered. "I went under the checkered thinking I was sixth or seventh," Stoehr continued. "My brother (Russ) told me I was second and I went back out."

Jeremy Frankoski was the top rookie, finishing eight.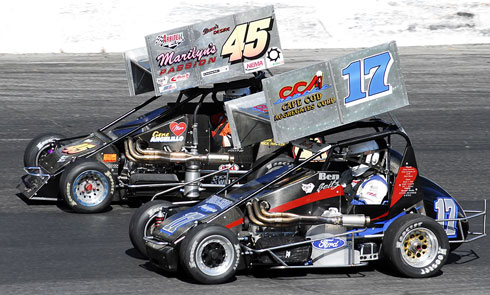 Thompson World Series - Oct. 14th
Pos.
#
Driver
Hometown
Owner
1
47
Randy Cabral
Plymouth, MA
Tim Bertrand
2
26b
Greg Stoehr
Bridgewater, MA
Greg Stoehr
3
4
Nokie Fornoro
Stroudsburg, PA
Mike Jarret
4
35
Shane Hammond
E. Bridgewater, MA
Glen Cabral
5
49
B.J. MacDonald
Dublin, PA
B.J. MacDonald
6
17
Ben Seitz
Pocasset, MA
Pete Valeri
7
44
Erica Santos
Franklin, MA
Ed Breault
8
99
Jeremy Frankoski
Newark Valley, NY
Power Point
Racing
9
P30
Mike Horn
Ashland, MA
Mike Horn
10
63
Drew Fornoro
Newton, NJ
John Seaman Sr.
11
9
John Zych Jr.
Mendon, MA
John Zych
12
30
Paul Scally
Raynham, MA
Paul Scally
13
77
Jeff Zuidema
North Brookfield, MA
Mike Lugelle
14
8
Rich Gerbe
Franklin Sq., NY
Lee Gerbe
15
16
Matt O'Brien
Wilmington, MA
Jim O'Brien
16
78
Steve Powers
N. Andover, MA
Linda Cleveland
17
33
Shawn Torrey
Marshfield, MA
Shawn Torrey
18
5
Mike Keeler
Danbury, CT
Larry Cheetham
19
28l
Paul Luggelle
Holbrook, MA
Paul Luggelle
20
DNF
45
Joey Payne
Fairlawn, NJ
Gene Angellilo
21
DNF
98
Bobby Santos III
Franklin, MA
Robert
Santos Jr.
22
DNF
12
Kyle Carpenter
Gloucester, MA
Brad Carpenter
23
DNF
36
Cory Cleary
Plymouth, MA
Glen Cabral
24
DNF
52
Kevin Park
Foxboro, MA
Kevin Park
25
DNF
27
Troy Boissoneau
Bedford, NH
Ray Boissoneau
---
Saturday Action


Photos by John DaDalt johnd19@cox.net
THOMPSON READIES FOR 34th ANNUAL XTRAMART WORLD SERIES
THOMPSON, CT. It is a racing weekend like no other. Thompson International Speedway's World Series of Speedway Racing brings together just about every type of racecar to be found in the northeast for a three-day racing extravaganza that includes over five hundred racecars and fourteen different divisions. It all happens the weekend of October 12th, 13th, and 14th.

The 34th annual World Series of Speedway Racing, presented by Whelen Engineering and XTRAMART, is the largest and most diversified racing weekend held anywhere in the country. Race teams and race fans from over a dozen states and two Canadian provinces make their annual pilgrimage to this incredible event which is as much a huge party as it is a non-stop race weekend.

The ultra-fast, winged Super Modifieds of ISMA, the NASCAR Whelen Modified Tour and the mighty Midgets of NEMA are only three of the fourteen divisions of racers that are part of this annual, season-ending celebration. Add the "super six" NASCAR Whelen All American Series divisions that are part of the exciting weekly race programs at Thompson, The American Race Trucks, Pro Four Modifieds, and Outlaw Minis, Outlaw Strictly Stocks and Outlaw Late Models and you have a three-day race program that offers something for just about every race fan.

The huge Thompson International Speedway complex is packed from end to end with campers and racecars. Many arrive as much as a week ahead to be part of the fun-filled atmosphere that surrounds this annual event. Race fans take full advantage of all that the Thompson complex has to offer. They will pay golf on the beautiful 18 hole Championship golf course, practice their skills at the driving range, relax in the newly renovated lounge or enjoy wonderful meals at the Raceway Restaurant. Early arrivals also find that plenty of nearby shopping malls, two world famous gambling casinos and the beauty of the New England Fall foliage add greatly to the main event of on-track competition.

Championships are on the line in several of the divisions and each race team will want to wrap up its 2007 racing season with a stellar performance. This makes for incredible competition in each and every division. Fans will be treated to practice and qualifying races for eight divisions on Friday. Those same divisions will compete in feature event races on Saturday night. The remaining six divisions will qualify on Saturday afternoon and race in their feature events on Sunday afternoon. It's a race fans dream come true weekend.

The entire schedule for the 34th annual World Series of Speedway Racing, presented by Whelen Engineering and XTRAMART, is available on the Thompson Speedway web page. www.thompsonspeedway.com. Fans may also purchase tickets in advance by calling the track office at 860-923-2280.

Fornoro Boys Headed To Thompson
The Fornoro boys – Drew and Nokie – are together again and coming to Thompson Speedway's World Series this weekend.They bring some Northeastern Midget Association history to a spot already loaded with it.

The point battle - Joey Payne Jr. and owner Gene Angelillo come to the World Series with an eight-point edge on Ben Seitz and owner Peter Valeri – takes center stage. There are a number of "stories"
accompanying what will be the 67th NEMA feature on the storied five-eights. The Fornoros are one of them.

Seitz has won the last two Thompson NEMA shows including last year's World Series. Payne, who comes to Thompson off last Sunday's DAV win at Seekonk, has one Thompson victory – Angelillo's 100th checkered in the 2000 World Series.

Between them, the Fornoro brothers have well over 200 Midget victories and that includes a combined nine Thompson NEMA wins – five for Drew. NEMA's all-time winner, Drew returned last weekend to drive John Seaman's entry at Seekonk's DAV. Angelillo "brokered
the deal."

Seaman actually purchased the car from Angelillo. "I told John Drew has 99 wins and he agreed to put him in the car," said Angelillo. "I called Drew and he agreed to drive it."

"It's nice to be back," said Drew. "We threw a lot of stuff at the car and we did OK (seventh). We learned some things." He said he is really looking forward to Thompson, calling it his "favorite track."

"It was great having my brother back," said Nokie, pointing out Mike Scrivani Jr., the crew chief on his #4 car, actually worked on the Seaman car. "It was good racing with him and I'm looking forward to doing it as long as he wants. It is a pleasure to race him."

Both agree their father Nick, who passed away recently, would love what's going on.

Nokie's first Thompson win was in 1983 driving for the legendary Mike Scrivani Sr.; Drew's initial Thompson checkered came in 1982 in an Angelillo car.

"Thompson has always been a 'separate the men from the boys' kind of place," says NEMA president Mike Scrivani Jr. "The World Series has become the No. 1 race for NEMA. A Thompson World Series Midget win stands all by itself, puts you in a special group."

In addition to the Fornoros, Seitz (3) and Payne (1) Thompson winners among active NEMA drivers include Randy Cabral (4), Bobby Santos III (1) and Greg Stoehr (1).

NEMA NOTES: Jeremey Frankoski, who came so close before losing to Payne at the DAV, has one last chance to become the first rookie in NEMA's long history to record two victories. He was a winner earlier this year at Beech Ridge…The World Series will settle a
five-way battle for the three through five positions.It finishes one of the most competitive seasons in recent NEMA history with eight different winners…Included in that group is Erica Santos who became the club's first female winner at Stafford in July…The legendary Dutch Schaefer won the first NEMA race at Thompson on April 24, 1960. The all-time Thompson NEMA winner leader is Johnny Mann with six…The Coy family remains unchallenged at Thompson. Johnny Coy Sr. won there as did his sons Johnny Jr.
and Joey, the latter a NEMA champion.