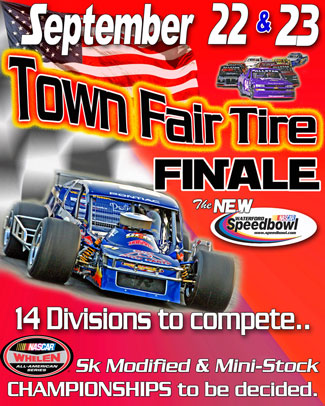 Keith Cyr Graphic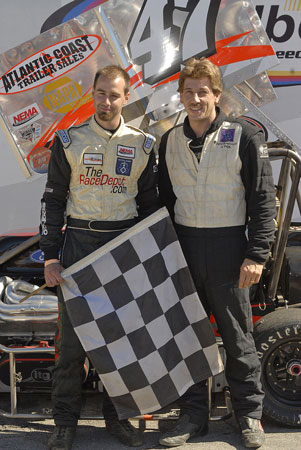 Cabral Scores Win at
Waterford Finale
Grabbing the lead four laps in, Randy Cabral survived two yellows and a red to score a dominating Northeastern Midget Association victory Sunday at Waterford Speedbowl's Town Fair Tire Finale. It was the second win of the season for Cabral, both at the
Speedbowl.

Starting fourth, Cabral tucked the Bertrand #47 inside pole sitter John Zych Jr. coming out of two. Only the yellows and red slowed Cabral en route to his 12th career NEMA win, five of them at the Speedbowl.

"The cautions helped me," said Cabral. "I was driving through the corners so fast I actually thought I was going slow but I was greasing up the right rear a little bit. The cautions cooled it down."

The final yellow flew with two left, Cabral leaving Pete Pernesiglio and Adam Cantor to battle for second, the latter prevailing. Rookie Aaron Wall was fourth, Shane Hammond fifth and Erica Santos, who started 15th, sixth.

"We decided to put a different set up in the car," said Cabral claiming the car had not been right since crashing in practice at the Speedbowl in August. "I actually like taking the lead a little later but I saw my chance and the car was so good I took it. I was
waiting for everybody to catch me."

Ill fortune plagued both title contenders, Ben Seitz and Joey
Payne Jr.

The red showed with seven left when Seitz wound up on his side in the front stretch after a confrontation with Nokie Fornoro. They were battling for second.

Fornoro took second from Zych shortly before the first caution. After the restart, he was battling a motor "bogging down off the corners" and was "pointing to his crew letting them know. I was really mad because now I can't catch the leader."

Sietz, seeking a fourth straight championship, made a bold move inside Fornoro heading into three. "[Fornoro] was waving his arms down the straightaway, gestures like he was slowing down so I passed him on the bottom," said Seitz. "When we came off four he was crowding my lane quite a bit."

"I was on the white line," said Fornoro. "I don't know how much lower you want me to be. Next thing you know [Seitz] he is top of my nerf bar. I've got my feet off everything and I'm being pulled down the front straightaway. We got to a point where I just turned
right. I wasn't taking it anymore."

After exiting the car, Seitz ran down the front straight toward Fornoro sitting in turn four. "A heat of the battle thing," said Seitz who was stopped by starter Steve Grant. He apologized "to the club and to my sponsors. I was disappointed in myself."

Fornoro was sent to the rear. He left the track instead. "I'm not going to do that after I did nothing wrong," he said.

On the restart, Pernesiglio inherited second with Cantor, Payne and Wall battling for third. A blown motor with two left sent Payne spinning into the infield, bringing out the final yellow.

Unofficially, 20 points separate Seitz and Payne heading into Seekonk's DAV Memorial Oct. 6-7.
Waterford Speedbowl - Sept. 23rd
Pos.
#
Driver
Hometown
Owner
1
47
Randy Cabral
Plymouth, MA
Tim Bertrand
2
80
Pete Pernesiglio
Lake Grove, NY
Peter Pernesiglio
3
7ny
Adam Cantor
Dix Hills, NY
Cantor Racing
4
29
Aaron Wall
Shrewsbury, MA
Bobby Seymour
5
36
Shane Hammond
E. Bridgewater, MA
Glen Cabral
6
44
Erica Santos
Franklin, MA
Ed Breault
7
98
Mike Keeler
Danbury, CT
Robert
Santos Jr.
8
49
B.J. MacDonald
Dublin, PA
B.J. MacDonald
9
A1
Jeff Horn
Ashland, MA
Jeff Horn
10
9
John Zych Jr.
Mendon, MA
John Zych
11
30
Paul Scally
Raynham, MA
Paul Scally
12
8
Rich Gerbe
Franklin Sq., NY
Lee Gerbe
13
99
Jeremy Frankoski
Newark Valley, NY
Power Point
Racing
14
35
Cory Cleary
Plymouth, MA
Glen Cabral
15
77
Jeff Zuidema
North Brookfield, MA
Mike Lugelle
16
87k
Bobby Kuiken
Prompton Lakes, NJ
Robert Kuiken
17
33
Shawn Torrey
Marshfield, MA
Shawn Torrey
18
DNF
45
Joey Payne
Fairlawn, NJ
Gene Angellilo
19
DNF
22
Chris Leonard
Pelham, NH
Dave Leonard
20
28l
Paul Luggelle
Holbrook, MA
Paul Luggelle
21
26b
Greg Stoehr
Bridgewater, MA
Greg Stoehr
22
DNF
4
Nokie Fornoro
Stroudsburg, PA
Mike Jarret
23
DNF
17
Ben Seitz
Pocasset, MA
Pete Valeri
24
DNF
81
Tim Heath
Lebanon, CT
Tim Heath
25
DNF
5
Larry Cheetham
Bristol, RI
Larry Cheetham
26
DNF
47b
Lou Ciconni Jr.
Aston, PA
Tim Bertrand
27
DNF
78
Steve Powers
N. Andover, MA
Linda Cleveland
28
DNF
52
Kevin Park
Foxboro, MA
Kevin Park
29
DNS
20
Andy Shlatz
Enfield, CT
Andy Shlatz
Photos by John DaDalt johnd19@cox.net
Winning qualifying heats for Sunday's
Town Fair Tire Finale feature races were
Randy Cabral #47 & John Zych Jr. #9.
---
Historic Milestone For
NEMA-'Bowl Marriage
The Northeastern Midget Association is about to celebrate a unique milestone. Sunday's appearance at the Town Fair Tire Finale (a 25 lapper) will be NEMA's 75th event at Waterford Speedbowl.

"It has always been one of my favorite places," offers Nokie Fornoro whose four Speedbowl wins stretch over 26years (1981-2007). Earlier this year Fornoro won a 25 lapper in a sensational six minutes, eight seconds. "Length, width, surface," he says, makes the three-eights Speedbowl "an amazing Midget track."

The Speedbowl's NEMA connection goes back to May 31, 1953 when Bill Eldridge triumphed in the second race in the club's history. Midgets now tour the Speedowl in the high 12 seconds bracket, hitting speeds in excess of 107 mph.

NEMA brings another sizzling point battle to the Finale. Ben Seitz, seeking a record fourth straight driving championship, leads Joey Payne Jr. by 30 points. Both are multi winners at the Speedbowl, Seitz owning four and Payne three including last year's Finale.

The midgets, one of 13 divisions at the Finale, will qualify on Saturday and then join the Speedbowl's SK-Modifieds, Late Models, Mini Stocks and Sportsman on Sunday's schedule.

Seitz, a one-time Legends champion at the 'Bowl, and Payne share Fornoro's love for the Speedbowl. "I just love the place," says Payne. "It's a pedal-to-the-metal place; a classic momentum track
with plenty of room."

Lou Cicconni Jr. and Randy Cabral have also won this season, Cabral joining a group of six with four career Speedbowl wins. In addition to Fornoro and Seitz, the club includes Bobby Santos III, Mark Buonomo and the retired Bobby Seymour. Drew Fornoro, Nokie's bother and also retired, is the leader with six Speedbowl
checkereds.

The absolute Speedbowl win leader is owner Gene Angelillo who has won 11 times with four different drivers – Drew Fornoro (6), Payne (3), Russ Stoehr and Ted Christopher – over 25 years plus. "There are no secrets left at the Speedbowl," says Angelillo. "You have to go there prepared to run hard. Everybody, it seems, runs their best at the Speedbowl. It is a great place for Midgets."

There have been 40 different NEMA winners at the Speedbowl including current competitors Barry Kittredge, Pete Pernesiglio and Mike Keeler. The list also includes legends like Dutch Schaefer, Bill
Randall, Joe Csiki, Johnny Coy and King Carpenter.

In addition to NEMA and the regular Speedbowl divisions, the Pro4 Modifieds, AllStar Race Trucks and Allison Legacy Cars are on the Finale agenda.