WORLD SERIES TRACK EVENT PAGE
-
NEMA MIDGETS - Sat. Oct. 15th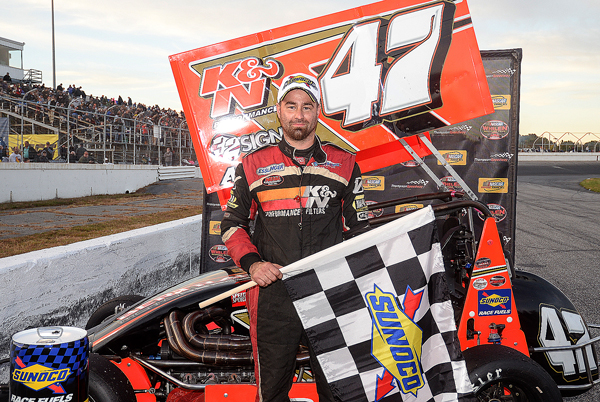 RANDY CABRAL #47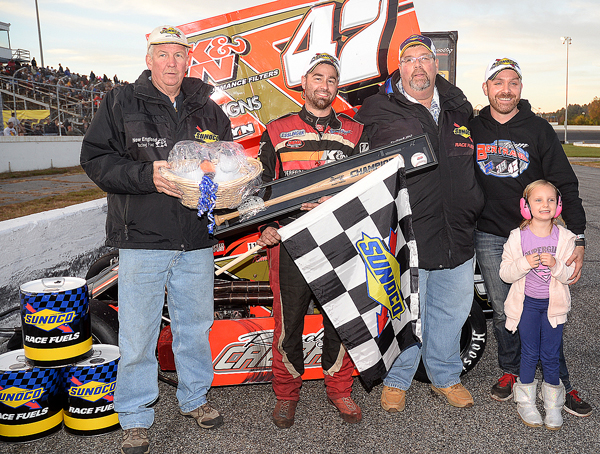 NEW ENGLAND RACING FUEL &
OWNER TIM BERTRAND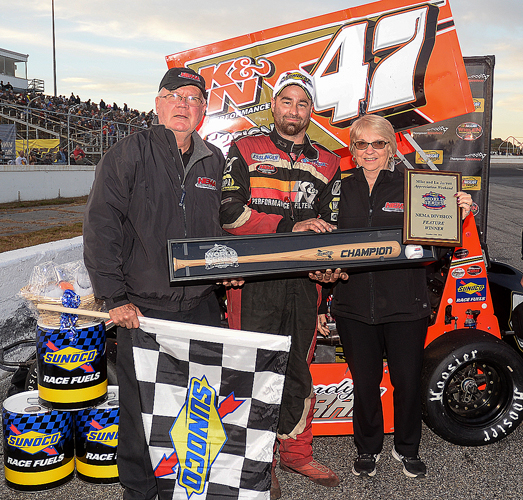 RANDY with MIKE & LU JARRET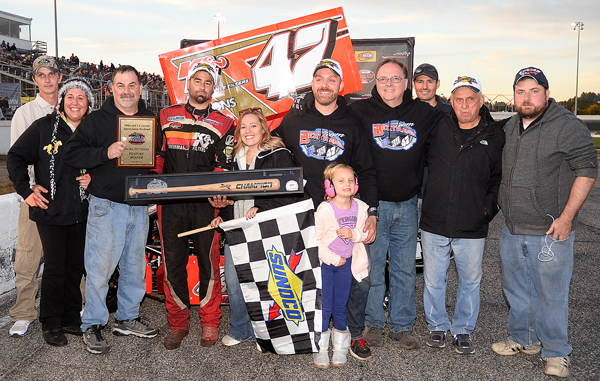 BERTRAND MOTORSPORTS




NEMA LITES - Sun. Oct. 16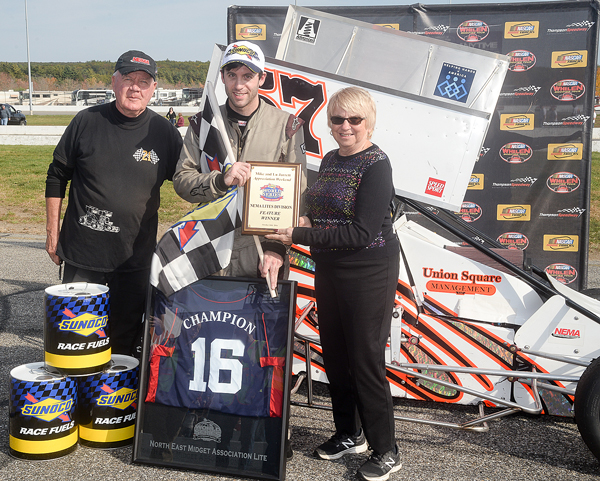 STERGIOS #57 with MIKE & LU JARRET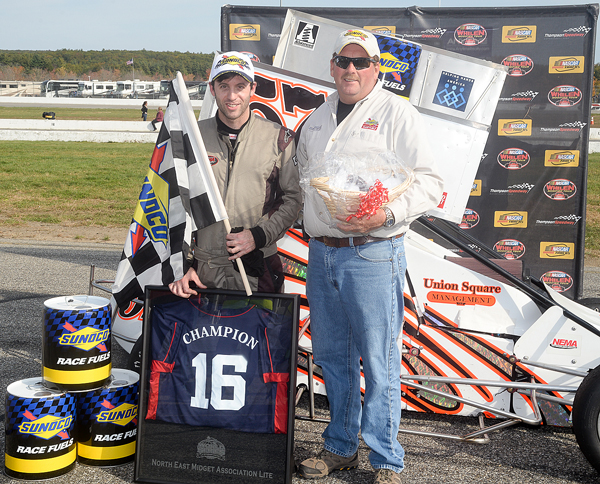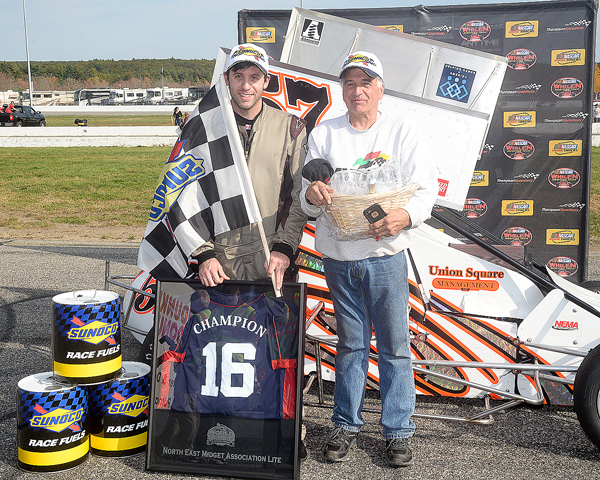 PHOTOS BY JOHN DADALT
NEMA MIDGETS FEATURE
NEMA LITES HEATS

NEMA LITES FEATURE




Cabral, Stergios Storm to NEMA Victories in
Thompson Speedway Motorpsports Park's
Sunoco World Series of Speedway Racing
Randy Cabral came from his sixth starting position to dominate the NEMA portion of the card this past Saturday evening at the Thompson Speedway Motorsports Park in the Sunoco World Series of Speedway Racing. On Sunday, PJ Stergios came from deep in the field, avoiding a large wreck on lap one, to take down the Lites portion of the show.

The NEMA portion of the race card started with time trials in lieu of heat races. Brownsburg Indiana's Cole Carter driving the Bertrand Motorsports #74 set a blistering pace, setting a new track record for NEMA of 17.48 seconds breaking John Zych's previous record of 17.60, set at the World Series last season.

In the NEMA event, Seth Carlson jumped out into an early lead from his pole starting position. Sixth place starter, Randy Cabral, however wasted no time, as he moved by Jim Chambers for the second spot, and by Carlson into the lead by lap three. Cabral quickly went to work, stretching out his lead. Further back, Carter was slicing through the field and took over second on lap seven. The Cabral/Carter duo stayed equally distant for the next ten laps, until Cabral began to pull away with seven laps to go. He would go on to take down the victory over Carter, Seth Carlson, John Zych, Jim Chambers, Todd Bertrand, Avery Stoehr, Alan Chambers, Paul Scally and Doug Cleveland. Cabral goes into the final event of the season with a very slight points advantage over Zych.

"Being a kid saying 'watch, I'm going to be in victory lane' and now being able to do it I mean you wait all year long to come back here and try to win this race. It's so hard to do and I was pretty good today," Cabral said. "I didn't know if the car was going to stay that good. It felt good and I knew everyone else was good so I asked myself where they were going to be. I really put a lot of work into the car to make it handle better and it paid off today," said Cabral.

In the NEMA Lite portion of the show, an unfortunate incident involving contact between Randy Cabral and Ryan Locke turned into a scary accident, damaging a number of cars on lap one. When the green flag flew again, Joey Cipriano charged to the front of the field to take the lead in his #84 machine. Behind him, tenth place starter Todd Bertrand, who returned to the Lites field after a five year hiatus, worked his way from the tenth spot to second.

The Cipriano/Bertrand duo would run 1/2 for a series of laps, until multi feature winner PJ Stergios and current points leader Jim Chambers broke free of traffic. Stergios went by Bertrand for second, and went to work on Cipriano for the lead. Once in the lead, Stergios would go on to dominate the remainder of the feature. Chambers would go by Bertrand for third, and then get by Cipriano for second, and that's where the finish would land. Stergios took down the victory over Chambers, Cipriano, Bertrand and Anthony Payne staged a late race run in the famed Scrivani 21 to round out the top five. Ben Mikitarian put in a great run to finish sixth, running in the top five for much of the race, Chad Labastie, Meg Cugini, Nikki Carol and Kevin Iannarrelli rounded out the top ten.
NEMA MIDGETS - THOMPSON

- 10/15/16

Pos.
#
Driver
Hometown
Owner
1
47
Randy Cabral
Plymouth, MA
Tim Bertrand
2
74
Cole Carter
Indianapolis, IN
Tim Bertrand
3
71
Seth Carlson
Brimfield, CT
Gene Feigel
4
9
John Zych Jr.
Mendon, MA
John Zych Sr.
5
21
Jim Chambers
Atkinson, NH
Mike Chambers
6
39
Todd Bertrand
Danielson, CT
Todd Bertrand
7
15a
Avery Stoehr
Lakeville, MA
Russ Stoehr
8
7

Alan Chambers

Atkinson, NH

Mike Chambers
9
30
Paul Scally
Raynham, MA
Paul Scally
10
77
Doug Cleveland
Sudbury, MA
Mike Luggelle
11
28
Kevin Park
Foxboro, MA
Pete Pernisiglio Sr.
12
99
Jim Santa Maria
Burlington, CT
Jim Santa Maria




NEMA LITES - THOMPSON - 10/16/16
Pos.
#
Driver
Hometown
Owner
1
57

PJ Stergios

Candia, NH

Bill Stergios
2
12
Jim Chambers

Atkinson, NH

Jim Chambers
3
84
Joey Ciprianno III

-

Joey Ciprianno III
4
45
Todd Bertrand
Danielson, CT
Tim Bertrand
5
21
Anthony Payne

Fairlawn, NJ

Mike Scrivani
6
9
Ben Mikitarian

Northborough, MA

John Mikitarian
7
14
Chad Labastie
Uxbridge, MA
Chad Labastie
8
41
Megan CuginI
Marshfield, MA
Glenn Cugini
9
24
Nikki Carroll
Andover, NJ
Nikki Carroll
10
27
Kevin Iannarelli

Maynard, MA

Kevin Iannarelli
11
16
Dennis O"Brien

Deerfield, NH

Chris O'Brien
12
2
Jim Cataldo

Sterling, MA

Jim Cataldo
13
3
Chris Vose

Gloversville, NY

Chris Vose
14
30
Paul Scally
Raynham, MA
Paul Scally
15
94
Logan Rayvals
Brockville, ON
Craig

Rayvals

16
DNF
38
Ryan Locke
Raymond, NH
Ken Locke
17
DNF
35
Randy Cabral

Plymouth, MA

Glen Cabral
18
DNF
17
Alan Chambers

Atkinson, NH

Mike Chambers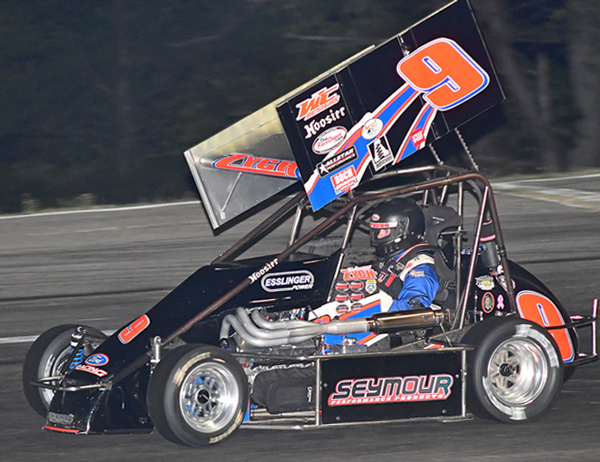 JOHN ZYCH #9
Ti
ght Points Battle Highlight NEMA's
Return to Sunoco World Series
The Northeastern Midget Association has long considered Connecticut's Thompson Speedway the ultimate "separate the men from the boys" facility. While any Thompson checkered is a treasure, the World Series is definitely the biggest plum. In the NEMA division, two time champion, John Zych leads five time champion Randy Cabral of Plymouth, by a mere twenty one points, or roughly three feature finish spots coming into this Saturday's feature event. The Lites will also be on hand, however in this division, Jim Chambers has a commanding lead over PJ Stergios, well over 100 points, and Danny Cugini, who is hot on Stergios' tale in third spot.

Eleven victories, including six World Series triumphs, make Cabral the all-time Thompson maestro. Last year, Cabral passed Zych with three laps left in the books and pulled off pass that will go down for the ages against teammate Todd Bertrand in turns three and four that had fans on their feet. Zych's third place run capped a brilliant championship season for the JZ Motorsports team in 2015.

Thompson's long Midget history, however, is filled with surprises. Considering the last few seasons have been one of the most competitive seasons in NEMA's 60+year history. Cole Carter will again be on hand in the Bertrand 74, coming out from Brownsburg, Indiana. Carter, son of the famed Pancho Carter, has a storied career and legacy. Avery Stoehr comes into the race just 78 points back from Zych and Cabral and always a threat to win. Amongst other hopefuls are Todd Bertrand who finished second to Cabral last year, Seth Carlson who is overdue for a strong run, Paul Scally, and the Chambers brothers, Alan and Jim.

NEMA and Thompson have a relationship that goes back to 1960 when the legendary Dutch Schaefer was the winner. Since then, Thompson has helped write a ton of NEMA history and a credible part of that is World Series related.
Greg Stoehr, driving for John Zahar, passed brother Russ in the closing laps to win in 1994. In 2001, Joey Payne, who like Greg Stoehr started last, passed the same Russ Stoehr on the final lap en route to the checkered. The latter was Gene Angelillo's 100th NEMA win. A Nokie Fornoro romp in 2010 proved to be the last Midget ride for one of the sport's greatest competitors.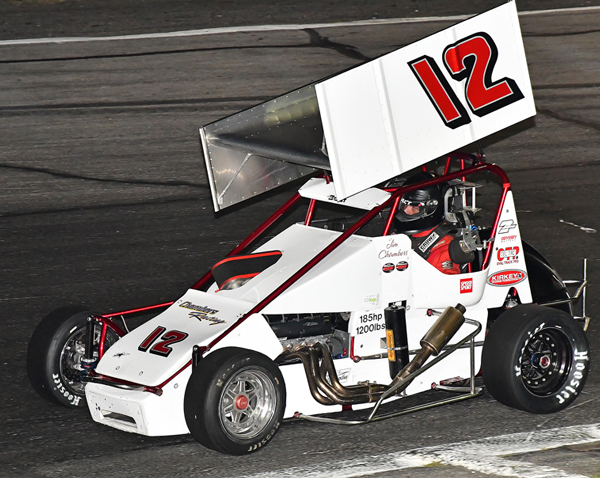 JIM CHAMBERS #12
Chambers Leads NEMA Lite Field to
Thompson's Sunoco World Series
of Speedway Racing
Unlike the NEMA division, where a mere twenty one points separates points leader John Zych and Randy Cabral, the story is a bit different in the NEMA's sister class, the Lites division. Jim Chambers takes a comfortable lead of nearly 100 points into the event, over the hard charging PJ Stergios, and Dan Cugini. The Lites will be part of a blockbuster card on Sunday this weekend that includes the Whelen Modified Tour and the ISMA Super Modifieds.

Cugini has been victorious in the Lites's last two trips to the Thompson Speedway Motorsports Park and is no doubt a favorite.

There are certainly no lack of favorites to win the event, outside of Cugini. Scott Bigelow, last year's winner, is unknown as to whether he will be present for this weekend's festivities. In addition to Bigelow, one cannot count out last year's NEMA Lites Champion extraordinaire, Anthony 'The Tornado' Payne in the Scrivani 21. Son of legendary open cockpit mainstay, Joey Payne, the young Payne had impressive outings at TSMP last season. NEMA competitor Paul Scally will be on hand with his Drinan car, as will John Zych in the Frank Manafort owned #76.

With a nearly twenty plus car field rumored, that's just the beginning of the list. Alan Chambers come to the World Series with a focus powered car, in addition to Brother, Jim. The Cugini family brings their two strong family owned entries to the Speedway. Ryan Bigelow is tentative to return to Thompson in his Chevy powered BEAST chassis as well. Other entrants include long time Northeastern racer, Chad Labastie, Ben Mikitarian in the #9, Jeremy Decourcy in his family owned #20, and the ever so impressive Ryan Locke in the Locke Family #38.

Thompson, known for its long straightaways and high banked corners presents a 'mental wrestling match from mid straightaway into the turns,' pointing out to be successful 'you have to pretty much keep your foot in it deep into the corner' says long time NEMA member and multi time winner Greg Stoehr.

No doubt, when the Lites are turned loose this Sunday, the action will be fast & furious.